I know we've all heard that classic saying dozens of times: it's about the journey, not the destination. It belongs on one of those TikToks that is recently popular where users are posting "turn X into an inspirational quote". And while that is a totally accurate state of mind when it comes to major life events and— to take it literally— road trips, it is also a fair assessment of the ecommerce customer journey.
Sure, it's great to keep your eye on the prize of creating loyal customers, but if you fail to acknowledge the importance of every step that gets you to that point, you'll have lost customers before they even have the chance to become loyal to your brand.
Customer journey mapping is a tool designed to create a smooth journey for your customers, from when they are strangers to your brand to when they are a part of your brand's family. A journey map is a visual rendering of every possible interaction a customer can have with your brand.
For all the visual learners out there, the customer journey map is one of those things that you really need to pull out a notebook or use a whiteboard to think through, like app development. My dad and I had a great idea once for an app. We went to a developer to scope it out, thinking it was super simple. He immediately came back with mockup requests for so many pages and screens we hadn't considered. It became a medium to large project in a matter of minutes.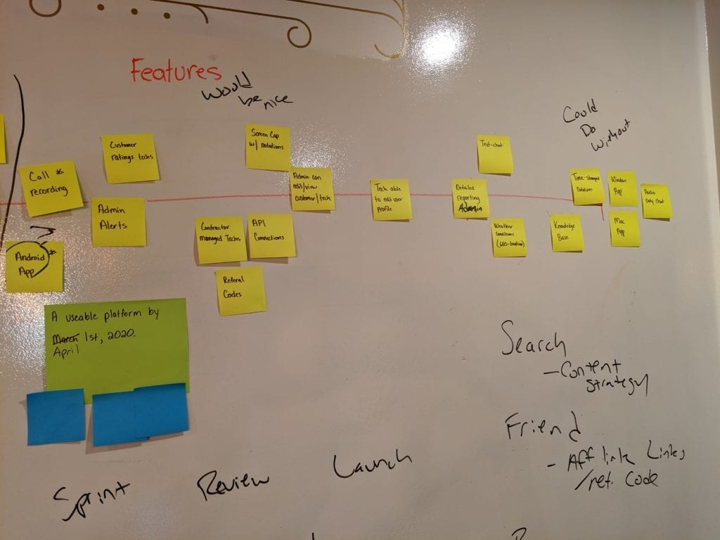 Source: Design Extensions
Typical journey maps layout the most common customer journeys visually so you can plan for any type of customer behavior, and can have a proactive relationship with your customers, instead of constantly reacting.
Customer journey maps are an essential part of your customer support tool kit and marketing strategy. They give you a holistic view of how your customers most commonly and ideally interact with your brand, while also preparing you for when a customer journey is, shall I say…. less than ideal. Without creating an accurate, detailed customer journey map for yourself, you run the risk of being unable to anticipate your customer's needs or having a major blindspot that you're completely unaware of.
Put yourself in your customer's shoes every so often and use your platform, buy something from your website, or request a quote. Ask your most honest family member or friend to do so, too. Take that feedback, hold back your pride, and address it! Or sacrifice customer experience.
When it comes to understanding your customer, it's better to play it safe than be sorry later if your retainment goals aren't reached. To get started on your customer journey mapping journey, here is everything you need to create a journey map of your own and a few key templates + examples to inspire you along the way.
Mapping the Ecommerce Customer Journey
Creating an effective customer journey map starts with making a list. Before you get started, give your fingers a quick stretch because this list is going to include every possible way that a customer can interact with your brand during the ecommerce experience. But don't start scribbling (old school pen and paper list writing hive rise up! Where are my sticky note wall mappers??) away just yet, let me help you out by giving you this overview of the most common points on the typical customer journey.
The Awareness Phase
As a general rule, to be as thorough with your map as possible, it is a good idea to start every customer journey map with the assumption that the customer is a complete stranger to your brand. Therefore, the goal of the awareness phase is to get the attention of your potential customers and direct them to your site. This phase involves you monitoring how your customers first interact with your brand, such as:
Being directed from social media

Engaging with advertisements

Through a search engine

Through word of mouth
A common way to capture customers during the awareness stage is a well-timed pop-up asking your new site visitor to join your mailing list for 10% off, or special announcements, or a free pair of socks. These are great! But please— we, the collective internet, beg you— if you can suppress existing subscribers from seeing the same pop-up in the future, do it. Even better, if you can personalize offers in the future, your shopper will feel extra special.
The Consideration Phase
Once a customer has reached your site, they move to the consideration phase.
Now, the real test— will they:
Fill up a cart and abandon it

Not fill up a cart at all, but browse around for a while and click into a few "Quick Shop" detail screens on some items

Fill up a cart and click the buy button

🙌
Depending on how many different product pages are on your site, there are either hundreds, thousands, or millions of different individual mini customer journeys that can happen at this phase. Choose your own adventures depending on the mood and needs of the shopper.
Of course, it wouldn't be realistic to create separate journey maps for all of the possible iterations. Instead, all you can do during this phase is make sure your ecommerce website is firing on all cylinders and optimized for your ideal audience. To do so, audit the ecommerce customer experience on your site to ensure you are maximizing the chances of turning browsing site visitors into customers.
The Acquisition Phase
The acquisition phase is also known as the purchase and post-purchase experience, from placing their order to receiving their package. During this phase, there is a pretty straightforward purchasing and post-purchase flow that is followed by all customers— with the exception of customers who abandon their cart during the purchase experience. A typical acquisition phase goes like this:
Customer provides shipping and billing information

Customer chooses shipping option

Customer finalizes their order

Order confirmation email is sent

Order tracking email

is sent once the order has shipped

Customer receives their package

Customer evaluates their order
During this phase, think about the options you have and what people use.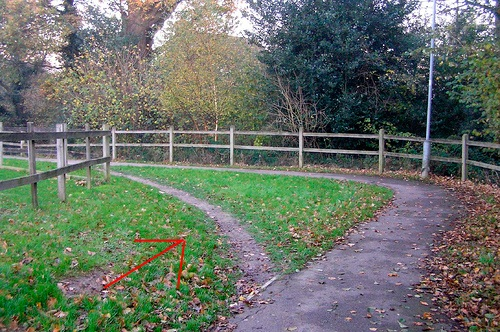 Image: StackExchange
Like this path, examine the customer's choose your own adventure— which one are they choosing and why? Is it the path you laid or have they discovered a more effective way of navigating your site? Do you have a retail app and website? Is your browse-to-purchase ratio far better on the app? Why could that be? Are there different payment options? Loading speeds? User interface (UI)?
Cross reference customer support data to find common themes and figure out where you can improve your customer journey.
The Service Phase
Depending on how a customer evaluates their order once they receive it will dictate how involved the service phase is for that customer. For example, if a customer decides to return their purchase then the service phase will entail them:
Finding your return policy

Contacting

customer support

if return policy assistance is needed

Starting the return process

Waiting for return confirmation

Receiving credit back on the order
If the customer is happy with their order and chooses to keep it, the service phase is when you trigger your post-purchase email campaign.
The Loyalty Phase
Now that your customer has made a purchase, which included them providing you with their email address, they have entered the loyalty phase. This is where you put your best customer retention foot forward in an effort to turn one-time buyers into loyal customers. For satisfied customers, the post-purchase email campaign that you started during the service phase will bleed into the loyalty phase and join your retention efforts. Other aspects of the loyalty phase commonly include:
Connecting with customers on social media

Prompting customers to subscribe to your blog, newsletter, or podcast

Request customer feedback through surveys

Prompt customers to join a loyalty program

Offer customers membership discounts and exclusive offers
Shopify Tools to Support the Customer Journey Framework
If this seems like an overwhelming process, don't worry! You aren't going at it alone, Shopify offers tons of tools for marketers to support you during your customer journey mapping process. Some of our favorites are:
Shoelace

just launched their new Journeys tool that helps brands retarget their past website visitors to increase

customer retention

rates.

Klaviyo

is a growth marketing tool that helps brands build and perfect their online presence, to create seamless customer journeys and flows.

Nosto

is an ecommerce customization platform that aids brands in their quest to create highly personalized online shopping experiences for their customers.
Customer Journey Mapping Templates + Examples
Perfecting your customer journey map takes time and experience. To kick start the process for you, here are our top 5 customer journey mapping templates and examples.
Shopify's Buyer Map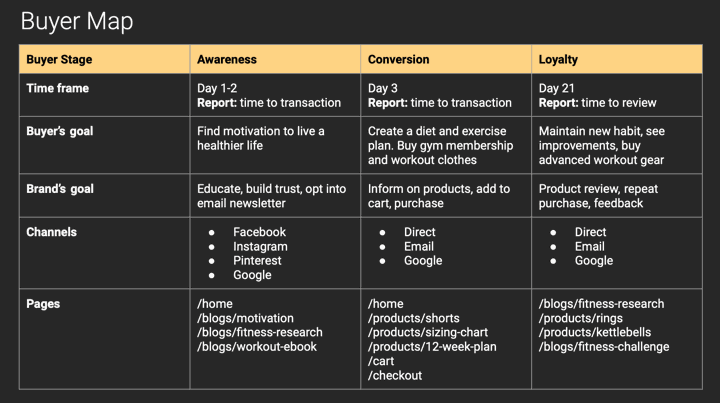 Source: Shopify
A user friendly grid template that highlights three phases of the typical customer journey, Shopify's buyer map is a great example of using specific channels to drive customer retention. Additionally, by including both the buyer's goals and the brand's goals in each phase, this template allows you to visualize exactly how your priorities line up with your customer's.
Lucidchart Customer Journey Template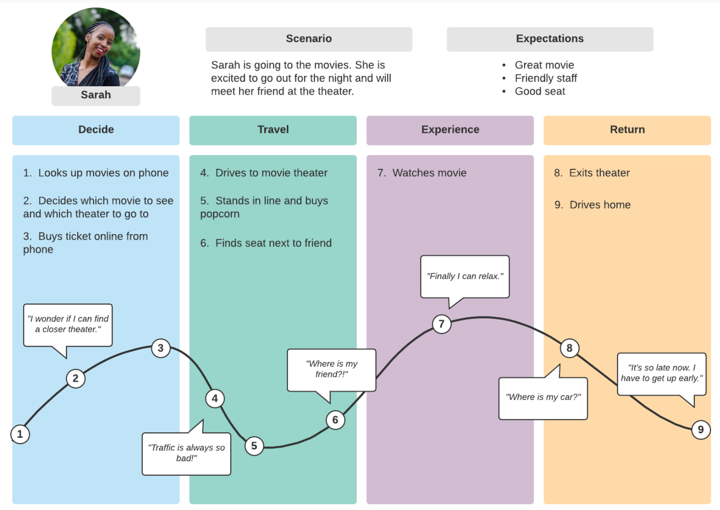 Source: Lucidchart
A great reminder that your customer journey maps can be as colorful and creative as you want them to be, this example by Lucidchart incorporates a mini-buyer persona to bring the map to a more personal level. By breaking down every action in the customer journey into numerical steps, this template allows you to peek inside the mind of your unique customers during every phase of their journey.
NNGroup's Service Blueprint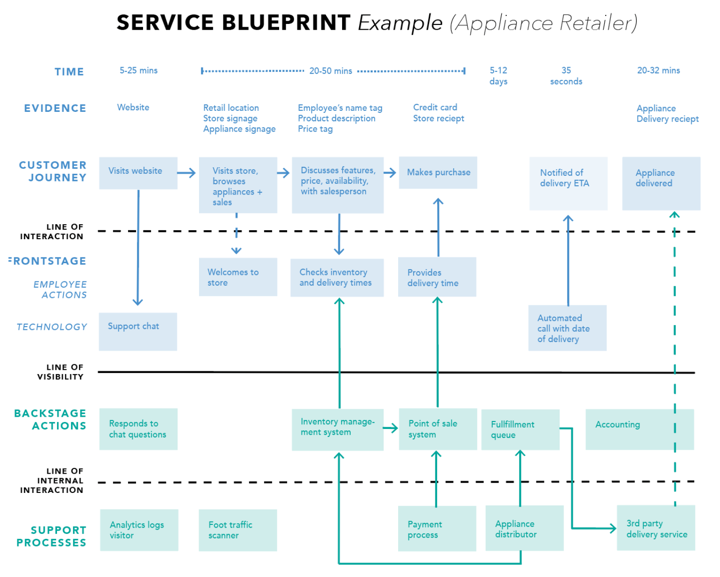 Source: NNGroup
A detailed upgrade to a classic customer journey flowchart, this example by NNGroup provides brands with a visualization of every step of the customer journey for the customer and the brand. By including timestamps up top and directional arrows throughout, marketers who use this template are able to clearly see how each phase of the journey directly leads to their achievement of their ultimate goal.
This is a great way to map out customer journey communication, too. Include emails, text messages, or any other touchpoints for communication so you don't overwhelm your customer at any point and scare them away.
Zendesk's Customer Experience Map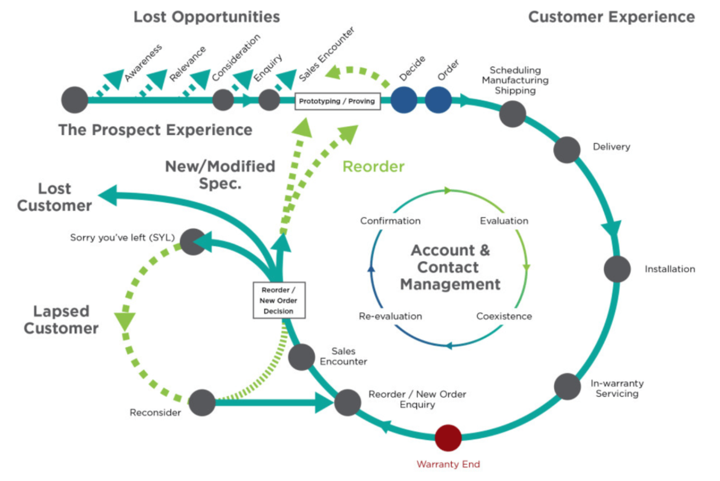 Source: Zendesk
A spin on a classic (had to), this example by Zendesk uses a circular format to create a visual reminder that the typical customer journey is an ongoing process, or a cycle. And by highlighting the lost opportunities brands can encounter during the prospect experience, it is a reminder that even if we miss some customers along the way, we can always circle back and grab their attention at another time. A customer might come to your site a few times, fill up carts longingly, abandon them, then one day get a bonus and a raise at work. You've got yourself a treat yo'self celebration purchase followed by a loyal, excited new customer.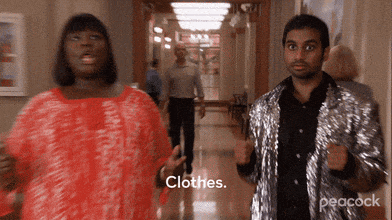 Image: Giphy
Figma's Customer Journey Map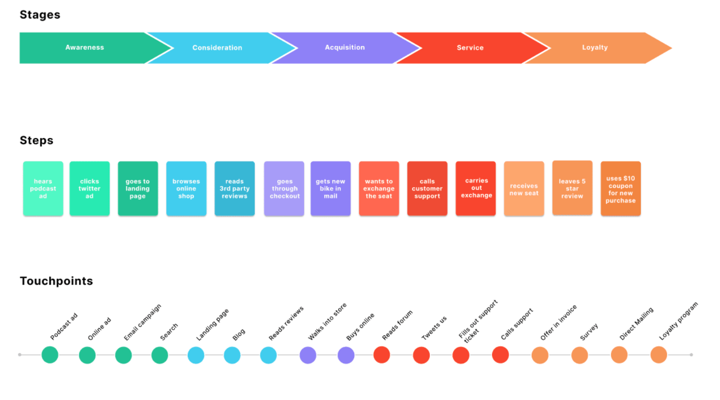 Source: Figma
This customer journey map by Figma highlights all of the phases of the customer journey, and beautifully color codes them along the way! (I would expect nothing less from a design company but it really does look great).
By showcasing each phase with this rainbow palette, this template really hits home the fact that the success of the entire customer journey is really dependent on the success of each individual component— gaining customer loyalty is impossible without that first spark of customer awareness.
Tracking the customer journey is a step toward perfecting the overall ecommerce customer experience for your brand. Looking for another dash of inspiration? Here are our Top 10 Shopify Brands Delivering Great eCommerce Customer Experiences.