Unless I'm shopping as a weekend activity with friends or a bonding moment between me and my mom, there's a good chance that I am clicking through tabs on my computer rather than flipping through a rack of clothing in a store. What keeps me coming back to the same eCommerce sites of choice over and over again?
For me, a standout eComm experience starts with a great order and cart creation process (if I've ever created and suddenly lost a cart on your website, I'm never coming back — sorry! That thing took hours to craft). Once my cart is complete, I want a seamless checkout experience complete with rewards/coupons/freebies (here's lookin' at you, Sephora), a flexible and simple return policy, and a great customer service experience. (Don't get me started on my experience with a company that didn't really exist and the clothing was… nothing like the photos. Fooled by an enticing Instagram ad yet again!)
A good eCommerce experience can create repeat customers, brand advocates, and clients who end up doing lots of your marketing for you by posting user generated content with great reviews about your product or service. (From marketers everywhere— thanks for reviews and feedback!)
I mean, the AE app is something I casually browse on my phone. That's a pretty good sign for the experience itself.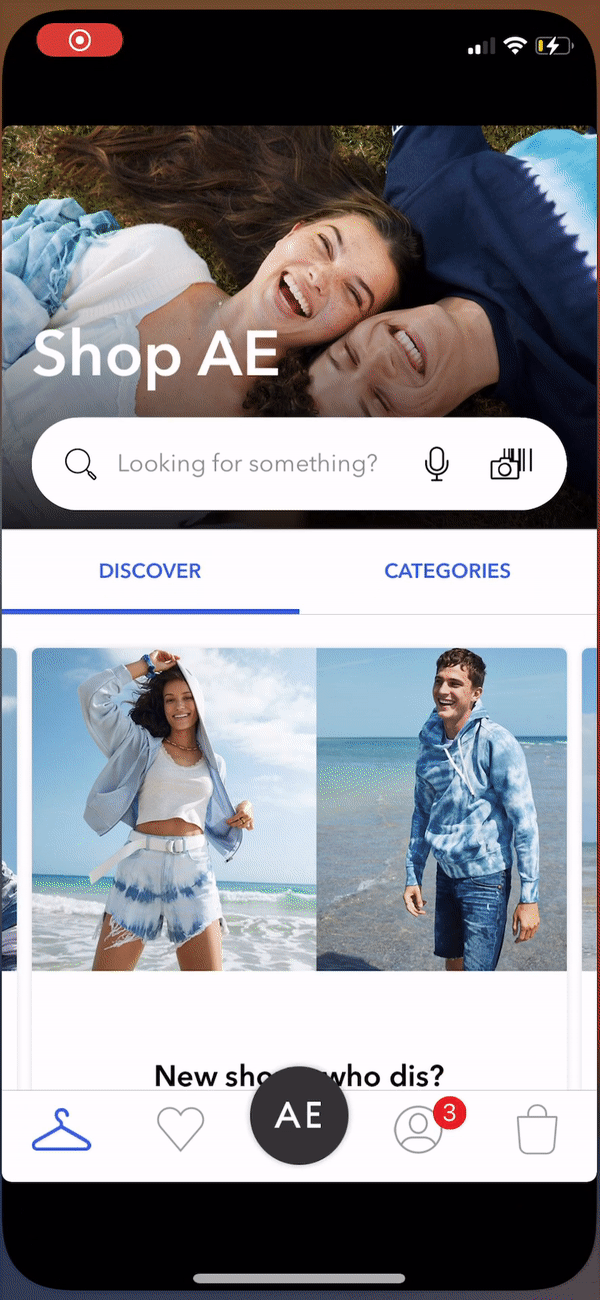 On the other hand, a bad eCommerce experience is easy to spot.
A bad eCommerce experience can be tied to:
Confusing page design making it more difficult than it needs to be to browse the site or awkward product visuals

Lack of available inventory

Overly complicated search features

Overcrowded pages that hurt your eyes just to look at
Any one of these things would make me close out of the window and take my business elsewhere.
A bad eCommerce experience is the quickest way to lose customers, but I'm not here to dwell on the negative. I'm here to figure out what exactly makes good eCommerce experiences so good.
What exactly is eCommerce?
Before we dive into the specifics, let's start with the basics. To get technical, eCommerce— also known as eprocurement or online shopping for most of the population— is the buying and selling of goods and/or services through use of the internet.
Ever since Phil Brandenberger bought a Sting album on his computer on August 11th, 1994, online shopping has been a mainstay of modern consumerism. Almost three decades later, eCommerce is as natural of an experience for consumers as going to the mall was a decade or two ago. This year was a particularly lucrative one for eCommerce— with COVID-19 making online shopping not only an easier alternative to in-person shopping, but also a safer one— the eCommerce industry hit $245.28 billion in Q4, up from $185.7 billion the year prior. That's almost enough to buy Sting's entire discography!
What makes a good online shopping experience?
For most of us, the eCommerce experience is our new normal for shopping. Just yesterday I bought a bathing suit, jumpsuit, and pair of bike shorts (Yes, I am a full calendar year late to the trend. No, I don't want to talk about it.) before even getting out of bed in the morning.
Not once during my virtual perusing did I stop to think about if the eCommerce sites I was shopping on were good, effective, or well designed. And that's because they were! The best online shopping experiences don't announce themselves. Instead, we don't have time to consider it before adding items to the cart.
Top Qualities of a Successful Ecommerce Customer Experience
In my quest to figure out what exactly makes for a good eCommerce experience I went back and analyzed the online shops I most often frequent to learn their secrets. Here's what I found to be true about good eCommerce experiences:
Clear cut product categorization that makes it easy to find exactly what I'm searching for

Expansive product filters so I can easy narrow down my search to products in my size and my budget

A user friendly search tool on each page

The site is optimized to support mobile shopping

Product pages with clean design that don't overload me with information, but instead organize the information so I can find what I need to know about the product (like the materials, size guide, similar products, and customer reviews)

Speaking of customer reviews, the best eCommerce sites include easy to find and copious customer reviews on each product page complete with a rating system and the option for customer photos

A personalized shopping experience based on my past interactions on the site— if I am reminded of a pair of shoes that I almost bought the last time I was on the site, you

know

I am adding them to my cart this time

A streamlined checkout process— the longer the checkout process, the more time I have to second guess my purchase

The

return policy

is laid out in clear language
How to Improve your Ecommerce Customer Experience
Good eCommerce sites are providing top notch online shopping experiences for their customers, so how can you implement these best practices for your virtual customers?
Here are the three steps you can take to ensure you are delivering the best eCommerce customer experience possible:
Step One: Audit Yourself
Before you can optimize the user experience for your online customers, first audit your website and make sure it's fast, loads correctly on desktop and mobile, is easy to navigate, and isn't creating a barrier for online purchases in any way..
Some questions you can ask yourself about your site as a part of this self-auditing process are:
Is your website appealing to look at? Including the landing pages, product pages, and each page of the checkout process.

Is it easy to find specific products?

Is there a predominantly placed search tool?

Do all the pages and content load timely and properly?

Is all of the website content necessary and easy to read?

Is the shopping cart easy to view and is it easy to add/remove from it?

Are customer support services easy to access?

Is the customer experience fun or enjoyable for the shopper?

Is the site optimized for mobile shopping?
Step Two: Analyze your Customer Journey
Once you've done the tech audit of your site, it's time to walk through it again. But this time, put on your cutest Customer Hat and pretend like you are a shopper. Click through the typical journey a user would go through on your site to make a purchase. Look out for any part of the typical customer journey on your site that interrupts the natural order of things.
Watch for distractions from the shopping process or other low hanging fruit that can help improve your ecomm customer's experience. For example, does your shop look funky on mobile? There are so many options for website templates designed to be responsive to any sized screen — problem solved.
Speaking from experience, if I am filling my cart on a site and the pages or glitchy or the payment process is unnecessarily long then I will abandon my car in search of a site that doesn't get in the way of my shopping without a second thought. To avoid the possibility of losing customers for silly reasons, be thorough during your customer journey walkthrough so you don't miss anything that you'll end up kicking yourself over later.
Step Three: Stay on Brand
The main thing to keep in mind when giving your eCommerce site a revamp is to stay on brand. Your customers keep returning to your online store for a reason: they love your product. And the products you offer work hand in hand with your brand. Just because you are adjusting your site to make it more accessible and user friendly doesn't mean you need to change your brand. When a company loses track of who they are and what they represent as a brand they run the risk of losing their customers, to ensure you don't do that remember to always stay on brand no matter how many changes you make to your eCommerce store.
All of this eCommerce talk is reminding me of Newton's Law of Online Shopping: for every online purchase made there is an equal and opposite abandoned cart full of stuff waiting to be bought. Or Murphy's Law of Online Shopping: everything that can be bought will be bought. So, I'm off to revisit those carts and I'll leave you with the next thing on your eCommerce reading list— Ecommerce Retention Fundamentals: 3 Major Takeaways.