I buy a lot of products from eCommerce stores these days. That also means I get a lot of email from eCommerce brands. Between the promotions, special offers, and order confirmations, my inbox is bursting at the seams with reminders to buy again.
As a brand, you know, and I know, that running an eCommerce business without email marketing is like trying to drive a car without wheels. It's fundamental and necessary. But not all email strategy is created equal.
When done well, email can feel less spammy and instead be downright magical.
So, let's talk about sending magical emails, like, email that is actually useful and helpful and delightful.
In order to know what good is, let's first point out what it isn't. Here's an example:
A purchase is not an invitation to swallow a customer's inbox whole. Sending a bazillion emails right after a customer buys is not the right approach, especially if you're pitching promotions or items they've already bought.

We've all been taught on how to use email to increase sales, for example, by using cart abandonment. That's great, but what happens after someone buys?

Post-purchase nurturing is one of the best strategies for your business. The moments right after a customer buys to when they receive their order is the most critical and the most memorable. It can mean the difference between a loyal customer for life or a customer who can't wait to hit the unsubscribe button.

Let's dive into a few smart segmentation techniques and email nurturing examples you can use. For the purpose of this post, I've highlighted emails you can send in the pre-delivery phase of their journey. Or in order words, the pre-shipment and in-transit phase of the order between 'order confirmation' and 'delivered.' Post-delivered email ideas will be included in a follow-up post.

I've also included Klaviyo flow examples, so you know how to set up your email flows for these types of emails. Even if you don't use Klaviyo (but seriously, why??), I hope these email examples can still serve as inspiration.

Here are five post-purchase emails (plus Klaviyo flow examples!) to nurture customers when their orders are in-transit.
1. Send educational, post-purchase content to get customers excited and prepared for their order.
This one was inspired by Jacob Sappington of 4x400.
After a customer buys is a really great time to remind them why they bought from you and reaffirm they made the right choice. Communicate things like:
A thank you note from the founder.
Your values, mission, or how you source and build your products.
Customer testimonials, images of customers using the product, etc.
Here are a couple great examples from Kin Euphorics, a non-alcoholic drink brand.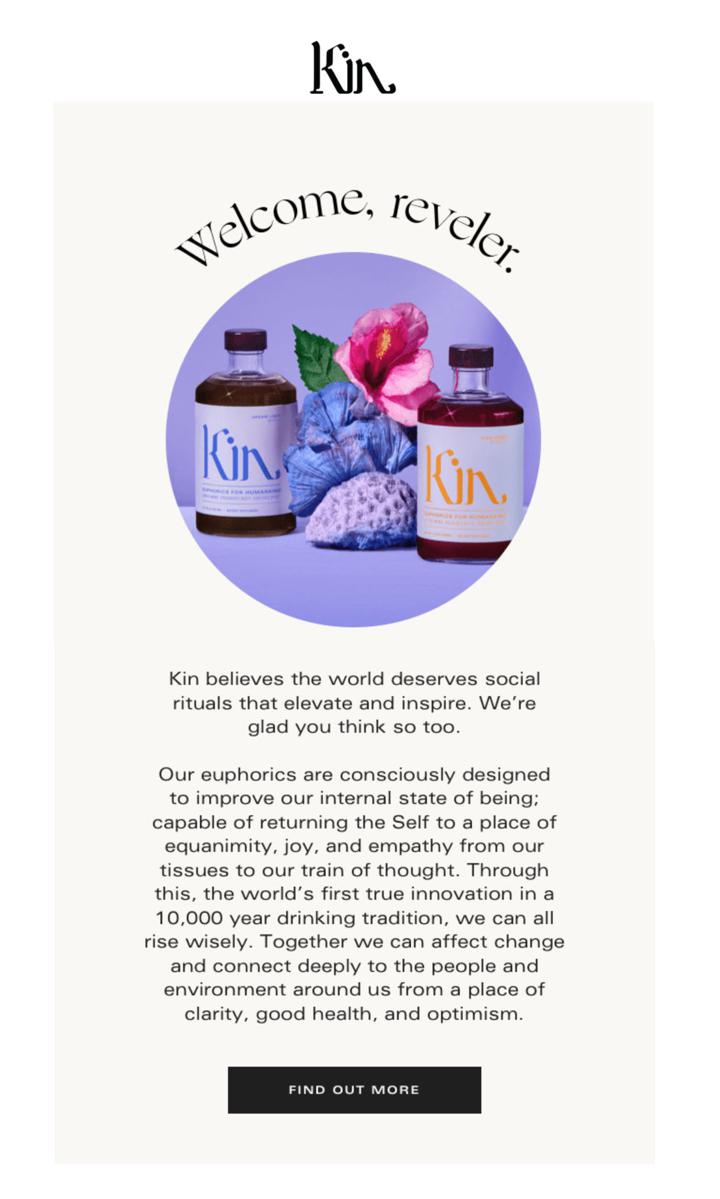 💡 How to build this flow in Klaviyo
Create a new flow from scratch. Choose Metric as the type of flow, and then choose the metric "In transit" (install Wonderment to get this metric). Then add your emails to your flow! For added benefit, you can segment your flows by New vs Returning customers (since you'll likely not want to send the same welcome emails to repeat customers).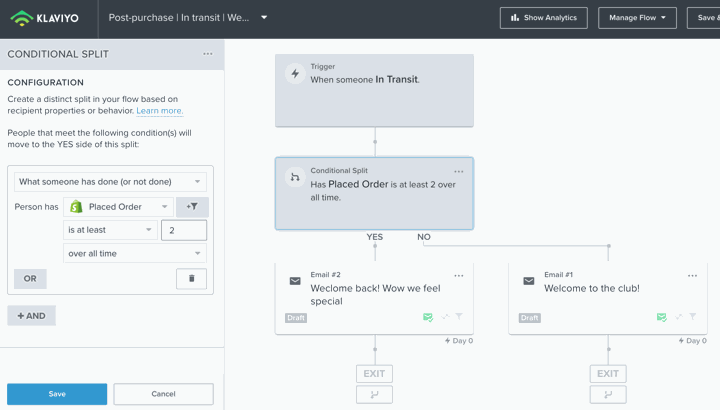 2. Segment post-purchase emails by product purchased
Not all products are created equal. Some come with different ingredients, materials, assembly instructions, storage requirements, or have their own unique history. Or maybe you'd like to show different images of customers using that specific product in everyday life.
For example, one of customers, Luminaid, segment customers by the product purchased, as different lanterns have different instructions.
Here's another use case from Surely, a non-alcoholic wine brand I love (p.s. want $10 off? Use this link). Sending customers the most frequently asked questions will help reduce customer support inquiries or misconceptions about the product. While this type of email is great to send before an item arrives, sending a reminder after it's delivered is great, too!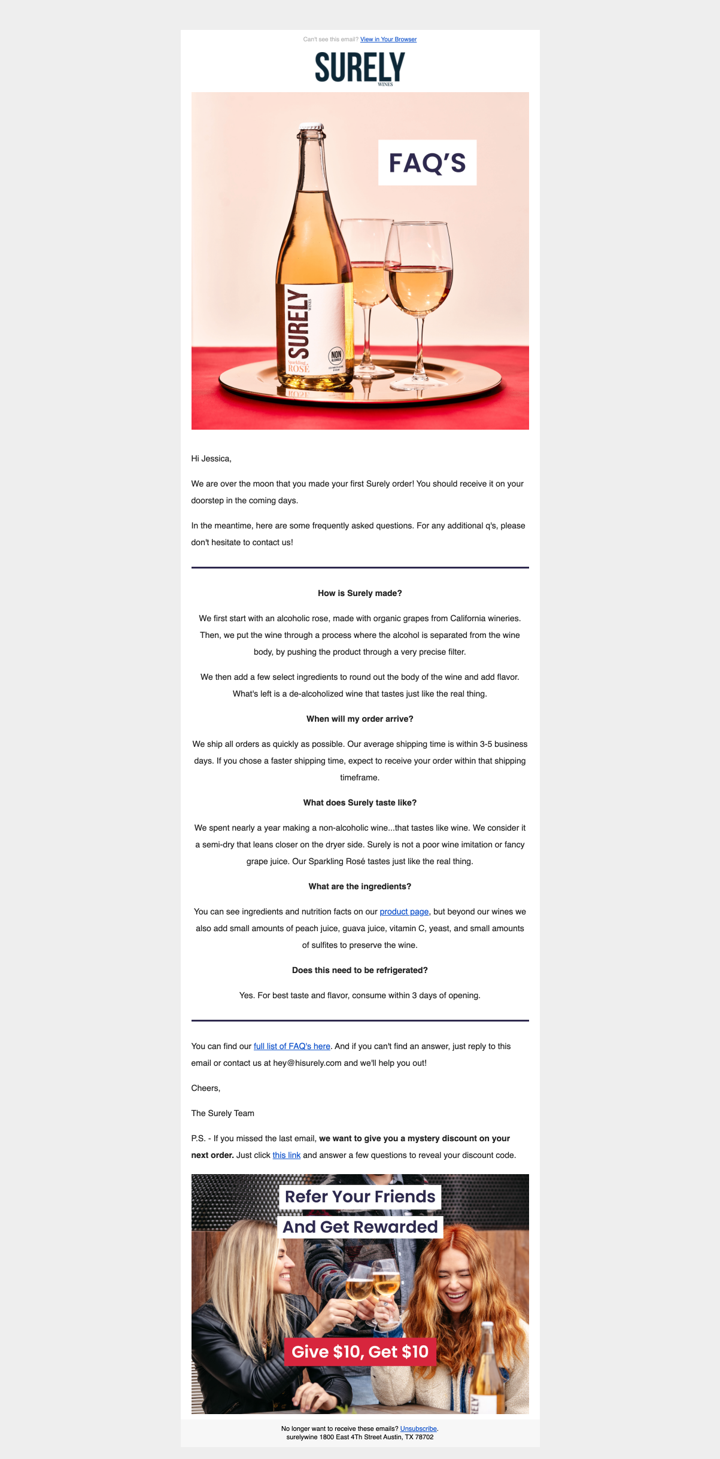 💡 How to build this flow in Klaviyo
Create a new flow from scratch. Choose Metric as the type of flow, and then choose the metric "In transit" (install Wonderment to get this metric). Next, add a Conditional Split, metric = "ProductName" contains, then enter the names of the product you wish you segment on. This will enable you to create flows for one specific product for a grouping of products.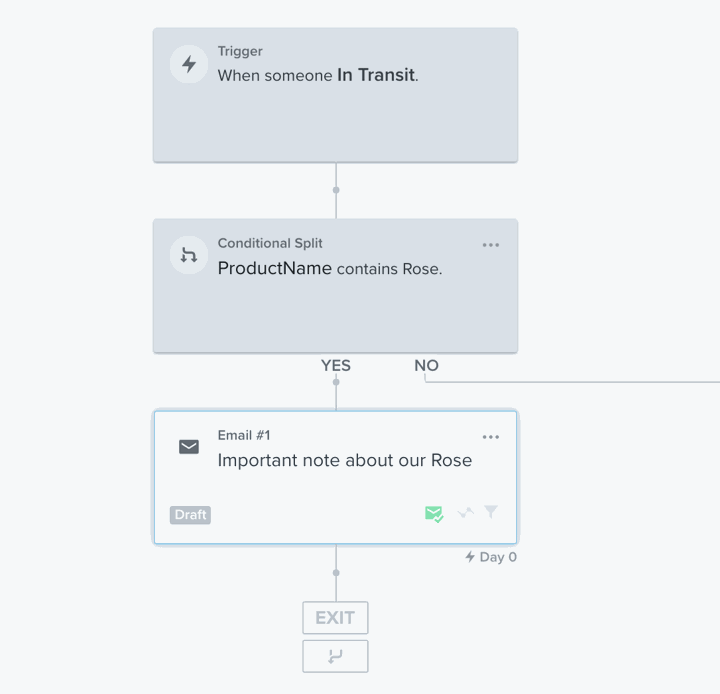 3. Notify customers about items sitting in pre-shipment
If you have long lead times between fulfillment and shipped dates, or your warehouse is backed up, customers might question what's taking so long to receive their item.
The unfortunate truth - most consumers don't factor in fulfillment times with shipping estimates. Or worse, what happens when items don't get scanned by the carrier and thus get stuck in the blackhole of pre-shipment?!
If you tell a customer that a label was created, they will assume the order has shipped. But we both know that's not always the case. Sometimes, the item is awaiting to get picked up by the carrier or it sits somewhere awaiting it's initial scan.
This is an email series from CarMats that I love. Because their items are made-to-order (and not picked off the shelf), there is a typical 7-10 turnaround time for the order to be made and processed before it's shipped.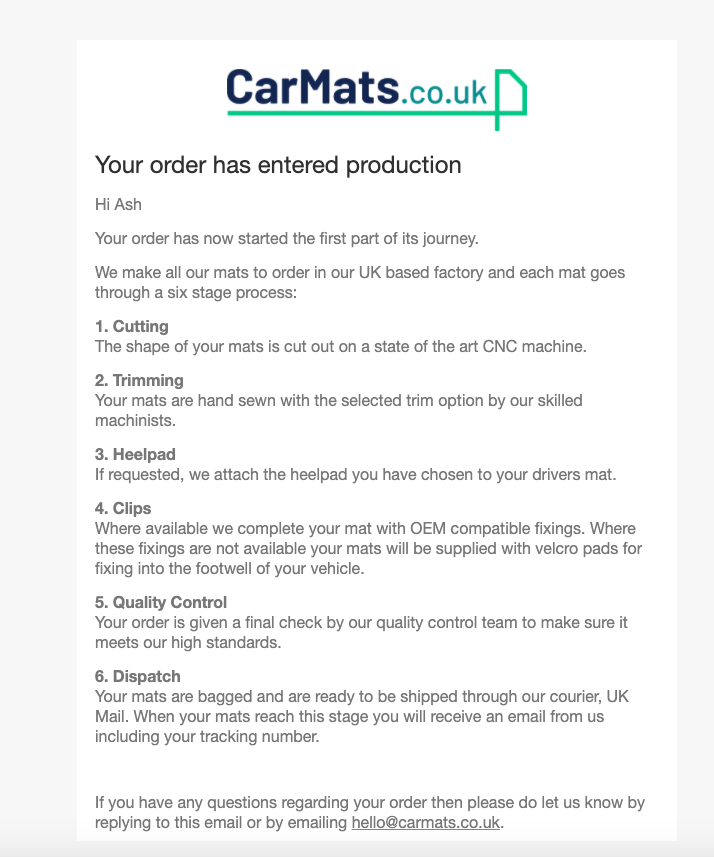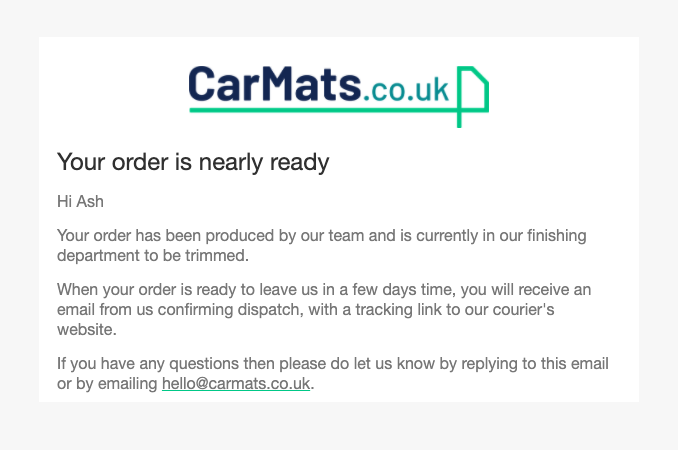 Before CarMats created this email sequence, customers were calling in and complaining about the status of their order. Now with this post-purchase flow, they can provide transparency into the manufacturing process and a heads-up when to expect a shipping confirmation.
💡 How to build this flow in Klaviyo
Create a new flow from scratch. Choose Metric as the type of flow, and then choose the metric "Shipment Confirmed" (install Wonderment to get this metric). Optional: adding a conditional split = "in transit" will check if the package is moving and no longer sitting in pre-shipment.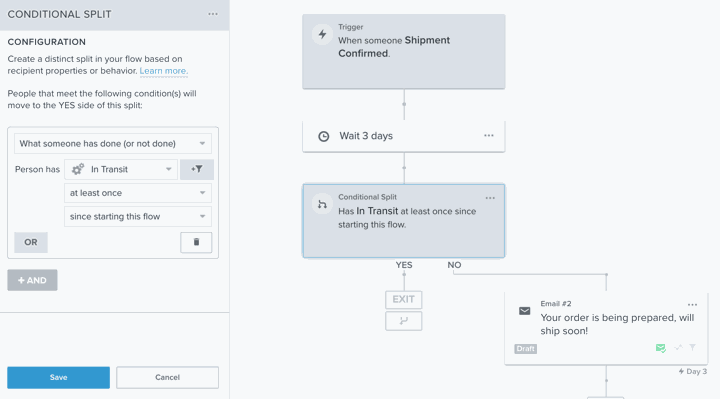 4. Update customers on the status of their order
Consumers, on average, check the status of their order 3-4 times. I can confirm, I'm one of those people. If I have to keep checking the tracking page, no bueno.
Thanks to Amazon and other big-box retailers, consumers expect real-time tracking updates. The good news? Shopify offers these shipping emails out of the box.
But if you want to go a step further, building shipment-related emails in Klaviyo instead gives you greater customization, data, and segmentation options.
Sending email updates when an order ships, is in transit, out for delivery, and delivered is tablestakes.
These are a few examples from brands I love including Olipop and Hydrant.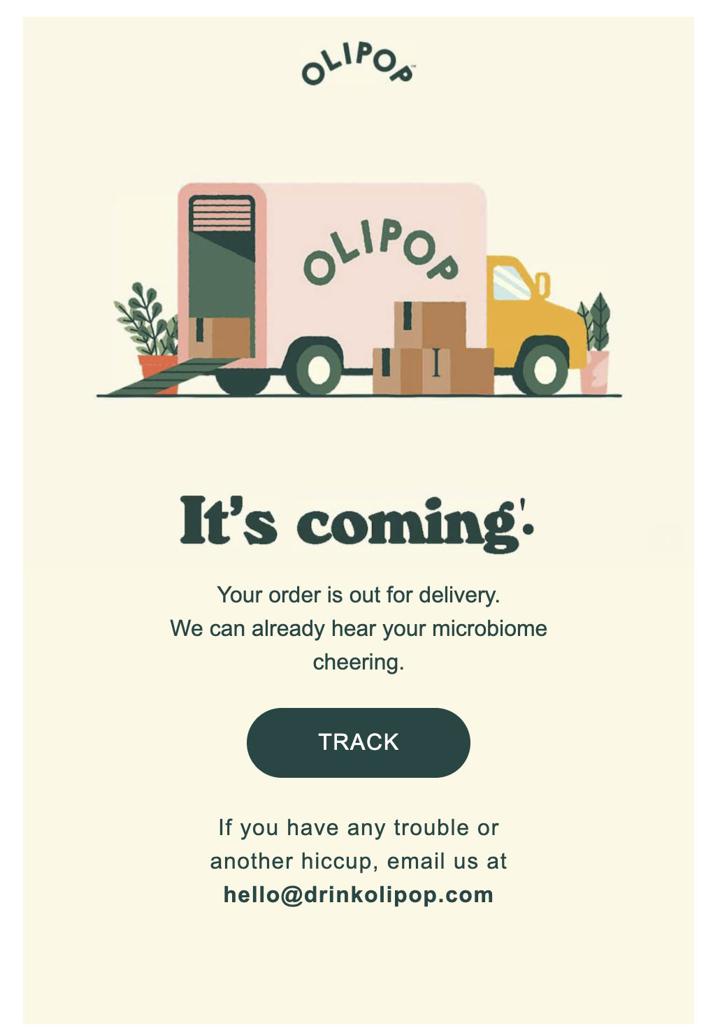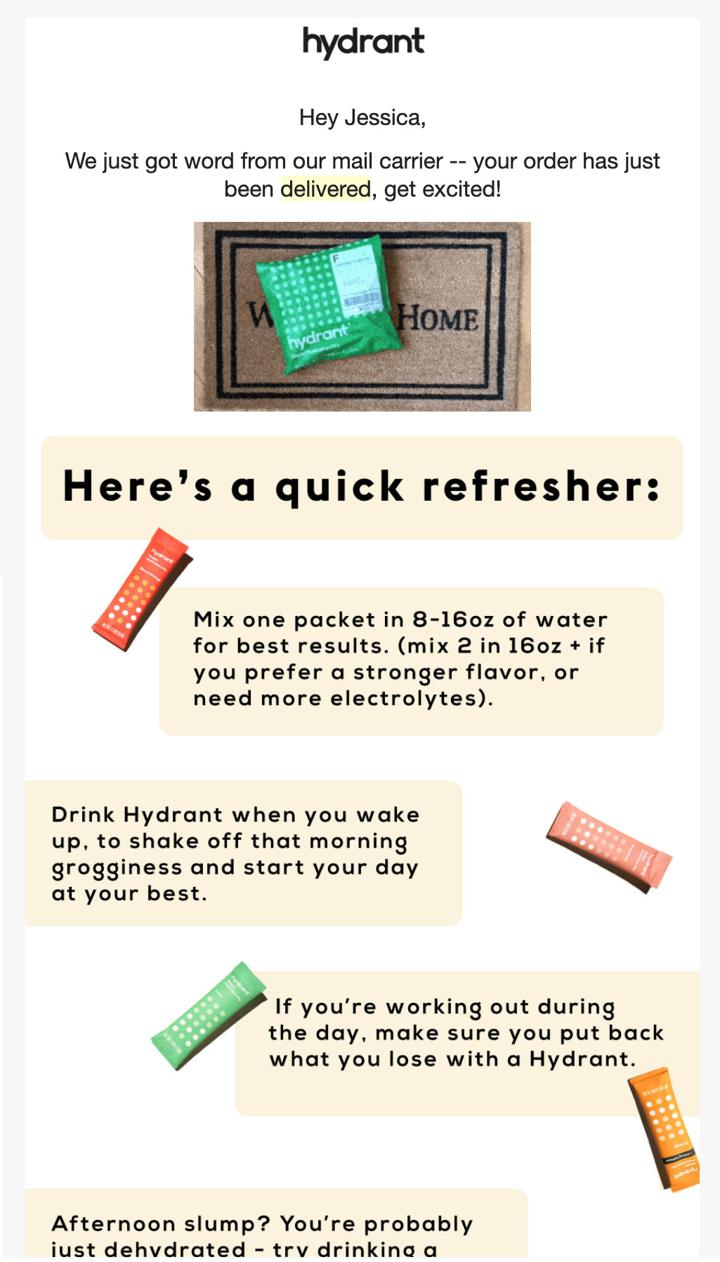 💡 How to build this flow in Klaviyo
Create a new flow from scratch. Choose Metric as the type of flow, and then choose the metric "In Transit", "Out for Delivery," or "Delivered" (install Wonderment to get this metric), depending upon which email you're creating.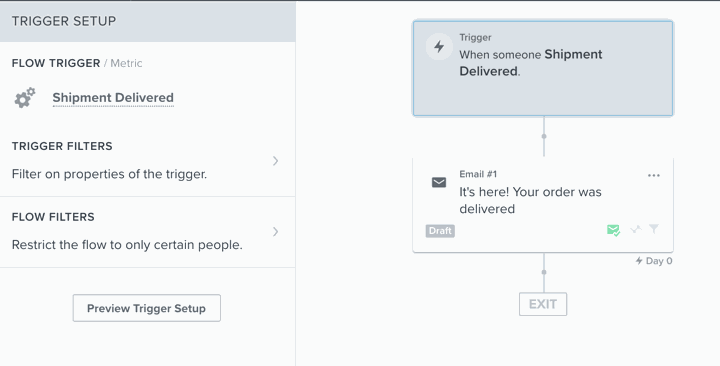 5. Notify customers when there's a shipment issue (delays, return to sender, etc)
All the fine and dandy when everything goes smoothly, but that's not reality. Even when 99% of your orders get shipped and delivered quickly, there is always a percentage of customers who are impacted by delivery delays, shipping errors (wrong address), or lost or stolen packages.
When this happens, don't wait to the customer to come to you with the problem. Instead, be proactive. Communicate any issues before the customer does and you'll earn yourself some major kudos.
Here are many examples of delivery delays emails. Some are designed and some are plain-text. Which one you choose depends on your brand and the circumstance.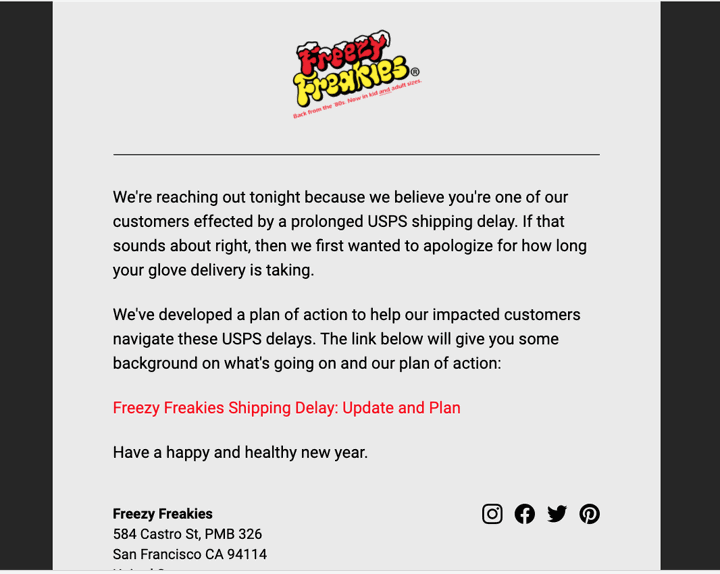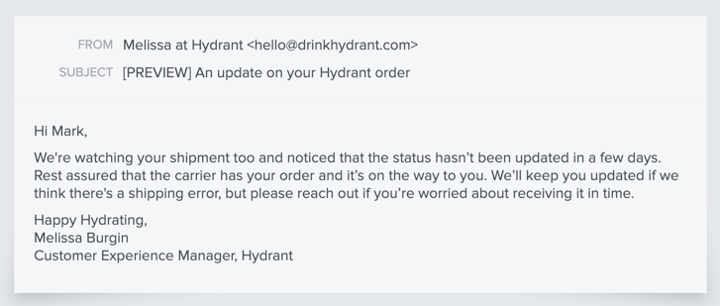 💡 How to build this flow in Klaviyo
Create a new flow from scratch. Choose Metric as the type of flow, and then choose the metric "Shipment Stalled" (install Wonderment to get this metric).Then add a conditional split to segment out order that are no longer delayed. Check out this Klaviyo + Wonderment guide to learn more.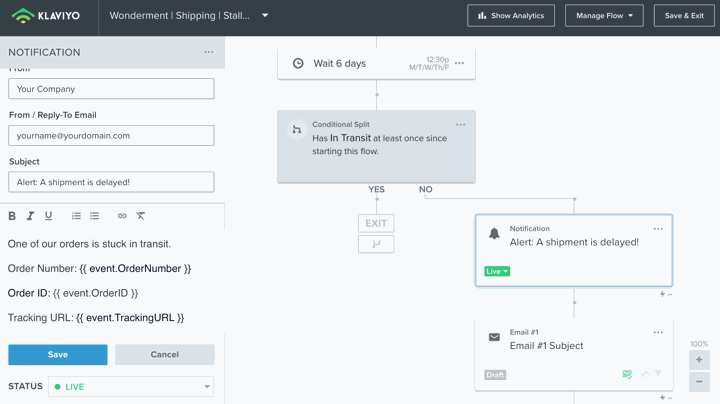 BONUS: here are a few best practices when building post-purchase flows:
Suppress any "in transit" customers from any sales promotions or flows. It's no good if customers are getting welcome emails, shipping emails, order confirmations AND sales promotions.
Get personal but start simple. The amount of segmentation you can do is endless, but start with one segment and then layer in more customization as you grow.
Treat repeat customers differently. Every customer is special (all customers are your favorite customers), but repeat customers shouldn't get the same notifications every time their order.
Share the good news and the bad. For shipping delay emails, try plain-text emails instead of highly designed or templated. It makes it feel more authentic, as if its coming from a real person.
At a minimum, update customers on the status of their shipment. Without the transparency, you'll see more "where is my order?!" calls.
In the next post, we're share "Part 2: Clever post-purchase emails (Post-Delivery Edition)". Stay tuned!