There are two ways to do things in business— because you have to and because you should. You have to send an email confirming that someone bought something on your website. That's a given. Does it have to be pretty? No. Does it have to include their confirmation number and estimated ship date? Definitely.
With rising customer acquisition costs (CAC) and the idea that it's more cost effective to turn a one-time customer into a repeat, loyal shopper than to acquire a net new shopper, ecomm marketers need to be savvy about where, when, and how to engage people who enter your ecosystem.
One way to engage with people? Post purchase emails.
Here are a few reasons you should care:
Without a strong post purchase strategy and frequent email follow up after sale, all the hard work you put in to making the sale is wasted.
Here are 10 tips to use post purchase emails to achieve higher rates of customer retention and optimize your ecomm email marketing strategy.
How can I increase my post purchase satisfaction?
One of the key reasons to run post purchase email campaigns is to increase the post purchase satisfaction of customers across the board. For the most part, it is always better to communicate with unsatisfied customers than to let them storm off disappointed, never to be heard from again or worse, to be heard from by way of a public negative review. To get in front of any unsatisfied customer, be proactive about opening a clear line of communication with them by way of post purchase emails and include customer support information in a clear, prominent place.
1. Reduce post purchase dissonance (aka post purchase regret)
Post purchase dissonance or regret occurs when a customer is dissatisfied with their purchase, leading them to either return the product and/or express their dissatisfaction by way of filing a customer complaint. One mistake ecommerce retailers are prone to making is to ignore this dissatisfaction by focusing only on pleasing already happy customers, which ultimately leads to unaddressed product concerns and a decrease in overall customer satisfaction.
A few ways to reduce post purchase dissonance are to:
Always provide highly detailed information about all of your products so customers have all of the information they need about what they are purchasing before they begin the checkout process

Provide detailed and accurate shipping information using

order tracking notifications

, notify customers of any and all shipping delayed or changes as they occur, and provide the option for customers to track their packages

Offer multiple communication options to customers such as to receive updates via email or SMS texting

Offer a clear exchange or return policy that is easy for customers to access at any point of their ecommerce shopping experience

Offer multiple refund options including a full payment refund or store credit

Listen to your customers when they tell you what went wrong so you can prevent customer dissonance moving forward
2. Develop a post purchase marketing strategy
A customer has just made a purchase through your ecommerce store, hooray! But, now what? With the right preparedness, the act of purchase will trigger a post purchase marketing strategy.
The post sale period is a delicate time in which how you communicate with your customers matters a lot. In many ways your relationship with your customers doesn't really begin until after they've made their first purchase. What you get to decide in the post purchase window is how you would like to engage with your customer moving forward. Do you want to engage with them on social media? Entice them to write product reviews? Whatever your goal may be, you will want to develop a post purchase email campaign.
3. Develop a post purchase email campaign
Speaking of post purchase email marketing…. sending post purchase emails isn't a one and done process that can be developed overnight, but involves creating an email marketing campaign to ensure you hit all of the right notes and no email marketing stone remains unturned.
I'll show you an example of a post purchase email campaign a little bit later in the post, but for now— you don't have to send emails and nurture shoppers, but they're highly engaged, so you should take advantage.
Send pre-delivery and post-delivery emails, ask for product reviews, ask how their purchase experience was, or add them to your discount list. Ask them what products they'd like future recommendations on or provide tips on how to use/wear/style the thing they just bought. They're eager to engage with you, you just have to toss out the first fake fishing line on the dance floor of customer engagement and they'll be sure to bite.
For a quick example of a missed opportunity due to a lack of post-purchase follow up, I recently bought floating shelves in the hopes of designing a killer gallery wall, adding picture frames, plants, and artwork (like so.)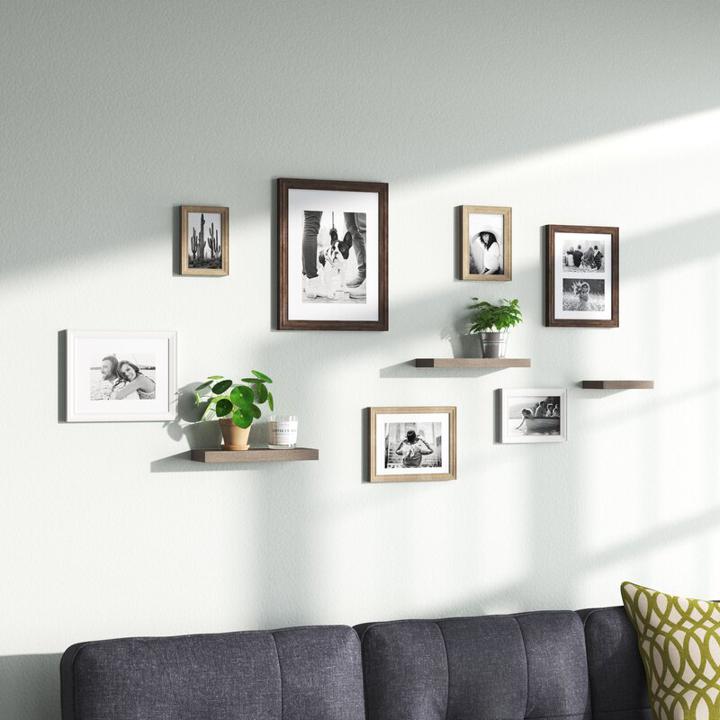 Image via Wayfair
I had all my pins saved with inspiration, but when the shelves came, I realized I needed a drill and some other tools I didn't have. So now the shelves are sitting in my closet and the project waits for another day when I finally find the instructions and figure out what tools I need to make my dream wall a reality.
But! If the company had sent a follow up email with DIY floating shelf instructions and tools needed, I could have spent MORE MONEY with this company buying a drill and stud finder and the like and I'd be gazing at my new gallery wall as we speak.
4. Send detailed order tracking emails
Plenty has been said by me in the past about the importance of sending detailed order tracking emails, but that's just because it is so important. Order tracking emails are one of the completely necessary post purchase emails. As I mentioned before— people open them, so use that real estate!
Turn them from simple transactional emails into a marketing opportunity by optimizing their design. To get the most out of your order tracking emails, design them to include:
A detailed breakdown of items in your order

An accurate shipping and delivery date

A tracking # and link for customers to track their package

Company branding and social media links

The option for customers to review products

Exclusive discounts and promotional offers

Customer recommendations for additional products
Improve post purchase customer engagement
If one half of creating great post purchase emails is increasing customer satisfaction, the other half is improving customer engagement. Of course, both halves are easier said than done. Let's dive into how to ensure you're optimizing post purchase emails for increased customer engagement.
5. Make customers feel special
You know that old adage— You catch more bees with honey than with vinegar. Well, you catch more return customers with customized post purchase emails than with generic ones. I'll admit, that doesn't exactly roll off the tongue, but it's true. Your customers do not all have the same needs, so they shouldn't be marketed to as if they are all the same person.
Personalize emails based on purchase— use segmentation to send nurturing or follow up emails based on category, past purchase activity, or demographic.

Suppress recent purchasers from standard marketing promotional sends for a few weeks or until the item is delivered, so you don't get your recipient's hopes up that their item is coming but it's just your summer deals. It'll prevent your brand from quickly clogging up your new customer's inbox and coming on too strong.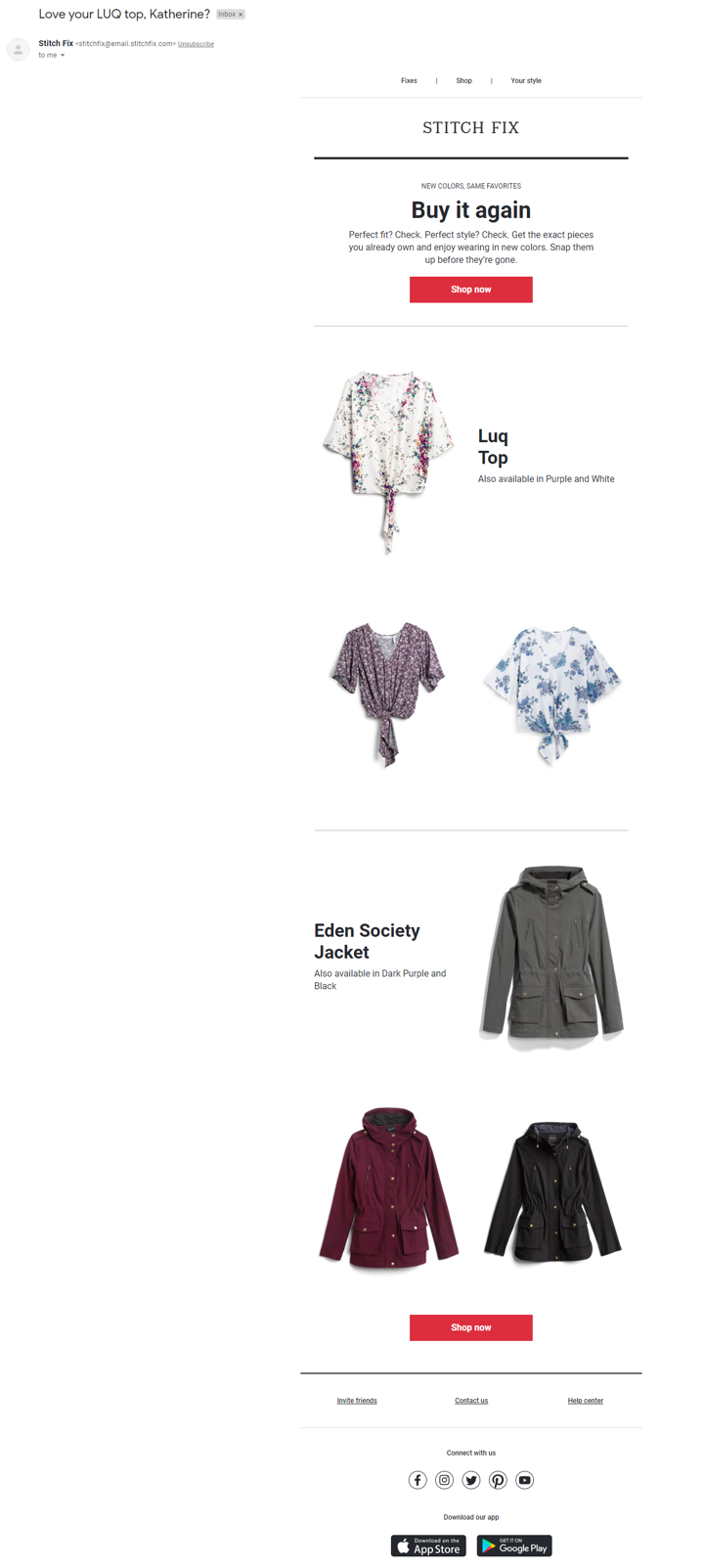 6. Optimize for international customers
If you only ship products to customers in the country, you can go ahead and skip this one. But for all of you who ship internationally, you'll need to optimize your post purchase emails for your international customers with a bit more consideration.
We all know that waiting for an internationally shipped package can add an extra layer of stress to the entire ecommerce shopping experience. To improve the process for your customers, make sure to create nurture timelines that are adjusted for additional shipping times and include real-time tracking updates in your post purchase emails.
7. Use CTAs based on product/category purchased
One of the easiest ways to turn a one time customer into a loyal, repeat customer is by tapping in to their user history. Just under 70% of all online shopping carts are abandoned, but that doesn't mean that your relationship with those customers ends just because they've ditched their cart for the day. As long as you have received their email address, you can send users emails based on their browsing and shopping history. These CTAs based on products and categories are proven to have a high success rate of converting users into customers and customers into repeat customers.
8. Make sure your shipping receipts are set up as transactional email (vs marketing email)
Remember what I said earlier about customizing your emails so they are more marketing-focused rather than purely transactional? There is one exception to this rule: shipping receipt emails. The average person receives 121 emails per day. That is 120 opportunities for your customers to open an email that isn't from you. To help with deliverability and visibility in their inbox, so customers don't miss critical updates about their order, keep your shipping receipt emails as transactional— which will improve your ability to properly get into their inbox due to the way it's tagged.
Marketing emails can get flagged by spam filters, while transactional emails are less likely to have issues in that department.
9. Take advantage of the time between order confirmation and item delivery
The window between when a customer receives their order confirmation email and receives their shipment is a key time for customer engagement. It is in this window, when your customer is anxiously awaiting their products, that customers are most eager to interact with your brand.
Instead of leaving your customers alone to stare longingly out their front window for their package to arrive, further engage with your customers by sending post purchase engagement emails such as:
How To product guides or videos

An inside look at your company's mission

A welcome or thank you message from your founder/CEO

User photos and reviews of other customers using the products they purchased

An intro to your brand's social media

Common FAQs
10. Send updates with any shipping delays or delivery schedule changes
The last, but certainly not least important, tip is a classic one. To improve post purchase customer engagement and satisfaction,provide customers with any shipping delays or delivery schedule changes while they are awaiting their purchase. If you are looking to incorporate an order tracking app into your post purchase strategy, check out How to Choose the Best Shopify Order Tracking App.
Example post purchase email campaign
Alright, now that we've dissected everything that goes into creating a really great post purchase email campaign, let's take a look at successful ones in action. While there are near-infinite possibilities for how you conduct your post purchase email campaign, let's take a look at six of the most common post purchase emails that constitute a successful campaign.
Email #1: Follow up email after purchase, Order confirmation email
The first email in every post purchase campaign is the classic order confirmation email. This email is typically straightforward and transactional, and has more of an order receipt vibe than anything else. The follow up email after purchase includes:
An overview of products ordered

An overview of payment and shipping information

Order #

A brief "thank you for ordering" note

Customer support resources

A CTA that directs customers to engage with your brand further

Email #2: Order shipped
Once the order has been shipped, you will want to notify the customer as soon as possible. If the typical customer is anything like me, this is the moment they've been waiting for! Because now while we wait for our package to arrive we are able to track it ourselves. A classic "order shipped" email includes:
Order # and Tracking #

Estimated delivery date

Product overview

FAQ page

Customer support resources

A CTA in the form of a discount, promo offer, or ongoing sale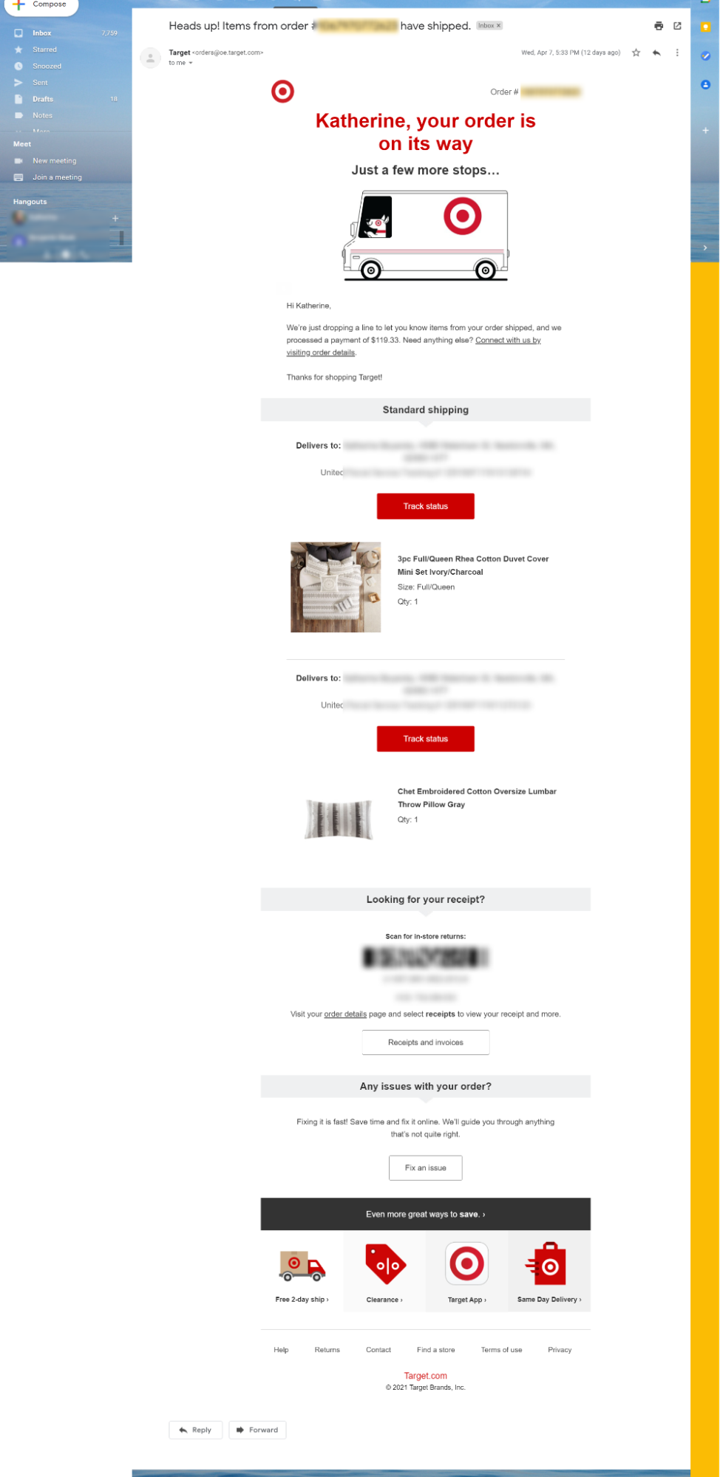 Email #3: Shipping updates
The time between "order shipped" and "out for the delivery" is one of the biggest opportunities to keep the customer engaged. So many brands just send promotions, almost as if the customer has been forgotten. Remember what I said earlier about this being a key time for customer engagement? Shipping update emails are a bummer for customers to receive because they usually mean there has been a shipping delay along the way. To remind customers that a delay is just a speed bump and that you're there for them, include some of these features in your shipping update emails:
Customer support resources

A "thank you for your patience" note regarding any delays

Details about shipping updates to ease worried customers

Updated estimated delivery date if necessary

FAQs

Special promo codes or discounts to direct customers back to your main site

Social media links for more personal engagement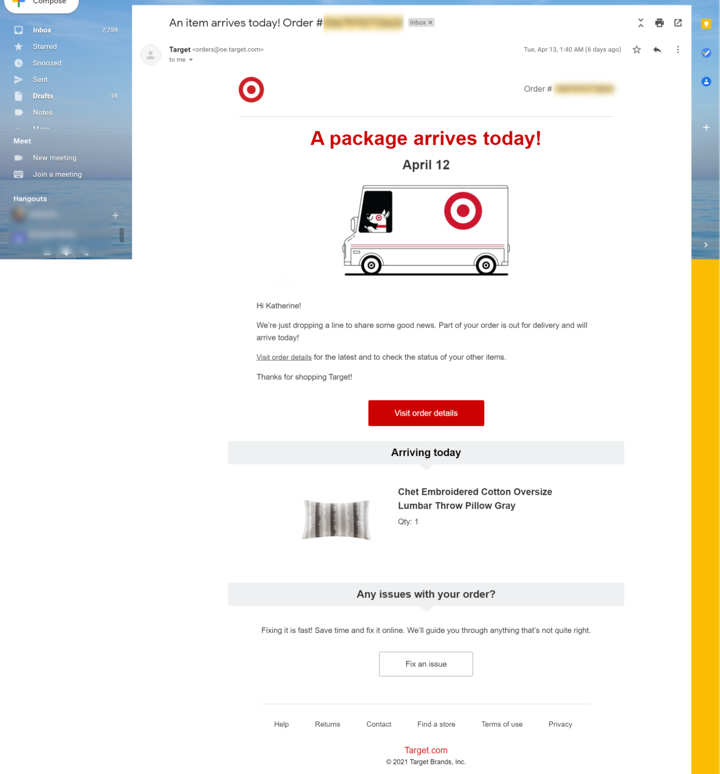 Email #4: Order delivery confirmation
Order delivery confirmation emails are a celebration! If your customer didn't already realize their package had been successfully delivered, they will know once they open this email and therefore it should be a fun moment. Think of it as an opportunity to flex your personalized branding muscles. Successful order delivery confirmation emails include:
An overview of the delivered products

Customer support resources

A celebratory "the wait is over!" message

A "frequently bought together" CTA to encourage further shopping

Or a "continue shopping" CTA for customers with items left in their carts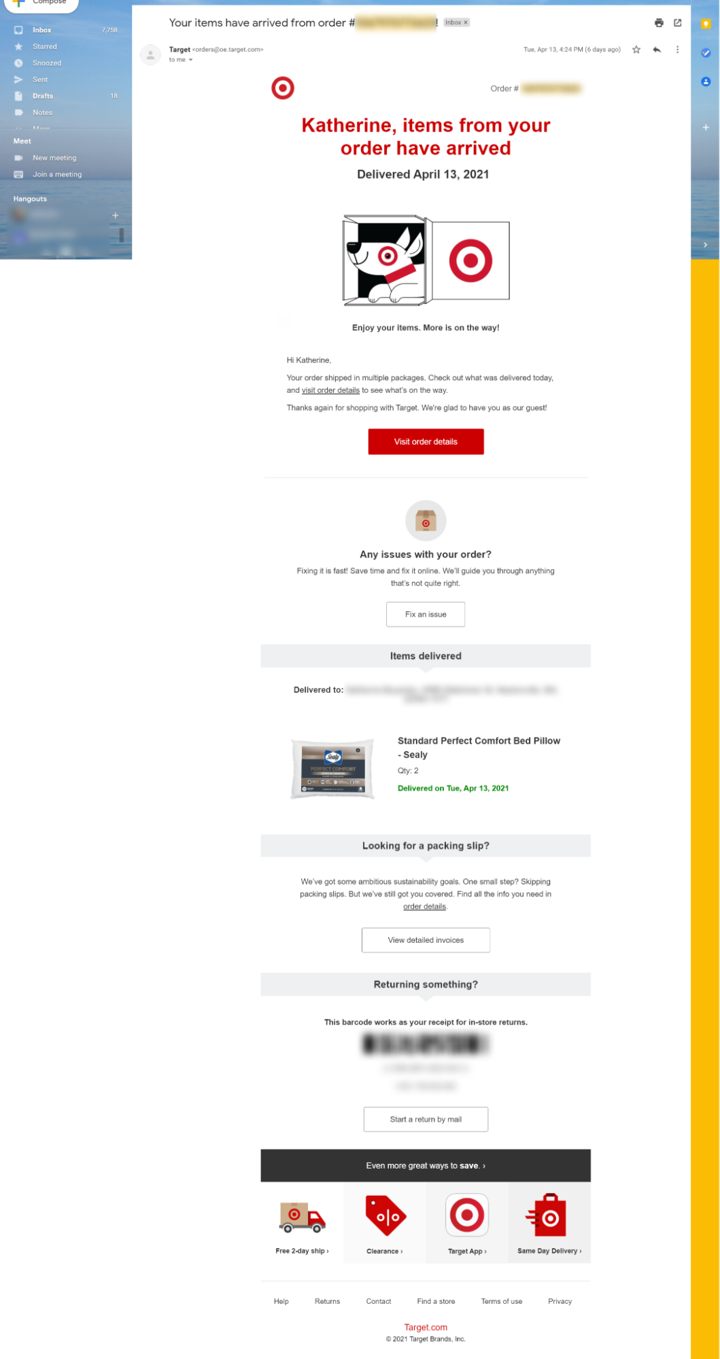 Email #5: Product review and request for feedback
Once your customer has had a day or two to try on or try out their new product, it's time to prompt them to leave product reviews or provide additional feedback. There are a few ways to go about this process, but the two main ways are to:
Trigger email from a review platform like Junip/Stamped.io a few days after delivery

Send a simple, plain-text email that's automated but looks as if it's coming from the CEO. Encourage customers to respond to the email directly. This is great especially if you're testing out a new product and want more qualitative feedback.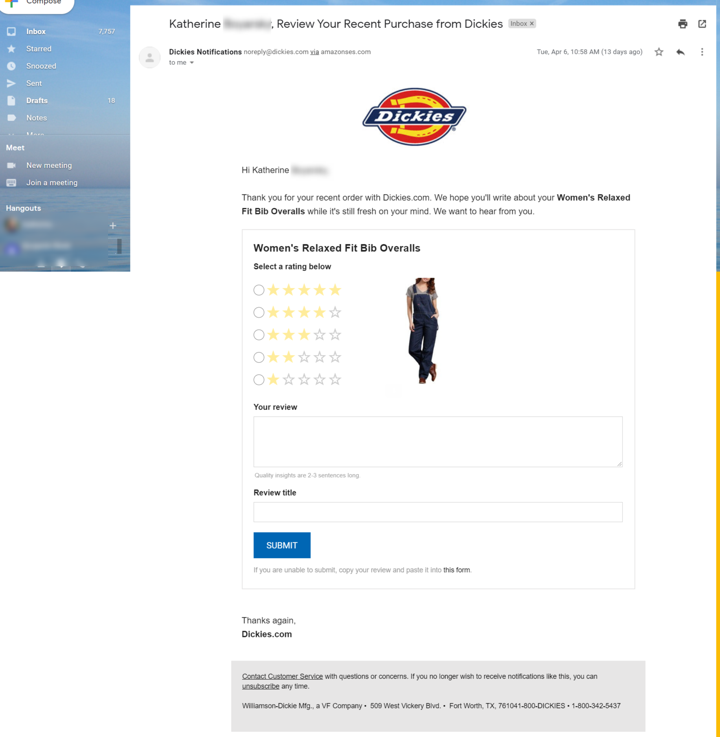 Email #6: Additional discounts and social media pitch (i.e. tag us and your product)
The final email in your post purchase campaign is where you have the most freedom. What is left for your customer to do? If your customer was happy with their order, they are in a prime position to happily continue their relationship with your brand. If they were unhappy with their order, this is your opportunity to cure any post purchase dissonance. Either way, this is the moment to take your customer to CTA city with emails that include things like:
An introduction to your referral program

An invitation to join a rewards or loyalty program

The opportunity to purchase a gift card

A reminder of items left in their cart

Prompting further shopping by reminding them of similar or related products

Prompting them to post on social media to spread the word AKA "Tag us!"

Prompting them to follow your social media accounts to stay up on the latest offers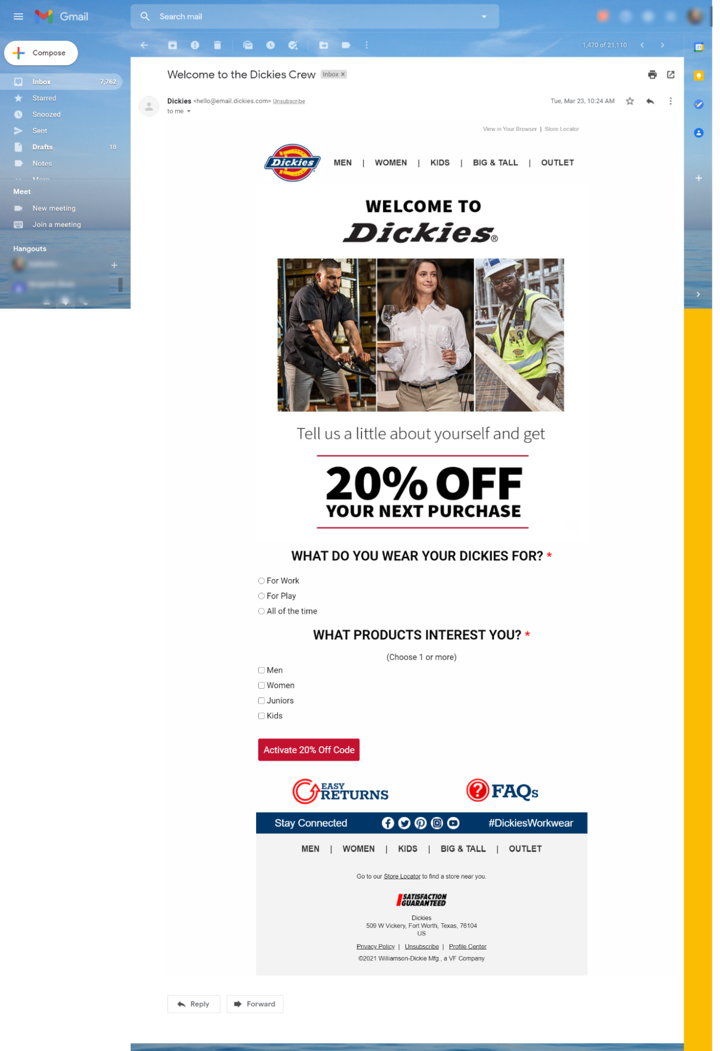 Are you in the market for a total ecommerce revamp? Click here to find our What Makes a Great eCommerce Experience.