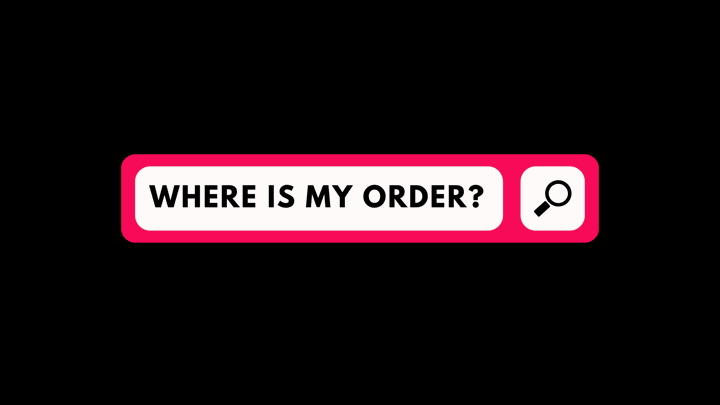 You've got someone to your ecommerce website through a combination of ads, partnerships, organic search, and PR.
You've used social proof and user-generated content to entice them to browse your product pages.
You've incentivized them to add to the cart with positive customer reviews, beautiful product photos, and a first-time shopper promo code.
You've motivated them to check out with the promise of free shipping and points earned through your loyalty program.
You're excited you've earned yourself a new customer. They're excited to try your product.
Then your customer support team receives an angry email – "dang it, where's my order?"
Unfortunately, you're hit with WISMO.
What is WISMO?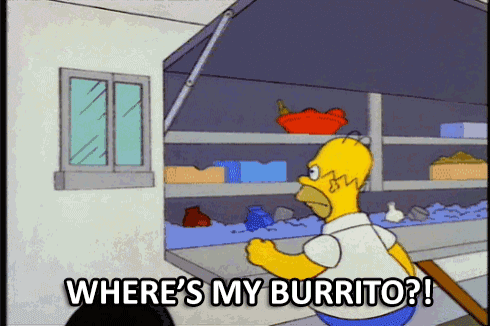 WISMO ("Where Is My Order?") is the question a customer will often ask if their package has taken longer than they expected to arrive.
They will generally go through your customer support channels to get an answer (via phone call, email, or your help center); they may also take to social media if you have a business page on Facebook or a Twitter account.
According to Lisa Kant, senior director of platform marketing at Zendesk, WISMO is one of the top customer service inquiries - which should come as no surprise, given it has its own acronym!
WISMO's impact on customers
"Setting the right shipping expectations is critical for any eCommerce company." - Jeanne Hopkins, CRO at SquadLocker
Imagine you're at a restaurant with some friends. You all order your food from the server at the same time, but when your friends get their entrees, yours is missing.
You tell your friends to eat while their food is hot, and you flag down your server to let them know you still haven't gotten your meal.
By the time your order arrives at the table, everyone else is finished, so they have to sit and watch you eat.
What are the odds that you blame the server for your meal not arriving on time, even if it's the chef's fault?
And what are the odds that you return to that restaurant, given there are many others in your neighborhood?
If someone has to file a support ticket or call your help line to locate their package, they are not having an ideal experience with your brand.
They've crossed the line from anticipating the delivery to feeling anxious about it.
It's possible they'll give you a chance to make it right - but they may also take their business elsewhere next time.
WISMO's impact on ecommerce brands
"37% [of consumers] would not return to a retailer following a bad delivery experience" -

Metapack eCommerce Report 2020
Besides causing lost business, WISMO damages your brand reputation and leads to increased customer support costs.
Even if a customer contacts your care team and the issue gets resolved, there are still support costs associated with answering tickets and manning the phone lines (sometimes as high as $5 per call).
Fortunately, once you understand the causes of WISMO it's fairly easy to solve the problem without relying on your customer support team, or the customer to contact you with an issue.
What causes WISMO?
Typically, a customer will reach out to you with a WISMO inquiry if:
They don't know what the estimated delivery date is

They don't know how to track their package

Their package is past its delivery date or never arrived
While a delivery delay is not your fault, customers don't distinguish between your brand and labor disruptions that impact your supply chain.
What can you do to take ownership?
Good: Offer package tracking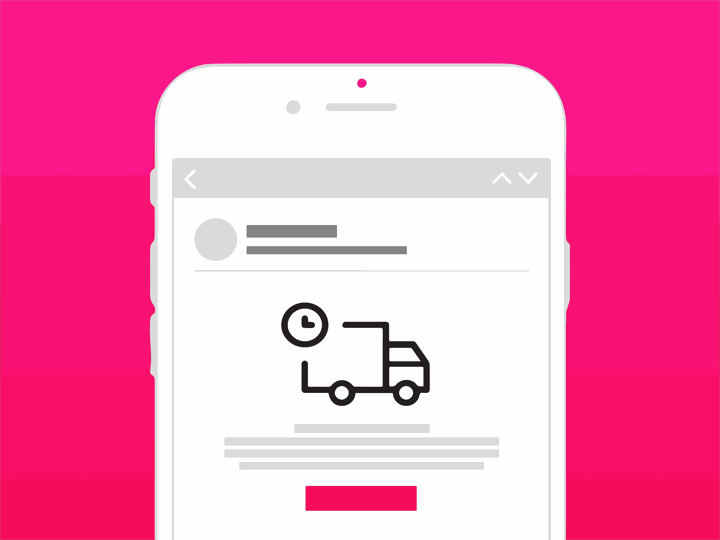 Even Better: Send out proactive communications about an order, shipping, and delivery status
In all cases, the best way to keep customers happy and earn repeat business is to give them the information they need before they ask for it.
When you're aggressively helpful, WISMO doesn't stand a chance.
The simple ways to reduce WISMO on your ecommerce store
Ready to defeat WISMO?
Take your cues from the following online brands, who are setting customer expectations up front and delivering a better end-to-end shopping experience:
Website
Homepage Banner

Peloton has placed a banner on their site explaining delivery delays based on what product you order
Popup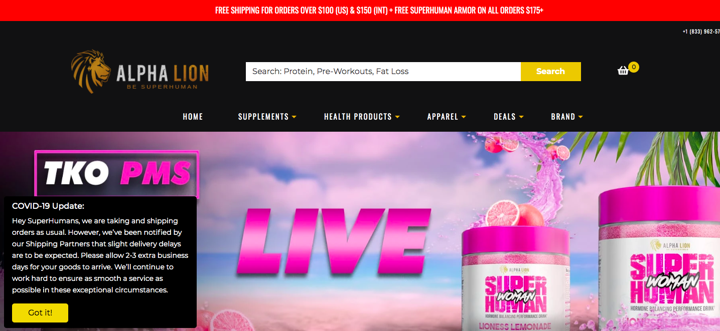 Alpha Lion lets site visitors know their orders might take a little longer than normal due to the pandemic
FAQs

Birdies address shipping delays head-on so there are no surprises
Help Center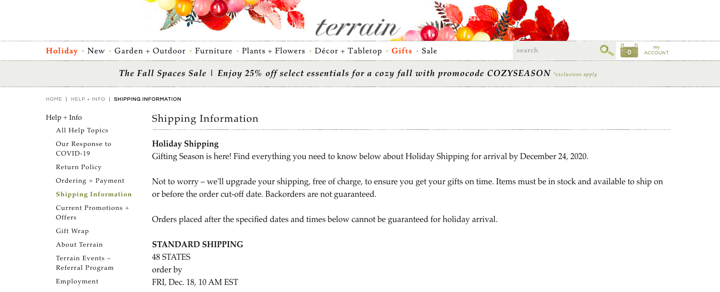 Terrain tells shoppers exactly when the cutoff is for getting orders delivered by the holidays
Email
Order Confirmation

Rodan + Fields provides an estimated delivery date so shoppers know approximately when to expect a package

Knix lets customers know about an increase in demand that may impact the shipping process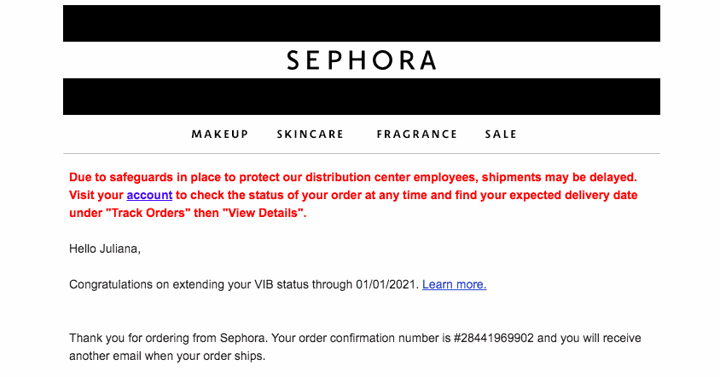 Sephora also owns up to shipping delays and gives customers a way to track their order status so they stay informed
Order Shipped

Lilly Pulitzer sends a branded shipping notification with the option to track the progress of packages as they are delivered
Delivery Updates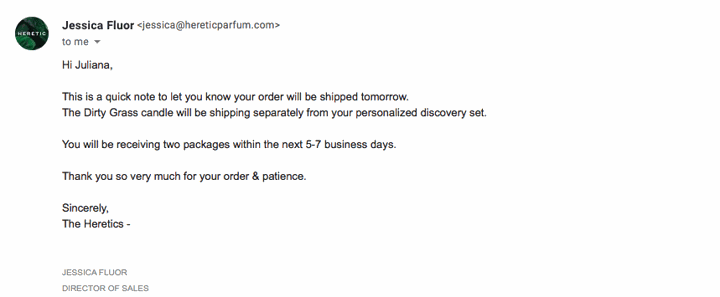 Heretic provides a personalized message if a delivery is taking longer than expected to arrive

Planted lets customers know when they can expect their order to be delivered, a day in advance
Delivery Confirmation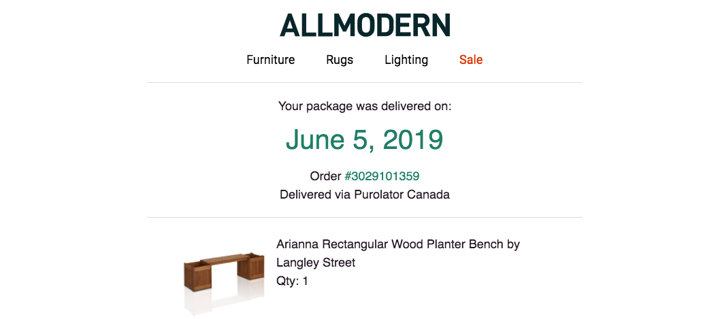 AllModern sends a branded notification as soon as a package has arrived, with information on the shipping service. Note that they encourage more shopping via links at the top of the email!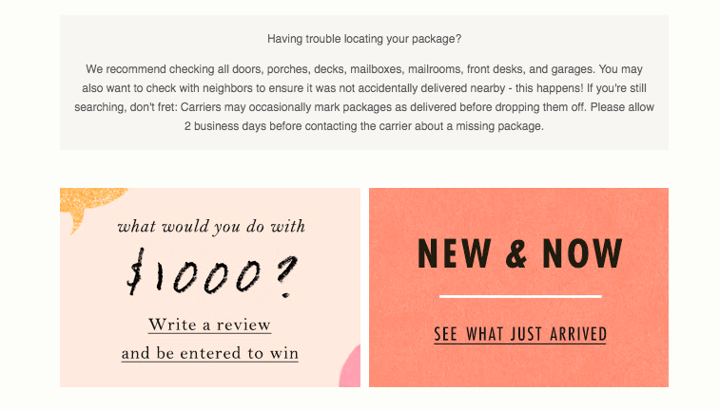 Anthropologie shares tips for locating a delivered package to reduce the need for customer service - and they sneak in a few calls to action to encourage more engagement with the brand
For more examples of post-purchase customer communication from ecommerce brands, check out "5 Great SMS Shipping Updates."
Connecting the dots on delivery updates
WISMO is a signal from your customers that they crave more communication around the shipping process.
Of course, to give them that extra layer of information, you need access to it yourself!
At Wonderment, we've built a platform that lets your Support and Ops teams know in real-time whenever an order is stalled, delayed, or lost so they can surprise and delight customers with a proactive outreach.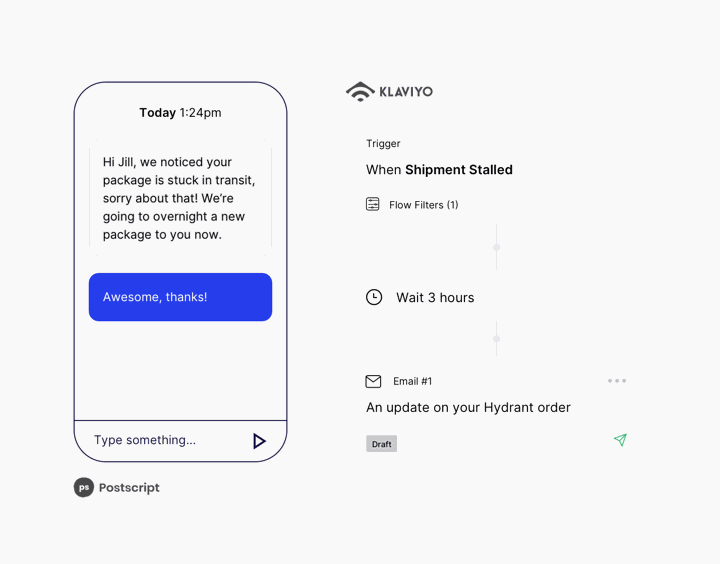 We've also built partnerships with ecommerce tools you already use - like Klaviyo, Postscript, and Gorgias - so you can automate shipping notifications via email and SMS.
Is a world without WISMO possible? We think so.
If you want to create a better experience for your customers, get in touch with us today.