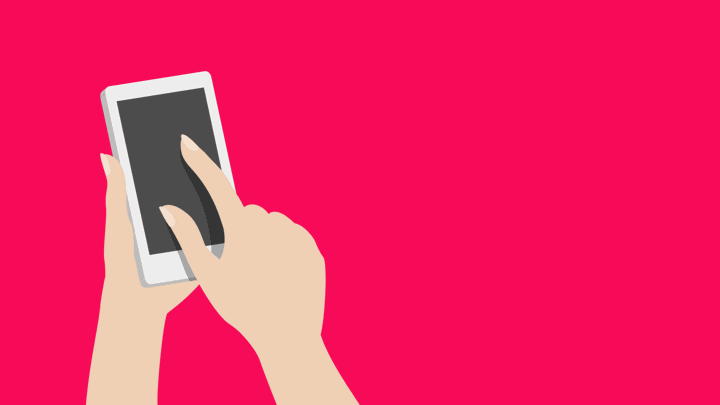 It's no coincidence that email pop-ups and banners are on practically every ecommerce site homepage, given how valuable email addresses are to brands.
For years, online retailers have relied on email as a way to educate customers, spotlight products, advertise sales, drive loyalty program signups, and provide order updates.
Yes, it's a tried-and-true method of communication - but it's also become a crowded one.
Which is why you may have noticed a new trend lately: Phone number form fields.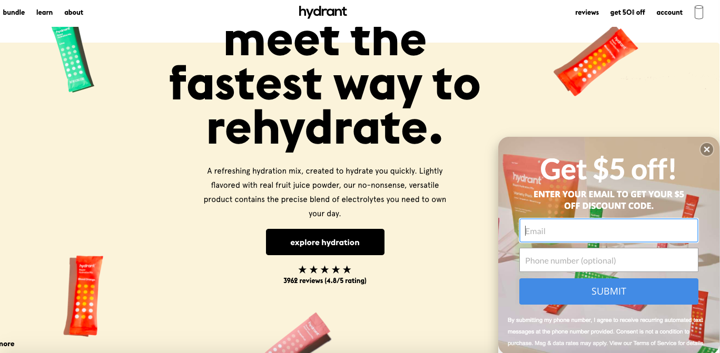 Why the sudden interest in collecting digits?
There are a couple major reasons why you may want to test out this new and growing channel:
1. Brands are generating revenue through SMS
In a recent eMarketer article, online retailer Peace Out Skincare reported that SMS made up 21% of their total ecommerce revenues in the first month that they tested it as a channel, and that the ROI for the program was a whopping 780%.
Pizza slinger Papa John's saw a high ROI from their SMS campaign as well:

What makes SMS so effective?
2. SMS is a less cluttered channel than email
The rise of text message marketing makes a lot of sense when you think about it.
How many unread emails do you currently have in your inbox?

Unlike email, SMS is relatively untouched.
The ecommerce industry hasn't fully adopted it yet, which means (1) fewer brands are competing for attention, and therefore (2) consumers are still highly engaged with text messages from online merchants.
Like email, SMS is extremely versatile.
For the purposes of post-purchase marketing, you can use it to:
Confirm purchases and send thank you messages

Ask for product feedback or reviews
Offer tips on product usage
Provide early access to sales
Remind customers to restock on their favorite items
You can also use SMS to:
Signal boost a referral/loyalty program

Surprise and delight customers with VIP offers
Here are a couple of examples of how brands are using SMS in different ways: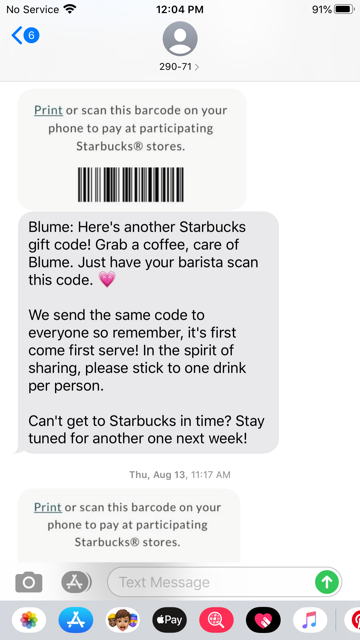 Beauty brand Blume randomly sends out Starbucks codes to its SMS list; a genius way to attract more subscribers who may convert into customers.
Keto food brand Outer Aisle uses SMS to share funny memes and exclusive promo codes with its list of subscribers: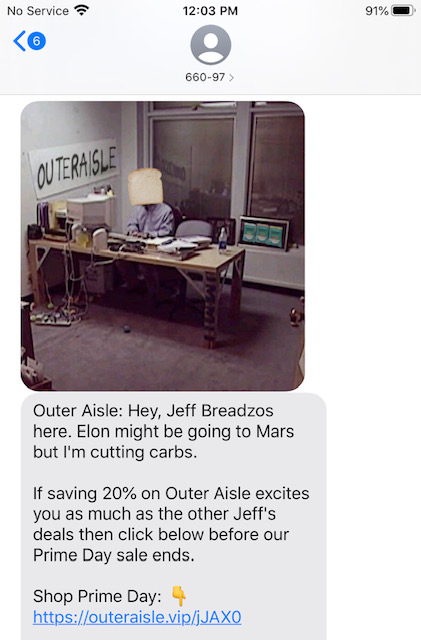 Because text messages are meant to be read and absorbed quickly, they're also the perfect format for providing shoppers with order confirmations, delivery status updates, and shipping delay notifications.
Traditionally, ecommerce brands have offered this information via 3rd-party shipping websites or customer support inquiries.
While it's better to offer some insight into where a package is than none at all, this setup puts pressure on the customer to take an action.

If you're currently relying on shoppers to stalk their front door, refresh a tracking page every day - or worse, to contact your support team - you're causing them unnecessary frustration.
Fortunately, SMS is tailor-made for providing your customers with proactive, real-time updates - and it's easy to set up. Just make sure you're only sending messages to customers who have explicitly opted-in to receive them.
Looking for inspiration to get started?
Here are just a few ways online stores are using SMS to send delivery communications and build brand trust:
5 great SMS shipping update examples
1. Amazon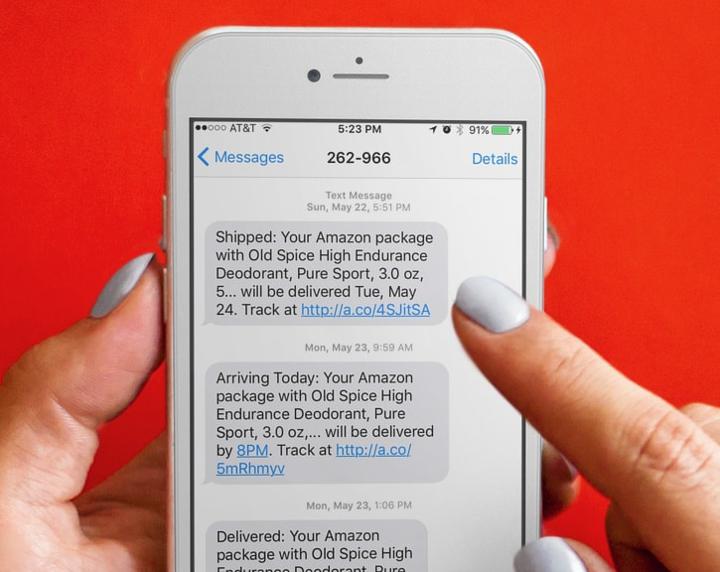 Source: Tatango
Here, Amazon keeps a shopper updated with essential details:
Name of the product

Delivery date/time

Order status (shipped, arrived delivered)
This is a good reminder that SMS messages don't have to be sexy - they can simply be useful.
2. Frey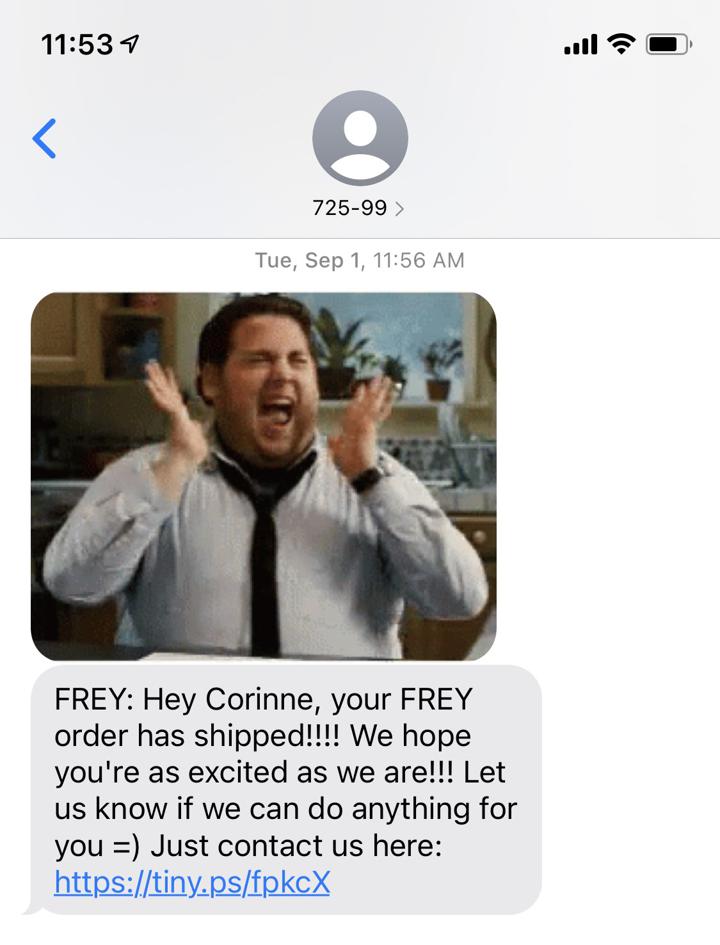 Getting a text message feels more personal than receiving an email, so SMS is an excellent platform for making your customers feel more like they're your friends. It's also great for providing extra resources.
Here, DTC brand (and Postscript customer) Frey turns a shipping delivery notification into a virtual high five and uses the text message to connect shoppers with support should they need it.
3. AmazinglyCat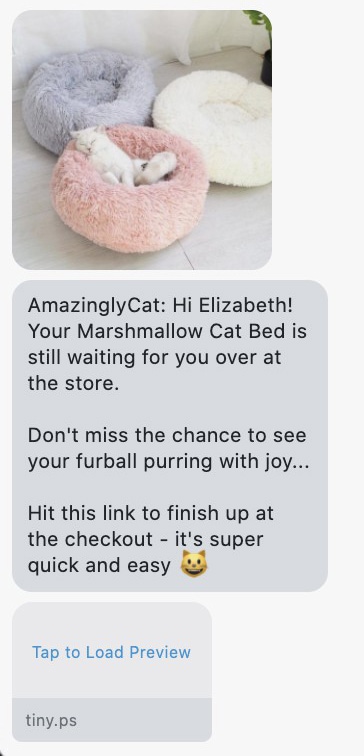 Ecommerce companies with a retail/wholesale presence can also use SMS to tell people that their orders have been shipped to a brick & mortar location and are ready for pickup.
We love this example because it's personalized, it showcases the product, and the copy is playful.
4. Anthropologie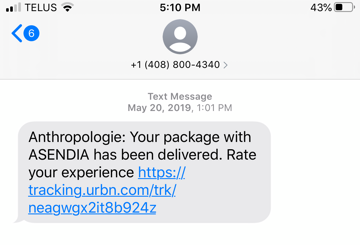 This is a great example of how you can piggyback a delivery update with a related call to action.
Here, Anthropologie uses SMS to gather customer feedback, but you could also use it to ask for user-generated content ("Snap us a pic of your new sweater") or promote a referral program ("Love what you bought? Tell a friend").
5. Alpha Lion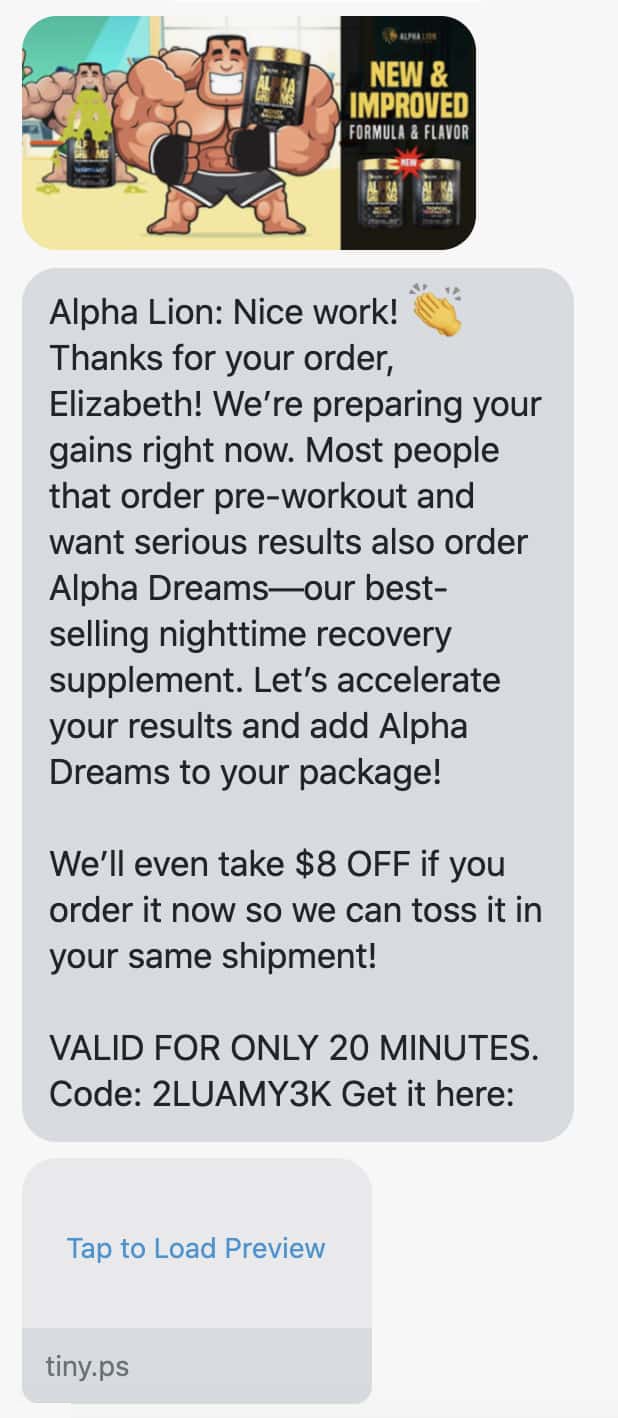 We've saved the best for last because this SMS example is the cleverest of them all!
It combines an order confirmation with a limited-time offer that's an upsell in disguise.
Well played, Alpha Lion.
Conclusion
While shipping updates sound boring, they're actually a fundamental part of a customer's experience with your ecommerce brand.
You've gotten someone to visit your site, find a product, add it to your cart, and purchase it - don't lose them now!
A lack of communication around delivery can mean the difference between a repeat customer and an angry online review.
Sending shipping updates through SMS allows you to stay in touch with shoppers, saving them time on tracking their packages, and your customer support team's time on answering those dreaded "Where is my order?" tickets.
Everyone wins.
---
Did you know that Wonderment has integrated with Postscript?
Now you can push customized SMS shipping notifications to your customers automatically. Contact us to learn more.