If you're an ecommerce brand experiencing a deluge of "where is my order?" support tickets (aka WISMO queries), there are two Shopify apps you should have in your arsenal: Gorgias and Wonderment. More on why in a minute, but these two platforms combined can help you reduce those tickets by 50% or more.
Gorgias is a help desk designed to help ecommerce store owners deliver stellar customer support. It serves over 6800 brands across the globe and is probably the #1 in their category.
Wonderment's order tracking platform + Gorgias integration help support teams troubleshoot shipping-related tickets faster. We love Gorgias and love helping you better serve your customers.
Although Gorgias is amazing, they recently released a new feature that can significantly reduce your "where is my order" (WISMO tickets).
It's called the self-service portal (a fancy way of saying a self-serve chatbot for your website), and its unique benefit is to reduce your repetitive customer support queries. Let's see how.
What is the Gorgias self-serve portal, and why should you use it?
Gorgias' self-service portal is a nifty solution. A customer can simply enter their email address and get an instant answer of the latest status on their order(s) - no human intervention is needed. This dramatically reduces the WISMO (aka "where's my order") queries that flood the customer service department.
Besides that, your customers can also inform you if they want to return/cancel an order. The self-service bot can automatically tell the customer if the order is eligible for return or cancellation as per the store's policy.
All in all, it helps reduce WISMO tickets by half while automating a good part of the customer support for any store.
Two important things you should know about the Gorgias chatbot
Although Gorgias' self-service chatbot is the best in the industry, there are a couple of things that could use an upgrade:
1) Gorgias's "shipment tracking" chatbot (aka the self-service portal) is counting on Shopify to send them the shipment status for any order.
This means that out of the box, it only works for the native carriers Shopify supports, like UPS, USPS, FedEx, Canada Post. So now, what happens when an order is being sent via DHL eCommerce. Or RoyalMail or OnTrac?
This data won't show up on Shopify, and in turn, the order details won't show up on Gorgias' self-service order status portal when someone keys in the order number.
2) Also, the "track order" (i.e., tracking page) link that the bot generates is that of the carrier's website – a connection that's ugly, boring, and not on brand. This is a bad experience for the customer.
But there's a way to resolve both of the above problems with just one app.
Wonderment + Gorgias for self-service order tracking
What is Wonderment?
Wonderment is the #1 order tracking app for Shopify stores. Multi-million dollar brands like Kettle & Fire, Three Ships, and Hydrant use our solution to deliver a promising post-purchase experience to their customers.
We help with order visibility, order tracking, branded tracking pages, and a lot more. Plus, we integrate with 60+ carriers, making it one of the most extensive shipments tracking solutions in the market.
How to get Gorgias automated order lookup to work when you ship with carriers Shopify doesn't support (like DHL eCommerce)
A couple of paragraphs ago, I highlighted two roadblocks with Gorgias' self-service portal. And now, let's look at how both can be solved using Wonderment:
1) Wonderment enables tracking for shipping carriers that Shopify doesn't, such as DHL or other international carriers.
This also makes your delivery data available for use in third-party apps like Gorgias. As for the outcome, Gorgias can now show shipping status for orders delivered via 60+ carriers in the US and internationally.
All you need to do is install Wonderment and activate the "Fulfilment Events" in "Settings." This means we pass our shipping events into Shopify and then to Gorgias, so Gorgias always provides the latest updates to your customers. You can learn more about this feature here.
How to replace the carrier's tracking link with your own branded tracking page
2) Instead of directing the customers to the carrier's tracking page (like to UPS.com or Fedex.com), send them to your brand's custom-designed page where you can deliver a stellar experience by:
Showing them the correct status of their orders no matter how many times they visit the page.

Sharing your latest blog posts, news, IG feed, and anything else you think will forge a deeper connection with your customers.

Upselling them your best sellers while they wait for their latest order to arrive.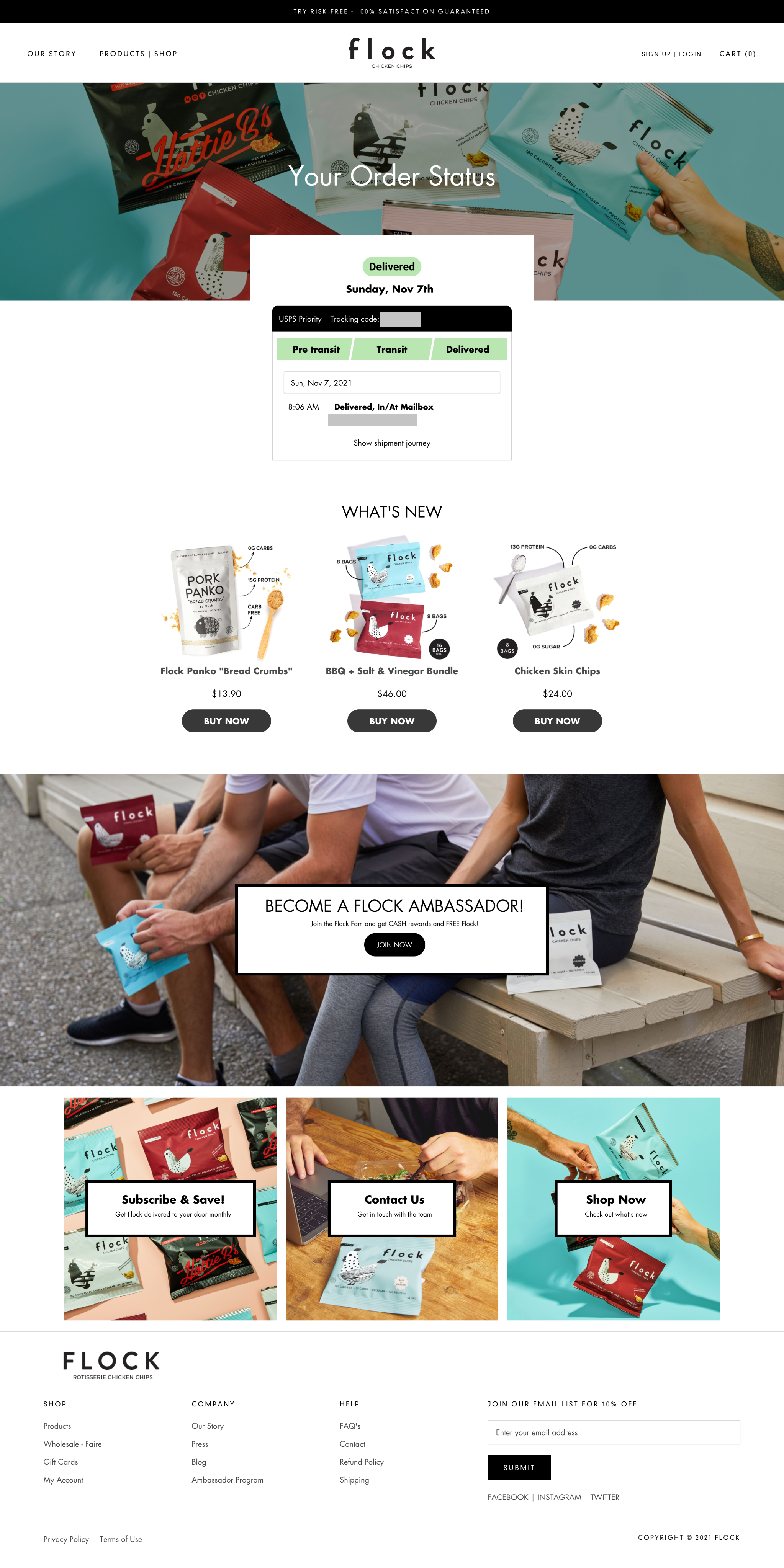 Four reasons why Gorgias + Wonderment is a killer combo for Shopify stores
If Gorgias is the 1970 Dodge Charger from the Fast Saga, consider Wonderment is the nitro boost Dom adds to his engine. Pop culture analogy aside, here's why you should use the combo:
Reduce WISMO tickets: Customer service is all about helping your customer with an apt solution to their problem in the shortest time. By integrating Wonderment with your Gorgias account, you can show order data from 60+ carriers that are otherwise not provided by Shopify. This means that your customers won't drop support queries and ask for their order status every 2 hours.

Richer shipping data: By default, Gorgias will only show you the shipping statuses that they fetch from Shopify. Once you install Wonderment, we'll send a host of crucial shipping statuses that you won't find elsewhere.

Proactive support: If you're using Klaviyo with Gorgias & Wonderment, our platform will inform you when there's a stalled order (an order that's stuck in transit for multiple days), and you can take prompt action before the annoyed customer blasts your support email with WISMO queries.

Better tracking page: This is yet another chance to deliver a brilliant customer experience – send them to a stunning & on-brand tracking page that lives on your top-level domain. Oh, did I mention you get to upsell products from here as well?
Deliver a kicka** customer service every time
I know how hard it is to satisfy your customers, especially when they're anxiously waiting for their order to be delivered. But it's worth it when you can put a smile on their face.
Everything's not in your control, but you can indeed reduce the "where's my order?" queries, which, according to Gorgias, constitutes 30% of the support queries received by brands.