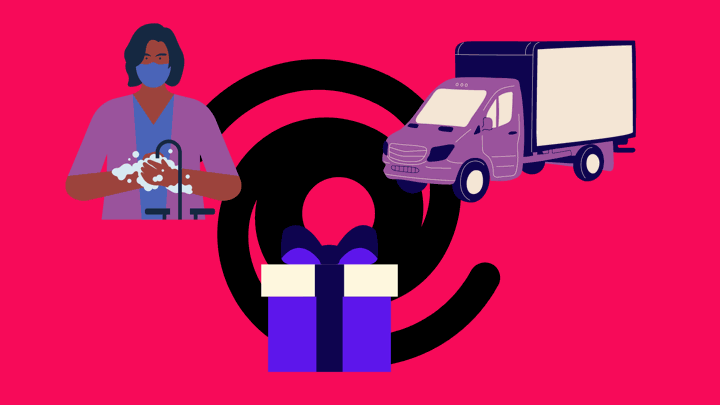 To paraphrase Jane Austen, it is a truth universally acknowledged that Q4 is the most profitable and challenging time of year for ecommerce.
But no one could have predicted the heights of demand for online goods - or the pileup of obstacles standing in the way of their delivery - at the beginning of 2020.

To kick things off, COVID lockdowns decreased foot traffic to brick and mortar stores and increased traffic to online stores selling products like fitness equipment, home furnishings and cleaning supplies. At the same time, the pandemic also spurred shutdowns at factories that manufacture delivery vans.
In response to increased cases and hospitalizations from the virus, the US federal government launched Operation Warp Speed, an initiative to fast-track research, production and distribution of a vaccine. In September, biotechnology company Moderna was already in the final stage of its trials, and seeing promising results. More on this in a bit…
Aware of the mounting strain on shipping and delivery providers (aka, "shipageddon"), major retailers like Walmart, Best Buy and Amazon started their holiday sales several weeks in advance of Thanksgiving - and ecommerce companies like tentree followed suit.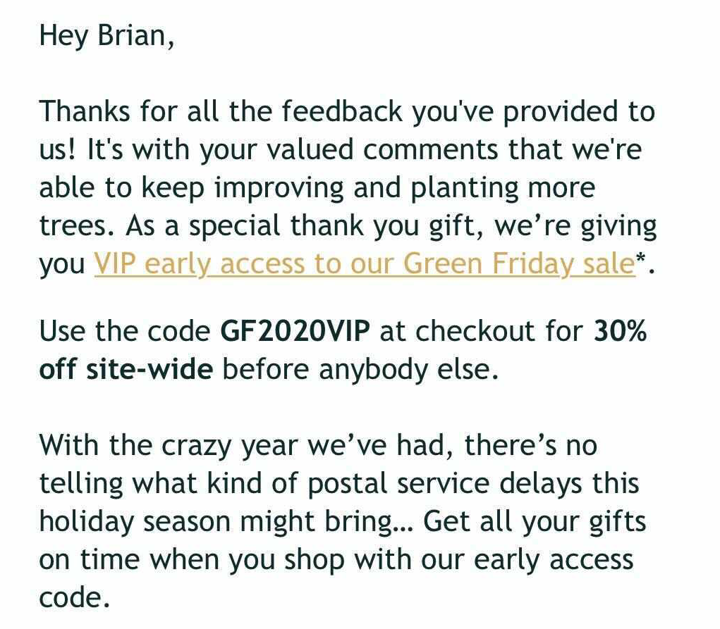 Despite the spreading-out strategy, Black Friday and Cyber Monday brought in record-busting sales, with $9 billion and $10.8 billion spent online, respectively, putting further pressure on delivery services.
In response, UPS placed shipping limits on several of its retail customers, spurring concern that further quotas could be coming as Christmas looms.

In the meantime, rumblings have begun that distribution of the COVID-19 vaccine could delay holiday gift deliveries in December, with Pfizer and Moderna set to start sending out shipments via cargo plane to frontline health workers and senior care centers.
As the death toll in the US continues to climb,"FedEx is prioritizing vaccines," a company spokeswoman told Reuters.
To recap:
First we saw a pandemic-induced surge in online orders for household essentials

Then came unprecedented ecommerce sales figures over BFCM

Now there's an urgent need to deliver life-saving vaccine shipments
Delivery networks have already been struggling to keep up with package volumes, and we're about to hit the last-minute shopping stretch before Christmas.
If there's any time of the year where last-mile logistics make or break the customer experience, it's now. To quote a recent New York Times article:
"The future of retailing is increasingly online, and companies don't want to give customers any reason to think they can't deliver."
What can ecommerce companies do to keep shoppers happy?
While DTC brands may not have much say in when their packages get delivered, the saving grace is that they do have full control over customer communications.
If you run marketing, social media, or customer support for an ecommerce company, now is a crucial time to use all the channels at your disposal to keep your customers informed and in the loop about what's going on with their orders.
It's going to be a rough few weeks, but here are some ways to cope with the perfect storm:
Manage customer expectations before purchase
No one wants to find out that their Christmas gift isn't going to make it on time, just a few days before Christmas.
One way to combat concerns around package delivery is to be upfront about order, shipping and delivery timeframes.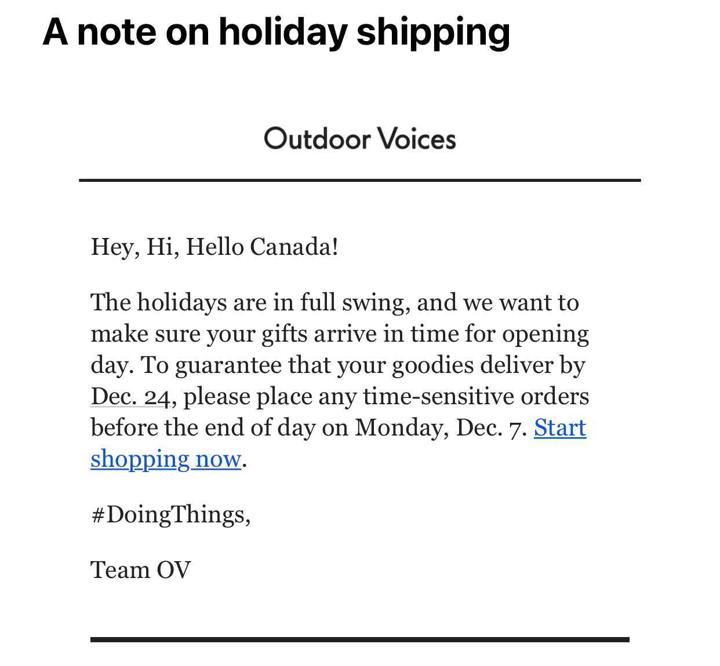 Use all the real estate at your disposal:
Place a banner on your homepage

Include shipping estimates on product pages

Update your FAQs

Mention deadlines in your paid ads

Send out an email letting people know about cutoff dates, and informing them if shipping times may be longer than normal
Kudos to beauty brand Oui the People for sharing this update from their warehouse partners with their customers: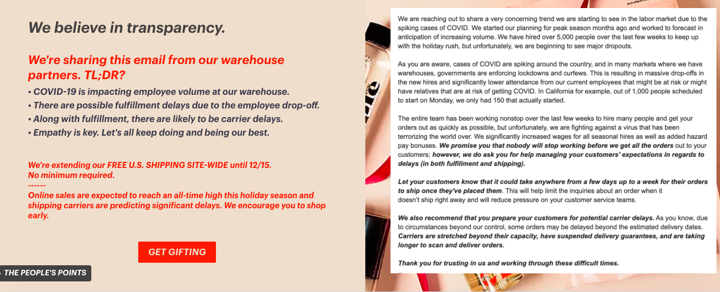 Ramp up shipping and delivery comms post-purchase
Once someone's ordered a package, they begin anticipating when it will arrive - and if you don't tell them when they can expect the delivery to take place, that anticipation can easily turn to anxiety.
If you're seeing an influx of WISMO (where is my order?) support tickets, that's a clear signal you've got some stressed shoppers on your hands.

Once again, overcommunication is your friend:
Include package tracking on the post-purchase thank you page

Send automated emails with order confirmation/estimated delivery date, and shipping/delivery updates

Offer customers the added option of receiving

package updates via SMS
Double up on holiday customer support (if you can)
Higher order volume = increased demand for customer support.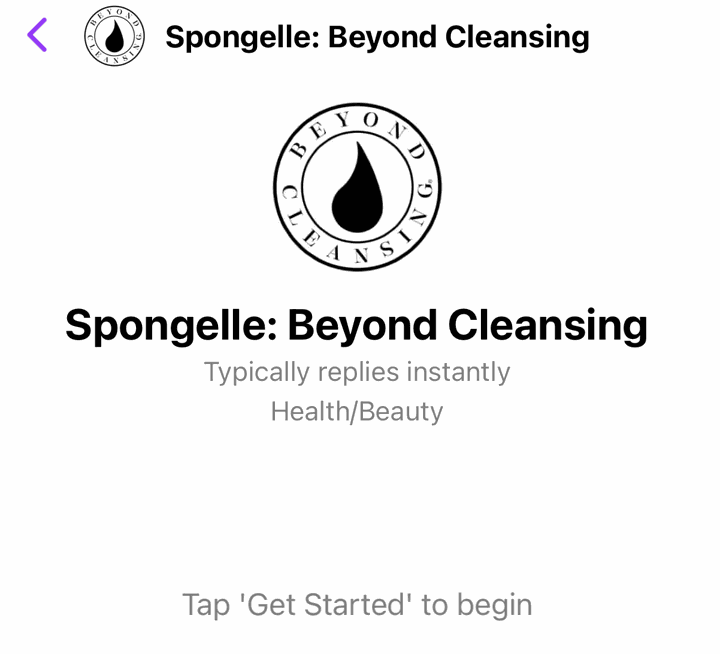 As you're proactively reaching out to shoppers with shipping and delivery information, give them several ways to reach you with any additional questions:
Make sure your website chatbot and Facebook messenger is staffed

Beef up monitoring of your social media (mentions, DMs, etc)

Increase your help desk coverage to answer incoming tickets
Take ownership of any shipping delays
Online shoppers don't know what goes on behind the scenes once they've purchased a product on your ecommerce website - unfair as it may seem, to your customers there's no difference between your brand, your supplier or your delivery partner.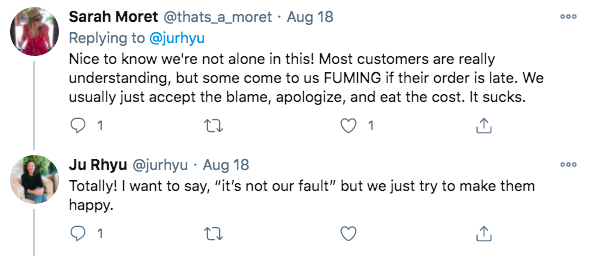 When there's a delay, you can either take responsibility, or make your customers work harder to receive their order:
"The main mistake brands make is that they often deflect blame and push it to the courier. While the courier may indeed be at fault, the experience a customer has with your couriers and partners also reflects the experience they have with you as a brand." - Eli Weiss, Director of Customer Experience at Olipop
If delays are taking place, don't underestimate the power of being direct and honest about it.
The outcome will be the same (a package arriving later than expected), but you will have eliminated the feelings of powerlessness that your customers were experiencing.
You may even wind up winning yourself some new fans.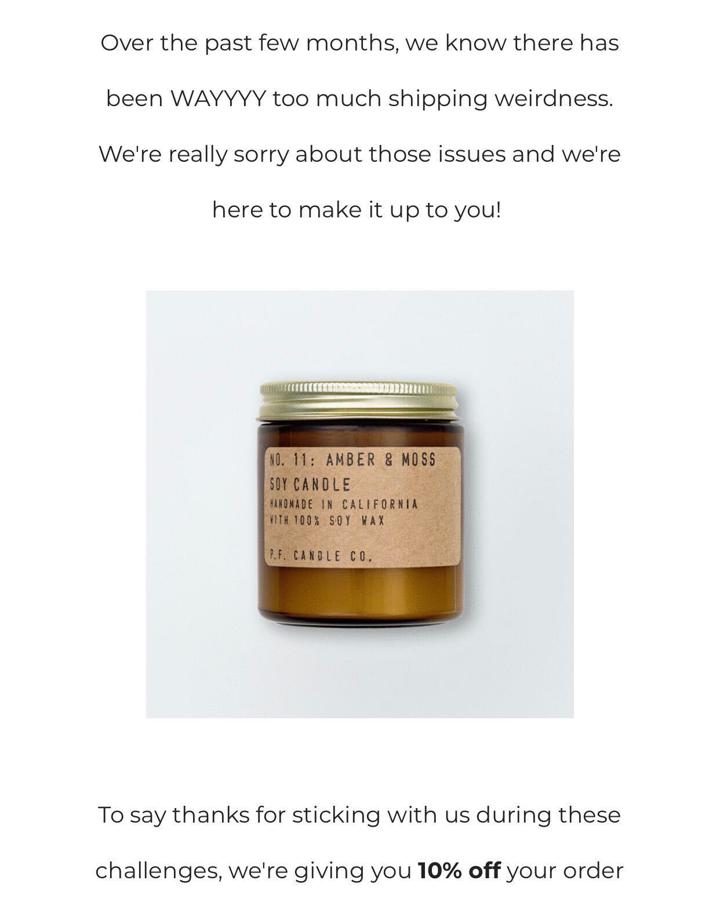 Take a deep breath - you've got this
Adobe expects

online sales will rise 30%

from last year to $184 billion over the entire holiday season.
As we all face the craziest holiday season on record, it may be comforting to know that retailers large and small are being impacted by supply chain issues.
While it's true that brick and mortar stores have the advantage of offering contactless curbside or in-store pickup, online merchants are able to provide a much more personal customer experience via direct communication and genuine support.
As more shoppers turn to ecommerce than ever before, the opportunity to create a new generation of lifelong DTC customers is within your grasp.
CTA: Want to get a handle on shipping and delivery delays before they impact your customers? Get in touch with us today.