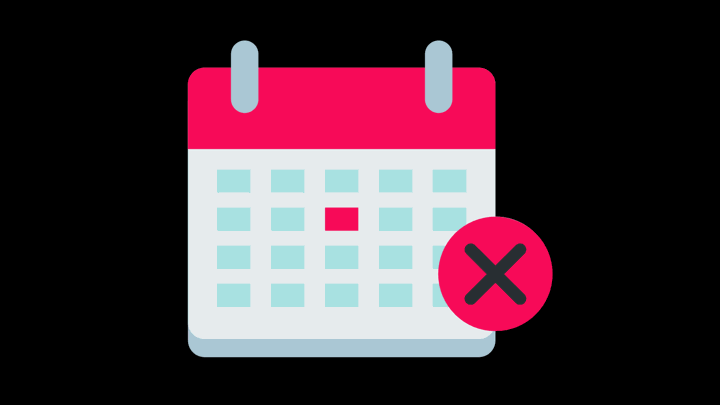 Like it or not, shipping delays happen - typically during the holiday season, and especially during a pandemic.
It's an unfortunate truth that when major carriers like FedEx, UPS and USPS struggle to keep up with online order and package fulfillment, ecommerce companies often bear the brunt of the blame.
When major shipping delays occur, customers don't know what's going on behind the scenes; they only know they were quoted an estimated delivery date, and it's come and gone.
What are your choices in this scenario?
1. Say nothing and risk creating a customer support death spiral
2. Get ahead of customer complaints by sending proactive communications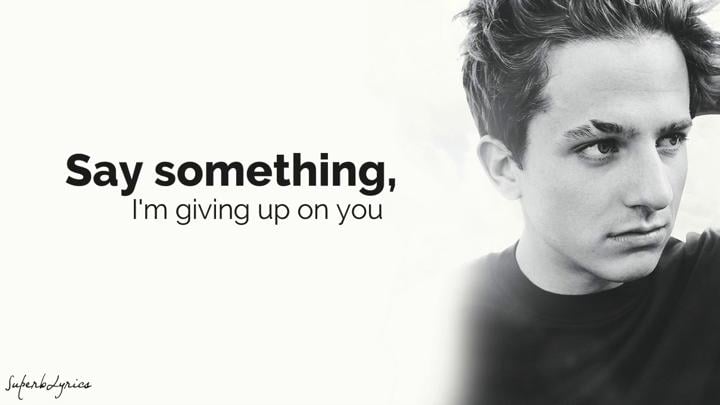 If we can all agree that saying something is better than saying nothing and hoping for the best, let's take a look at what that 'something' should be.
💡 Pro tip: Wonderment is the easiest way to proactively set expectations on shipping timeframes, automatically update customers with delays, and measure shipping expectation vs reality across the business. Used by hundreds of leading Shopify merchants including The Ridge, Bokksu, and Jones Road Beauty.
See more about what Wonderment can do and book a demo today!
Anatomy of a shipping delay email
Not sure what to say to your customers when you're experiencing logistics challenges?
Here are some best practices for defusing anger and rebuilding their trust: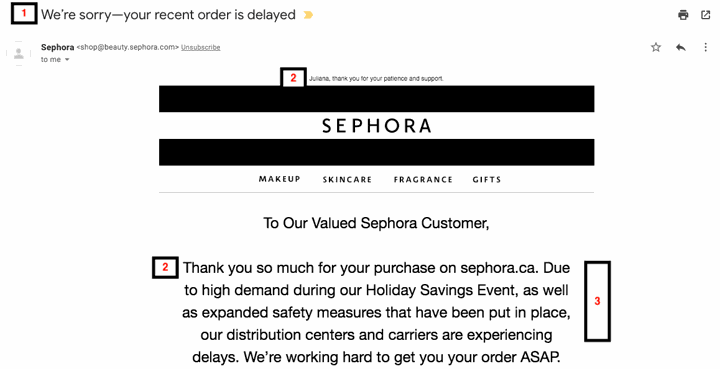 1. Be upfront about the delay (subject line)
There's no hiding the truth, so you might as well rip off the bandaid.
Let your customers know right away that there's a delay in the shipping or delivery process that's going to impact when they receive their package.
2. Express gratitude (preview text/intro)
A bad delivery experience can lead to customer churn, so it's wise to remind your customers how much you value their business (and their patience!).
3. Explain what the problem is (intro)
You don't have to go too in-depth on the details, but it is helpful to acknowledge any blockers to package delivery so that customers know what's causing the holdup and that you're aware of what's happening.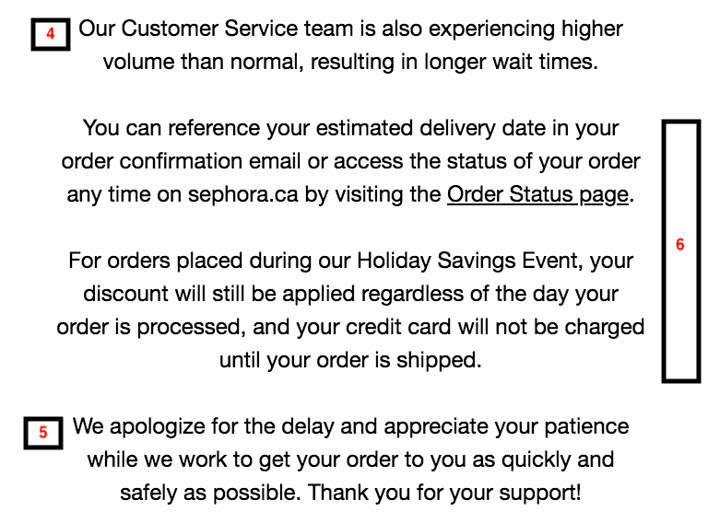 4. Set expectations around the impact (body)
How long of a delay can customers expect? How is your customer service team handling it?
This is the perfect place to provide the answers to any immediate questions your customers might have so they don't have to file a "where's my order?" ticket to get more information.
5. Apologize for the inconvenience (body)
Shipping delays are not your fault, but you are indirectly causing your customers stress because they chose to shop with you.
Saying sorry is an easy way to show empathy for what they're going through.
6. Offer reassurance (body)
The goal of this email is to reassure your online shoppers that despite this hiccup, they will still receive their package and you will be there to assist them.
Make sure to share any steps you are taking to make it right.
7. Optional: Provide value with a resource or special offer (CTA)
If you don't have any special offers for customers who are impacted by shipping delays, you can simply chose the email with a thank you and a signature from your customer support team or a spokesperson for your brand.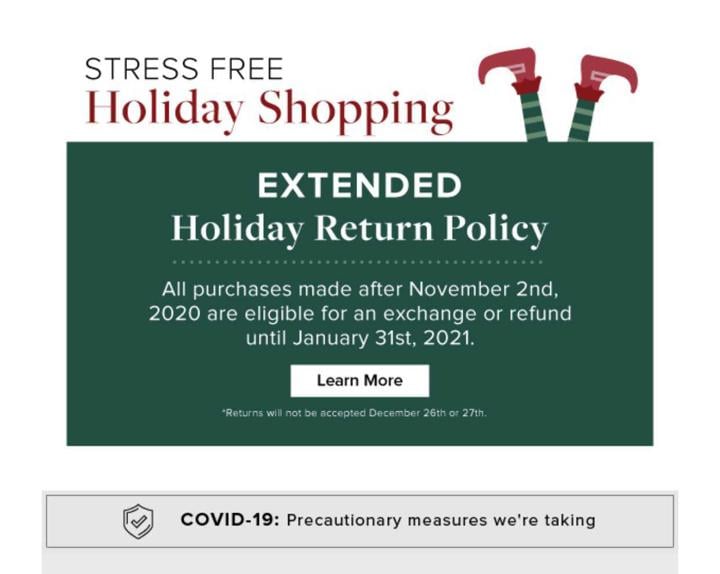 If you do have the capability to include a special offer, here are some good ones to include as a CTA:
Reply to this email for expedited shipping

We've put a $10 credit in your account; click here to view

Take 15% off your next order with promo code SORRY2020

We're extending our holiday return policy - learn more
Want more tips on how to turn a negative moment into a positive experience?
Check out our latest guide:

5 great shipping delay email examples
Ready to see these best practices in action?
Here are a few shipping delay emails that have been sent from ecommerce brands to customers, reassuring them that the team is on it.
These are great examples of how to be proactive and set the right tone. If you see one you like, feel free to copy/paste the text below the image and make it your own.
And, bonus - we've created an entire swipe file of shipping delay and other post-purchase notifications from top ecommerce brands, so be sure to check that out too.
1. Indigo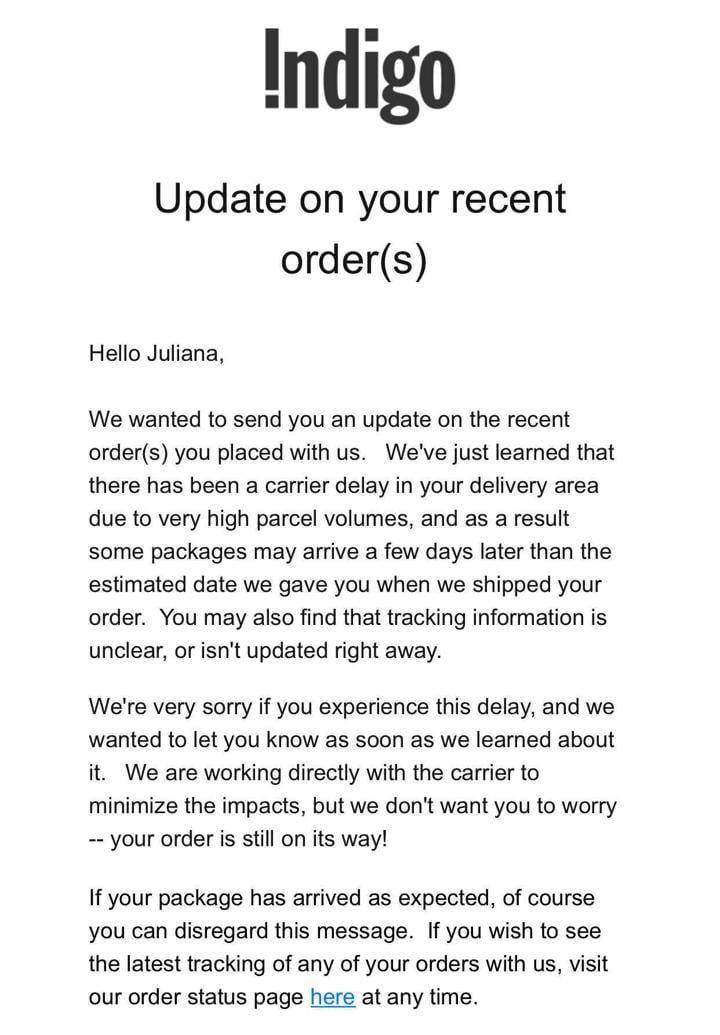 Text:
Hello [first name],
We wanted to send you an update on the recent order(s) you placed with us. We've just learned that there has been a carrier delay in your delivery area due to very high parcel volumes, and as a result some packages may arrive a few days later than the estimated date we gave you when we shipped your order. You may also find that tracking information is unclear, or isn't updated right away.
We're very sorry if you experience this delay, and we wanted to let you know as soon as we learned about it. We are working directly with the carrier to minimize the impacts, but we don't want you to worry -- your order is still on its way!
If your package has arrived as expected, of course you can disregard this message. If you wish to see the latest tracking of any of your orders with us, visit our order status page here at any time.
Thank you for your patience during this time. If you have additional questions, please contact us at our Customer Service portal. We're here to help!
Thank you again for choosing Indigo, and all the best for this Holiday season!
Matthew Price
Customer Service
Indigo Books & Music Inc.
2. Article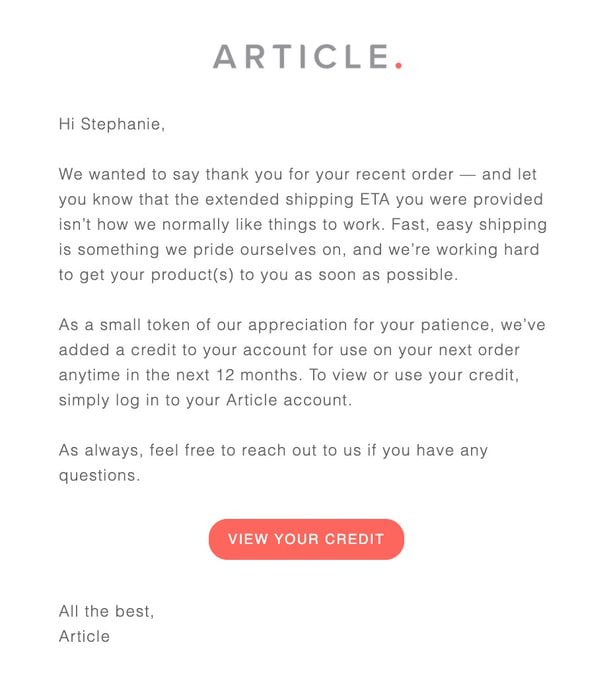 Text:
Hi [first name],
We wanted to say thank you for your recent order -- and let you know that the extended shipping ETA you were provided isn't how we normally like things to work. Fast, easy shipping is something we pride ourselves on, and we're working hard to get your product(s) to you as soon as possible.
As a small token of our appreciation for your patience, we've added a credit to your account for use on your next order anytime in the next 12 months. To view or use your credit, simply log in to your Article account.
As always, feel free to reach out to us if you have any questions.
All the best,
Article
3. Omsom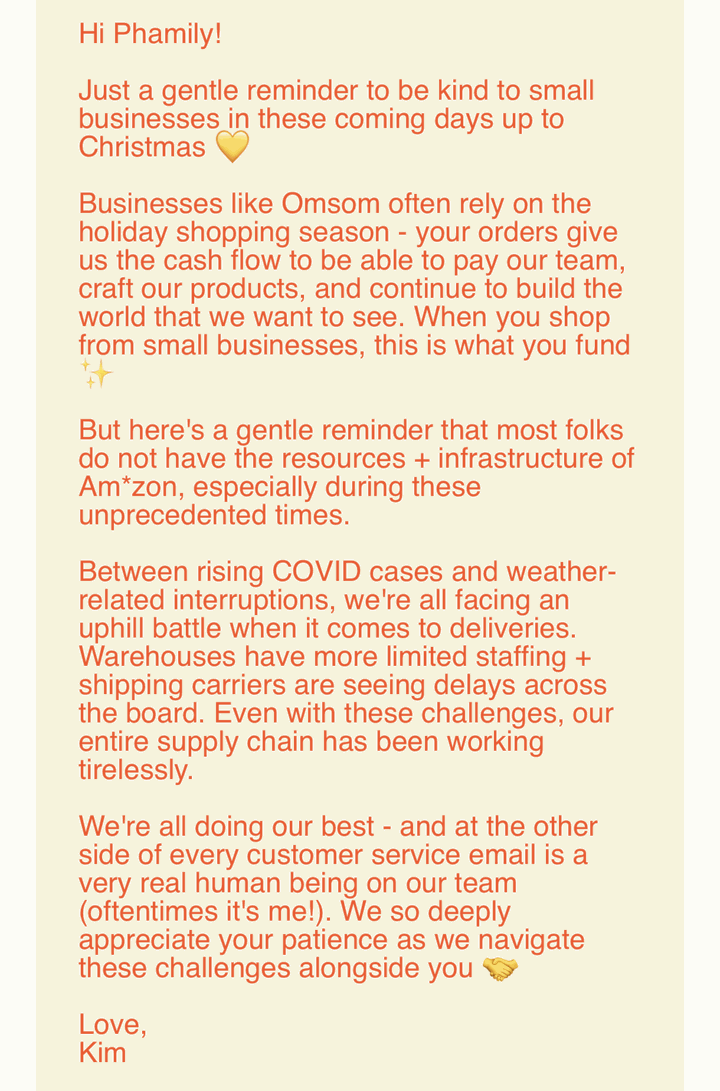 Text
Hi Phamily!
Just a gentle reminder to be kind to small businesses in these coming days up to Christmas ?
Businesses like Omsom often rely on the holiday shopping season - your orders give us the cash flow to be able to pay our team, craft our products, and continue to build the world that we want to see. When you shop from small businesses, this is what you fund ✨
But here's a gentle reminder that most folks do not have the resources + infrastructure of Am*zon, especially during these unprecedented times.
Between rising COVID cases and weather-related interruptions, we're all facing an uphill battle when it comes to deliveries. Warehouses have more limited staffing + shipping carriers are seeing delays across the board. Even with these challenges, our entire supply chain has been working tirelessly.
We're all doing our best - and at the other side of every customer service email is a very real human being on our team (oftentimes it's me!). We so deeply appreciate your patience as we navigate these challenges alongside you ?
Love,
Kim
4. Greetabl
Text:
Subject line: Sorry for the delay!
Holiday Rush Is Here
Ugh! Can we be honest for a sec? Shipping has been a bit of a nightmare this year. We thank you for your patience and wanted to share some thoughtful ways to update your loved ones as your packages travel to their destination.
SORRY FOR THE DELAY
Santa had a broken down sleigh
I am so sorry this gift is late... Santa had a broken-down sleigh! Hope you and yours had a warm holiday season.

It's never too late to send holiday love, right? Gotta keep the Christmas magic going as long as possible!
5. CAUSEBOX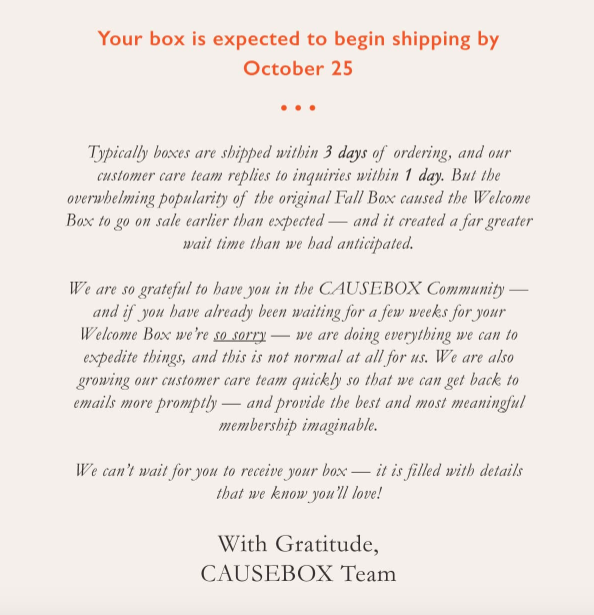 Text:
Your box is expected to begin shipping by October 25
Typically boxes are shipped within 3 days of ordering, and our customer care team replies to inquiries within 1 day. But the overwhelming popularity of the original Fall Box caused the Welcome Box to go on sale earlier than expected -- and it created a far greater wait time than we had anticipated.
We are so grateful to have you in the CAUSEBOX community -- and if you have already been waiting for a few weeks for your Welcome Box we're so sorry -- we are doing everything we can to expedite things, and this is not normal at all for us. We are also growing our customer care team quickly so that we can get back to emails more promptly -- and provide the best and most meaningful membership imaginable.
We can't wait for you to receive your box -- it is filled with details that we know you'll love!
With Gratitude,
CAUSEBOX Team
Conclusion
Do shipping delay emails make customers mad? No.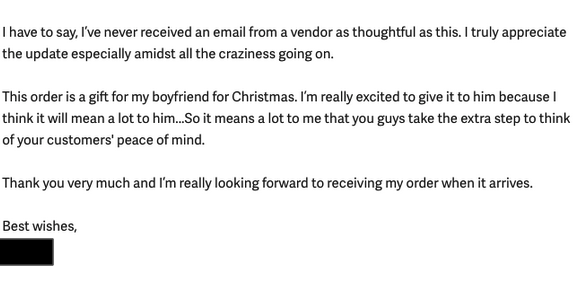 Does sweeping a delay under the rug lose you customers? Certainly.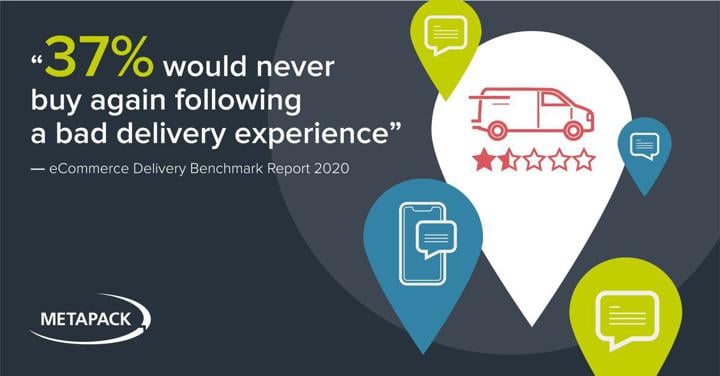 Don't let logistics challenges erode the trust customers have in your ecommerce store.
Own up to what's going on and show them their choice to shop with you was a good one.
Building the best post-purchase shipping experience starts with Wonderment
Wonderment is the easiest way to proactively set expectations on shipping timeframes, automatically update customers with delays, and measure shipping expectation vs reality across the business.
Wonderment is a retention Swiss army knife used by hundreds of leading Shopify merchants including The Ridge, Bokksu, and Jones Road Beauty.
See more about what Wonderment can do and book a demo today!