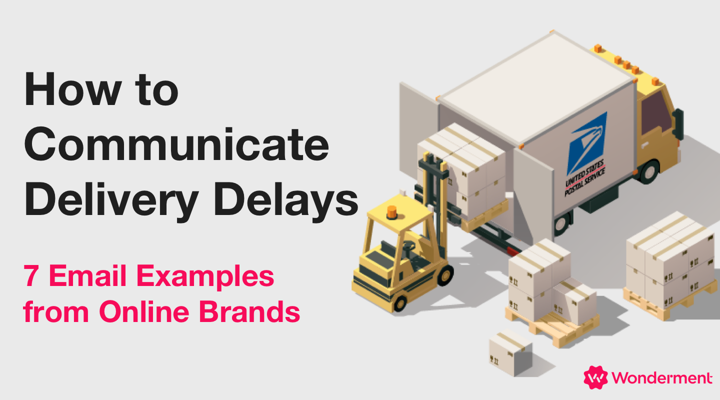 Imagine this: you buy a product online, which you absolutely need in time for an upcoming event. It's not just any item; it's a beautiful and important garment needed to complete your wedding dress. Estimated delivery date: 14 days before the big day. Great!
You check the carrier's website constantly, eager for its arrival. A 3-day delivery timeframe suddenly turns into five days. Then seven, and now, it's expected to arrive two days after the wedding. Ugh!
This is not an imaginary story, sadly, but customers experience delivery delays for online purchases every day, including my dear friend Anum Hussain, CEO of Acciyo.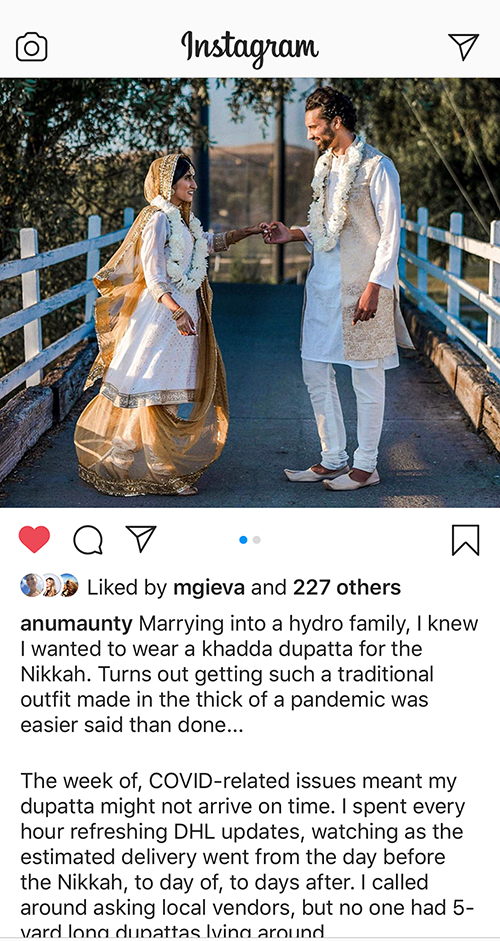 Lucky for Anum, she found a local replacement, but these stories remind me of all the times I was in her shoes, constantly refreshing the tracking page as I waited for my packages.
COVID and the rise of shipping delays
As consumers, we check the status of our order 4.6 times on average to ease our anxiety on whether orders will arrive on time (or at all).
COVID-19 and the rise of eCommerce have thrown a wrench in the lives of shipping carriers and merchants alike, amassing delays, lost packages, and angry customers. Even Amazon's always predictable 2-day shipping slowed (or stopped altogether for many, non-essential products)
Now for more bad news (sorry!). We're on the heels of Black Friday/Cyber Monday (BFCM), retail's favorite time of year. The problem? When you add the busiest shipping season of the year on top of a shaky supply chain, well, let's just say the delays aren't going away. The NY Times has even given it a cute new name: Shipageddon. Brace yourself.

Shipping issues, while out of your control, are a reflection of your brand. It can result in extra support calls or bad public feedback, which is not only costly to manage but puts you at risk of losing long-term goodwill with the customer.
---
💡 Pro tip: Wonderment is the easiest way to proactively set expectations on shipping timeframes, automatically update customers with delays, and measure shipping expectation vs reality across the business. Used by hundreds of leading Shopify merchants including The Ridge, Bokksu, and Jones Road Beauty.
See more about what Wonderment can do and book a demo today!
---
How to communicate delivery delays
Now for the good news, there is hope. The best way to fend off "where is my order?" anxiety is with transparency. Up-to-date order tracking combined with regular communication can help you address shipping turnaround times proactively.
I'm going to show you some examples from real brands on how they communicate delivery delays to their customers. There are three types of email we'll talk about:
"Shop early" notifications
Fulfillment delays
Shipping delays
If you're interested in seeing more transactional emails in the wild, we've created a swipe file of shipping delay and other post-purchase notifications from top Shopify stores, so make sure you give it a look when you need inspiration.
Now let's dive in...
1. Giving customers a "heads up" to shop early
If you have loyal or repeat customers or ship orders that have a recurring subscription, it's critical to communicate any expected delays to those customers early and often.
Here's one email example (from an unnamed brand) who chose to send a mass email to their customer list:
This is a great reason to create urgency with your buyers and get them to start shopping before the holiday rush.

The issue, of course, is getting consumers to take action even though they've been warned. We are creatures of habit and often wait last minute even though we know COVID is causing delays. To make a message like this work even better, consider adding in or trying:
A special customer-only promotion
Include links to items they previously searched for or saved in their wish list.
A simple buyers guide
Throw in a free gift
Include a referral code for their friends
Specific deadlines when popular items will likely go out of stock
In addition, consider adding a similar message to all of your email sends going forward. You know, we humans need constant reminding. ;)
2. Communicate fulfillment/warehouse delays
COVID has created major challenges for 3PLs, manufacturing, and warehousing facilities. Many are working with reduced staff for health and safety and some facilities are catching up from having to shut down all together earlier this year.
More recently, however, we're seeing warehouses at maximum capacity and manufacturing can't keep up with demand, which is causing a longer delay for new inventory.
Away, the travel and luggage brand, had a similar situation when they recently ran a large promotion. Because of the demand, their warehouse was experiencing delays fulfilling orders. Instead of hiding it, Away sent this very simple, very human letter from their head of support. The best way to communicate bad news is to be humble and honest (and perhaps not the best time to promote more product).
Shout out to Kelly Vaughn for the sharing this Away example!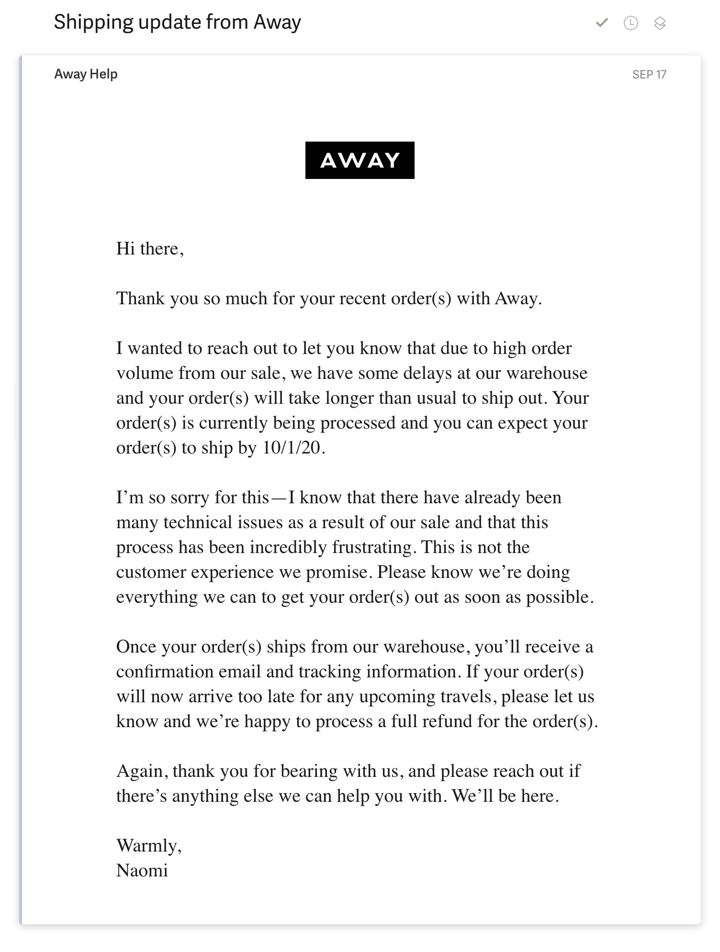 Communicating processing and fulfillment turnaround
Even if you're processing orders as expected, if those orders aren't being fulfilled the same day or next day, to the consumer, that is a delay. Consumers are used to the Amazon model where items are sitting on a shelf and robots just go pick them up and ship it the same day.
Consumers often don't factor in the packing and processing time into the delivery window in addition to what the shipping carriers provide. If FedEx says an item will take 3 days, we expect the item to arrive within 3 days from now, when we click the buy button.
But for many small businesses, if you don't fulfill items that quickly (say, you don't ship on weekends, if you create custom-made items, or if your dropshipping products that take days or weeks to produce), then it's important to communicate when items are estimated to ship and not just the shipped-to-delivered timeframe.
Here's an email sequence example I love from CarMats.co.uk.
Ash Young, Founder of CarMats, noticed an increase in "where is my order" support calls. Customers didn't realize his products weren't picked off a shelf for same-day shipping, but that each one was made to order, taking 7 days or longer to produce. The delay, and thus lack of shipping updates, was causing customer confusion.
Psst... want to learn how top Shopify brands handle shipping delays and keep their customers happy? Check out our latest guide!

So he built a communicate strategy and nurturing sequence after purchase that explained the six-stage process to making their orders, plus an additional email when the order was almost ready to make its destination.
Email 1 - Sent after order confirmation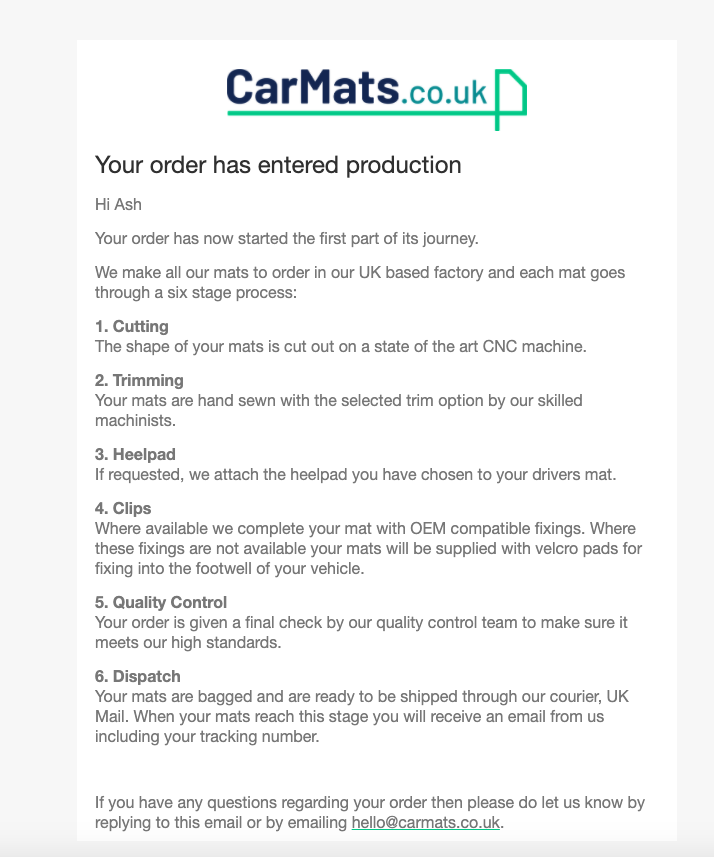 Email 2 - Sent before the item ships out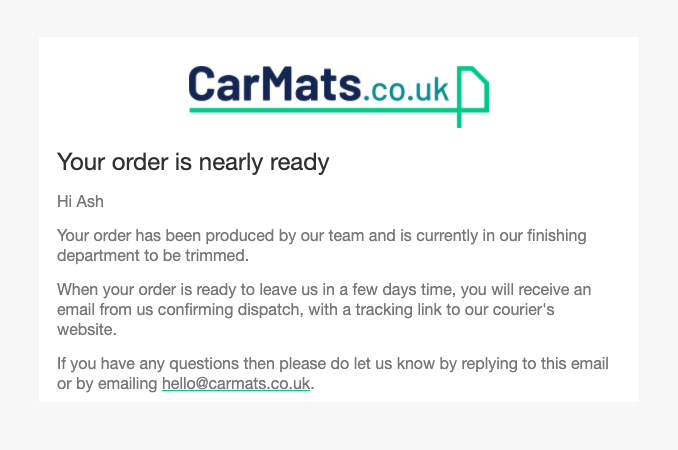 "Customers just wanted to be updated on their order. Since we've rolled this out, we're now seeing a steady stream of positive feedback and support tickets have gone way down." - Ash Young
Here is another fab example from Drink Haus (TY Alli for this one) regarding back ordered items and expected ship dates: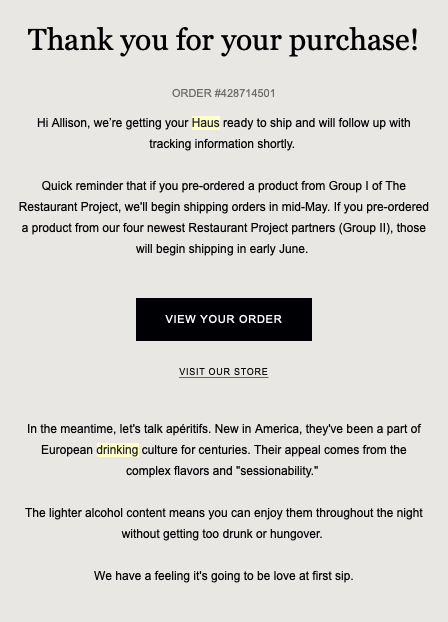 3. Communicating Shipping Delays
Shipping delays are bound to happen. Even in a pre-COVID era, delivery exceptions and lost packages would occur, but it's only increased since then.
There are two ways to deliver shipping delay messages:
A. Preemptively before they happen
B. When a delay occurs in real-time
A. Preemptive delivery delay notifications
It may be beneficial to add a simple message with every outgoing order that delivery delays may occur, many thanks to our friend COVID-19.
You can do this by including a subtle message within order confirmation and when the item ships that delays are expected. Here is an example from http://shopaditi.com from their supplier Candle Science.
Here's another example I received from, believe it or not, 2012 (yes, even delays happened pre-pandemic era). This particular example was from an eBay seller in China. For a small merchant on a marketplace platform, having that a 5-star review is incredibly important and delivery delays could impact their reputable, even though it's not the seller's fault. Especially if you're shipping internationally when items take much longer to arrive, it's important to communicate expected delivery dates.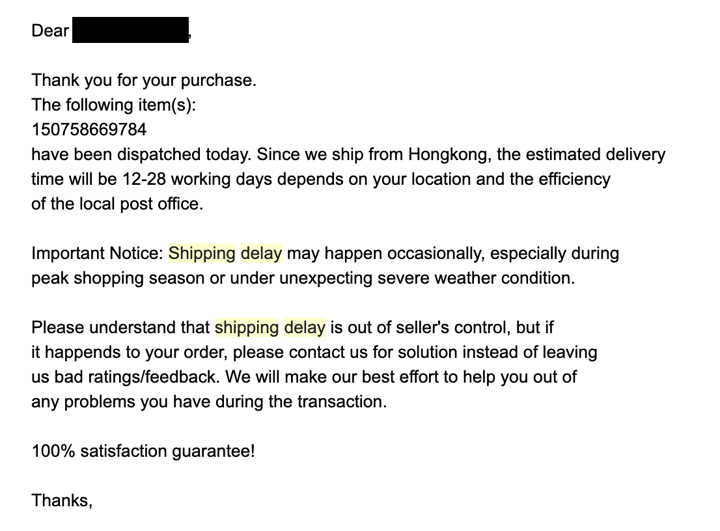 B. Proactive notifications regarding stalled shipments
Delays happen. When they do, it's best to alert the customer you're aware of the issue ASAP.
One of the main causes of "where is my order?" calls is when a customer notices tracking has stalled (for example, if a package is stuck at a facility or re-routed, or just wasn't delivered the day of expected arrival). It's not a great experience when a customer discovers the issue before you do.
In this example from a well-known Drink brand, they use Wonderment's order tracking app to identify stalled shipments and use that event to trigger an automatic email to the customer, approximately 24 hours after the delay occurs.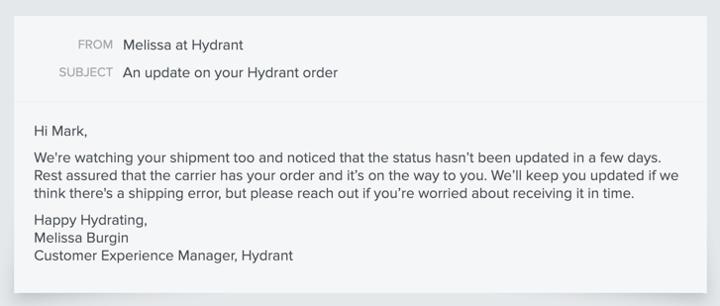 The email isn't selling anything yet gives incredible value in that it delivers peace of mind that you're aware of the issue and keeping your pulse on it so they don't have to. Asking a customer to "contact the carrier" to resolve the issue is rarely a good idea. If you've ever had to call a shipping provider, you know what I mean.
Here's another example from Bar & Cocoa. I love how thoughtful, reassuring, and helpful the copy is. It not only shows empathy for what the customer may be feeling, but it creates sympathy for what the brand is experiencing as well. The addition of the tracking number is a nice touch; a link to a tracking page would also be a great value add to include in this email.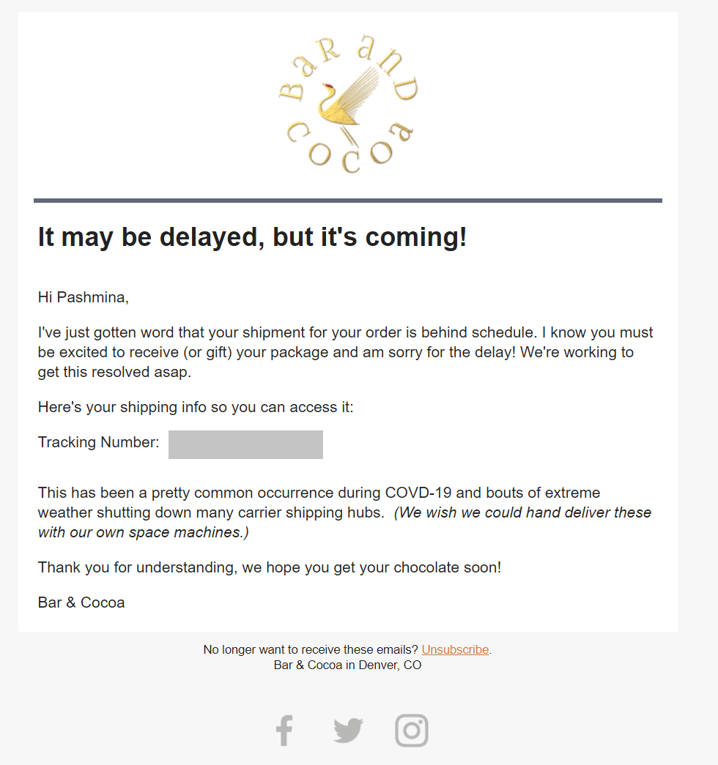 Conclusion
Communicating delivery delays across multiple touch points in the customer's journey is important to maintaining good service and support. The best part: all it takes a simple email or two to deliver great service and give customers peace of mind.
To recap, here are the three different ways you can communicate delivery delays:
Shop early notifications - send messages to loyal customers, in advance, encouraging them to shop early. A warning + incentive will help create urgency and increase early BFCM sales.
Fulfillment issues - if there any delays with your warehouse or if items become back-ordered, let customers know when they can expect their item or at least when it will be shipped, so it relieves confusion as to why the order is sitting in a "processing" state.
Shipping delays - when carrier issues occur, such as when a package is stalled, delayed, or straight-up lost, trigger proactive emails to the customers as the delays are happening so they are always up to date. They will thank you for it!
Building the best post-purchase shipping experience starts with Wonderment
Wonderment is the easiest way to proactively set expectations on shipping timeframes, automatically update customers with delays, and measure shipping expectation vs reality across the business.
Wonderment is a retention Swiss army knife used by hundreds of leading Shopify merchants including The Ridge, Bokksu, and Jones Road Beauty.
See more about what Wonderment can do and book a demo today!