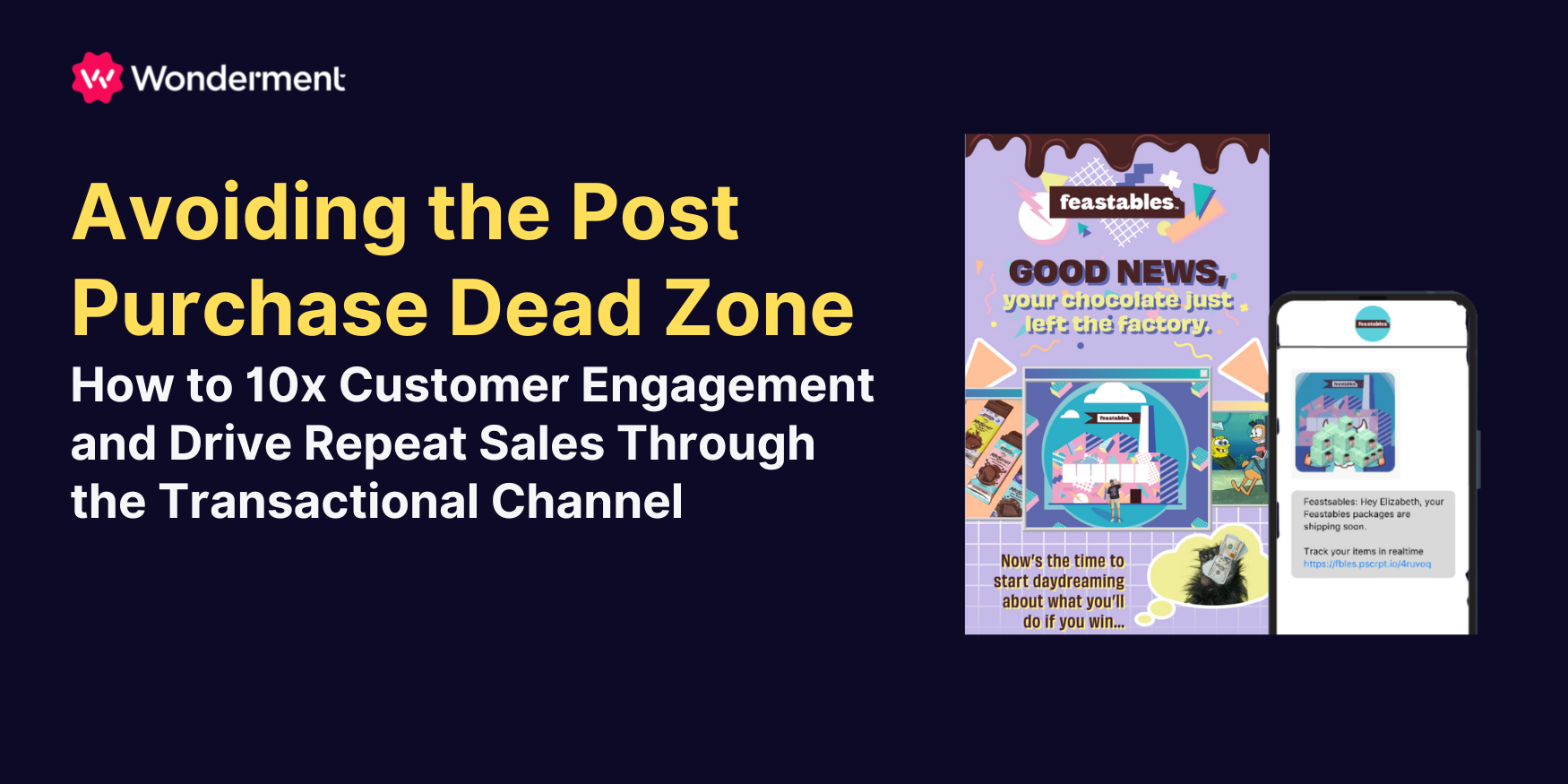 Congratulations, a customer has made a purchase from your Shopify store.
Now what? 🤔
We have officially begun the "pre-arrival" journey.
What happens next (or doesn't) can positively or negatively impact the likelihood of your customer returning to buy again.
With this in mind, we have two choices:

1. Turn the time between order and arrival into a customer retention engine AND increase engagement by as much as 10x 🚀
OR

2. Enter the dreaded abyss known as the post-purchase dead zone 😱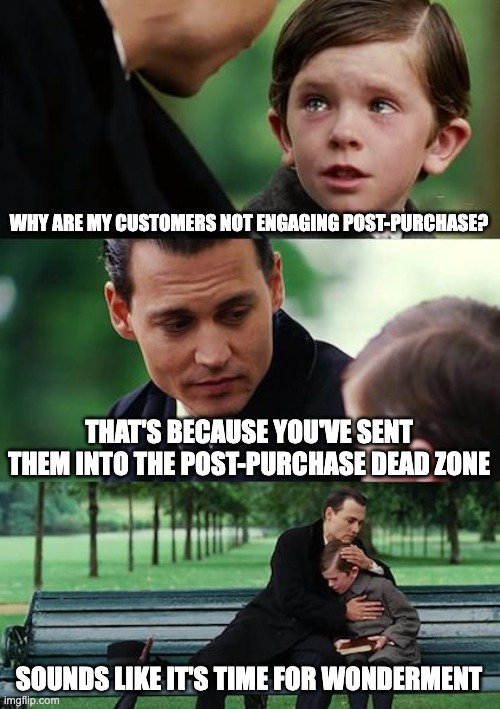 We'll take bets that you'd like to avoid that dead zone at all costs.
And the data supports the need to avoid this dead zone as well.
According to PwC's Future of Customer Experience report, 32% of customers will leave a brand after just one bad experience.

Even when they love your brand, 59% will walk away after two bad experiences.
Despite the fact that 80% of direct-to-consumer brands report competing mainly on customer experience and report seeing an uplift in revenue/profits when they improve it, customer experience improvements keep being deprioritized year after year.
Let's change that with an incredibly low-hanging fruit to instantly improve your customer experience, increase onsite engagement and ensure customers come back again and again.
The low-hanging fruit we are talking about is investing in an amazing transactional experience.

This guide is going to give you the metaphorical Google Maps address to avoid the post-purchase dead zone with every customer and make sure you arrive at the customer retention engine.

Let's dive in!
How to Boost Repeat Sales With Less Spend

One of the biggest challenges merchants face with respect to retention is keeping them engaged post-purchase.

It's becoming increasingly difficult to stand out in a crowded inbox and drive qualified traffic back to your site post-purchase to do things like:

Educate customers
Provide helpful information like FAQs
Give proactive order updates
Introduce complementary or additional products to drive incremental sales.

Investing in your transactional channel (I.e, email and SMS communications related to their order) is the answer to all of those challenges.

Introducing Transactional Email - the ol' faithful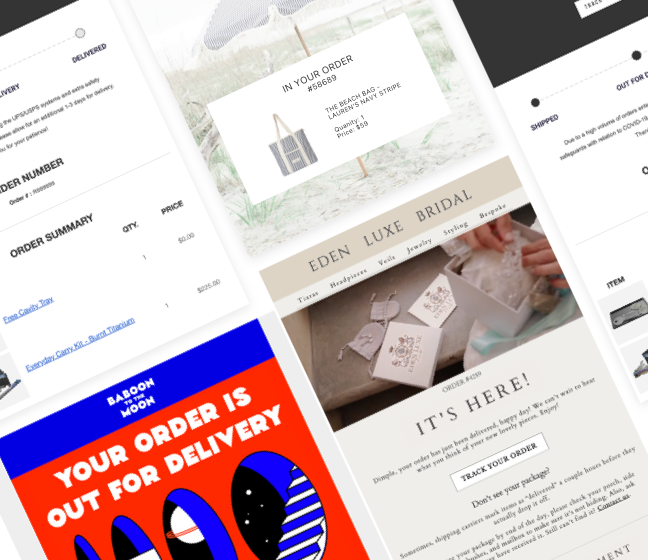 Transactional email sees 55-80% open rates meaning up to 8 out of every 10 customers are seeing your transactional emails

What about click-through rates? Transactional email sees an astonishing 10-20% click-through rate!


Ask yourself: When was the last time you had a post-purchase email drive with that kind of performance?
Here's the kicker though 👇

When compared to standard marketing emails, transactional emails can be up to 10x more effective at driving visitors back to your website.

👉 What would you do if you could generate up to 10x more traffic back to your site and pay just fractions of a cent per click?

But it gets EVEN better!
Meet Transactional SMS - The Ultimate Traffic Generating Machine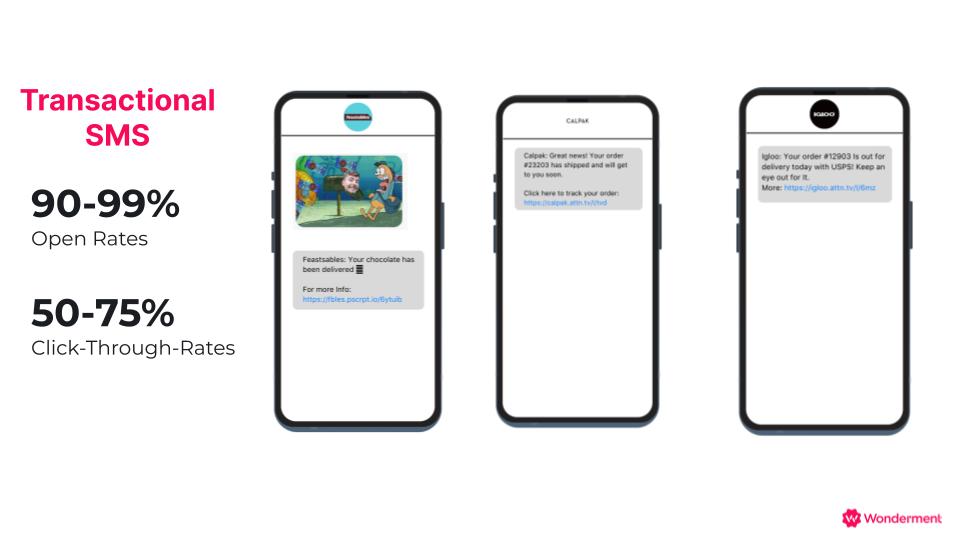 SMS marketing as we know sees 90-99% open rates (though some experts might disagree... a topic for another time 😉) making it the king of visibility… but where this gets incredibly effective is the click rates that transactional SMS drives.

Standard marketing texts see 5-10% click-through rates on average… but not transactional SMS.

With transactional SMS Shopify merchants see 50-75% click-through rates meaning that up to 3 out of every 4 customers are engaging with your transactional texts, opening up an immense opportunity.
Related: Browse dozens of transactional email and SMS examples from leading Shopify brands here

Transactional SMS is also one of the easiest ways to drive incremental revenue and acquire more profitable SMS subscribers. This means you can incentivize your customers to sign up for SMS to get shipping updates instead of having to offer 10% discounts.



Here we can see Feastables is asking their customers to sign-up for SMS on the order tracking page to receive updates related to their orders. Who said discounts are the only way to grow a list? 😏

The best part of both transactional email and SMS is that you can do this inside of your existing email and SMS platforms like Klaviyo, Attentive, Postscript, Recart, etc.. by leveraging the power of what I am about to show you.

🔑 What's important to note though is that the only way you can achieve these stats is by moving from the old way to the new way of doing transactional.
The Old vs New Way of Transactional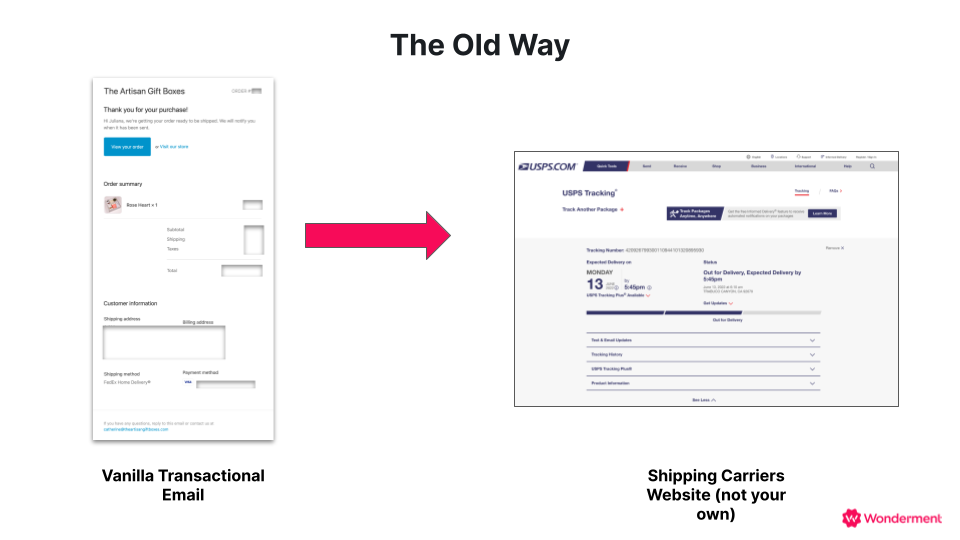 What is the old way? As you can see above, this is a stock Shopify transactional email that has zero branding and feels stiff and rigid. This email also links over a shipping carrier's website like a DHL, or FedEx, and in this case, it's USPS.

Why does this not work?
Two reasons
Dead-end experience: You are sending your customers to a shipping carrier's website and not your own which creates a "dead-end experience". You are literally sending them into the post-purchase dead zone. Remember that 10x engagement we talked about? You'll be giving all of that up if you stop here.
Losing traffic: Customers check these order updates and visit the tracking page 4-5 times per order. That means you are losing 4 to 5 qualified site visits back to your site to do things like educate, answer FAQs, introduce new products, and just generally build brand loyalty.


This is the exact problem we solved at Wonderment. We bring this experience from the 1990s to the 2020s and turn it into a CX and retention machine for over 1000 Shopify Stores who understand the power of this experience.

Welcome to the New Way of Post Purchase
Here's what the 2023 experience looks like 👇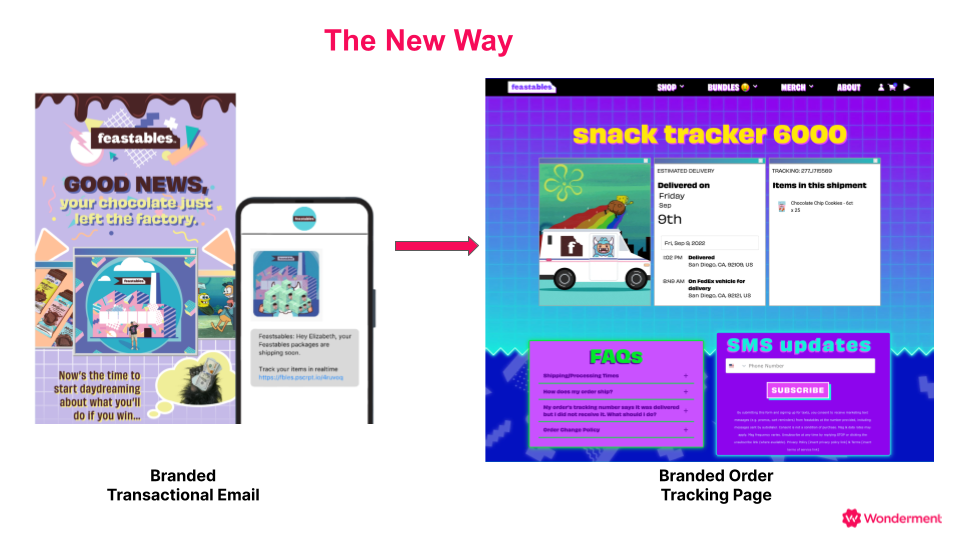 This is a customer of ours, Feastables, a better-for-you chocolate company founded by the popular YouTuber Mr. Beast.

For Feastables, their brand is everything in creating the experience they want their customers to have.

Immediately you see how on-brand these emails and texts are. The old way would simply not cut it for Feastables.

Instead of sending these clicks to the USPS site… Feastables also sends customers back to their own site via their native tracking page!

Their order tracking page on the right starts with helpful info related to the order, showing what's coming when it's coming, and where it is.
Then below they display FAQs customers may have about their order, an SMS opt-in form to grow their list, and more. Grab an up close look here.

What's amazing about branded tracking pages is that customers will also end up doing two magical things
1. Buying from the tracking page via upsell blocks
OR
2. Naturally browse other parts of the site again after checking their order
This is how you can turn that traffic into additional revenue for your Shopify store.
Related: Browse dozens of order tracking page examples in our tracking page swipe file to see what other leading Shopify brands are doing
So what are some real examples of how much engagement and revenue transactional messaging drives?
Here are 30-day transactional email/SMS stats from an apparel brand using Wonderment.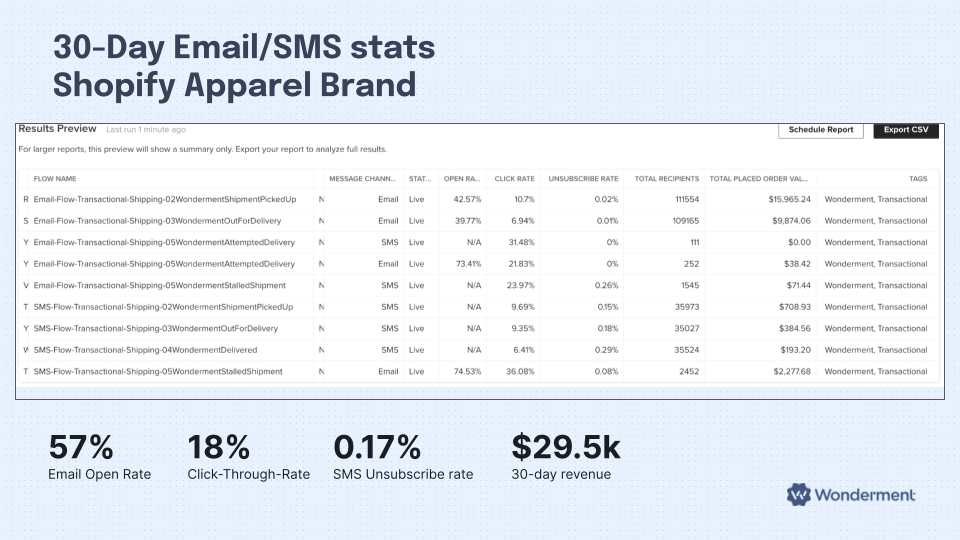 As you can see, they are seeing an average of 57% open rates on transactional emails, an 18% click-through rate, and on SMS an astonishingly low unsubscribe rate of just 0.17%.

Transactional SMS might very well be one of the few texts that a customer will never unsubscribe from when you compare that to 1-5% across other automations and campaigns.

So percentages are great… BUT percentages also don't pay the bills.

What about the revenue impact of transactional messaging?

👉 This brand in the last 30 days has driven $29,500 in additional revenue from their customers just by investing in their transactional channel.

This is the big unlock as you can see from moving from the old way to actually make your transactional channel work for you while improving your customer experience.

And it gets EVEN better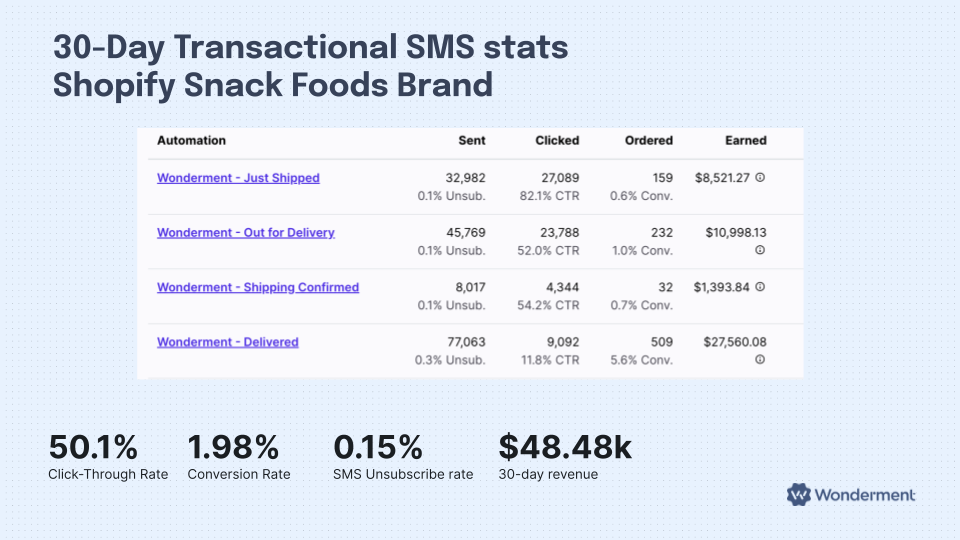 Here are 30-day stats from a Wonderment customer using transactional SMS via the Postscript & Wonderment integration.

With just 4 transactional SMS flows they are seeing an average of 50.1% click-through rates, a 1.98% conversion rate (that is additional purchases coming from customers who JUST purchased), and an unreal 0.15% unsubscribe rate.

They also drove $48,400 in the last 30 days from their transactional SMS channel. This is ultra-high-profit margin revenue on top of all of the amazing customer experience benefits they're providing their customers through their transactional channel.

So I'll ask one more time… which experience do you want to invest in?
The old way: AKA the" post-purchase dead zone", where you give all of this engagement and traffic to a carrier.
OR
The new way: AKA the "customer retention engine", where you can turn 10x engagement into meaningful business and CX impact! 🚀



I think it's clear which ones you and your customers prefer.


TL;DR - Let's Bring It All Together 🔨
A vanilla transactional experience is not going to take you out of the post-purchase dead zone and into a customer retention engine in 2023.

So if you do nothing else after reading this, invest in custom shipping notifications with email & SMS and a branded tracking page to unlock astonishing conversion opportunities and improve your customer experience.
If you do this, you too will be able to drive stats like
55-80% email open rates & 10-20% click-through rates
50-75% SMS click-through rates
4-5 additional site visits per customer per purchase back to your site
10x engagement back to your site compared to standard marketing messages
Earn additional high-margin revenue via your branded order tracking page
And more
The best part is that you can achieve these stats by harnessing the power of Wonderment with your existing email service provider (ESP) and SMS platforms for your Shopify store.

Ready to transform your transactional Experience today?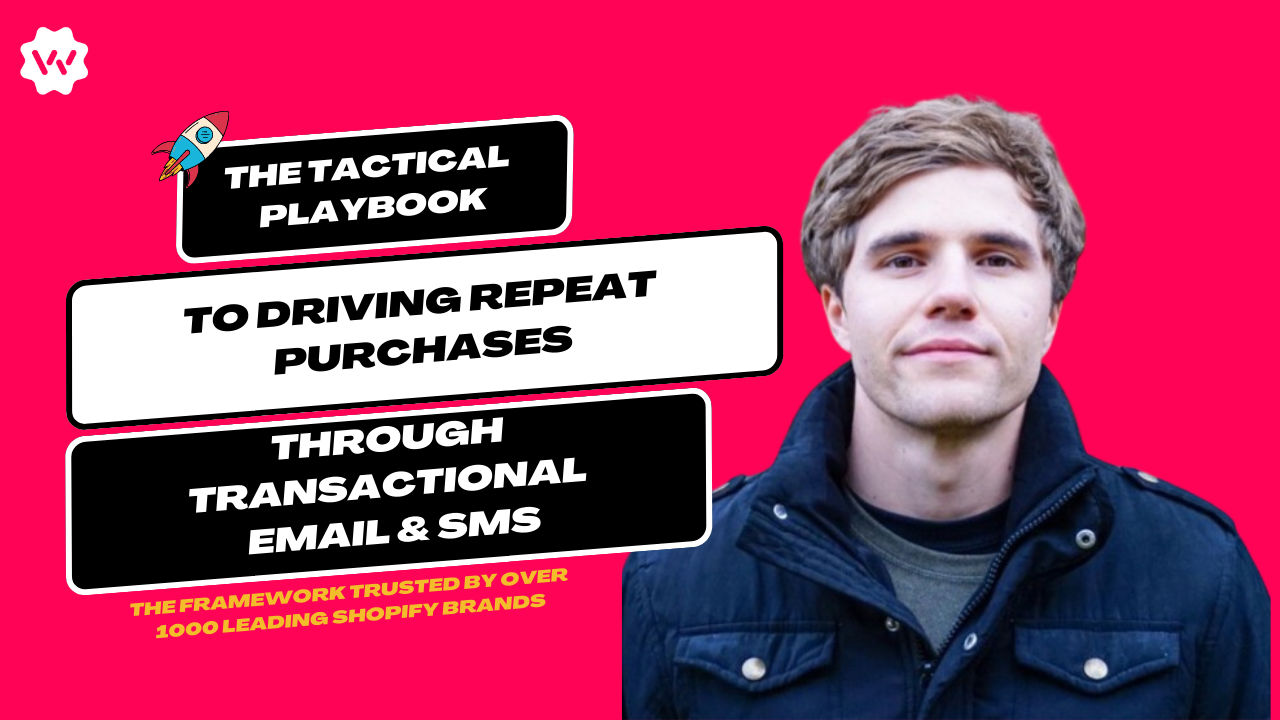 Grab a copy of our Playbook to Monetizing Transactional Email & SMS where we show you the exact playbook that over 1,000 Customer-First Shopify brands are using.

About Wonderment:

Wonderment is the #1 platform loved by eCommerce support, operations, and marketing teams alike to deliver the most holistic post-purchase experience imaginable.

We are the retention iOS used by over 1000 customer-first shopify brands like Jones Road Beauty, Igloo, The Ridge, Simplehuman, and more.