With Wonderment you can deliver the best post-purchase experience, improve retention, and prevent thousands of "where's my order?" tickets through complete order tracking visibility, proactive notifications on order delays, and beautifully designed order tracking pages for your customers.
Wonderment: The Best Aftership Alternative for Order Tracking
If you're looking for Aftership alternatives, Wonderment is the leading choice for Shopify merchants. Million-dollar Shopify Plus brands deliver a delightful experience for their customers through Wonderment's order tracking and shipping communication platform.

What's the secret? 🤫
Powerful order tracking + world-class support.
Wonderment was founded by former Klaviyo, HubSpot, and Wayfair alumni, which means we get eCommerce. We're real people who truly care about our customer's success and will be there for you every step of the way.
Need help implementing the app? Let's jump on a Zoom call for live training.

Looking for recommendations to better your post-purchase customer journey? Get on a call with us.

Got a feature request that will improve your life by 1%? Tell us. We'll take it more seriously than anyone else.

Here are 9 more reasons why Shopify brands choose Wonderment
1. Never keep your customers guessing
Prevent "where's my order" tickets by proactively notifying customers about the status of their order, including when things go wrong (such as delayed, lost shipments, or other shipping exceptions), thus improving customer satisfaction and reducing support costs. A win-win, isn't it?
2. Have complete visibility on all your shipments
Wonderment's Shopify native app automatically starts tracking your fulfillment – no development needed! We stay on top of your shipping carriers and present you with real-time & reliable order statuses for all your shipments, in one simple dashboard.
3. Find out about stalled shipments right out of the gate
Order delays are inevitable but with Wonderment, you'll know about stalled orders before your carrier does. After all, there's nothing worse than discovering a shipping issue only when your customers call into support. Getting in front of stalled shipments means you can proactively notify your support team or automatically inform the customer, thus improving the customer experience & retention.
4. Easily understand your shipping performance
See trends on your shipping delivery speeds and report on orders by their fulfillment status, carrier, region, and more. Besides that, you can also send internal notifications to Slack, Gorgias, or email for orders that haven't left the warehouse or been delivered in time.
5. Tracking pages for the 21st century
Get beautifully designed, on-brand tracking pages that your customers love. Even better, they are native to Shopify and live on your top-level domain (not on some random Webflow account). Besides that, you can customize your page the way you want – add products to upsell, push your newsletter subscription form, tell your brand story and, anything else to make it a delightful experience.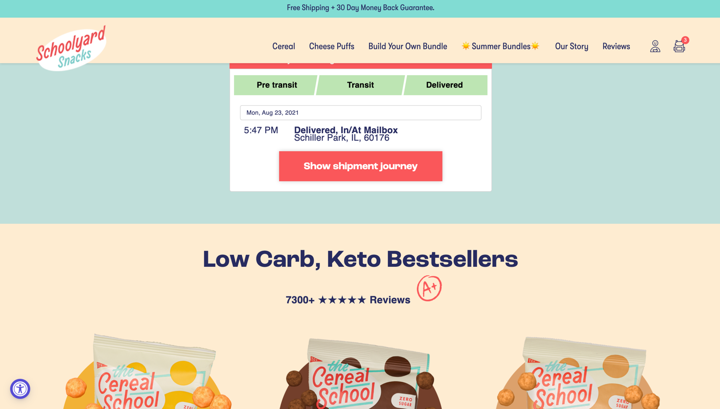 6. Send beautiful, branded shipping notifications with Klaviyo
No more boring, vanilla emails – with our Klaviyo integration, you can send stunning & on-brand order update notifications. Plus, we send over 30 shipping line items to Klaviyo for you to create custom flows by product, carrier, destination, and more. Not using Klaviyo? Leverage our Shopify Flow integration to connect with OmniSend, HubSpot, Drip, MailChimp, and more.
7. Automate SMS shipment notifications
Keep your customers up-to-date through emails AND text messages with our PostScript, Klaviyo, Voyage, or Attentive integration. Create automated SMS notifications when an order is pre-transit, stalled, lost, or delivered directly from your existing SMS provider.
8. Ask for reviews at the right time
Your brand reputation will be hurt if you ask for reviews even before the product is delivered. No more of that! With Wonderment, you can trigger product reviews only after a package has actually been delivered. We integrate with all the top product review platforms such as Okendo, Stamped, Judge.Me, and more. Now, that's five-star service.
9. All-in-one order tracking without the sticker shock
With Wonderment, you can get order tracking, delayed shipment alerts, tracking pages, our suite of integrations, and much more for hundreds of dollars less than Aftership.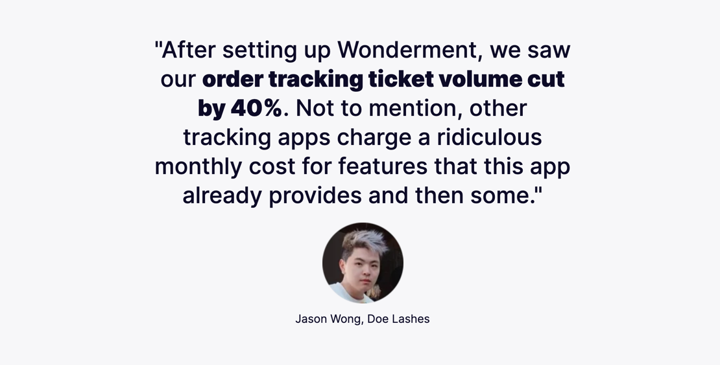 Ready to get started with the best Aftership alternative?
Your customers deserve a better post-purchase experience. Don't wait. Give Wonderment a whirl and let us know what you think.
Go give it a try and see for yourself 👇