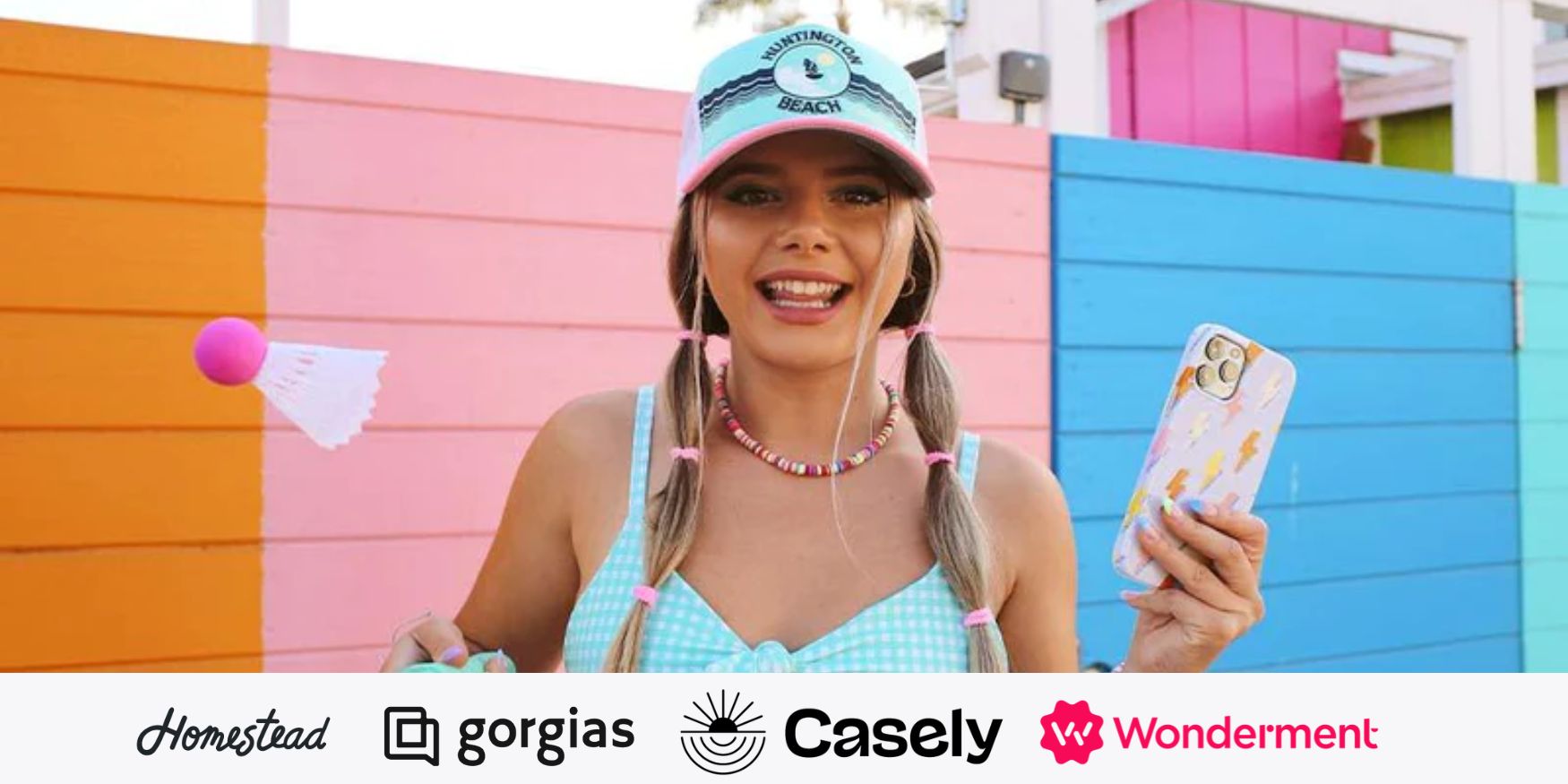 Case Study
How Casely reduced where is my order tickets by 76% by combining Wonderment and Gorgias
76%
Reduction in WISMO tickets
$1880
Savings in support costs per month
10+hrs
Saved per week per CS agent
Learn how Casely uses Wonderment and Gorgias to deliver a seamless post-purchase experience, reduce customer support costs, and empower their support teams.
Founded in 2017 by sibling founders, Mark and Emily Stallings, Casely is a Brooklyn-based tech accessories company built for the bold. Serving young style mavens all over the world, Casely prides itself on delivering both an amazing product and customer experience.
As Casely's customer service team approached BFCM 2022 they faced three challenges:
Constantly fielding mundane customer questions around "where is my order", which comprised roughly 50% of their Gorgias helpdesk ticket volume.
Increased support costs and less time to focus on more complex customer issues.
Limited visibility into carrier data and shipping delays, causing countless hours of manual investigation every week by the CS team.
Casely became interested in investing in their transactional channel experience to help automate away WISMO tickets and free up their CS team's time.
"It's honestly exhausting answering the same WISMO questions over and over again. We want to keep the volume of tickets as low as possible, so if we're rushing to cover WISMO tickets it takes away from the time and attention to detail that we have to devote to other customer tickets.The first thing a customer wants to know is how fast and when will I get my order, so we as a brand have to relay estimated processing and shipping times. If we don't clearly communicate this, it may give customers a reason to not order from us again."

Laurin Thompke

, Head of CS
Casely's agency partner, Homestead Studio, also knew that by investing in the transactional channel that they could improve customer experience, increase email sender reputation, and drive repeat business.

Casely needed a transactional partner with the product capabilities to proactively update customers throughout the shipping journey while giving their CS team 360º insight into carrier data and potential delays. As a customer-centric brand, they also needed a platform that was going to deliver the memorable customer experience that their customers have come to expect.
Turning A Painful Experience into Solutions

In November 2022, their agency partner, Homestead Studio, added Wonderment to their tech stack. Jacob Sappington, Homestead's Head of Email, was responsible for executing the project.
Using Wonderment's Klaviyo integration, Jacob implemented a series of branded transactional email flows that clearly communicate to Casely customers each stage of the shipping journey. Jacob also implemented a branded tracking page that links customers back to the Casely website for further post-purchase engagement and revenue-generating opportunities.

With Wonderment's transactional flows and order tracking page, the Casely team was able to automatically send proactive order updates to every customer, eliminating low-stakes tickets inside of their Gorgias Helpdesk so they can prioritize providing a wonderful customer experience.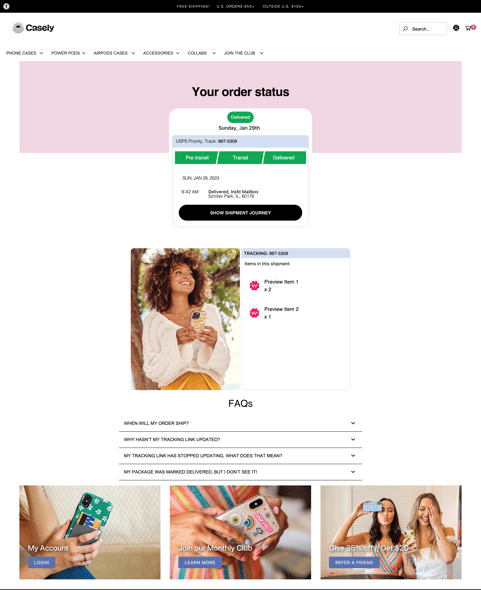 Casely's Branded Order Tracking Page
Additionally, Laurin and her team gained insight into carrier data and shipping delays, allowing them to proactively handle potential customer concerns.
"I was spending 2 hours a day trying to predict delays and potential ticket spikes via a 3rd party app, Shopify, and our 3PLs system. It was more work than meaningful insight. Before Wonderment, we were essentially unable to have any insight into delays." Laurin Thompke, Head of CS
Automating Repetitive Tasks to Focus on Personalized Experiences

The implementation of Wonderment also acted as an extension of Casely's customer support team - saving Laurin and her team on both support costs and time.

In the 3 months since implementing Wonderment, Casely's resolution time inside their Gorgias helpdesk reduced by 59%. Automating repetitive time-consuming tasks freed up their CS team's time to focus on more complex customer requests.
"We don't have the capacity to have someone reaching out to every stalled shipment and so that's the greatest thing that Wonderment has been able to do for us. It acts as a person looking through every customers tracking link.

Having a flow set up that automatically tracks carrier data and delays, then sends an email to the customer without the customer having to reach out to us, can do so much to make the customer experience positive." - Laurin Thompke, Head of CS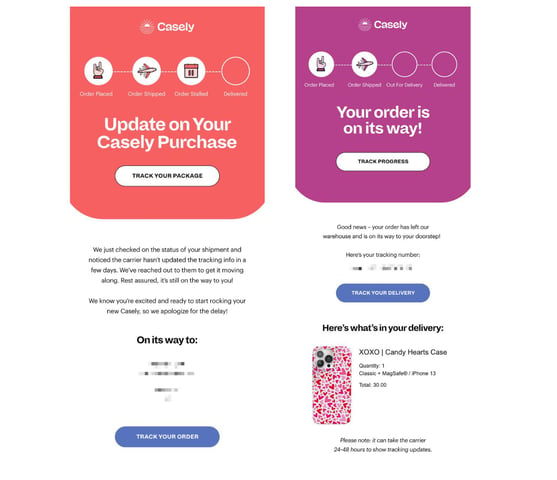 Casely uses a Wonderment event trigger inside of their Klaviyo flows to proactively (and automatically) notify a Casely customer when their order has been delayed. The email lets them know Casely is looking into it and reassures them that the order is still going to arrive. A+ CX!

Customer retention and experience are critical to Casely and it is clear that Wonderment is helping to make a noticeable difference.

How much of a difference you ask? 🤔
The Results of Implementing Wonderment
Within one month Wonderment had eliminated 76% of all WISMO tickets inside of their Gorgias Helpdesk, accounting for nearly 2000 tickets, $1880 a month in support cost savings, and 10+ hours of time saved per week no longer manually tracking delays.


"It's been nice not having to answer 2,000+ WISMO questions in the last month." - Laurin Thompke, Head of Customer Support at Casely

Not only has Wonderment helped Casely's CS to get ahead of WISMO tickets and delays, but it has also helped to tackle its biggest goal — improving the customer experience and lifetime value (LTV).

They accomplished this by linking all of their order communication emails to their branded tracking page. This allows for more onsite engagement opportunities and for the customer to make another purchase.


"Very few apps present a win for everyone like Wonderment does! I get to drive additional rev for the client, the client spends less time and money on important but laborious tickets, and the customer is kept in the loop the whole time. Literally, everyone wins." - Jacob Sappington, Head of Email at Homestead Studio
Enriching the Retention stack
Centralizing key customer data, like shipping timelines, in tools like Klaviyo and Gorgias provides the ultimate win-win. Creating more personalized experiences with better data also provides the right messaging at the right moment to create happier customers. Happier customers equals reduced burden on your team.

Simple segmentations go a long way in creating a more holistic retention strategy too. Customers share their frustrations with the CS team when they get marketed to before they receive their order. Pushing the right data into both tools via Wonderment is the backbone of a personalized post-purchase marketing stack.
"Wonderment is helping to make our Gorgias experience better too because we're not emailing customers with campaigns who haven't received their orders. We know the data Wonderment provides is the most up-to-date and we can really rely on that for 100% accuracy. It's been so helpful to reference Wonderment data alongside Gorgias data to really customize who shouldn't be getting email campaigns.

It makes Laurin's life so much easier if I am excluding customers who have open tickets or recently closed a ticket. I also have a segment set up if someone placed an order x days ago and hasn't been delivered to exclude them.

It's just another tool in the toolbelt to use for better email performance". - Jacob Sappington, Head of Email at Homestead Studio.