It's a known fact: customer reviews are one of the most powerful marketing weapons for eCommerce brands. If you own an online store that isn't blanketed in glowing, 5-star testimonials, you're bound to lose out on revenue.
Because after all, people buy from people.
Luckily, there are product review apps that help Shopify merchants automate the collection of reviews and user-generated content to get the social proof you need to increase sales.
But there's one approach most brands aren't taking advantage of that can triple the number of positive reviews your store receives.
The old way: time-based product reviews
When using these apps, Shopify stores commonly set up their product review flows to work like this:
Customer places order

- Wait five days -

Then ask for a product review
But what's wrong with this approach?
Well, for starters, how do you know five days is long enough? Or too long?
What if you ask the customer to rate their item, but they haven't even received it yet? What if the customer had such a negative experience with their shipment? You're likely to get a bad review or no review at all since the timing and context of the ask are off the mark.
Believe it or not, the timeliness of your review requests is the secret to getting more positive product reviews.
We know that a negative review from a customer because you requested a review before they got their order delivery is deeply frustrating. And not getting a review at all is such a huge missed opportunity.
Avoiding these kinds of gaps is important in helping you grow your business.
A new, better way to grow the number of 5-star reviews
We're excited to announce that as of today, Loox customers now have a powerful new tool to prevent these kinds of accidents. Wonderment's shipping delivery data can now power Loox's eligibility rules for when to send a review request.
That means your flows will now look like this:
Customer places order

Order is marked as Delivered

Automatically send a review request
The biggest difference is that the new approach replaces an arbitrary time delay between order place and product review, so you can guarantee only customers who have actually received their order get asked to rate the product.
How to Set Up Wonderment + Loox Integration
Activating the integration is just one step: Wonderment customers on any paid plan can turn on Shopify Fulfillment Event support in their Integration Settings.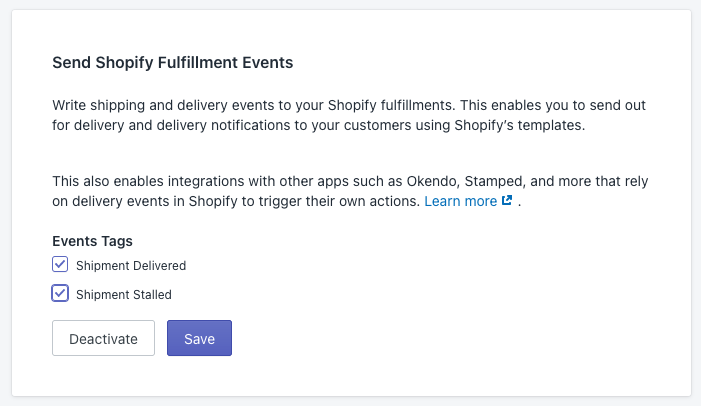 When active, Wonderment will mark packages as Delivered in Shopify, even if it's not a carrier normally supported by Shopify. Loox uses this Event to determine eligibility for reviews. In Loox, navigate to "Handling Reviews" and set your timing to be "After Delivery" like below: