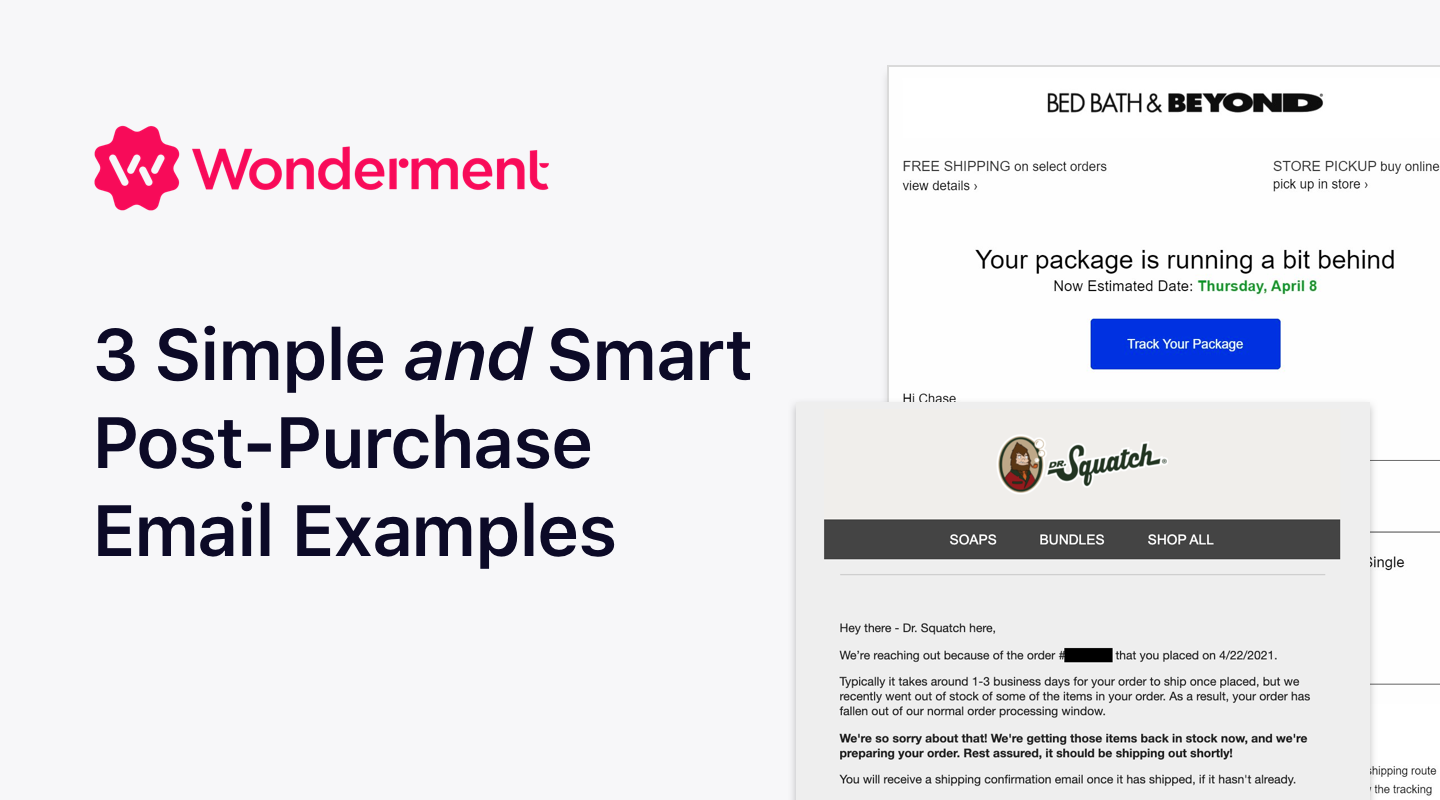 As a regular consumer of fine internet goods (a fancy way of saying I buy a lot of stuff online), I get a boat load of marketing messages. In all the emails and ads and TikToks and whatnot that I'm exposed to on a daily basis, there's one trend I can't help but notice….
Very few of these messages recognize that I just became a customer. I immediately get a discount code for my next order but nothing about making sure my most recent order is a positive one.
Customer experience is everything in eCommerce. It can make or break brand trust which ultimately makes its way to your bottom line. Despite our best efforts to create an amazing eCommerce experience, sometimes we end up missing the mark.
Eli Weiss, Director of CX at Olipop, gets this more than anyone. I recently stumbled upon an awesome post from him about how brands can do better delivering a better customer experience:
Spot on, Eli. Spot on.

I was inspired by Eli's tweet to do more of a deep dive on this topic as I realized that brands can implement some very simple, but super impactful, post-purchase messaging.

Here are three simple but easy to implement ideas to deliver a better, post-purchase experience...
1. Set the right expectations about processing or fulfillment times
Eli suggests that any brand shouldn't "promise fast shipping but then take 5 days to 'process'," which is totally true. Like, don't do this.
The processing time is the length of time a store (or store's warehouse provider) needs to get an order ready to ship. If you have a super fast 3PL, items are shipped the same day or next day.
But what happens if...
You dropship and orders take days or weeks to arrive?
Items are customized or made to order?
An item is suddenly out of stock?
Your warehouse provider is understaffed?
A natural disaster hits your warehouse location?
Or a hoard of gremlins overtake your distribution center?
Ok maybe not that last one, but point is, anything can happen. And when it does, it's important to communicate your processing times and if something goes wrong so you can make it right. Let's dive into a few examples.
Fulfillment (pre-shipment) message examples
1. Etsy: estimated delivery date example
Etsy does a great job communicating processing and estimated ship times. They do this within their product pages and during and after checkout. Over-communicating estimated delivery is super important to avoiding customer confusion.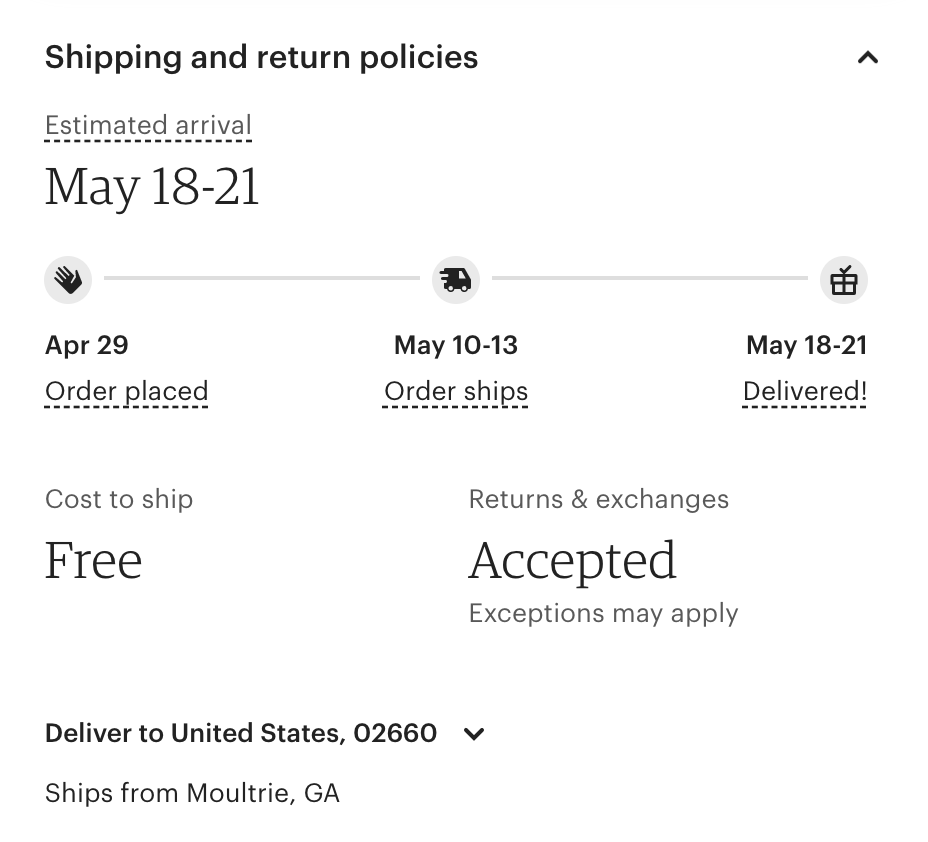 Of course, Etsy is a marketplace where almost every item is made to order. So it makes perfect sense to communicate processing times up front. But even if you don't make custom items, and delay in processing is important to communicate.
2. CarMats: pre-delivery post-purchase email flow
Here's an email sequence example I love from CarMats.co.uk.
Ash Young, Founder of CarMats, noticed an increase in "where is my order" support calls. Customers didn't realize his products weren't picked off a shelf for same-day shipping, but that each one was made to order, taking 7 days or longer to produce. The delay, and thus lack of shipping updates, was causing customer confusion.
So he built a really smart communication strategy and nurturing sequence after purchase that explained the six-stage process to making their orders, plus an additional email when the order was almost ready to make its destination.
Email 1 - Sent after order confirmation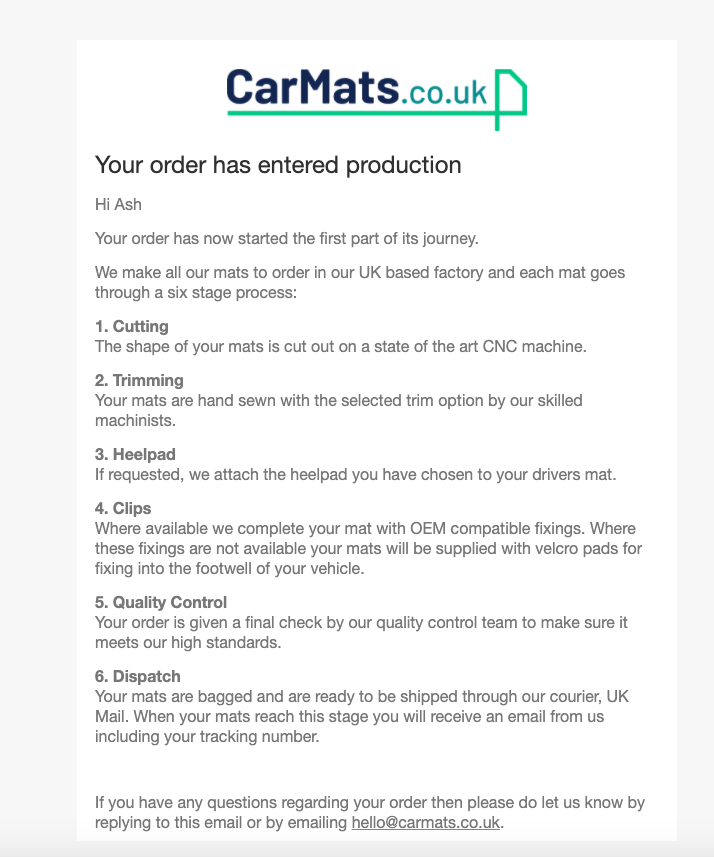 Email 2 - Sent before the item ships out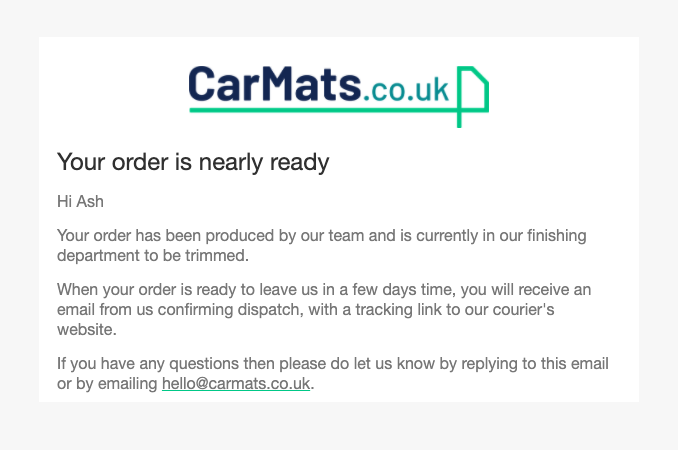 "Customers just wanted to be updated on their order. Since we've rolled this out, we're now seeing a steady stream of positive feedback and support tickets have gone way down." - Ash Young
3. Dr Squatch: out of stock notification
As eCommerce owners, we do our best to keep track of available inventory. But sometimes, we just sell out early. Or realize our inventory includes damaged goods that can't be sent out.
It's best to communicate out of stock items before a customer can purchase it, sometimes you can end up in a situation where you have more orders than goods available. When this happens, it's critical to let the customer know ASAP.
Here's an example from Dr Squatch: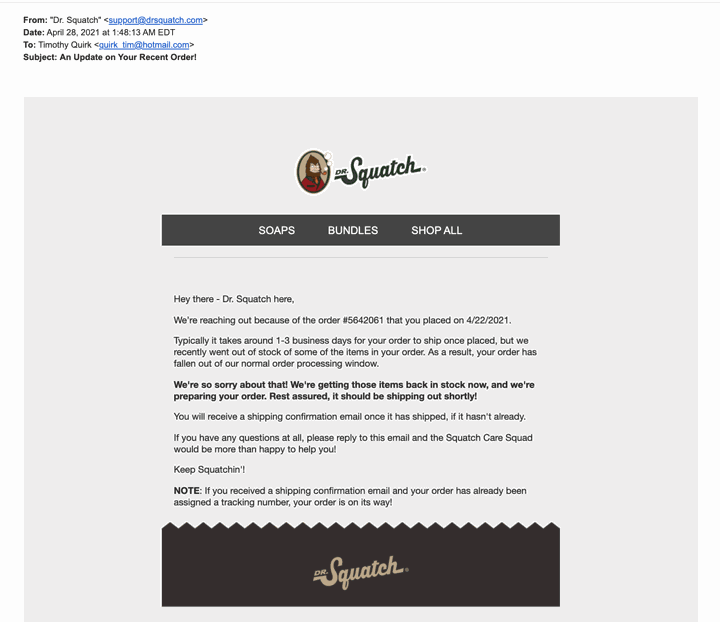 If you expect the item to be back in stock relatively soon, sending a simple "heads up" email like the one above is helpful.
But (and this is a very important BUT)...if the item is not expected to be back in stock any time soon, you must give the consumer the opportunity to cancel their order. Not only that, but you have to make it easy to do so.
For an example on what NOT to do: I once ordered an item from a store I will won't name (coughikeacough). The item sat in "pre-shipment" for weeks to the point I didn't need it anymore. In order to cancel my order, I needed to call their customer service line. The problem? I called and no one answered. I sat on hold for two hours one day (this was after multiple attempts) and never got a live person. An experience like this is bound to end up with customer complaints.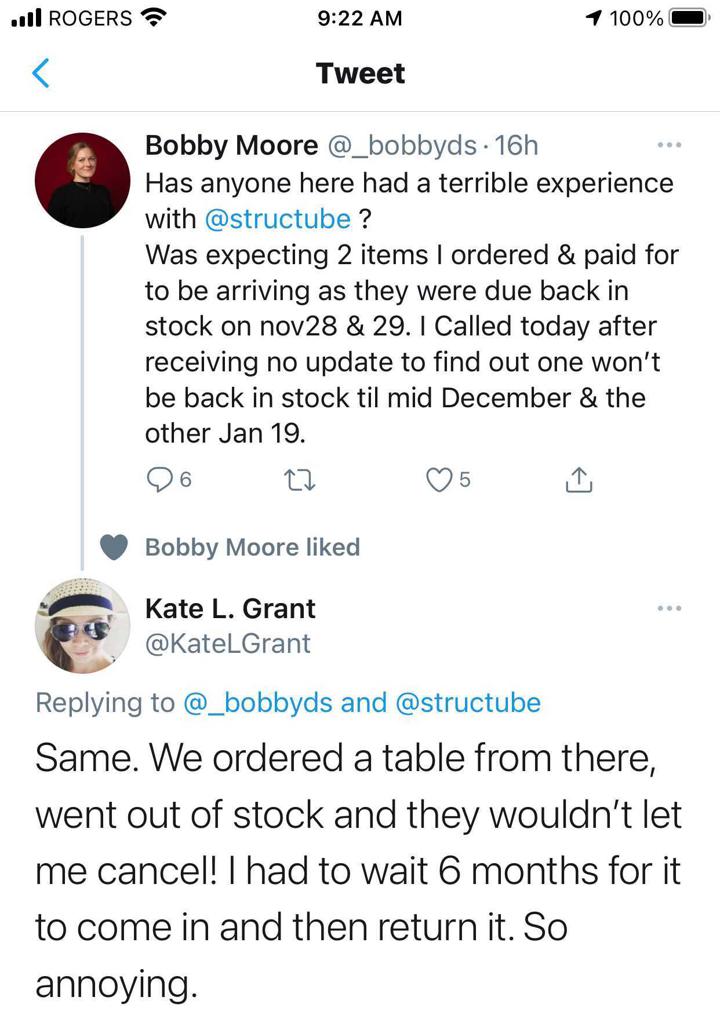 2. Avoid the "shipping label created" confusion
Here's the funny thing about the world of shipping: just because the status of an order makes sense to us (the business owner) doesn't mean our customer gets our terminology, too.
Many people don't understand the difference between "your order is processing" or "your order is being fulfilled."
Here's my funny take on this subject:
The truth is, consumers expect their orders to ship the same day they click "buy." Customers don't always factor in the length of time between when an order is placed and when the shop ships the order.

For example, when we say "item arrives in 3 days," our customer starts the clock immediately. That means processing times aren't taken into consideration in regards an order's overall ETA.

We can thank Amazon for that.

But not all items are shipped instantly. What if a customer purchases on a Friday evening but your 3PL doesn't fulfill on weekends (and thus the order doesn't ship out until Monday morning)? Or, what happens when the shipping courier doesn't pick up the package as quickly?
Why "label created" is a terrible status
As soon as an order is fulfilled by you or your 3PL, a shipping label is generated. When the label is created, it sends a notification to your eCommerce platform (Shopify, for example), which then automatically triggers a tracking notification to your customer that the order has shipped.
But has it? Not always.
If Shopify tells the customer "your item has shipped" yet the tracking page says something like "waiting for shipment,' it's a false positive.
When the customer clicks "track order" and only sees a "label has been created" message, it's sort of a meaningless notification and a big missed opportunity to communicate another, more valuable message.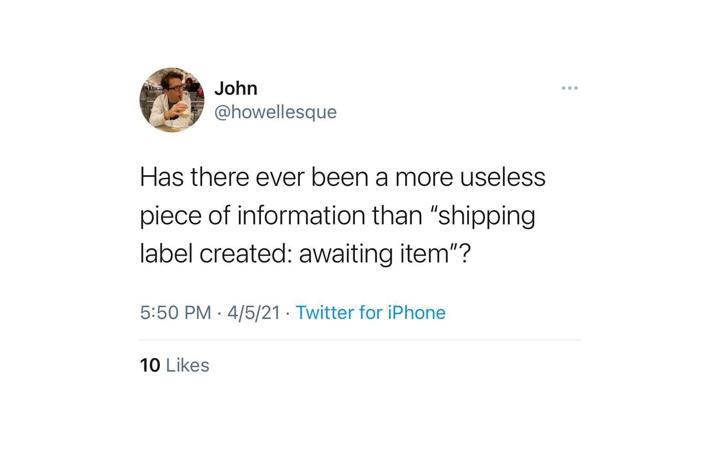 And to make matters worse, the customer could end up seeing that same idle message for several days, even if it was picked up by the carrier. This is not an ideal experience.
Why does this happen? Some carriers, like USPS, don't mark an item as shipped until it reaches a distribution facility, even if it was in fact picked up at the warehouse. All couriers handle and communicate this pre-shipment status differently, which can add to the confusion.
What to do instead: how to customize Shopify's shipped email
There's good news - you can make this a more positive experience.
If you use Shopify Plus, consider customizing the "your item has shipped" email to more thoroughly communicate that the item has been picked up and on it's way, despite the ominous message the carrier's tracking page might articulate.
Shopify Plus merchants are able to turn off Shopify's default shipment notification and replace it with a fully customized email using your own email tool like Klaviyo. By doing this, you have more control over triggering this email when the item is actually scanned by the carrier vs just when the label was created.
If you're not using Plus, you unfortunately can't deactivate the default email, but you can send an additional automated email after the label notification is triggered, providing more information on what to expect with their order.
Especially if there are ever situations when a label is voided and a new one is created, the customer could have the wrong tracking number or not realize the delay on their order.
3. Proactive messages regarding stalled shipments
Shipping delays happen. When they do, it's best to alert the customer you're aware of the issue ASAP.
One of the main causes of "where is my order?" calls are when a customer notices tracking has stalled (for example, if a package is stuck at a facility or re-routed, or just wasn't delivered the day of expected arrival). It's not a great experience when a customer discovers the issue before you do.
Very rarely do direct to consumer (DTC) brands notify customers about delayed shipments. I think there is this natural fear that it could cause more support tickets or cause customer anxiety prematurely.
In reality, being proactive about issues is one of your best weapons in delivering a positive customer experience.
I would have to agree with Chase on this one...
☝️ Want to send this type of email? ☝️
---
Try Wonderment, the order tracking app for CX-driven Shopify brands.
Wonderment spots any shipping delays so you can proactively notify your customers, automatically.
Book a demo to see how it works:
---
Here's another example from one of my favorite brands, Hydrant. They use Wonderment's order tracking app to identify stalled shipments and use that event to trigger an automatic email to the customer, approximately 48 hours after the delay occurs.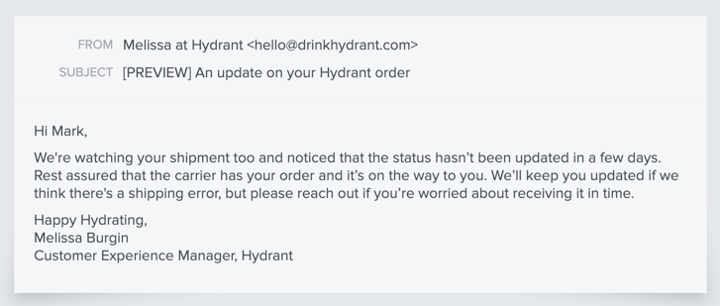 The email isn't selling anything yet gives incredible value in that it delivers peace of mind that you're aware of the issue and keeping your pulse on it so they don't have to. Asking a customer to "contact the carrier" to resolve the issue is rarely a good idea. If you've ever had to call a shipping provider, you know what I mean.
Conclusion
All of the above examples aren't rocket science, but they make a huge impact in making your customers feel cared for.
To recap:
DO over communicate order processing times in advance, before and after the checkout.
DO let customers know ASAP whenever an order or shipping issue has occurred.
DO proactively notifies customers about shipping delays.
DON'T make it difficult for customers to cancel orders for out of stock items or if you don't expect to ship it quickly.

DON'T

keep your customers in the dark about issues fulfilling orders. Transparency is the best weapon to combat uncertainty.

DON'T

forgot to ignore your post-purchase email flows. This is the most important part of the customer journey to over-delight.