How to disable Shopify's default shipping notification emails
Before you turn on shipping notifications email in Klaviyo, it's recommend to turn off the transactional shipping emails in Shopify so that your customers aren't receiving duplicate emails from both Shopify and Klaviyo.
Note: Only Shopify Plus merchants can disable the Order Confirmation and Shipping Confirmation email.
Step 1: In Shopify, go to Settings > Checkout to disable shipping updates
Scroll down to Order Processing, then under After an order has been paid and Automatically fulfill the order's line items section, uncheck the box for "Notify customers of their shipment"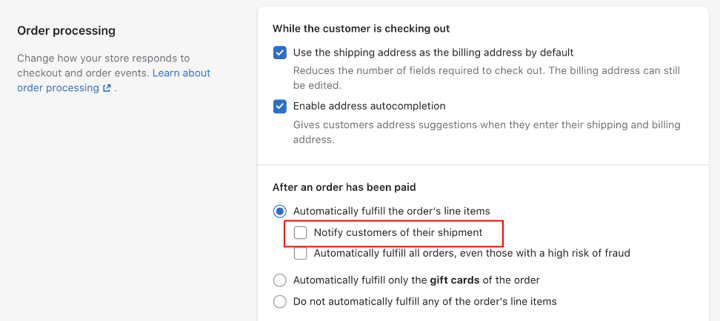 Step 2: In Shopify, go to Settings > Notifications to disable the Out for Delivery and Delivered notifications
Important: Only uncheck these boxes if you plan to send Out for Delivery and Delivered emails via Klaviyo instead of Shopify.
Scroll down until you see the Shipping section and uncheck the bottom two checkboxes for Out for Delivery and Delivered.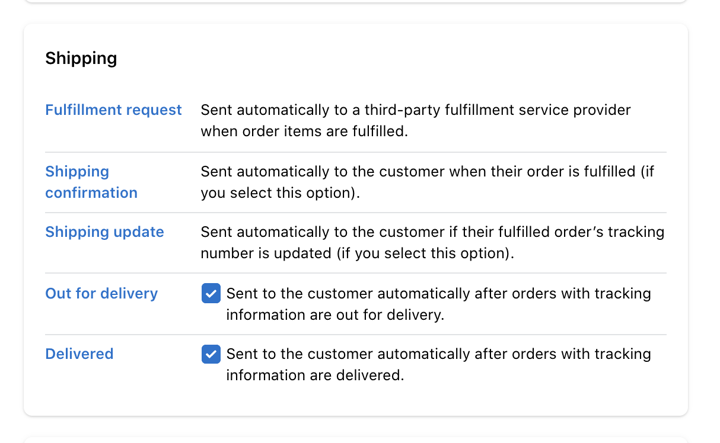 Optional: How to turn off the "Track with Shop" button on Order Confirmation
The Shop App by Shopify is a great benefit for customers who wish to track all their orders in one mobile app. However, if you intend to send shipping notifications via your own email or SMS, you may want to disable the Shop feature (note: if a customer already has the Shop app installed, they may still receive push notifications on their order).
Shopify leaves this set to ON as a default setting. To disable, go to Settings > Checkout and then under Customer Contact, uncheck the box next to "Customers can download the Shop App from their order status page"