Shipping delays— we hate living with them, but we seemingly can't live without them. As we inch closer and closer to the holiday season, that special time of the year when shipping spikes all around the country as people rush to place online orders before the dreaded #shippaggedon arrives in all of it's delayed glory, retailers need to be prepared for the almost guaranteed surge in ecommerce shopping that's coming. Last April, ecomm shipments were up 47%, leading to an average of 1.5 days added on to each delivery due to shipping delays.
From the customer perspective, the only thing more frustrating than receiving that "delayed shipment" email is trying to navigate the delay with little to no help from the communication received from the brand (Why can't I find a contact us section? Where is the return policy?). .
Of course, shipping delays are never the fault of the messenger, but there are many ways for companies to handle the battle against delayed packages— and the best way? Just tell them what's going on. And have talented marketing and customer support teams (who work hand in hand) to not only alleviate some customer pain, but to be the difference between retaining a customer and losing them to a competitor. After all,13% of shoppers say they wouldn't order from a retailer a second time after a late delivery.
Ultimately, if you make a habit out of mishandling shipping delays, your customers will notice and once word gets out that your organization is unreliable then your brand perception will suffer. (Brace yourself for the frustrated Tweets that are sure to come.)
Although sometimes shipping delays can be outside of your control, how your sales, marketing, and support teams communicate with customers about delays is completely up to you. Let's take a look at the top reasons why shipments get delayed and the marketing/communication best practices you can use to mitigate the effect these delays have on your company's public image.
---
💡 Pro tip: Looking for a solution to proactively get ahead of shipping delays? the easiest way to proactively set expectations on shipping timeframes, automatically update customers with delays and measure shipping expectation vs reality across the business. Used by hundreds of leading Shopify merchants including The Ridge, Bokksu, and Jones Road Beauty.
See more about what Wonderment can do and book a demo today!
---
What are the top reasons retail shipments are delayed?
From acts of God to outright human error, there are many reasons why a shipment might be delayed and many ways customers complain about them. Take a completely unprecedented global pandemic, for example. No one could have predicted the effects on the supply chain that occurred, but all we could do was deal with them when they happened.
Before you can dive right in to navigating these delays and coming up with really clever messaging to break the news to your shoppers, let's review all the different ways a package might be delayed, like having a bear on your porch (for real). Or weather impacting the shipping carrier.
Here are the top reasons why a retail shipment could be delayed:
Traffic

Weather

Failed delivery attempts

Delivery vehicle breakdown

Lost packages

Tech malfunctions

Spike in delivery volume

Lack of visibility

Incorrect address
Here are a few funny/unique reasons people's orders have been delayed or they've reported issues with shipping: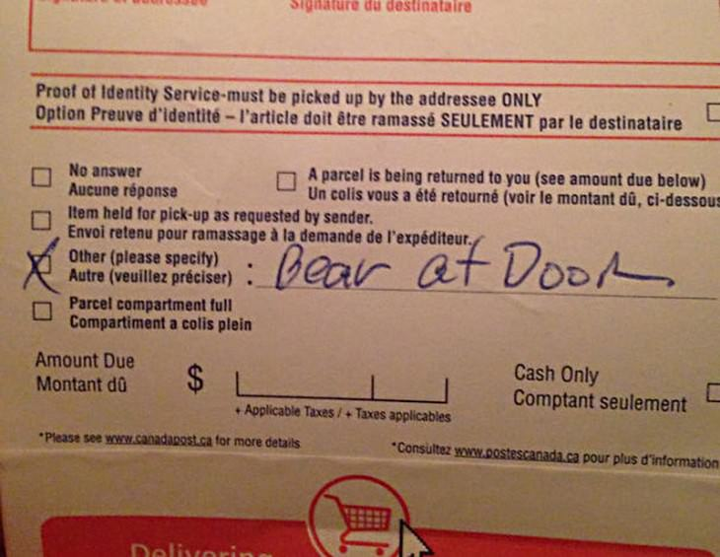 Source: Ba-Ba Mail
See? A bear! No way to prepare for that. If you work in retail, you've probably heard some fun reasons orders weren't delivered, or explanations from shipping carriers you can't believe are real. So, how do you respond when it happens?
Communicating Shipping Delays
With the why behind shipping delays in mind , we can focus on the best ways to communicate these delays to customers. As a member of the marketing team, you're the first line of defense and the first opportunity to put your most transparent, helpful foot forward using shipping delay emails and SMS messages. So instead of setting your support team up for angry customers, be up front with your recipients on shipping delays. It always pays off, I promise.
You know how I know? Because there's a whole category of terminology associated with the phrase "Where is my order??!" We call it WISMO. Customers want to know where their item is, why it's delayed, what you're doing about it, when it will arrive, and why it's late.
My advice? Tell them!
Story time! As a marketer, I used to manage large lists of emails for a tech company. One time, I accidentally sent the same email to one list four times instead of to four different lists. Mortified, I panicked and asked a colleague what to do. They advised me to say sorry. Simple enough. I put together an email with the below GIF saying "Sorry! I am a human and made a mistake with the email tool so you got the same email four times. I was moving a mile a minute and missed it. Thanks for your patience and here's a cute dog!"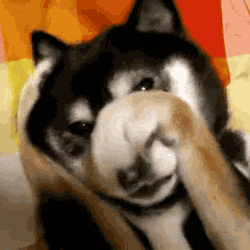 Source: Tenor
That email got more engagement and replies than any of the other marketing content I was creating. People loved it. Hey, there's a human behind there and she messed up! I mess up all the time! Moral of the story— being honest always pays off.
Ready to start sending some shipping delay emails? Check out our latest guide for advice on what to say and examples from top Shopify brands.

Delayed Retail Shipment Reasons #1-3: Traffic, Weather, and Delivery Vehicle Breakdowns
As the most common reasons for delays, these three delay-causers are also the most tricky to communicate to customers. However, because they can be boiled down to being unavoidable accidents (dog GIF opportunity?), customers are also often the most understanding when the delay is caused by something unavoidable like a snowstorm or a truck with a popped tire on the highway.
Regardless of if your shipment is delayed because of unforeseen construction, major roadblocks and detours, or weather events, you are responsible for letting your customer know about the change in their delivery.
Maybe they need to be home when they receive packages, or are planning a vacation and don't want their item sitting on the porch (or in any of these insane places packages have been delivered.)
On the marketing and sales side of things, the best way to communicate shipping delays is with a proactive approach. Before committing to an expected delivery date, take a moment to check the forecast in the area for any inclement weather approaching and adjust your delivery window accordingly. Speaking of, offering customers delivery windows (a three or four day span when they might receive their package) is an effective way of keeping delivery promises. For example, if you can't ensure that a package will get to their doorstep on Tuesday even though you think it will, you might as well play it safe by telling the customer they can expect their package on Tuesday or Wednesday.
Delayed Retail Shipment Reasons #4 + 5: Failed Delivery Attempts & Incorrect Address
For shipping delays that are triggered after a package is out for delivery, your main job is to make it as easy as possible for customers to contact the courier directly. Oftentimes, failed delivery attempts can be easily rescheduled through individual delivery companies.
As a marketer, it's your job to make it easy for customers to find the information they need to reach out to the delivery company. The easiest way to do this is by supplying customers with this information as a part of your post-purchase email campaign, specifically as a component of the order tracking email. By supplying customers with this information early you can give them the opportunity to handle failed delivery attempts directly, instead of making the process overly-involved after the delay has already happened.
Delayed Retail Shipment Reasons #6 + 7: Lost Packages & Tech Malfunction
When a shipping delay is not a simple one or two day delay that can be resolved with patience, customer communication becomes more involved. Packages can be lost for a myriad of reasons but the most common causes are damaged shipping labels and simple misplacement. Tech malfunctions happen for similar reasons, such as human error during input or a lack of a substantial cloud-based tracking software. Whatever the reason may be, when a package delay requires a replacement to be sent, it's all hands on deck.
For marketers and sales teams, successfully navigating a completely misplaced delivery is less about spending time figuring out exactly why the package is missing and more focused on sending a replacement shipment as quickly as possible. Whether you'll be refunding the order or sending out an expedited replacement, the marketing and sales team must work alongside the customer support team to alleviate any customer pain caused by the delay.
Delayed Shipment Reasons #8 + 9: Surge in Delivery Volume & Lack of Visibility
When predictable surges happen, like the expected influx of orders that come from holidays, promotions, sales, or the "busy season" for your industry, your team has the power to plan ahead, work with more (or different) shipping carriers, upstaff your customer service team, and pace out the orders by strategically spreading out promotions. It's in your hands.
It's the unexpected surges that are harder to deal with. For example, when the pandemic forced a global lockdown, many people suddenly had to do their jobs from home. Webcams quickly sold out and tech companies were scrambling to meet customer demands. In these types of situations, communicating the status of orders everywhere possible will help your customers understand and anticipate what they should do next.
Visibility goes hand in hand. Implementing order tracking notifications, you create visibility into the shipping process. Shoppers can choose email or SMS and have the power to check in for up-to-the-minute updates on where their beauty palette is for their upcoming collaborative video. Or their outfit for an upcoming event. Or treats for their furry friend. All important and all eagerly awaited.
Shipping Delay Communication Best Practices
In review, shipping delays stink and everyone knows it. But, with the right communication from marketers, sales reps, and your customer support team, you can prevent a shipping delay from derailing your entire customer relationship.
Let's run through shipping delay communication best practices run more time to ensure you have all the tools you need to turn delayed shipments into an opportunity to increase your customer retention rates:
Be apologetic, you can't control the weather but you can apologize on behalf of it

Always be transparent about the cause of delays

When offering solutions to customers, present them with options to allow them to have control over the situation

Over-communicate with customers during delays so they know you haven't forgotten about them or their package

Work together as a team to mitigate delays

Communicate delays as soon as they happen to allow customers to set new expectations about their delivery

Present realistic delivery windows during checkout so customers know when there is an increase chance for delays

During exceptionally busy times, include notifications about delays throughout the checkout process

Before the holiday season arrives prompt customers to begin shopping early as to avoid delays
The world of shipping delays can be stressful, but delays are manageable when your team is armed with the right communication tools and quirky personality/human touch. To make sure your shipping delay emails are up to the same standard as your team members, here are A Whole Bunch of Shipping Delay Email Templates (To Help You Figure Out Just What To Say).
Building the best post-purchase shipping experience starts with Wonderment
Wonderment is the easiest way to proactively set expectations on shipping timeframes, automatically update customers with delays, and measure shipping expectation vs reality across the business.
Wonderment is a retention Swiss army knife used by hundreds of leading Shopify merchants including The Ridge, Bokksu, and Jones Road Beauty.
See more about what Wonderment can do and book a demo today!