Why is that? One hypothesis is that it was much easier to put some money into Facebook ads and get more money out than build an entire strategy around the post-purchase experience. But now that ad targeting is limited and acquisition costs are skyrocketing, retention is taking its rightful place as a major area of focus for brands.
When you focus your efforts on providing value and building long-term loyalty, your customers have a more meaningful relationship with your company. Additionally, increasing customer retention by just 5% can increase your profits anywhere from 25-95%. Shifting your marketing efforts to retention over acquisition will not only improve the experience people have with your brand, but boost your sales too.
We're fortunate here at Wonderment to have amazing tech partners who care deeply about the post-purchase experience, and we've asked each of them to write a chapter on their areas of expertise.
In this guide, we'll walk you through 10 key areas you can focus on to increase your customer retention:
FOUNDATION
PRE-DELIVERY
POST-DELIVERY
Our hope is that you'll come away with actionable tips and resources to get started on your post-purchase marketing journey, and have the tools you need to:
Understand why the post-purchase customer experience is so crucial
Improve your ecommerce marketing ROI
Retain your customers post-sale
We have a lot to cover, so let's get started.

Email and SMS
The old-world method of batch and blast email may not entirely be gone, but consumers are tired of it. Everyone has way too many emails in their inbox. To save your customers a ton of time and headache, you need to think about who they are and show them that you understand their needs.
Here are three ways to do that via email and SMS:
Tip #1: Using segmentation and flows
Segmentation is the best way to communicate with your customers in ways that matter to them, making them feel like they are seen and heard by your brand.
Let's say you're segmenting your audience into something as simple as people who love red and people who love blue, and you have red shirts and blue shirts for sale. You can segment the audience so that people who love red only ever hear about your different styles of shirts in red, and people who love blue can hear about your blue products. That is a very simplified version of segmentation.
When Proozy started using Klaviyo to segment their post-purchase communications, they were able to send less emails and make more money by focusing on what their customers are interested in based on purchases they'd made in the past.
Here are some basic segments to think about:

New product purchasers:

These are brand new, first time buyers.

Inactive or unengaged subscribers:

These are people who haven't been interacting with your emails (for example, in the last six months). That timeframe is going to change for everyone, but that's a good benchmark.

Your VIP customer:

These are people who love you, who buy from you all the time, who interact with all of your content, who are part of your Facebook community.

Pre-VIP:

These are customers who are trending toward that direction. Maybe they bought from you three or four times, maybe they have left a review. Maybe they are part of your affiliate or referral program. There's lots of these kinds of leading indicators that they're VIPs and you can start to treat them accordingly.
Bonus: Ask your customer support team to tag requests from customers for specific products. Not only will you have a running tally of your most requested items to inform your R&D team; you'll have a ready-made segment of people to reach out to once you launch that product. You can even build excitement by letting that list know ahead of everyone else that the product is being launched.
Tip #2: Building habits
When we're talking about repeat purchases, that means asking a customer to do the same thing over and over again. Basically, you're building a habit. And one way to do that is to offer a rewards or loyalty program.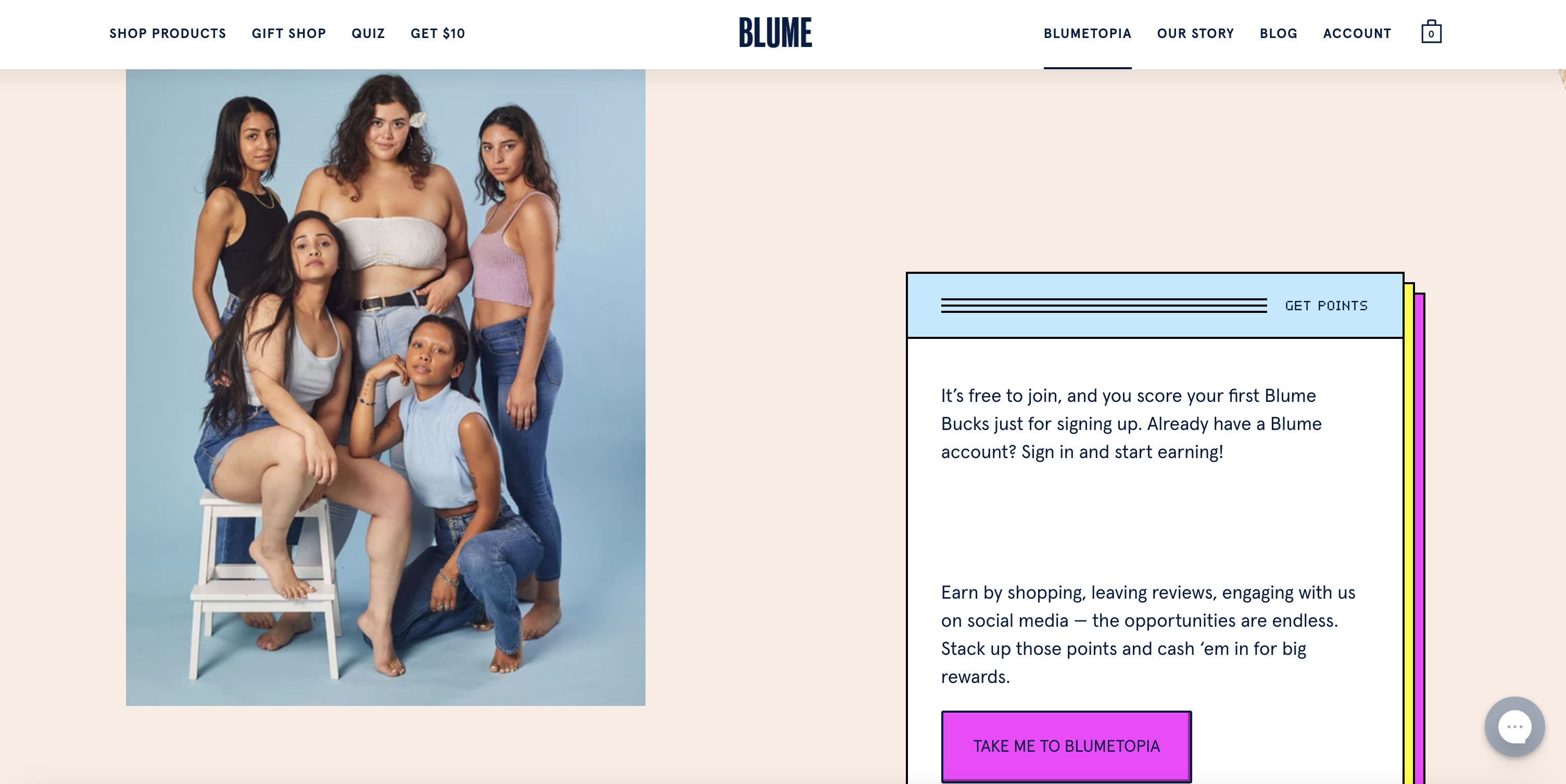 As an example, skincare company Blume uses its rewards portal, Blumetopia, to build buying habits. If you're using their products over and over again, making multiple purchases, and referring friends, you earn points and rewards for those activities, and you get to be a part of something bigger than just being a customer. So, think of ways that you can reward your customers for building the habit of using your product in their daily life.


Remember tip #1? People who have signed up for Blumetopia make a very powerful segment for Blume to email and contact through SMS.
Tip #3: Send a customized post-purchase flow
Customizing your post-purchase flows for your repeat customers is the tiniest little thing that you can do that makes a huge difference. Another Klaviyo customer, Propello Life, makes fitness supplements. They send a tweaked version of their first-time purchase email to repeat purchasers where the copy says "thank you for trusting us with your business more than once." They also don't ask for a review until you've made a second purchase.

Another Klaviyo customer, Aura Bora, separates out their pre-arrival and post-arrival emails. The pre-arrival email talks about the future (when the customer will receive their seltzer), and provides a drink recipe to get anticipation going. The post-arrival subject line is "your weird water has arrived." As a bonus, there's a highly relevant "click here to reorder your most recent purchase" CTA banner at the top of the email.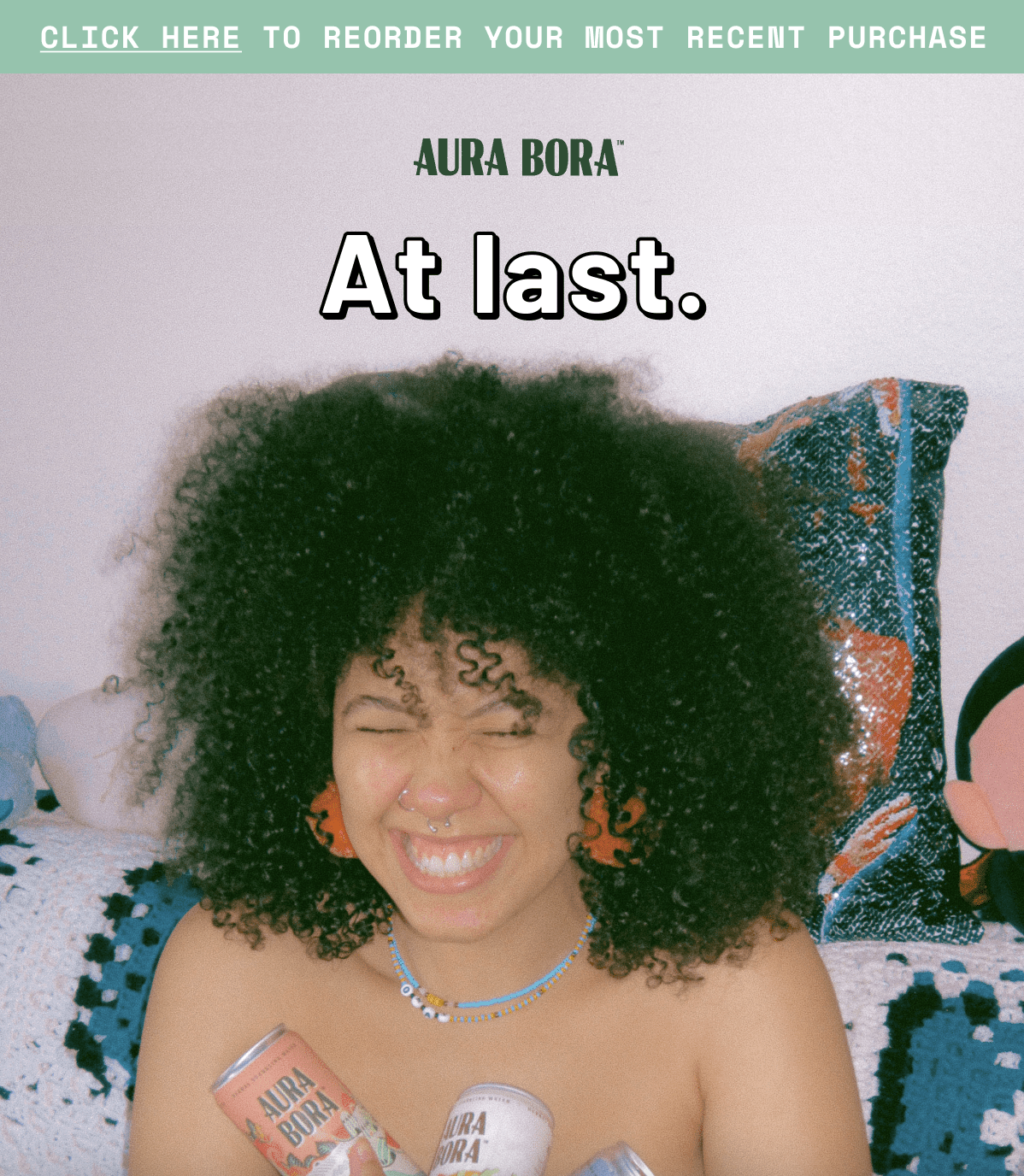 These are small shifts that you can make today inside of your Klaviyo account. And it makes a huge difference for your customers.
---

Order tracking
One of the most organic ways to improve your customer retention during the post-purchase customer experience is to design your transactional emails and order tracking pages around providing value and encouraging repeat purchases.
Here are a couple compelling reasons why this investment will pay off, based on our internal data.
Transactional emails (aka, the automated order confirmation, shipping confirmation, and out for delivery notifications you send your customers) typically have a 60-80% open rate. Compare those stats to your marketing emails!
Tracking pages (where your customer goes to answer that burning "where is my order?" question) are typically viewed 4.6 times per order.
These are our top two tips for maximizing that precious attention:
Tip #1: Don't send stock order, shipping and delivery emails
We've all seen those boring email templates that are the equivalent of Dwight Schrute from The Office throwing a birthday party for Kelly Kapoor.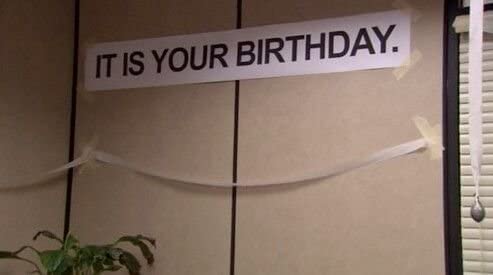 Your order tracking emails can be so much more - informative, entertaining, thoughtful, or even exciting. Here are a few examples of how our customers keep shoppers in the loop while adding a little extra oomph to their transactional emails:
Kettle & Fire uses witty copy and a recipe book to build pre-delivery anticipation
Feastables uses beautiful branding and an SMS signup call to action to keep in touch with customers while they wait for their order
Hydrant provides product usage tips to ensure customers get the most out of their order and buy again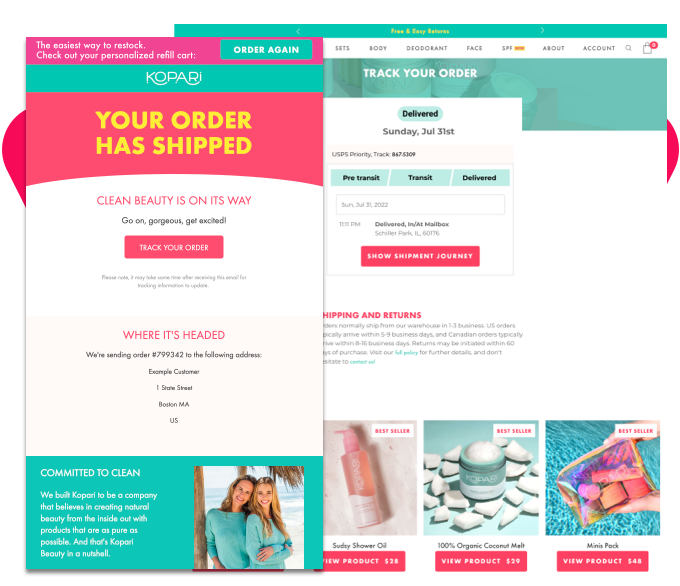 Tip #2: Don't link to your carrier's tracking page
On a similar note, ecommerce brands have directed their customers to carrier websites for far too long. If they're your customer, shouldn't they go to your website to track their order? The tragedy isn't just that customers have a disconnected post-purchase experience when you do this; it's also that you're missing out on a huge revenue opportunity.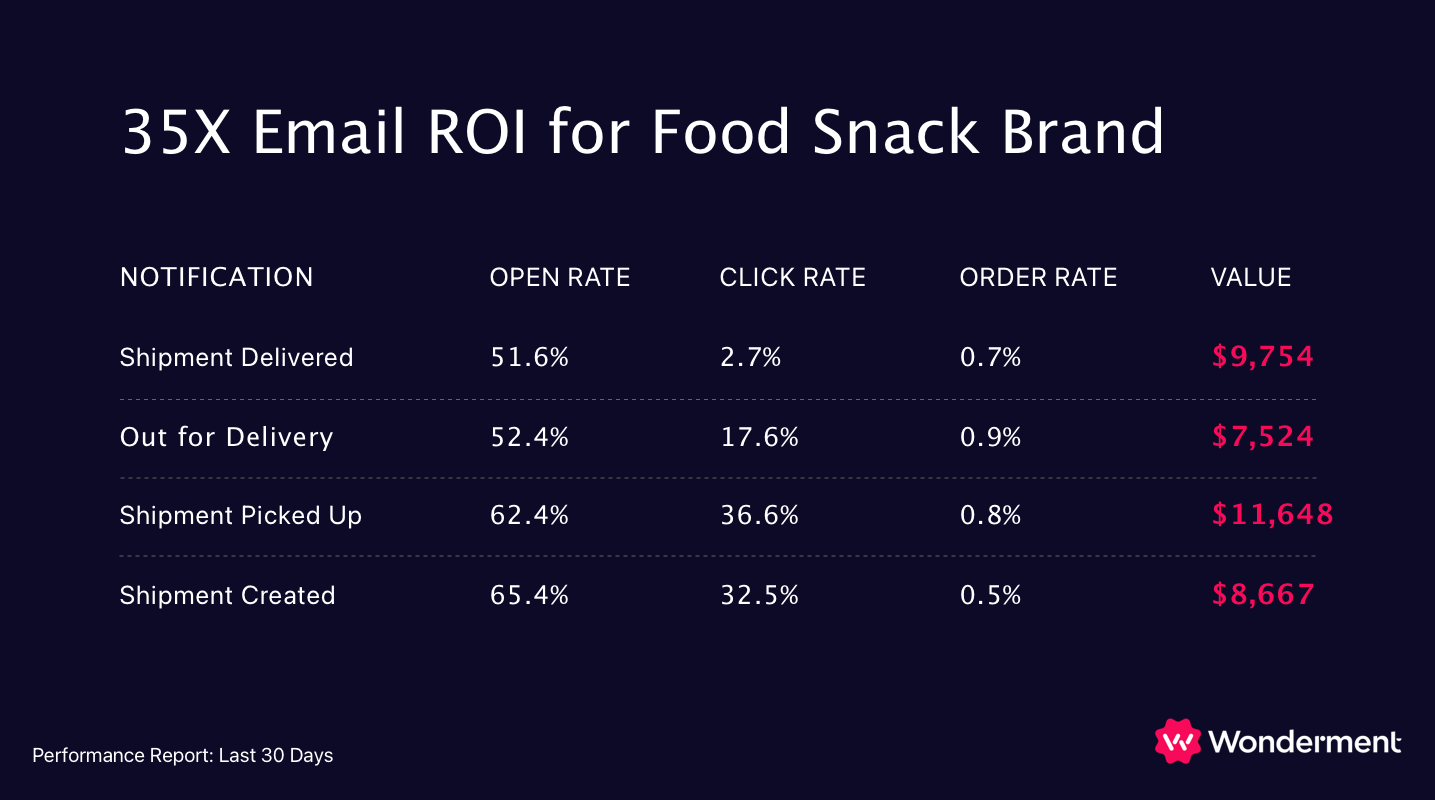 When you link your newly delightful transactional emails to an order tracking page that you control, you're able to bring in more money while providing your customers with an on-brand journey. These are a few ways our customers use their Wonderment tracking pages to drive additional sales:
Kopari highlights best-sellers
Flock showcases their ambassador program
Aura Bora hypes their subscription service
With Wonderment, you can use up-to-the-minute carrier data to trigger branded transactional emails and build order tracking pages that turn first-time purchasers into loyal fans of your brand.

You can book a demo here.
---

Returns

In ecommerce, returns are a common part of the customer experience, impacting up to 40% of all sales and contributing to 5 billion pounds of landfill waste each year.
For retailers, returns are often considered an expensive hassle – but brands are missing the opportunity to use the returns experience as a way to improve the customer experience and drive more returning customers and more retained revenue from their returns.

By creating a returns experience that gives the customer confidence in your brand, you'll be able to ensure that they keep coming back: 84% of customers said that a positive returns experience would encourage them to shop with a retailer again.


Here are a few tips for improving the returns experience:
Tip #1:
Spotlight your flexibility during the post-purchase window
When you communicate with your customers after they make a purchase, but before they receive their item, you can make it clear that if they're not happy with one of their purchases, it's easy to swap it out for another item.
Customers sometimes get anxious when waiting for an item, so it's a perfect time to reassure them that if the item isn't what they expected, they'll be able to return or exchange it with no hassles.
Tip #2:

Make returns easy for the customer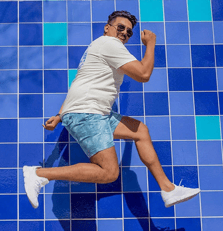 Don't ask customers to dig through a three-page return policy and contact customer support to initiate a return – this will just frustrate them to the point that they may not consider shopping with you again.
Instead, make it as simple as possible: keep your return policy short and sweet, and incorporate a link to the policy on your post-purchase branded emails and SMS messages.
Want to learn how returns can drive revenue? Here's how Chubbies Shorts increased their rate of upsell per return by 50%.
Tip #3:

Optimize for exchanges

By encouraging customers to exchange their items, instead of seeking refunds, you'll be able to retain more revenue and preserve the customer relationship. Using a platform that asks customers why they're returning an item means that you can automatically deliver relevant recommendations for exchanges – if a swimsuit was too small, you can offer the next size up.

When you make exchanges intuitive and seamless, you'll be able to keep more of the revenue from returns – Loop's customers typically see revenue retention on up to 50% of returns.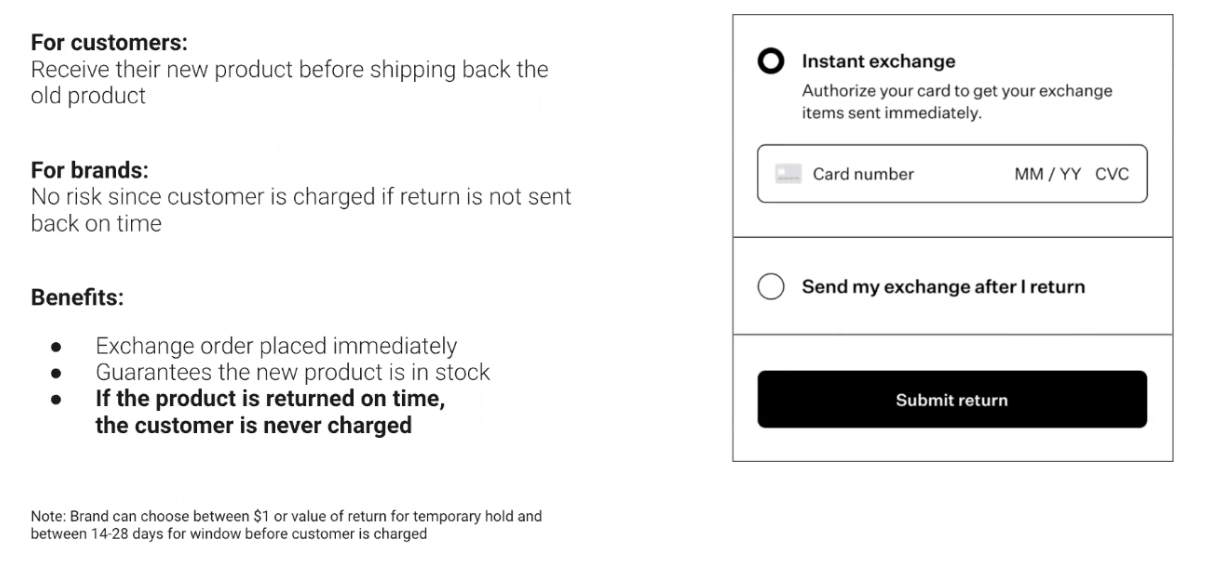 Loop is an automated returns management solution that helps brands keep customers happy with seamless, automated returns and exchanges that drive higher customer retention.

Want to learn more about what we can offer? Check out a demo.
---

Data
Did you know that most Shopify merchants have at least 6 apps in their tech stack? With so many tools to monitor, it's hard to get a consolidated view of your store's data - but if you're making business decisions without it, you're flying blind.

Here are three data areas that are important to keep an eye on in order to grow your business, plus tips for improving your post-purchase strategy:
1. ROAS by channel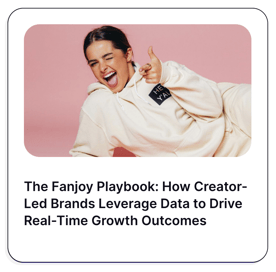 Is your ad spend moving the needle or draining your bank account? Take a look at your Return on Ad Spend to make sure you're marketing efficiently. Monitoring ROAS by channel helps you measure and analyze the impact of your ad campaigns.
Low ROAS might signal a need to pivot and change your ad strategy; maybe you want to try A/B testing or using UGC.
Take cues from brands like Fanjoy, who review their core performance metrics daily so they can manage viral surges and edit their ad strategies on the go.
2. Average Order Value
Our favorite post-purchase strategy to boost AOV? One-click post-purchase upsells.
Use post-purchase upsells as an opportunity to introduce customers to new products—making them more likely to find a product they love. Kettle & Fire found that customers who bought more than one flavor of bone broth were more likely to become repeat customers. As a result, they experienced a 41% increase in average revenue per customer.
3. NPS surveys and quizzes
Surveys are one of the best ways to learn about your customer and how they view your company's products, which is most helpful for retention. But formal surveys often lead to confirmation bias and leading questions—so ask open-ended questions that start a discussion.
The team at Jones Road Beauty asks questions that dig into the factors impacting the consumer's score —whether it be customer service, price, value, shipping, delivery, or website experience. That way, the team can discover the real reason consumers choose to promote or not to promote the brand.
Tip: Try a simple post-purchase flow to harness first-party data. 50-70% of Jones Road customers take their quiz, allowing them to segment customers based on their experiences.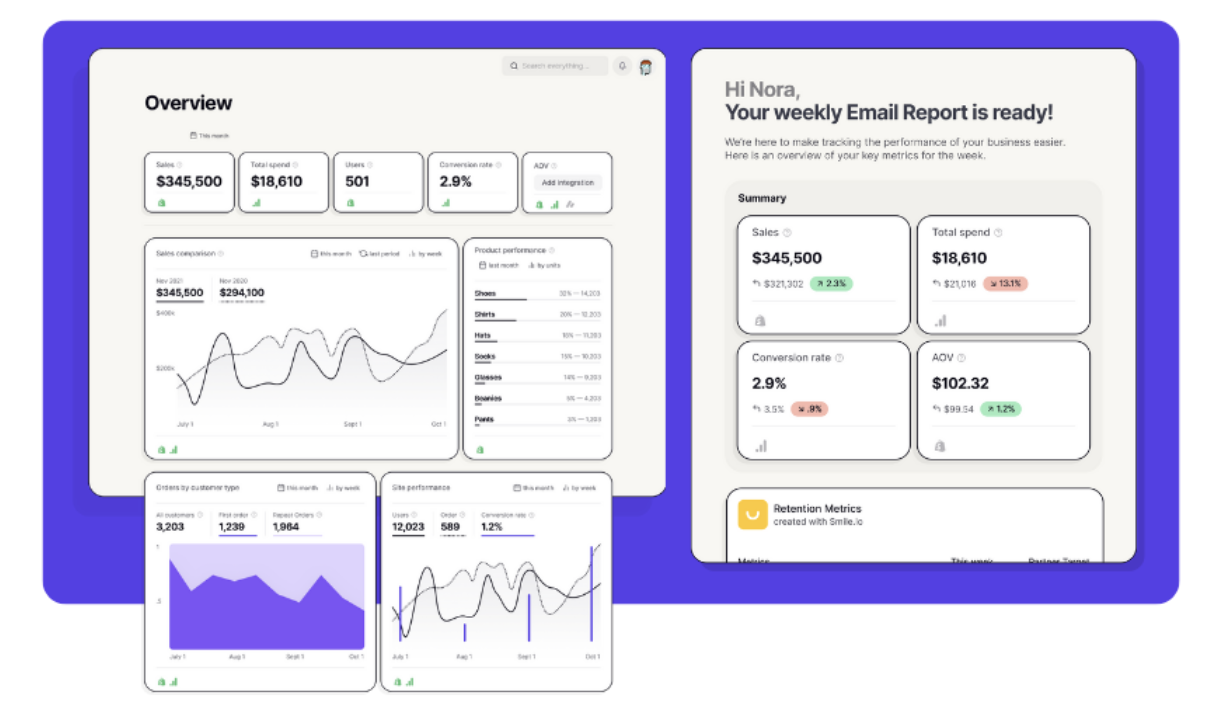 Tydo is on a mission to make data more accessible.

Analytics can help you make smarter business decisions. However, accessing reliable, up-to-date data (and understanding it) isn't easy nor straightforward. Current analytics solutions aren't built with every store's unique needs in mind. Plus, they charge brands exorbitant fees just to access their data.

We believe that everyone should have access to data basics for free. Within Tydo's Platform, brands can dive into data visualizations that bring your store to life and unlock new insights and levels of growth.

Hot tip: Sign up for Tydo's free Email Reports, and get daily summary metrics delivered to your inbox.
---

Upsells
Let's be clear: Intelligent upselling and cross-selling are some of the easiest ways to increase AOV and boost revenue.
Did you know that Amazon has reported that 35% of its revenue comes from upsells and cross-sells? Or that Netflix generates 75-80% of its revenue through personalized product recommendations?
But you don't have to be a billion-dollar company to win with upsells and cross-sells. Online shops of all sizes reap major rewards from upselling and cross-selling. For example, Licorice.com increased AOV 17% overnight with data-driven upsells and cross-sells (read their story here).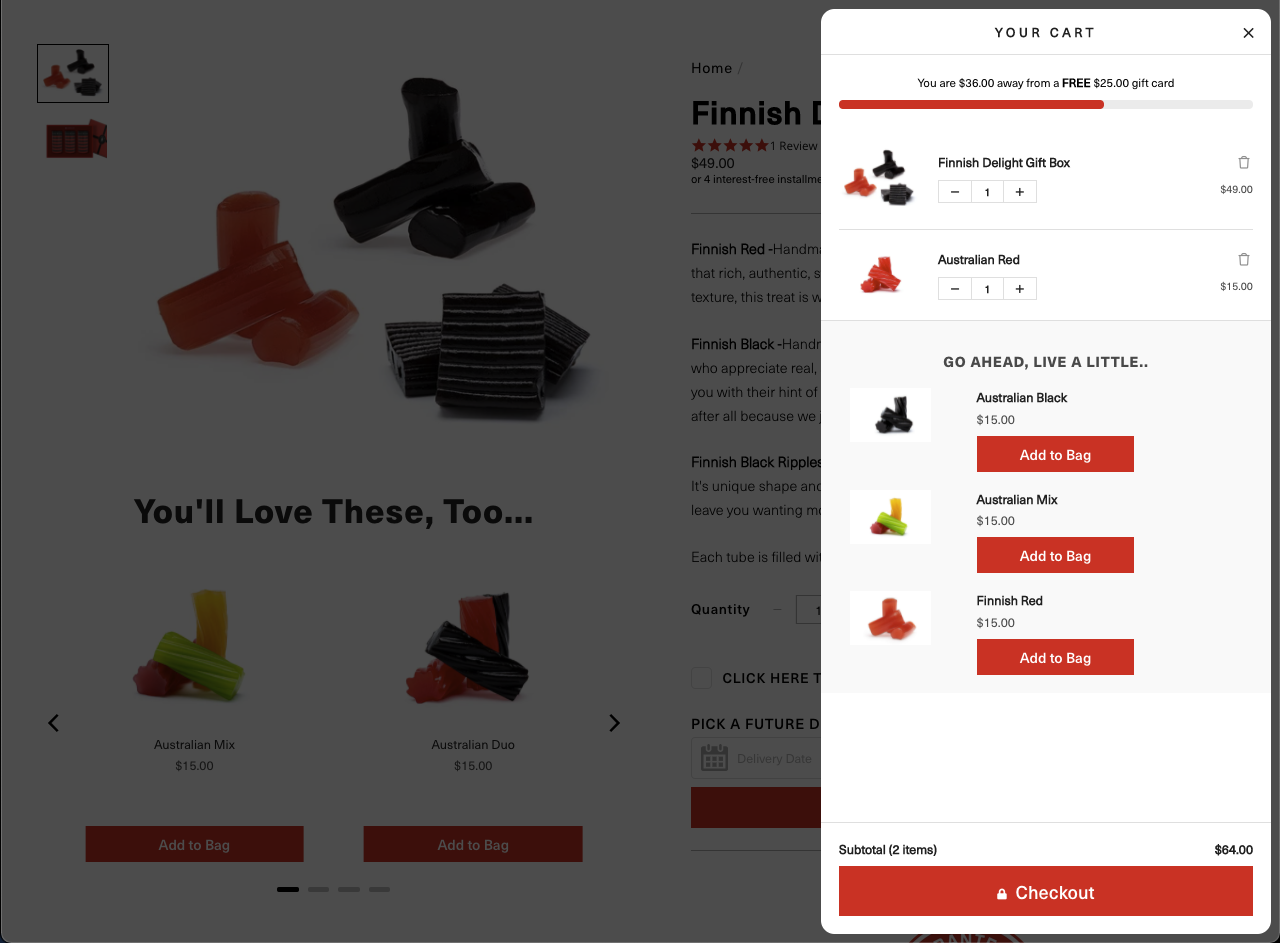 So, how can you enhance the post-purchase experience with upsells and cross-sells? Let's dive into some quick tips and techniques for post-purchase success.
Tip #1:

Invest in data

Make sure your post-purchase offers are personalized for every customer. Solid data is the centerpiece of building a personalized and performative online store, including:
order data
purchase history
total cart value
browsing patterns
These all give you invaluable insight and allow you to give your customers exactly what they want, when they want it.
Tip #2:

Minimize friction

Ensure that your post-purchase offers can be completed in one click.

Why? Because one-click post-purchase offers are super convenient and won't compromise the original conversion. (Hint: Use a post-purchase solution that edits the original order so your customer doesn't need to re-enter payment details.)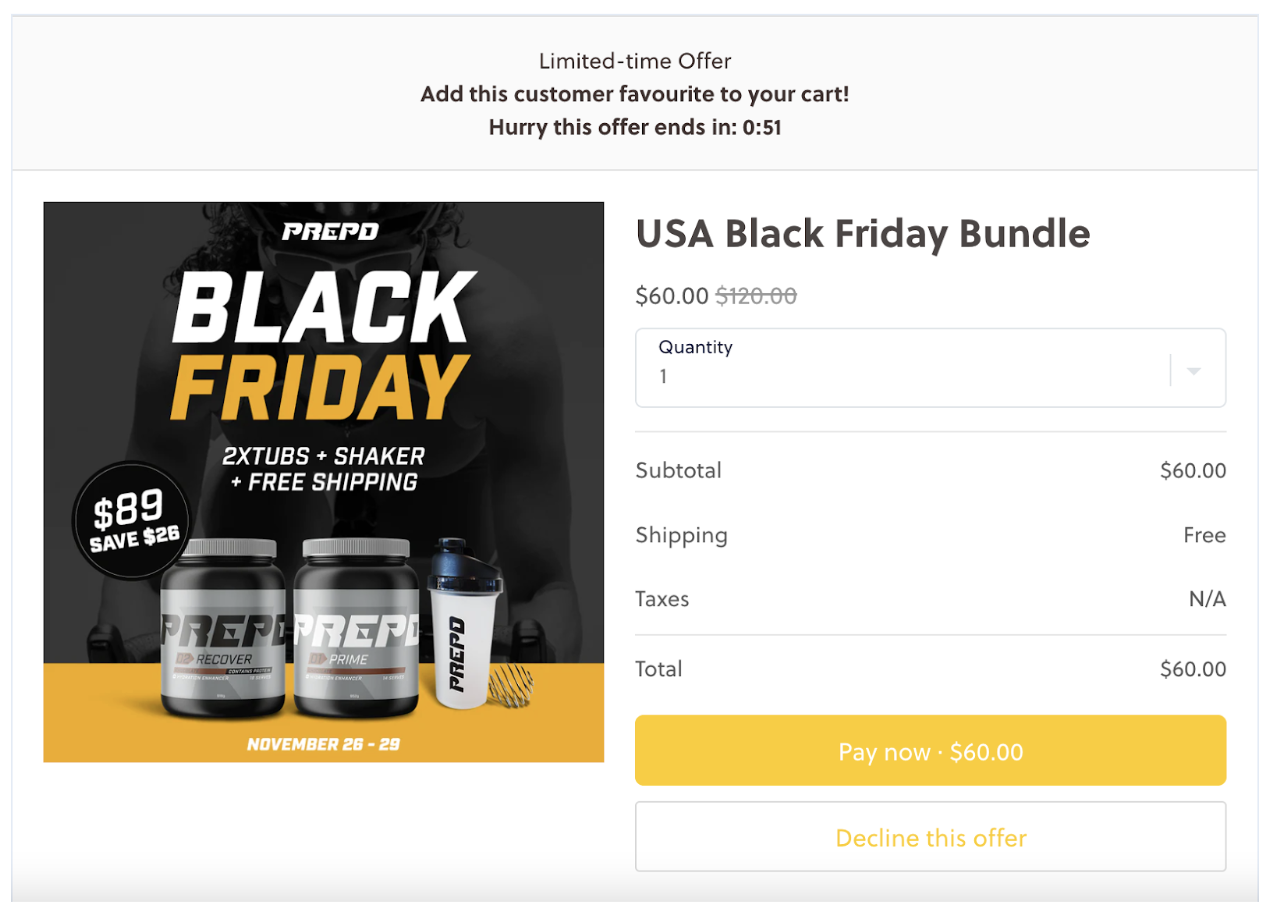 Tip #3:

Leverage consumer psychology
Consider adding a countdown timer next to the offer. This motivates your customer to buy now or lose the special offer.
Give your customers the option to choose their preferred product variant (size, color, etc.). When customers can choose exactly what they want, they're more likely to buy.
Don't forget an attractive product image to increase desirability.
Finally, consider a short promotional message like "Limited Time Offer" to encourage your customer to accept the offer.
Tip #4:

Bundle the offer

Let's think about the products and promotions you'll offer. For post-purchase, you can't go wrong with bundles. They increase both AOV and product awareness.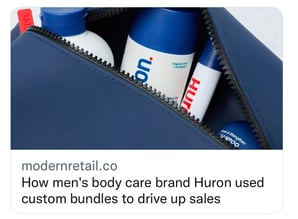 One type of bundle, the BOGO (buy one get one) is a crowd favorite in almost any industry.
Other common post-purchase offers include top sellers, accessories, an upgrade to a subscription, and mystery gifts (for when you need to clear excess inventory or push specific SKUs).
Tip #5:

Don't fear the discount

Nearly 35% of shoppers say that they favor discounts over free shipping. And because purchase intent peaks when a customer completes an order, there's no better time to sweeten the deal.

Even a small discount may increase conversion rates for your post-purchase offers. Consider discounts as a last resort to see what works best for your shop. Personalized upsells and cross-sells can drive massive revenues for your online store. When you use them in your one-click post-purchase offers, higher AOV is right around the corner.
Rebuy's full suite of personalization tools turns passive shoppers into revenue-generating customers. Enjoy a 21-day free trial when you download Rebuy today. To learn more, visit us at www.rebuyengine.com.
---

Subscriptions
Traditionally, subscriptions have been based on subscribe and forget business models, built to meet the recurring billing needs of merchants. But, consumers require curated subscription programs with the opportunity to manage the subscription journey as they see fit.
We've found that high subscriber retention shops (with over 95% subscription retention) have facilitated 30% more customer subscription actions than low subscriber retention shops.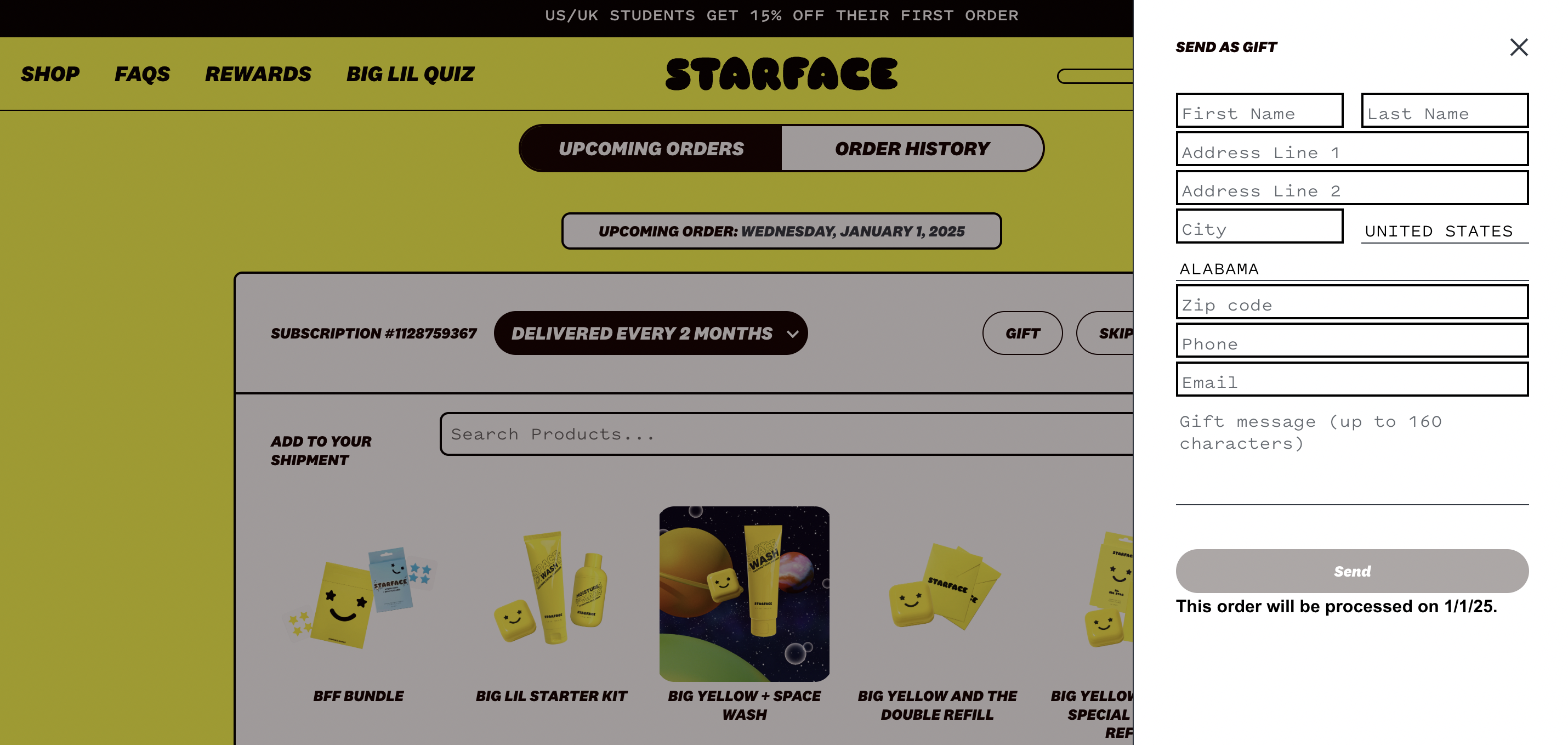 Here's how brands can incorporate subscriptions into their post-purchase marketing strategy:
Tip #1:

Optimize for subscriptions

Subscriptions really can be the core of a brand's post-purchase marketing strategy. After customers make their first purchase or first few purchases, incentivize them to join the subscription program by:
Promoting or defaulting subscribe and save discounts on select products
Displaying details of what the subscription program entails, emphasizing that customers have the autonomy to change, skip, or cancel their subscription at any time
Allowing the customer to make adjustments as they see fit directly on the PDP page, so they don't feel like they have to fully unsubscribe when their needs change
Having a subscription program that is moldable to each customer's specific lifestyle ultimately increases retention (and your bottom line).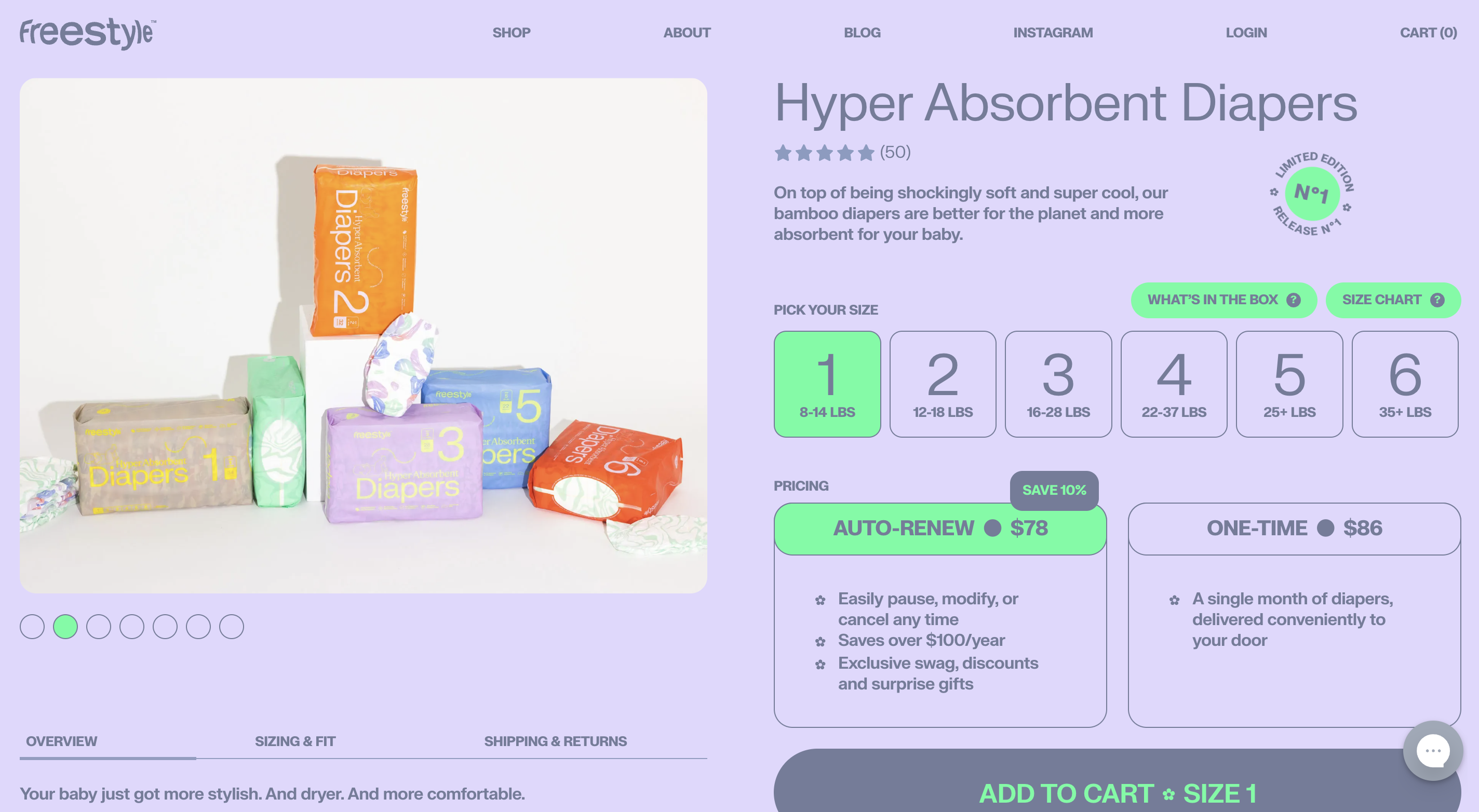 Tip #2:

Put customers in the driver's seat

In addition to skip, pause, and cancel management options, offering intuitive swap, send now, and frequency options give customers total control over their experience. Not only will this increase engagement levels, but we've found that it decreases subscription management customer support tickets by nearly 70 percent on average.
Tip #3:

Retain customers with member-only incentives

Throughout the subscription experience, keep customers delighted and engaged by giving them the red carpet treatment and overall more attention.

Brands can include special, one-time add-ons and benefits that only subscribers receive, including:
exclusive gifts
special promotions
early access to new products
member-only discounts
premium products
better shipping options
Many brands also take advantage of reward offerings for subscribers, such as giving subscribers X percent off of their 10th order, a free product with an order, or birthday gifts.


At the end of the day, your subscribers are your most loyal customers. Build brand champions by leveraging your loyal subscriber base to create brand awareness with loyalty programs, referrals, and gifting features all housed directly in your customer account portal experience.
Smartrr is built with the end-consumer in mind, focusing on creating the ultimate post-purchase customer experience.

On average, brands double their subscription revenue in as little as 90 days after switching to Smartrr from a subscription tool with less flexibility and average a 94% monthly subscriber retention rate. Smartrr increases brand engagement and LTV with a variety of out-of-the-box subscription models, a beautifully branded subscriber account experience, member-only benefits, and more.

Join the likes of high-growth brands such as Starface, Remi, The Earthling, Stix, and Jolie who have seen an average of 5X more sales over the lifetime of a subscriber.

Special offer: Get first looks at Smartrr's re-designed account portal
---

Extended Warranty
Virtually all ecommerce brands know the importance of increasing customer lifetime value. With rising customer acquisition costs plus stricter guidelines around retargeting, ecommerce brands should be focusing as much energy (and resources) on finding ways to drive revenue after purchase as they do on acquiring new customers.
Enter: A high-margin, non-inventory revenue driver known as product protection.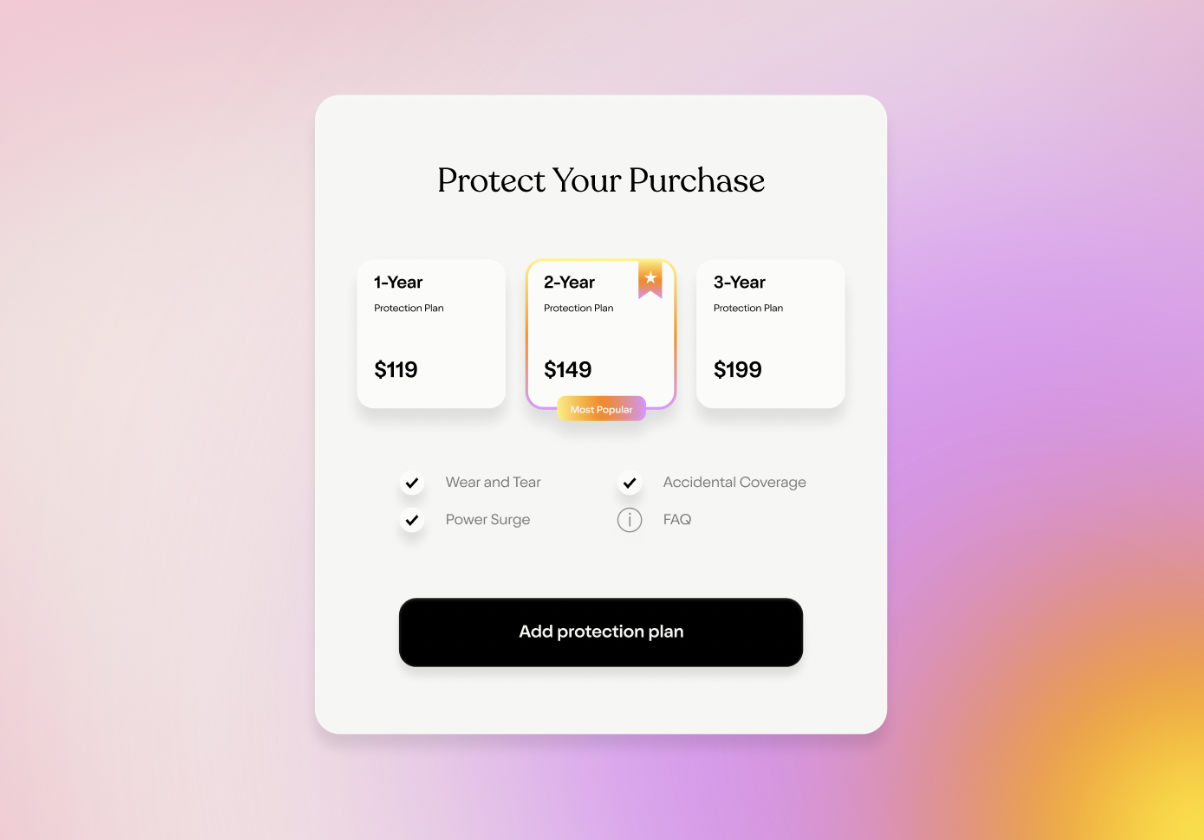 In a product insurance study, 41.8% of respondents said they would pay more for purchased items if offered warranty options at checkout. Another 32.7% said they would both purchase more goods and spend more on the purchases made if offered warranty at checkout.
Through product protection, you can meet customers where they're most likely to convert, from product pages to customer support channels to targeted post-purchase automations via email and SMS. Let's look at a few tips for driving incremental revenue and customer lifetime value through post-purchase product protection campaigns.
Tip #1:

Fit extended warranty inside your existing post-purchase strategy

Your post-purchase email campaigns are a great place to inform customers of shipping and tracking information, drive sales, prompt customers to leave a review, or promote a loyalty program. They're also the perfect spot for offering product protection to eligible customers.
Tip #2:

Drive incremental revenue through product protection

Did you know that consumers are most likely to add product protection to high ticket items (like consumer electronics and connected fitness products)? For Clyde merchants YTD (2022), the average product price is $752 with a contract, and $370 without a contract.

Increasing customer lifetime value should be a KPI for every ecommerce marketer, and driving high-margin, non-inventory revenue with product protection is an efficient path towards that goal. Injecting your post-purchase strategy with product protection not only increases your revenue, but it shows shoppers you are dedicated to an exceptional customer experience.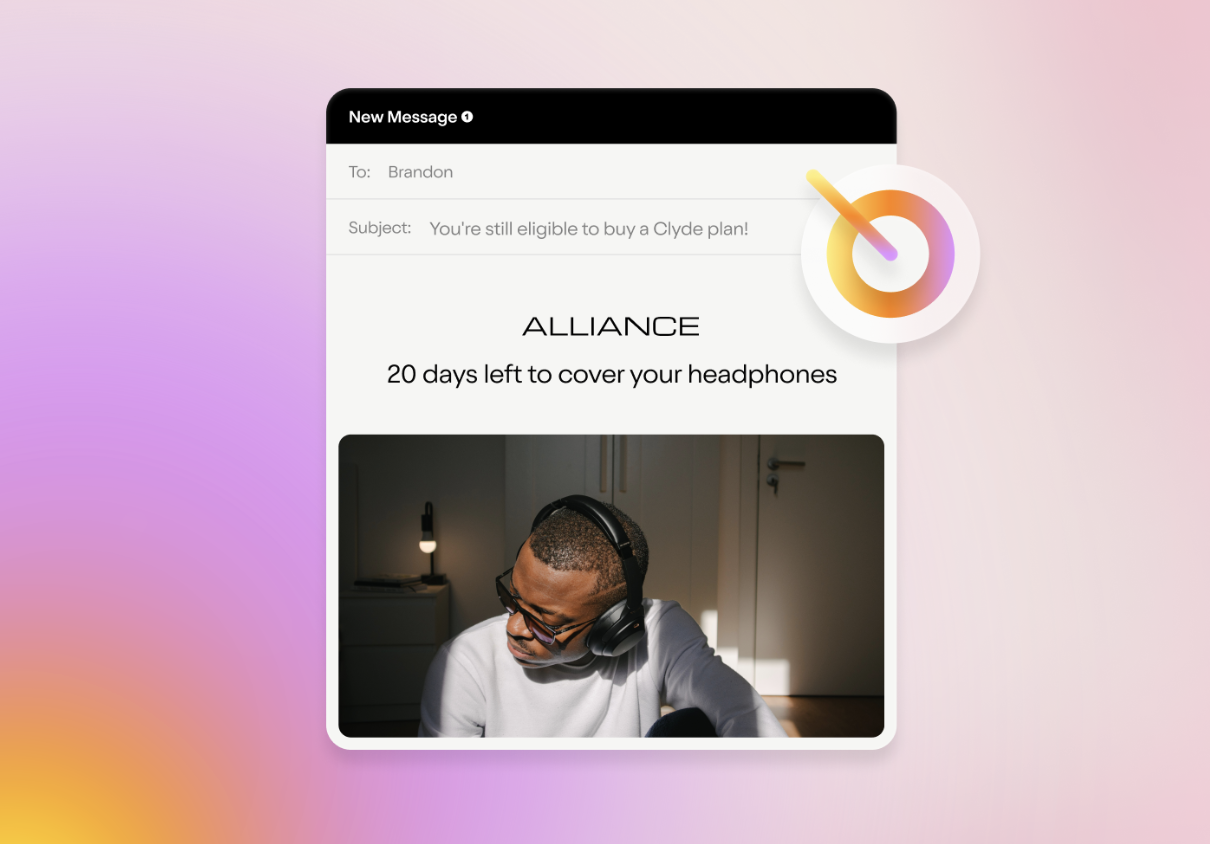 Tip #3:

Focus on your most relevant customers

As we learned from the Klaviyo chapter, relevance and personalization are key. By segmenting shoppers within your email and SMS provider, you can target just those customers who have purchased eligible products, but not product protection. This is a great opportunity to highlight the specific benefits that product protection provides, like protecting against wear and tear, power surges, and accidents.

"Our customers naturally look for our manufacturer's warranty, so being able to add an additional warranty that has benefits that extend beyond ours was a no-brainer."

- Fawzi Karout, Director of Marketing, Senville
Capture your highest margin revenue yet, from day one. Clyde's extended warranties are proven to increase AOV, LTV, and ILYs as an automated, seamless addition to your purchase flow.

With Clyde, you can offer warranties not just in post-purchase campaigns, but anywhere, across all channels. Touchpoints include:

Through seamless integrations with major ecommerce platforms and a team of industry experts, Clyde works with leading ecommerce durable brands today including Dyson, Back Market, Tushy, Movado & SharkNinja.

To learn more about how Clyde can help your business, reach out to Jon Knott - Jon@joinclyde.com for a special offer exclusively for Wonderment clients.
---

Surveys
Retention marketing used to play second fiddle to attribution, as traditional retail models had neither the relationship nor the resources to warrant building customer profiles. But — if you're a DTC brand, your massive retention advantage is right there in the name: direct-to-consumer. Building your business on direct-from-consumer data, then, is a pillar of DTC competitive strategy.
Nowhere is this opportunity more revealing than at the birth of your customer, i.e. post-purchase. What you already know about them — contact information, product purchased, order value, landing page & attribution source, etc. — can all be tied to surveying what you want to know about them, and what they want you to know about themselves.
It's a mutually-beneficial feedback loop that shifts consumer insights from long-term R&D to instant action: in other words, post-purchase surveys tell your marketing stack what it needs to hear.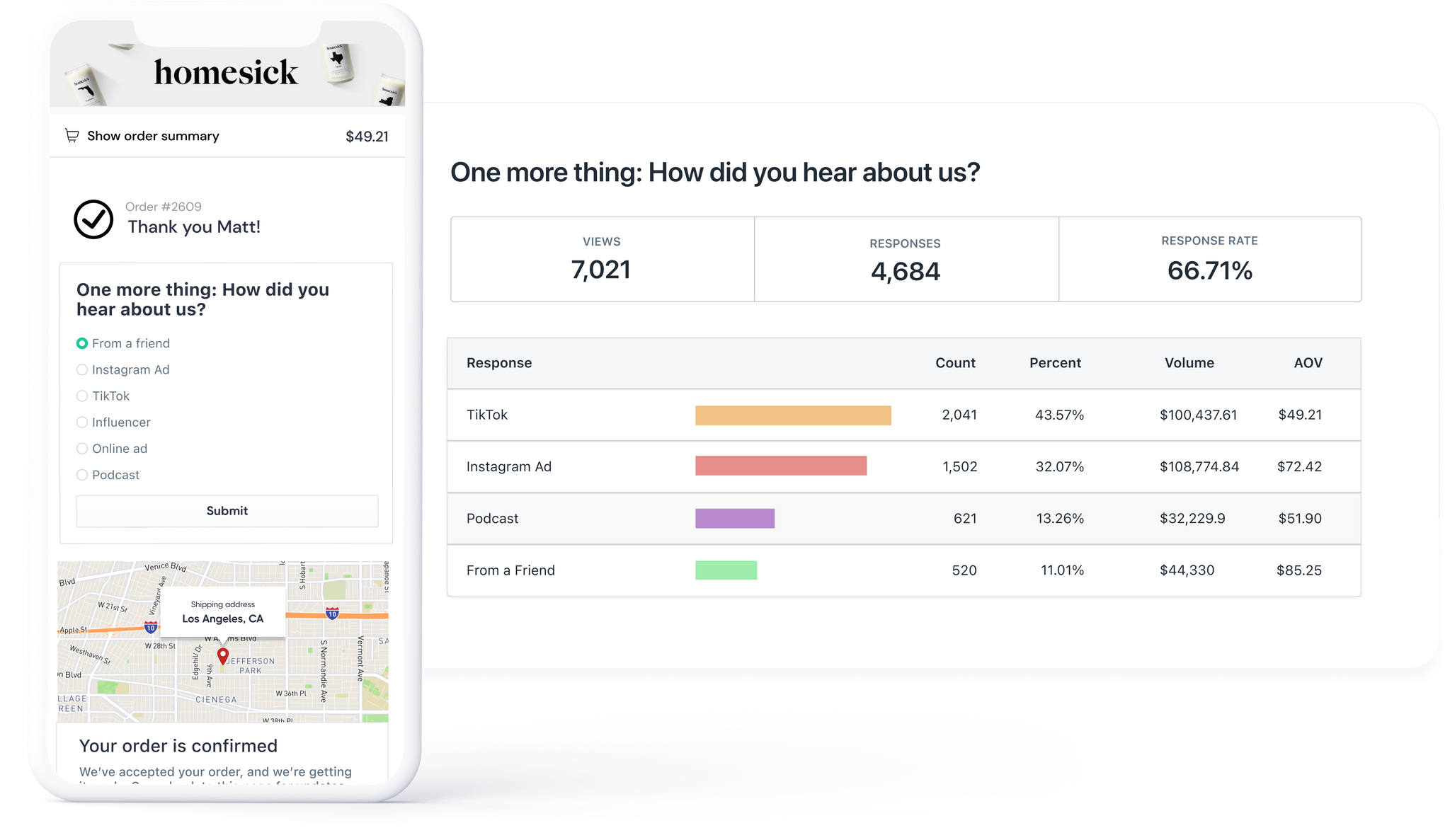 Consider a few of the more popular cases:
Attribution and channel diversification
Asking "How did you hear about us?" typically produces a 20%+ increase in attribution data, and serves as

a reality check

for in-platform ROAS reporting.
Reallocating spend to hard-to-measure media

such as podcasts

& OOH becomes a predictable, scalable strategy thanks to consumer feedback.
"Other" responses are a gold mine for new and undiscovered channels (Fairing brands were among the first to lean into TikTok, long before that platform had an ads model).
Personalization and segmentation
Asking "How will this product impact your lifestyle?" not only lets consumers self-segment into your personalization flows (e.g. professional vs student), but also helps you trend what messaging and creative is working best by channel.
Asking "Who is this purchase for?" addresses the

buyer vs. user problem

in a vastly more profitable and consistent way than relying on discount codes.
Questions around your competition, such as "what brand are you switching from?" quantifies your niche in the market and competitive share shift, especially when paired with other questions on attribution or lifestyle.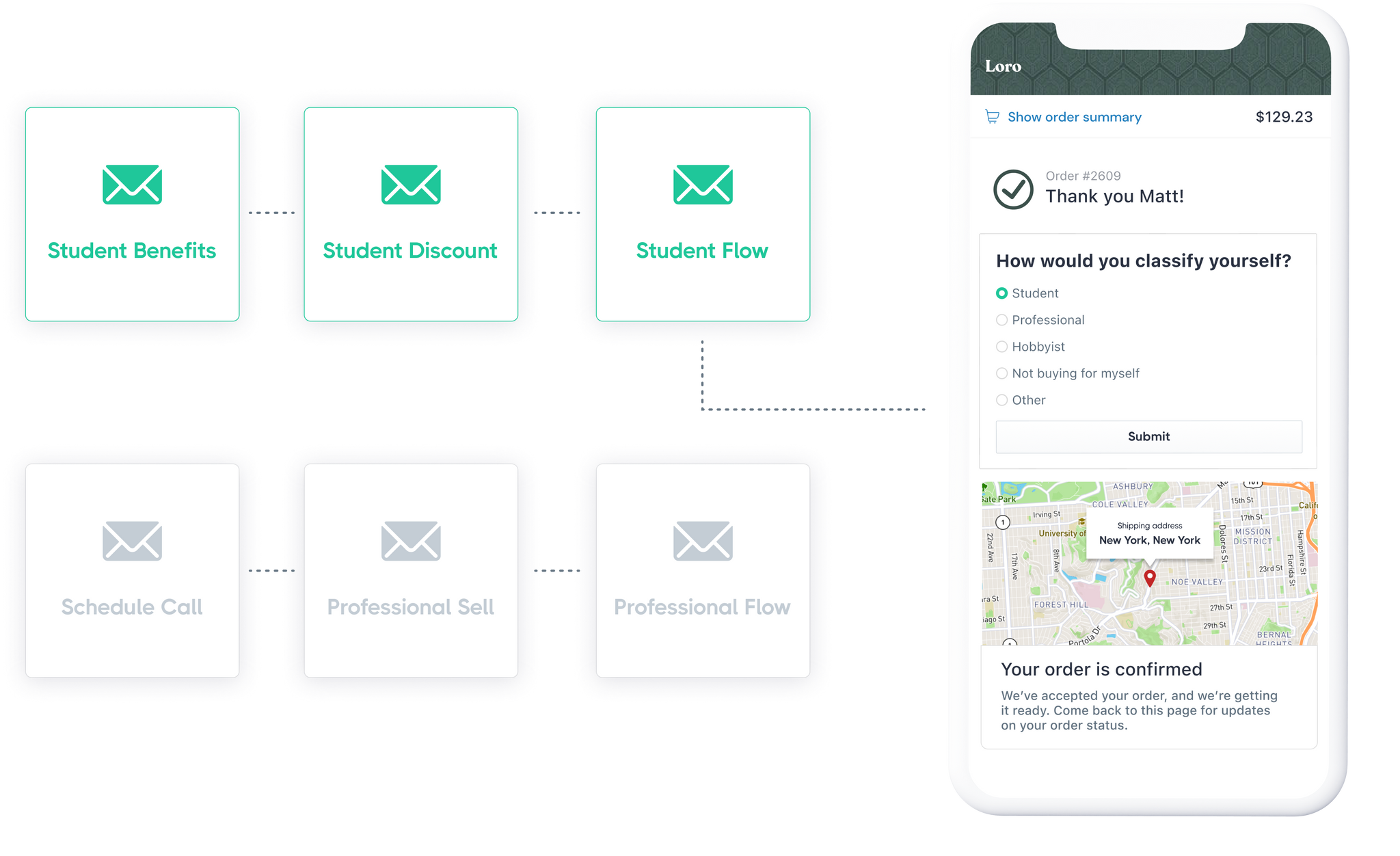 CRO and customer success
Simply asking "How was your shopping experience?" can yield immediately actionable insights, such as learning that a new feature on your PDP isn't working.
Understanding "What almost kept you from buying today?" can gauge how well your media and messaging align to your product, as well as raise flags about the higher-friction areas in your conversion funnel.
Ultimately though, what post-purchase data collection presents is a continuous learning and growth opportunity for your brand. The tools can get you started, but the mindset is what sets high-retention brands apart. That's where the magic of asking questions comes in.
To learn more about the blue sky data you can gather direct-from-consumer, check out our Question Bank or get a demo at Fairing.co.
---

Customer Reviews
Reviews are a staple of the ecommerce experience, appearing on the product page of virtually every storefront. Yet at times gathering reviews has been an after thought when it comes to the post purchase experience.
In the boom times of DTC, this was just fine! Customer acquisition was cheap, competition was sparse and a couple simple "star & text" reviews was all you needed to get by. But the boom times are over. With increasing competition it's critical for brands to gather & display authentic, detailed reviews that include compelling UGC to stand out.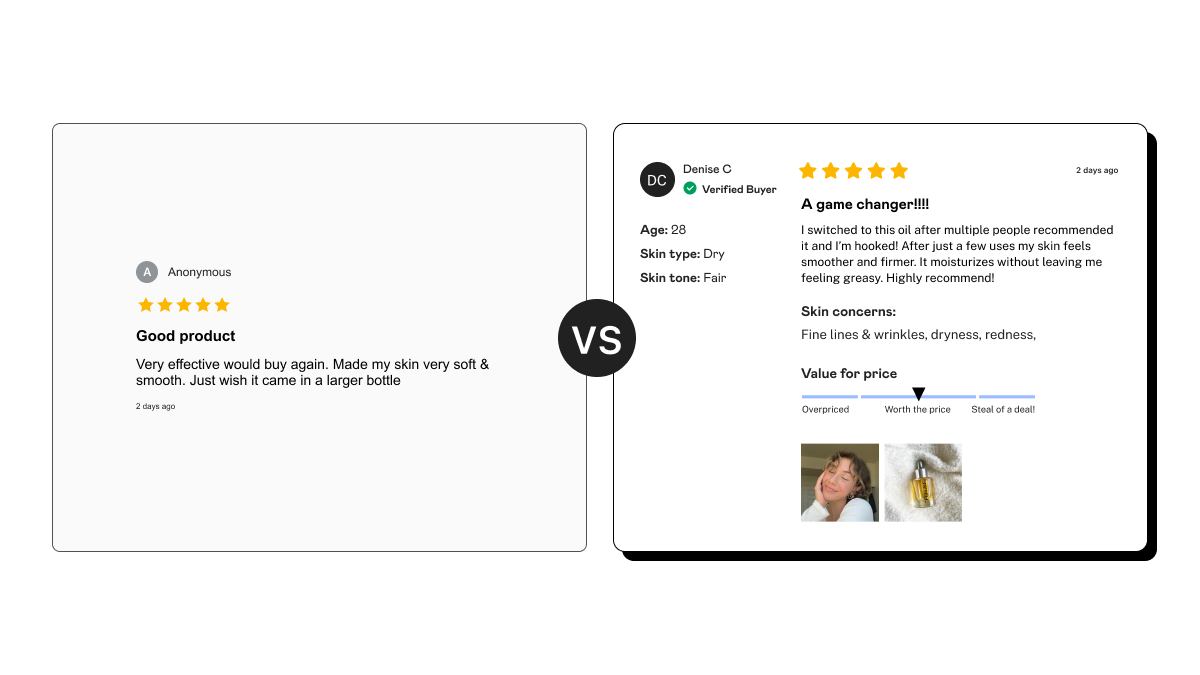 The good news is that improving your review game doesn't have to be difficult; it's all about being when and where customers are most likely to review.
Tip #1:

Don't reinvent the wheel

Chances are you're already using tools like Attentive, Postscript and Klaviyo to talk to your customers -- why not use them to gather reviews too? Working with a review platform that can send requests from your marketing tools enables consistent branding, proper suppression, and ensures you're talking to customers through their preferred channel.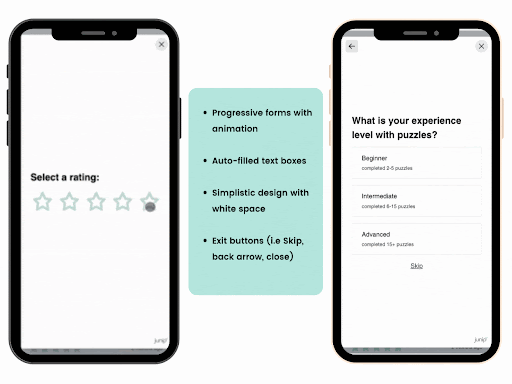 Tip #2:

Mobile mobile mobile

According to our internal data, 80% of reviews are left on mobile, so the submission experience needs to be finely tuned to a customer's phone. Making it easy for customers to leave reviews on mobile increases the authenticity of their review (people disclose more when typing on a phone vs. desktop) -- and the likelihood they'll include a photo or video.
Tip #3:

Right time, every time

Every single brand reading this will know the pain of getting a 1-star review that says "hasn't shipped yet." Make sure you never send a review request before a customer receives their package by using delivery information to trigger your review requests. To optimize timing on a per customer basis instead of leaving a longer buffer to make sure they've received the product, look for review providers that integrate with shipment platforms like Wonderment.

Working with a review platform that is flexible and easy to use is critical to gathering authentic, high quality reviews that will help showcase your products. Thousands of brands like Jones Road Beauty, Tecovas, KOTN, Oats Overnight and more have switched to Junip to manage their reviews.

Thanks to Wonderment we're offering 25% off the first two months of Junip for any brands that want to make the move: https://junip.co/p/wonderment
---

Affiliate Marketing
Affiliate marketing, the practice of paying affiliates on a commission basis for sales generated from marketing a brand's products, is quickly becoming an essential marketing component for ecommerce brands. For this reason, affiliate marketing has exploded into a $12 billion industry, tripling in size since 2015.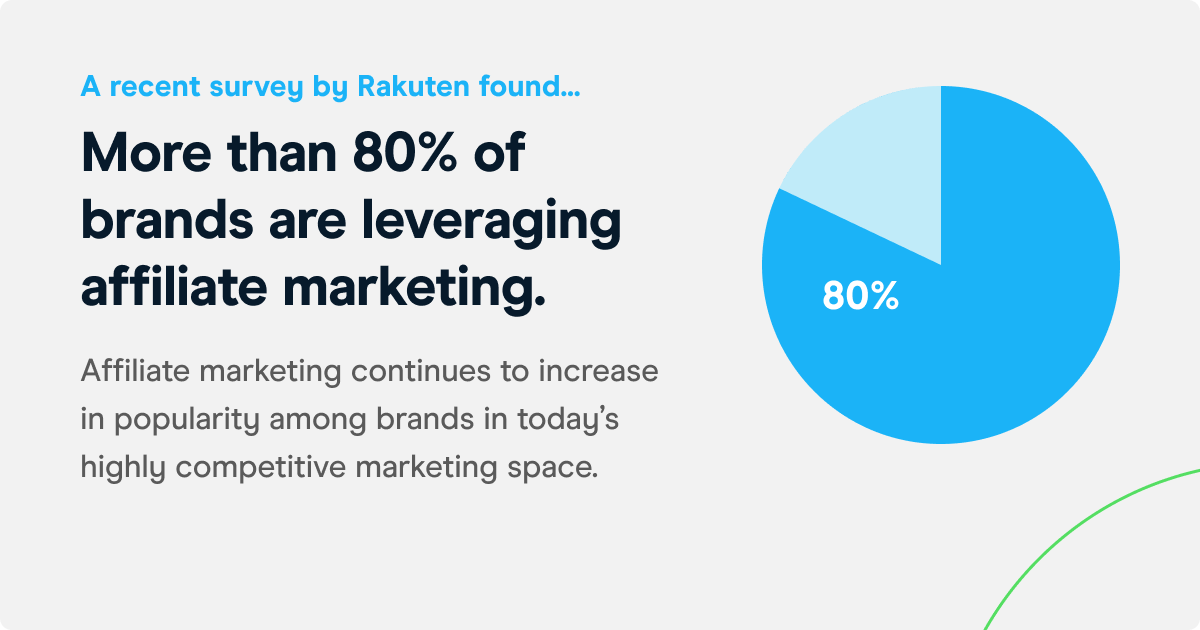 Here's another jaw-dropping stat: Did you know that affiliate marketing represents 16 percent of ecommerce sales worldwide? If you haven't yet integrated an affiliate program into your marketing stack, you're missing out on tons of revenue and potential for growth.
The fact is that bloggers, influencers, and publishers know what interests their audiences most and what kind of content will generate the most engagement. Because of this, affiliate marketing has proven to be a powerful marketing tool.
When you use the right affiliate marketing platform, sales generation becomes easy-to-manage, supremely scalable, low-risk, and high-ROI. However, affiliate marketing doesn't just convert consumers into new customers; it's also highly effective at supporting your post-purchase strategy. Here are just a couple examples:
Upsell opportunities
When your affiliates drive consumers who convert in your online store, you can use the new email addresses you've collected to enter those folks into campaigns tailored to their tastes. Similarly, these folks can also be targeted via social media adverts for related products or other items they viewed while on your site.
Growing your sales network
When you use a post-purchase widget, you present new customers with the opportunity to become an affiliate in their own right via a popup message. Customers can be automatically enrolled in the program or go through a vetting process. This is a simple and effective way to build your affiliate network.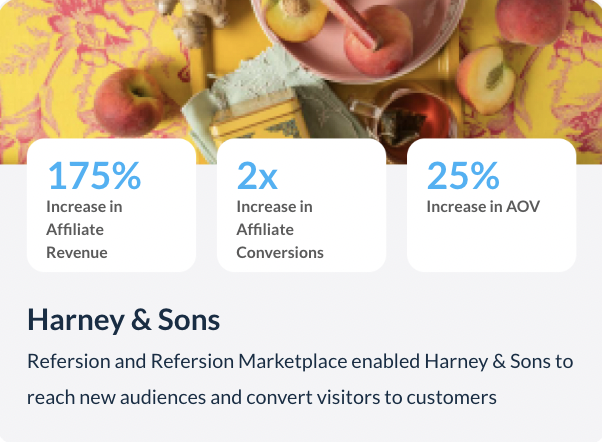 Affiliate marketing is an ideal marketing strategy for many reasons, most notable of which are its scalability, potential for customization, and low-risk, high-reward nature. Rapidly becoming a vital component to reaching customers with the social proof needed to drive conversions, affiliate marketing is poised to become an ecommerce marketing powerhouse over the next decade.

Getting started now will help you gain a competitive edge tomorrow. To get a better understanding of how affiliate marketing can help elevate your brand's bottom line, view a quick demo of Refersion's platform here.
---
Conclusion
The customer journey begins with the discovery of your brand, and where the journey ends is entirely up to you. If you take one thing away from this guide, it should be that you have many exciting opportunities to engage your customers post-purchase.
The best brands will take a holistic approach to customer retention that leaves no stone unturned and no step in the process untouched. Happy optimizing!