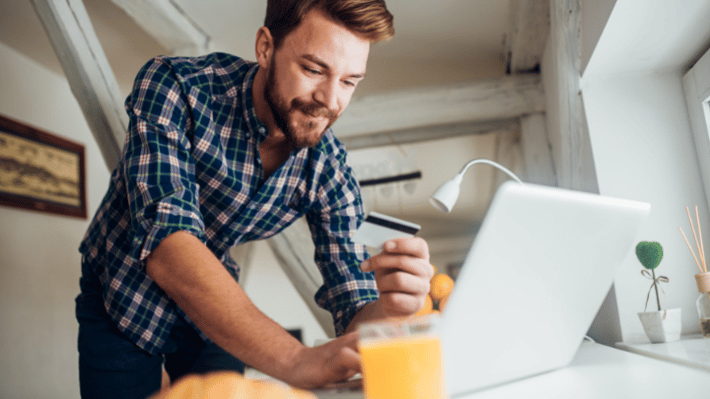 If a brand has done its job well (compelling website, engaging product pages, upfront shipping info, easy checkout process), by the time I've hit the purchase button I am super excited to get my order in the mail.
Then comes the waiting period, and with it the compulsive checking. When am I getting my package? The gap between the order confirmation and shipment confirmation emails feels like an eternity. When I do get that shipping notification and click on the tracking link, I immediately have more questions:
What's the store's returns & exchange policy?
Are there any instructions for using the product?
Do I get anything for leaving a review or referring friends?
The sensitive time between order placement and delivery is also one of the best times to build trust and loyalty with your customers. Why not offer value while they're waiting?
One of my favorite parts of working at Wonderment is seeing how brands have adapted our order tracking pages to create a better post-purchase experience. Here are just a few use cases for encouraging customer retention:
Answering FAQs about shipping, delivery, returns and exchanges
Amping up last-mile anticipation with fun copy
Sharing educational resources around product usage
Cross-selling relevant products
Promoting subscriptions with significant savings
Offering VIP rewards



From a branding perspective, it's also been awesome to see how our customers have infused humor, animation, or behind the scenes content into their order tracking pages. Even though the templates are the same, everyone has a different spin.
Here are a bunch of great examples from Wonderment customers so you can see what I mean. For more inspiration, you can check out our ecommerce tracking page swipe file.
13 examples of order tracking pages that drive customer retention (by vertical)
Clothing & Accessories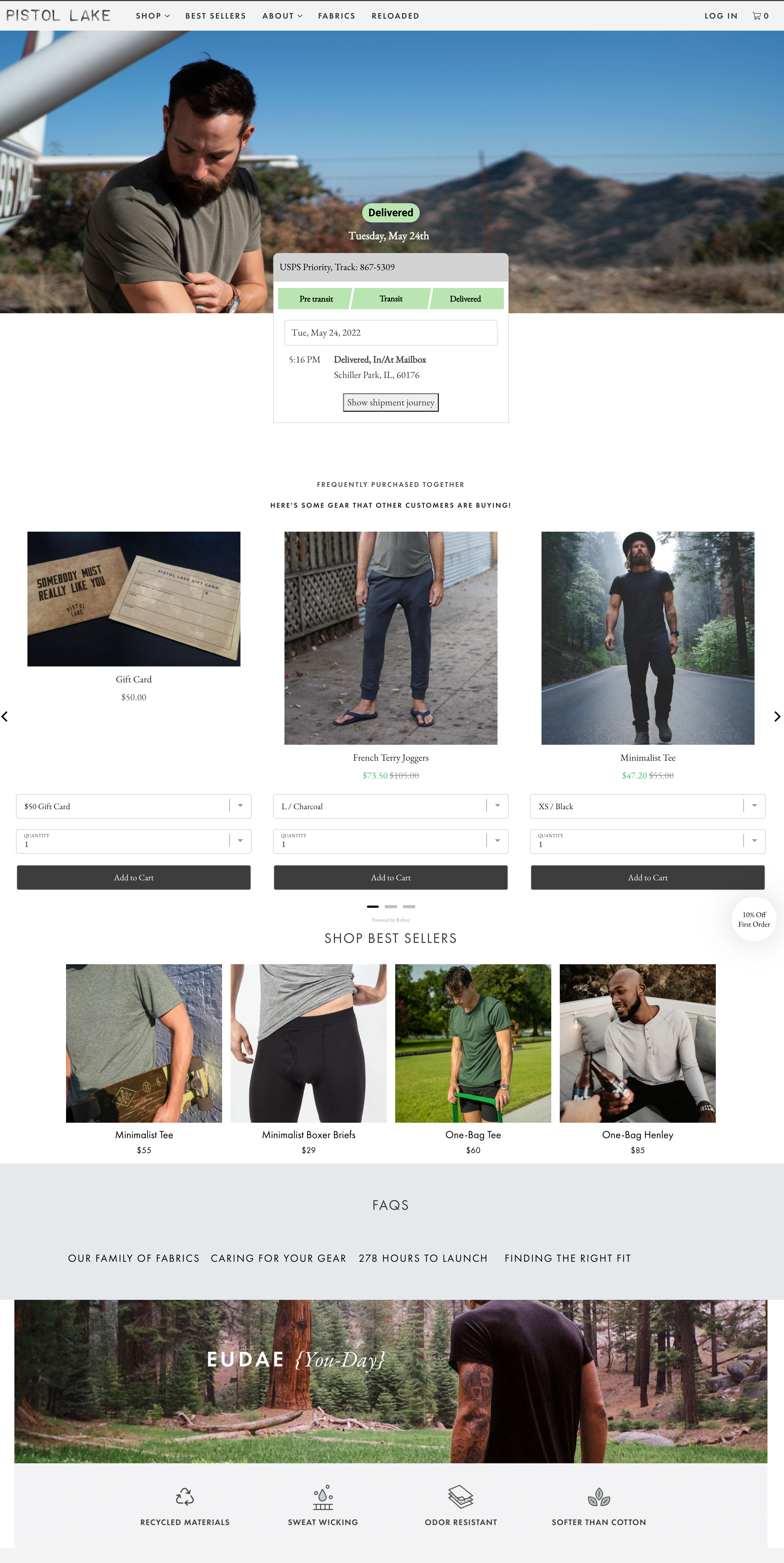 What I love about this tracking page:
The "frequently purchased together" section makes it easy for customers to figure out their next shopping move, and the items are discounted, which makes it feel like an exclusive offer just for people who have made a purchase. The visuals tie the page together nicely - I get an outdoorsy vibe from start to finish.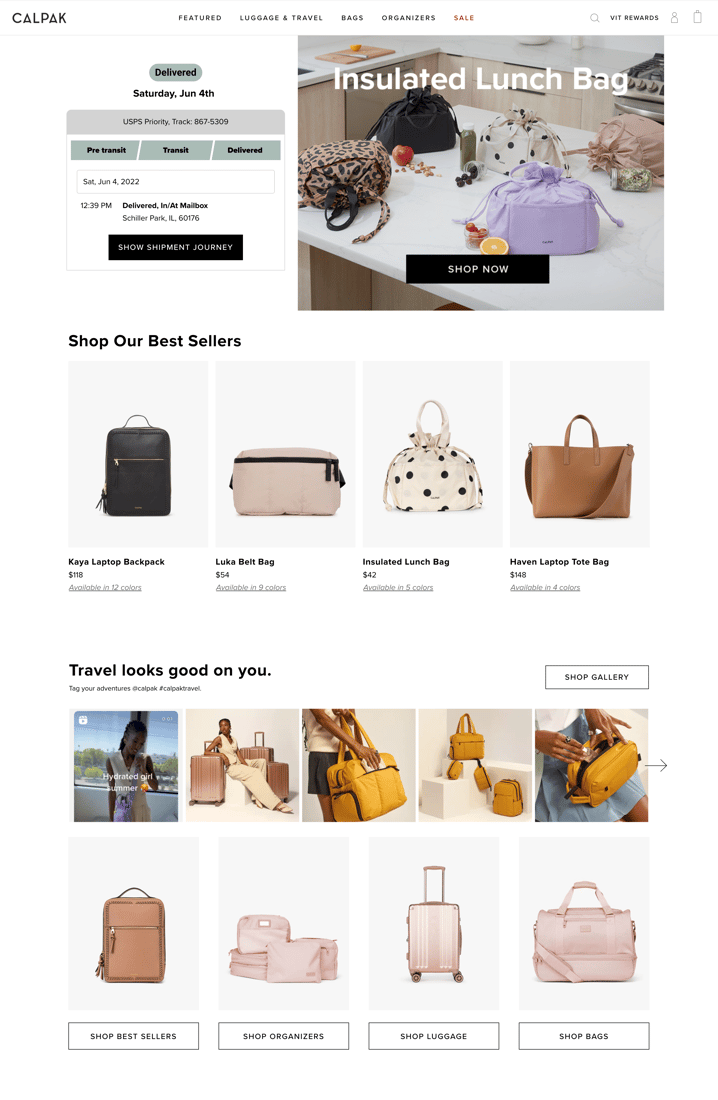 What I love about this tracking page:
Overall, the product photos on this page are beautiful! The polka-dotted lunch bag ties the featured image together with the best-seller section, which is a really nice touch. I also dig the way the content is curated for different types of repeat shoppers - if you want to shop best-sellers, by category or browsing through photos, you're covered.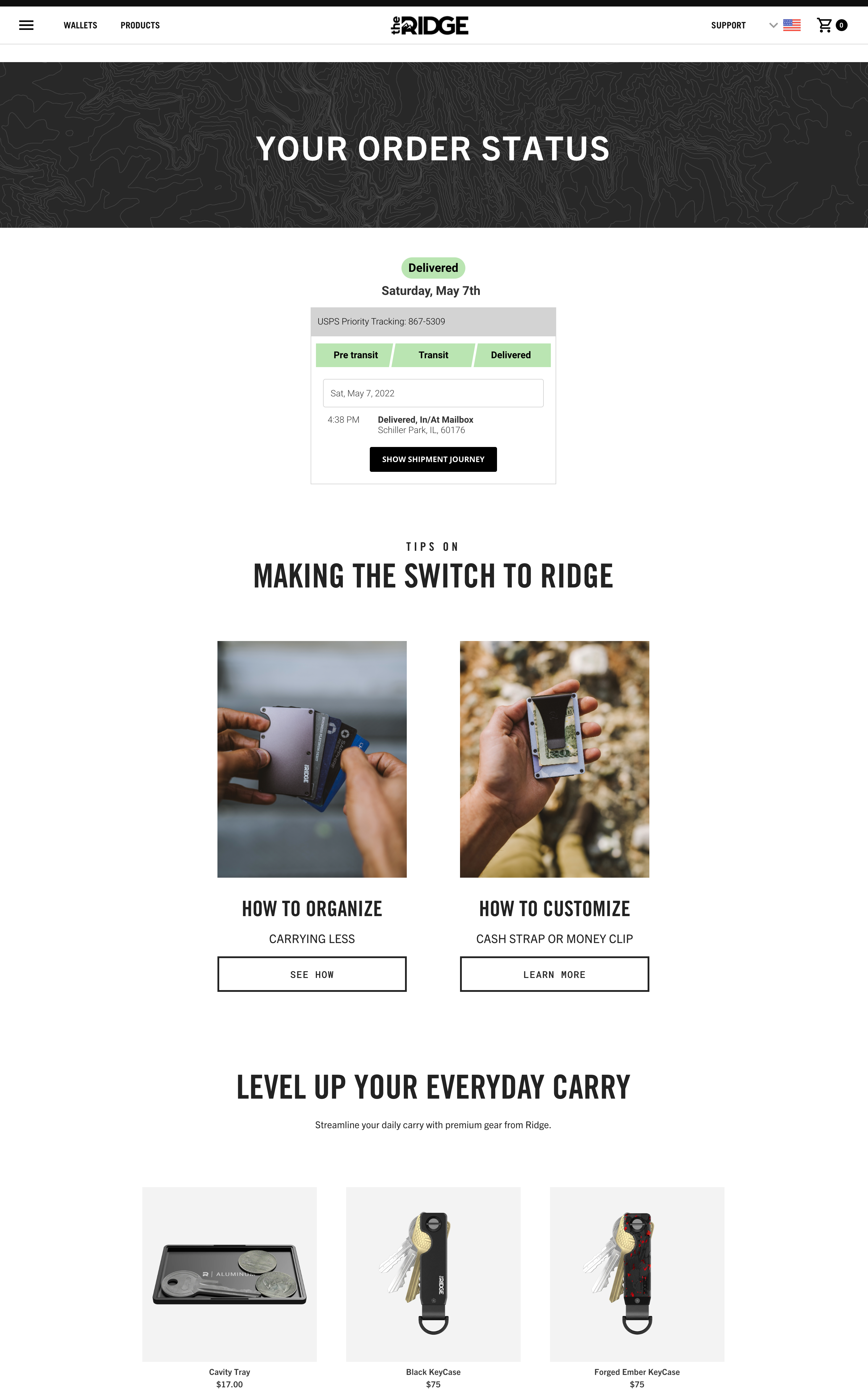 What I love about this tracking page:
The "switching to Ridge" resource section is a great touch; you can tell they've put a lot of thought into the customer experience and what questions people may have once they receive their order. Customers only see success with your product when they use it, so this is a smart way to get people to replace their old method of carrying money. And the premium accessories give the landing page an extra shot of sophistication.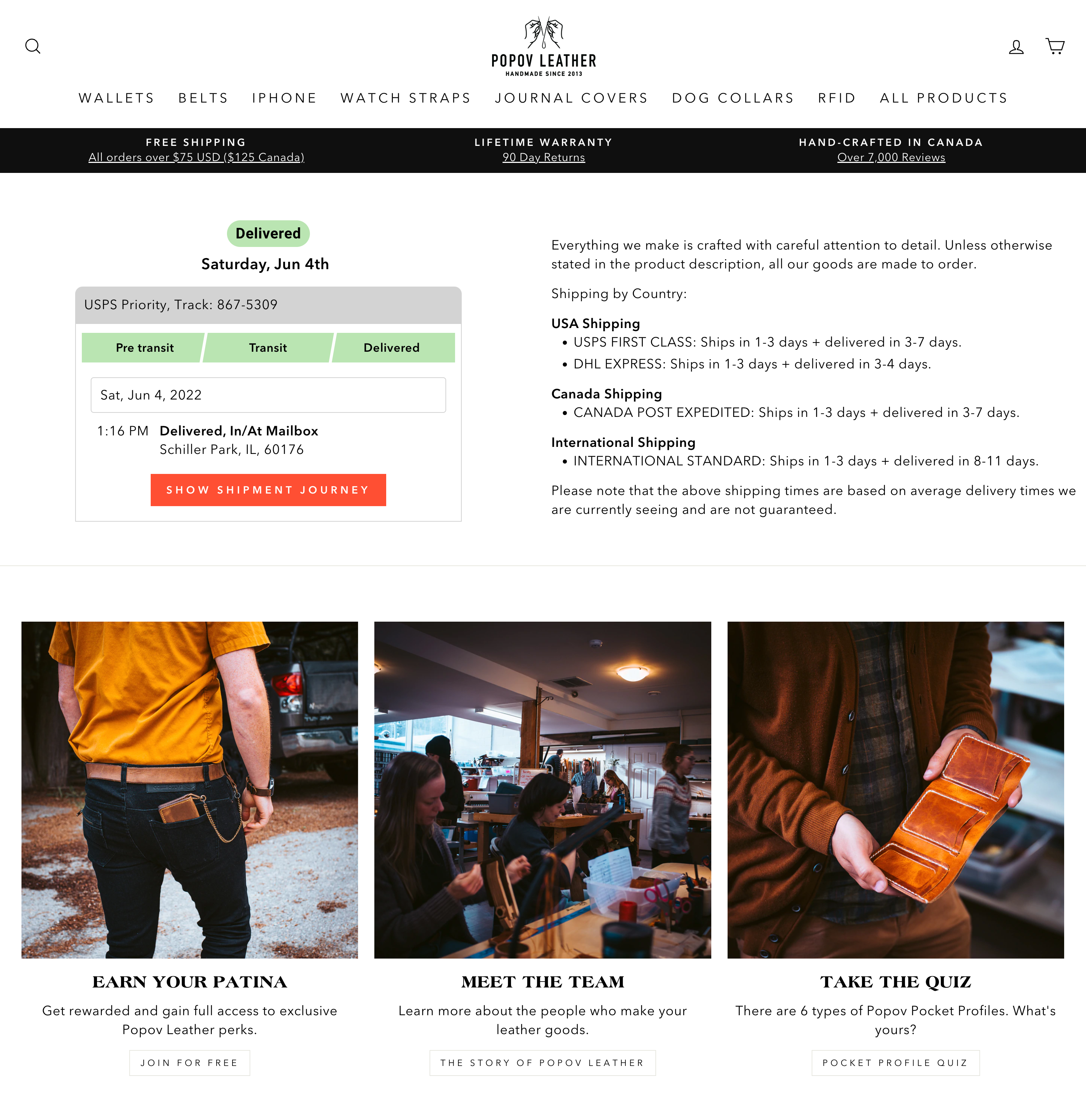 What I love about this tracking page:
As a Canadian resident, I deeply appreciate the inclusion of international shipping timeframes - setting expectations is so important, and non-USA shoppers often feel overlooked when it comes to messaging. Popov has also done an excellent job with its curated content; the perks program, product quiz and behind the scenes look at how the products are made all make perfect sense on a post-purchase landing page.
Food & Beverage
What I love about this tracking page:
Those bold colors really pop, and you get an immediate sense of Feastables' brand vibe - playful, irreverent, and fun. Aside from creating visual excitement, this page does one other thing exceptionally well: it makes me want to subscribe to their SMS program! So many brands use SMS as a one-way communication channel, but it sounds like Feastables will actually write me back.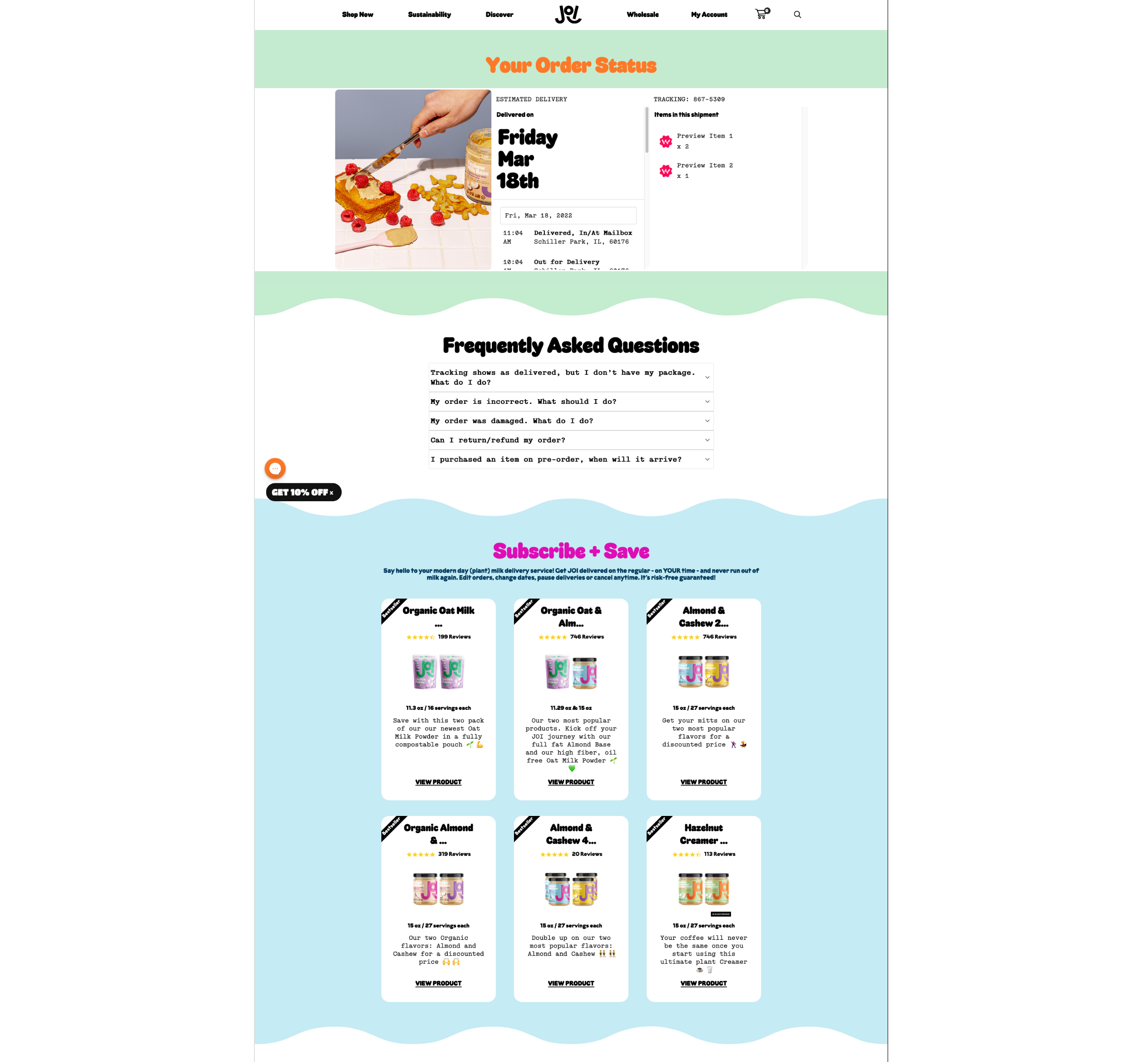 What I love about this tracking page:
Check out the puffy font, the beachy waves, the pastels - this is another brand that doesn't take itself too seriously. But they've clearly put a lot of effort into answering common post-purchase questions (returns & exchanges policy FTW!) and helping customers pick the right subscription plan once they've fallen in love with their current purchase. The product review ratings are *chef's kiss* - and that hazelnut creamer sounds amazing.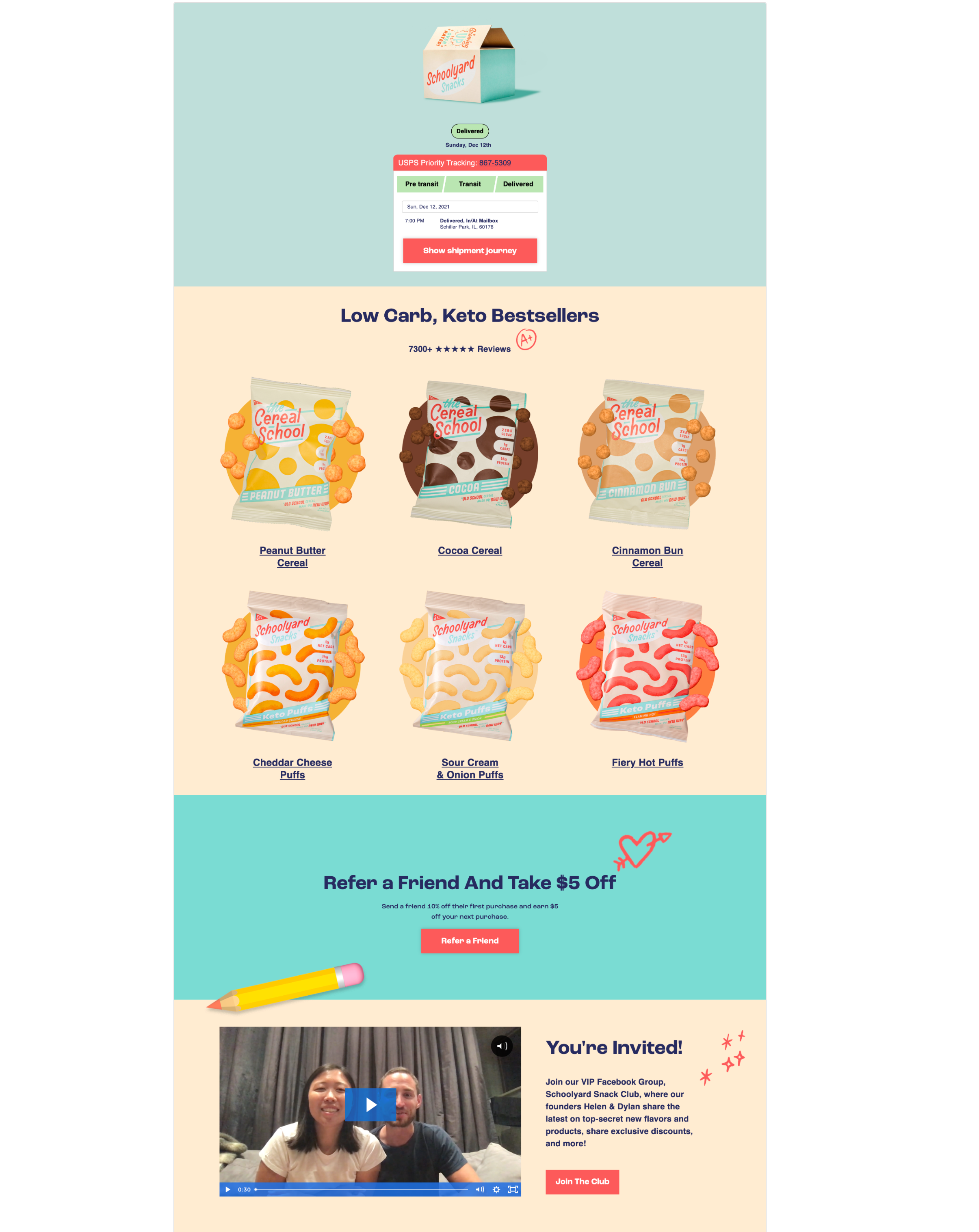 What I love about this tracking page:
This page has beauty AND brains. We've got a welcoming color palette and hand-drawn illustrations; we've also got an invite to their VIP Facebook community (with an eye-catching founder video for an extra special touch) and a "$5 off your next purchase" referral program, which is a sneaky smart way to reward customers for spreading the word while generating repeat orders.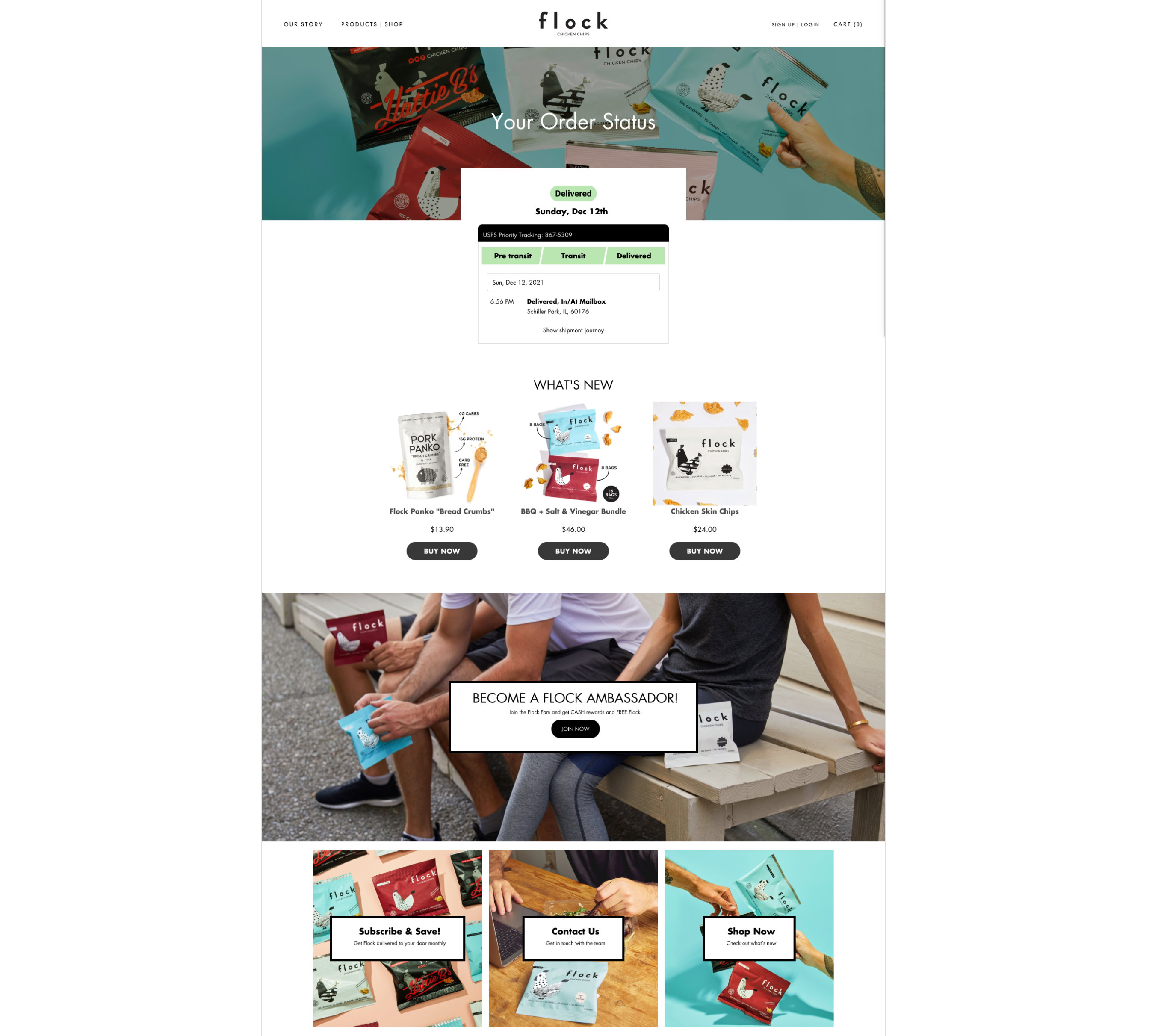 What I love about this tracking page:
The Flock Foods page is another example of great product photography and a cohesive look from top to bottom. The "What's new" section is perfect for tempting people to try something different (extra points for the range of bread crumbs, the bundle and chips), and the Ambassador program puts a creative spin on referral rewards.
Beauty & Wellness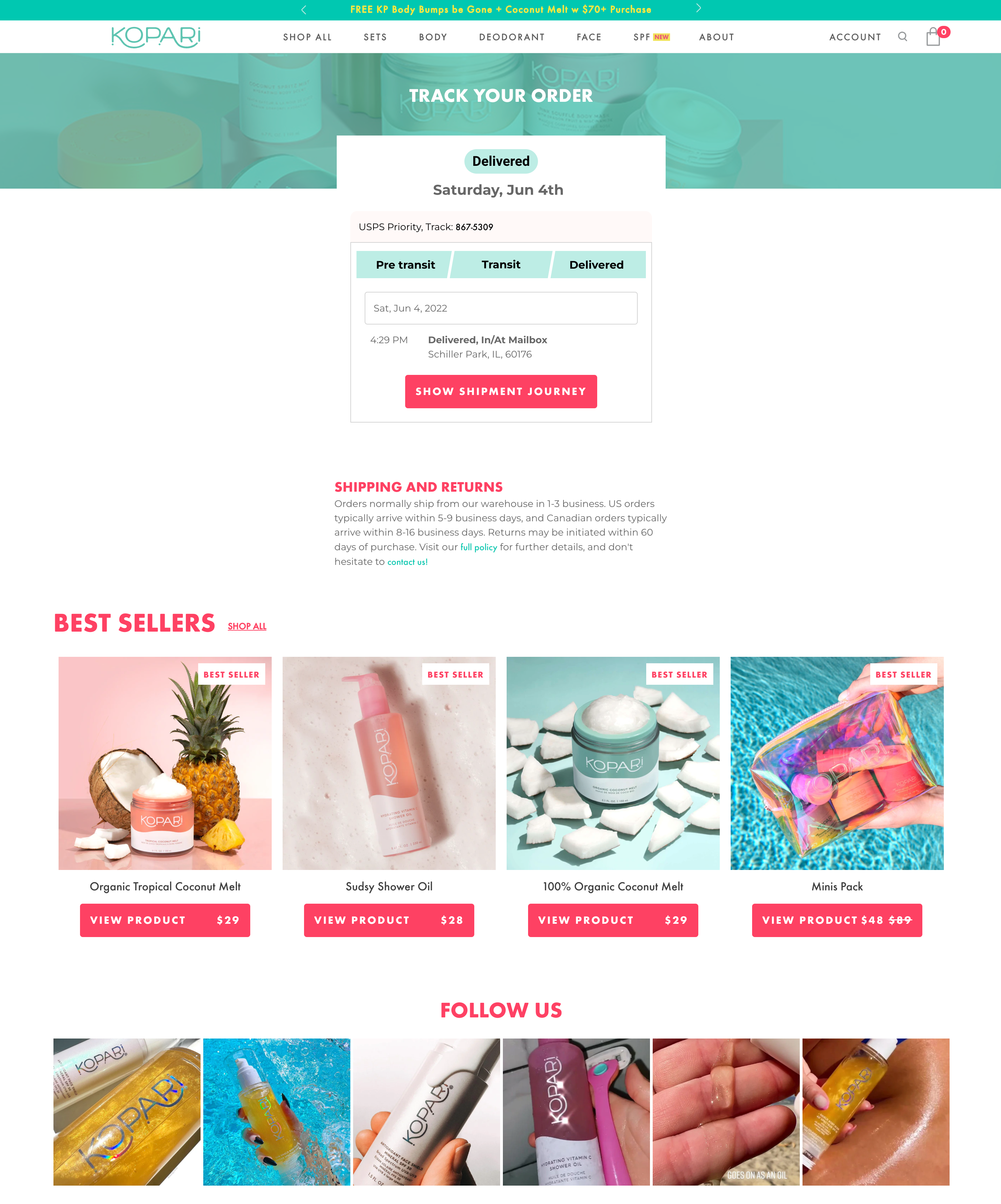 What I love about this tracking page:
Let's start with the beachy/dreamy colors - if you took the Kopari logo away from this lander, it's still unmistakable whose page you're on. Even if I were perfectly happy with my purchase, the best-seller roundup would make me think twice about increasing my order. And the Instagram feed adds a nice balance of real-life product shots to the polished appearance of the rest of the page.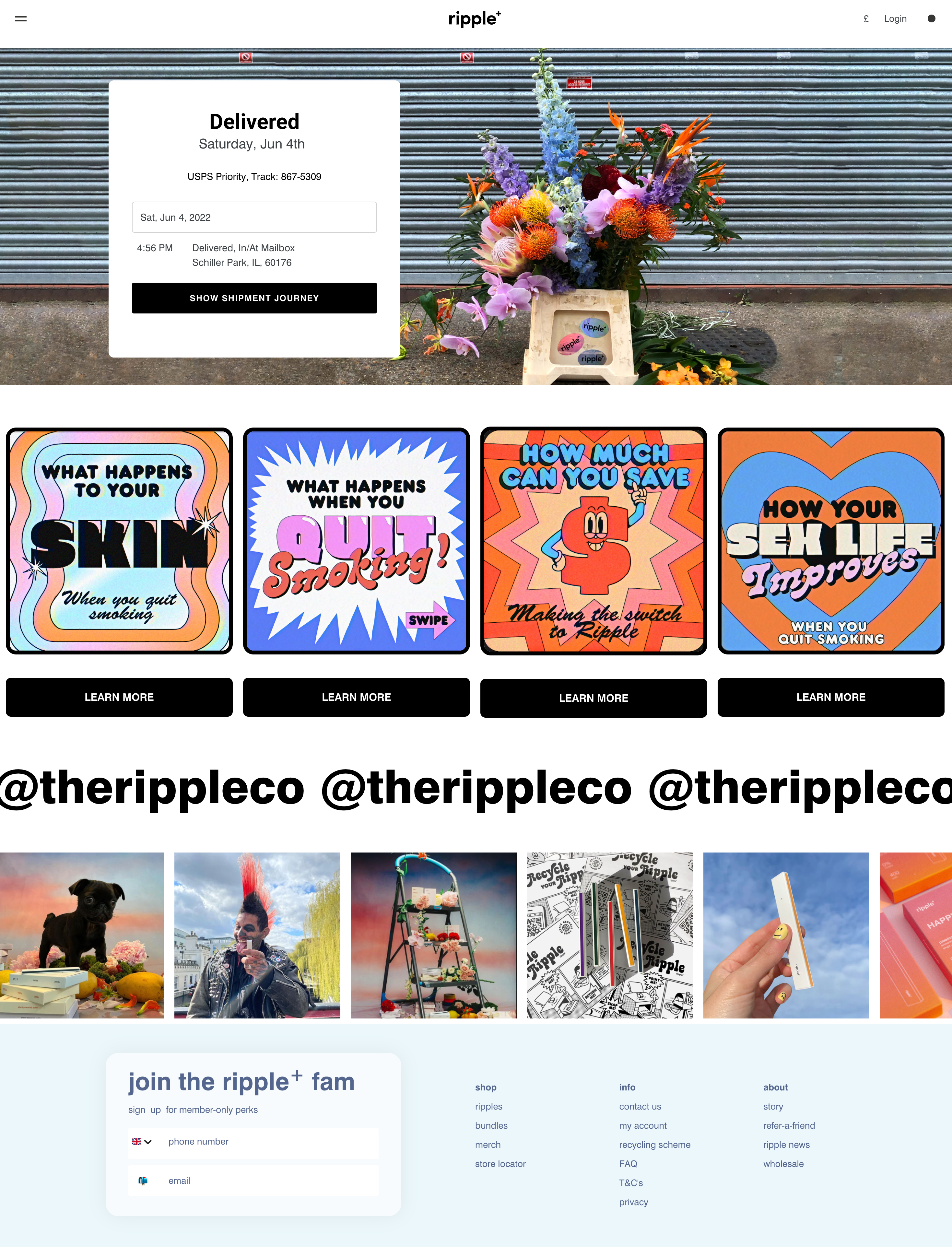 What I love about this tracking page:
This one just might be my favorite - shhh, don't tell the others. It has everything; bright colors, bold illustration, and entertaining copy. The mix of educational content, engaging photography and the feel-good vibes of the recycling program is unique to Ripple, and so is their eye-catching animation.

The email/SMS form is also a great touch, giving customers the option of continuing the relationship in another channel.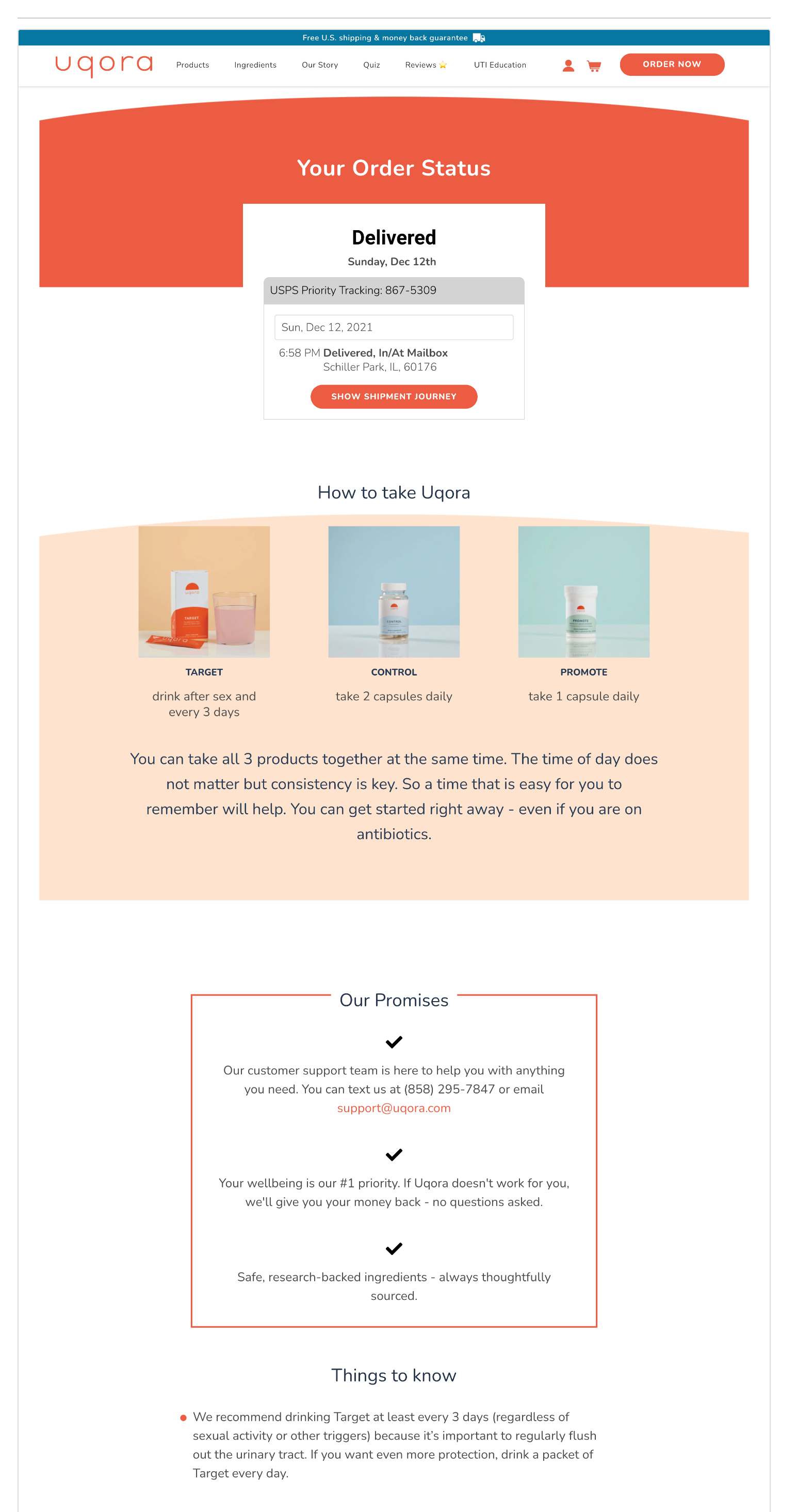 What I love about this tracking page:
When you read the content on this page, it's crystal clear that Uqora cares about their customers. They place product usage tips front and center to ensure that people are seeing the best results. They offer multiple customer support channels for anyone who has questions, and squash any buyer's remorse in the bud with a money-back guarantee.
If that's not enough, Uqora has two different versions of their tracking page with relevant content for first-time customers and repeat customers.
Pet Supplies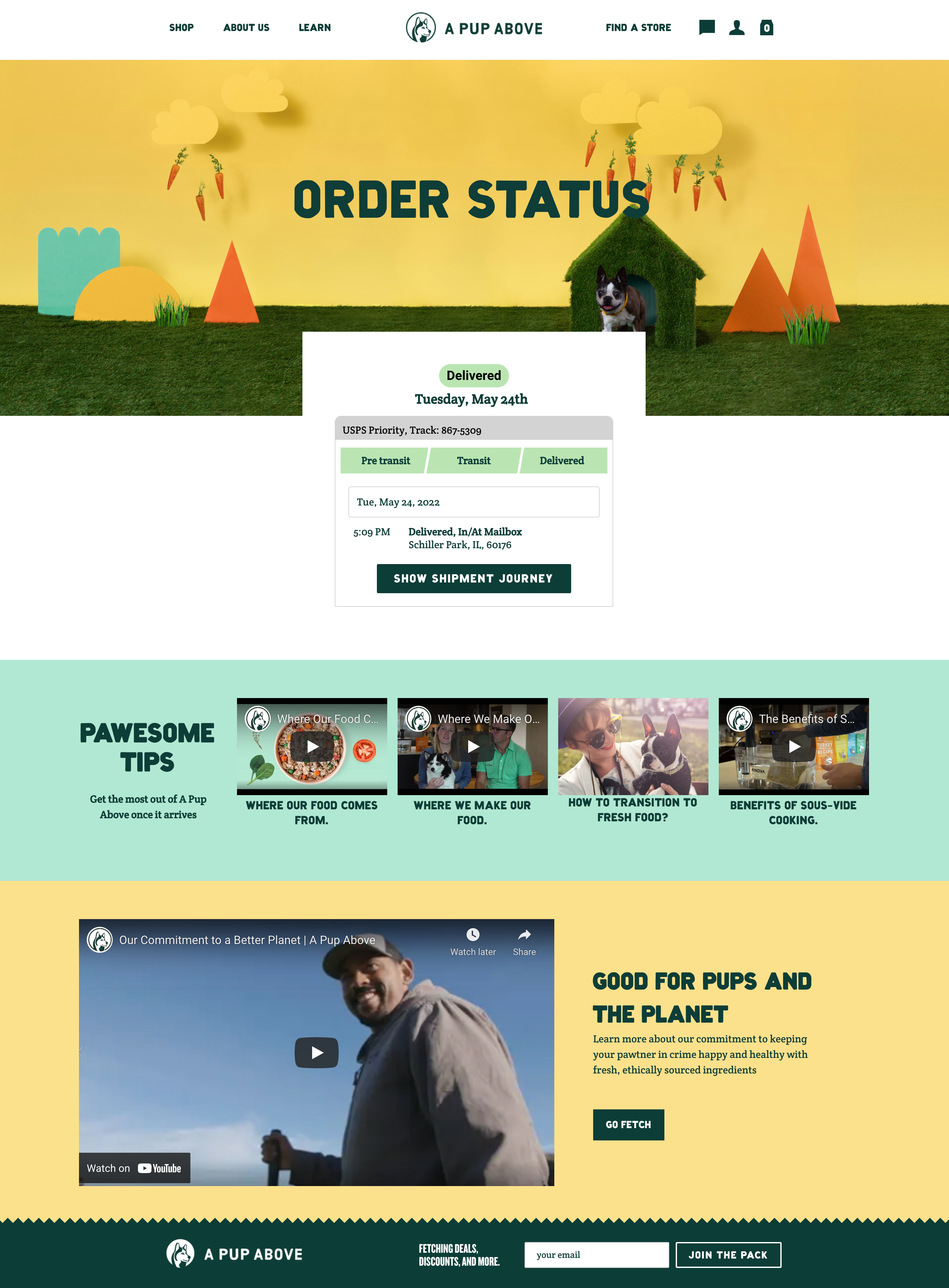 What I love about this tracking page:
The sunny yellow in the hero image sets the tone for this delightful landing page full of "pawesome" dog puns, where you can peruse helpful videos from A Pup Above's YouTube channel (including one on how to make the switch from dry pet food) and learn about the brand's core values in using only the best ingredients for your dog - and for the planet.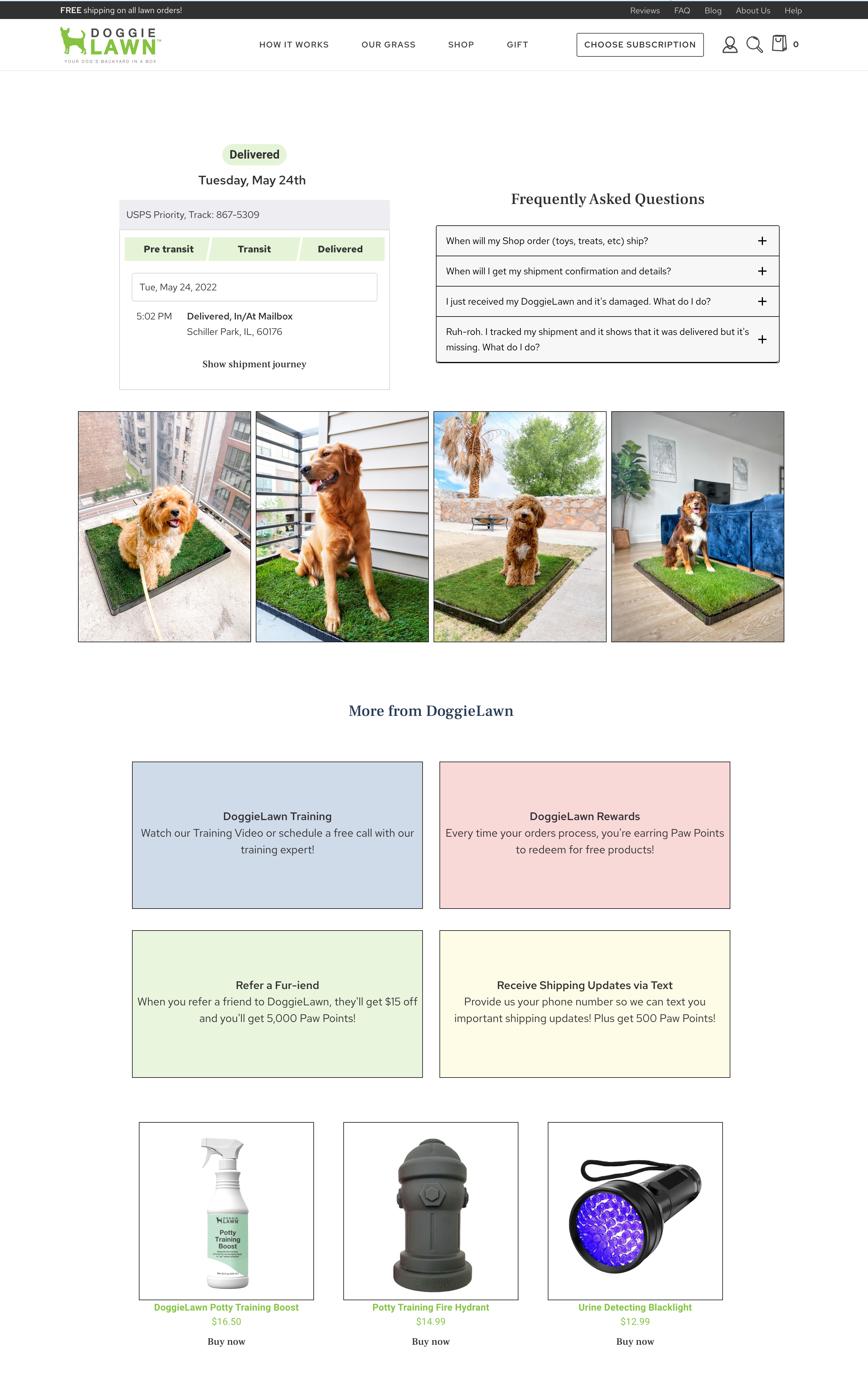 What I love about this tracking page:
This is an amazing final example of what's "paw-sible" (sorry not sorry) when you build your own page instead of relying on your carrier. We've got relevant FAQs about the post-purchase experience, related products, adorable UGC of dogs enjoying their new grass patches, a free consultation with a training expert, rewards and referral programs.
PLUS, what is in my opinion a very smart move for a company shipping live plants: an offer to send shipping updates via SMS so customers get up-to-the-minute alerts when their order has arrived.
Feeling inspired? If you'd like to talk to us about building your own customized order tracking page, request a demo today.