Wonderment Agency Partner Spotlight | 01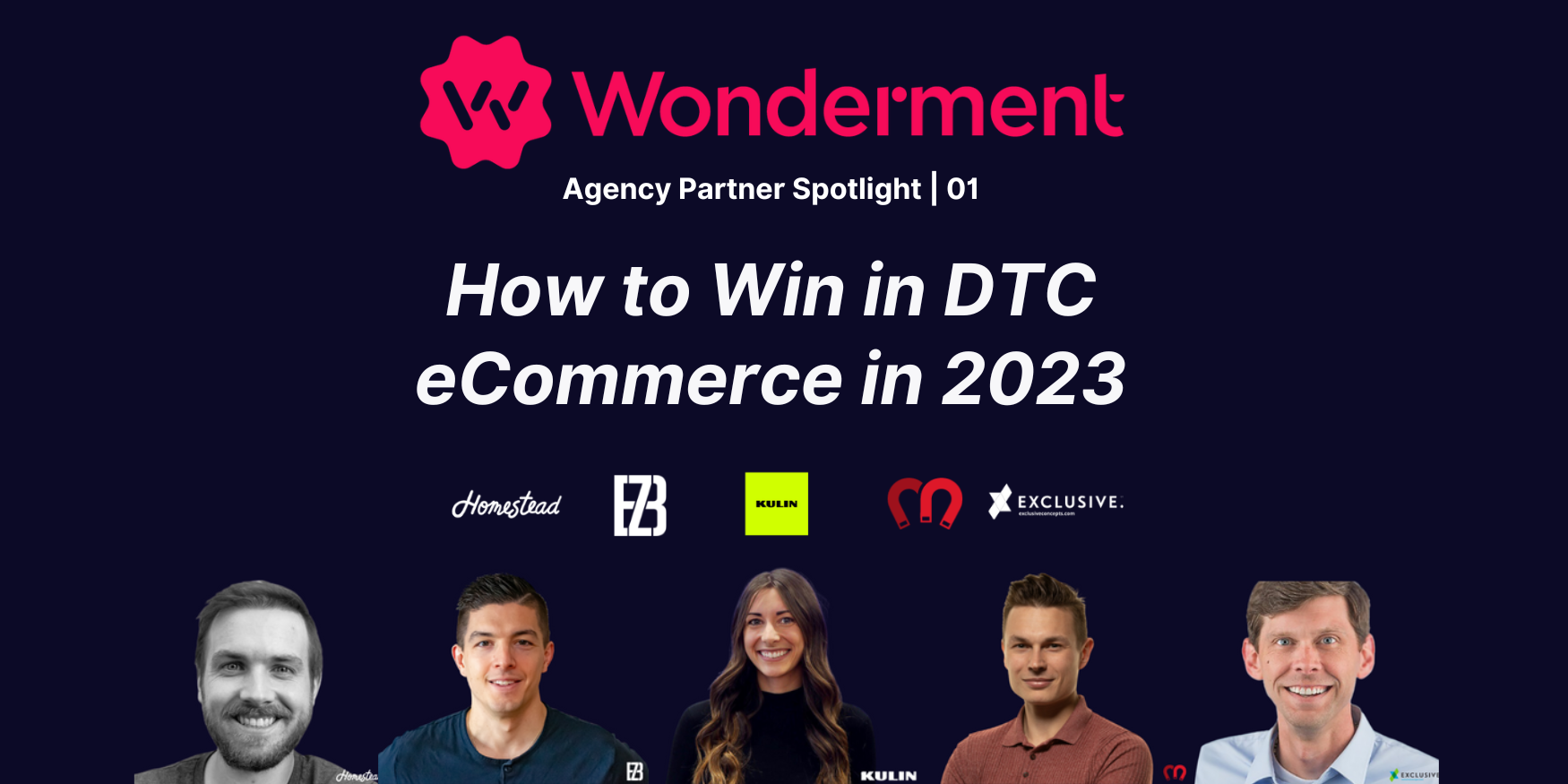 2022 was a rollercoaster ride for Shopify merchants. Uncertain economic headwinds, changes in consumer spending, profitability vs scaling at all costs, the balance between retention and acquisition, and the list goes on…
Simply put... there is A LOT for eCommerce brands to be focused on right now.
What are the industry experts who work with Shopify's leading brands focused on in 2023?
We asked 5 experts (who are also Wonderment Agency Partners 😉) to pull back the curtain and give us an inside look into what they're focused on in 2023. Their answers are worth their weight in gold!
Here are the questions we asked: (click around each if you want to skim):
Let's dive into these burning questions and get you ready to crush 2023 💪.
1. "What was your biggest learning from 2022 in DTC?" 🧠
Adam Kitchen - CEO at Magnet Monster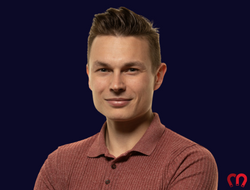 "You need to understand your CAC and CLV payback period within 30, 60, and 90-day windows to scale your company effectively.
If you don't, you'll run out of cash, especially in this macroeconomic environment."
Ben Zettler - Founder at Ben Zettler Digital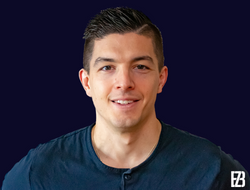 "As overused as the word "community" now may feel, community building has had a massive impact on the merchants that we work with and on the entire DTC environment in 2022.
It's not that this concept is really anything new, but with advertising challenges and a reduction in organic reach for legacy social platforms, many brands have positively focused on providing value-added experiences (IRL or virtual) to their best customers and that has positively contributed to sales growth.
This community renaissance is here to stay."
Chloe Balmer - Lifecycle Marketing Manager at Kulin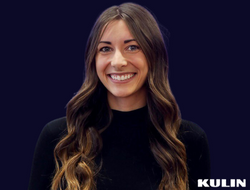 "Customer journey mapping is paramount to driving DTC performance—we found success in identifying cohorts and optimizing full lifecycle experiences with messaging and creative tailored to different audiences.
Intent-optimized landing pages targeted ad creative, and personalized nurturing via owned channels were huge performance levers for our clients in 2022.
Ultimately, leveraging first-party and third-party data allowed us to build better digital experiences to increase first-time and repeat conversions in accounts."
Jacob Sappington - Head of Email at Homestead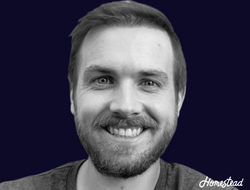 "On-site offers work fantastically as popup offers!
If you have an evergreen sale or a strikethrough pricing on products, this could potentially be a great popup offer for you.
We've had clients double their opt-in rate using this method. The best part is they didn't have to give up any additional margin."
Chris Charczuk, Director of Data Science at Exclusive Concepts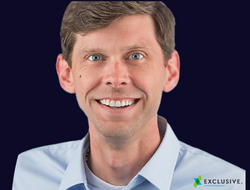 "One of the biggest learning was that there's no such thing as a "new normal."
Instead, DTC brands operate in a very dynamic environment that is impacted by a variety of constantly changing factors that influence performance. This year some of these factors included inflation, a shift of consumer behavior back to in-store shopping, as well as supply chain interruptions.
The idea of a "normal" state in 2023 and beyond is a moving target considering that buyer sentiment is increasingly correlated with market performance and headlines."
2. How are you approaching growth in 2023 for the brands you work with? 💰
Adam Kitchen - CEO Magnet Monster
"Holistically with an all-encompassing approach to retention, and enhanced analytics/BI.
We are supporting the brands we work with with a deeper understanding of their retention data, and then curating strategies around that crucial payback period to maximize cash flow and enable profitable growth."
Ben Zettler, Founder, Ben Zettler Digital
"Focus on the things that work and nothing else. Sounds overly simplistic--what does that really mean?
Often when we first step into working with a brand, they have a number of different initiatives in the works, they're trying all sorts of new platforms, tools, services, etc. where there can be a lot of "fluff" that costs money and time for their team without pulling in a strong return, even after sticking with these ideas for months (or even longer in some cases).
You could call it "trimming the fat" in a way, but the point is helping brands get leaner and more efficient."

Take owned marketing (email/SMS), for example: Email has been around for decades, and SMS as a channel for eCommerce brands has seen tremendous growth, particularly in the last 2 years. We stand on the hill of owning the customer relationship and find ways to engage and then re-engage both new potential buyers and your biggest brand evangelists. Everything we do stems from that."
Chloe Balmer - Lifecycle Marketing Manager at Kulin
"We're focusing more on eCommerce economics and growth strategy, which will allow us to become closer partners with the brands we work with. This holistic approach to growth allows us to make more of an impact on our client's overall digital experience, which correlates with performance.
We're really prioritizing goal alignment with clients to identify north star metrics, and actively working on a growth strategy to hit those KPIs and scale success where we see it."
Jacob Sappington - Head of Email at Homestead
"We're hyper-focused on list growth through popups. These are fairly easy to look over but these are foundational to overall CRM health."
Chris Charczuk, Director of Data Science at Exclusive Concepts
"One of the most important factors for growth is being able to maximize performance across a specific channel mix before hitting diminishing returns. This information helps you identify opportunities down the line and be smarter when prioritizing challenges.
Once a specific channel mix has hit diminishing returns, you need to revisit and diversify your strategy – for example, you can create new products catering to a new audience segment, explore new ad types or channels to reach customers, experiment with new content types or incorporate emerging technology into your program.
This enables brands to be agile and helps them build a path to long-term success."
3. What are you most excited about with respect to the transactional channel in 2023? 📦
Jacob Sappington - Head of Email at Homestead
Yesterday a client told us their Wonderment flows dropped their Where's My Order tickets by 80%!!!
I always think of it in a revenue-focused way, but this experience benefits everyone. I drive extra revenue for my client, the client spends less time and money on important but laborious tickets, and the customer is kept in the loop the whole way."
(The Homestead case study is coming soon 😉 but in the meantime read how The Ridge Reduces Shipping & Tracking CX Tickets With Wonderment)
Adam Kitchen - CEO Magnet Monster
"We are currently analyzing the uplift of pre and post-implementation of transactional communications to understand its impact on CLV.
We believe this will be a clear use case for this software to become mandatory for all businesses in the ecosystem, as the dual benefits of increasing retention on the brand side while providing a positive experience to customers is a win-win for both parties."
Learn more about the win-win relationship here 😉
Ben Zettler, Founder, Ben Zettler Digital
"Time for a shameless plug. We're huge fans of Wonderment because we've seen in practice with all of the brands we work with on Klaviyo where transactional messaging has both improved the customer experience and led to an increase in revenue.
We're talking about a clear, numbers-backed reduction in support tickets as well as directly-attributed sales from tracking page experiences.
In our view, Wonderment goes hand-in-hand with a "best practices" setup of a brand's Klaviyo experience."
Learn more about the magic of combining Klaviyo and Wonderment here 🪄
Chloe Balmer - Lifecycle Marketing Manager at Kulin
"Transactional touch points seem to often be a low priority for brands, so our team is excited to be at the forefront of this shift towards intentional optimization of the post-purchase experience.
We see so much potential in proactively engaging customers between their order being placed and delivered and have found effective ways to nurture, educate, and even upsell during that time.
We're most excited about the ability to extend personalized experiences through transactional emails, SMS, and even tracking pages to foster more meaningful engagement with customers."
Learn more about how to create personalized experiences through transactional email, SMS and order tracking pages here 🚀
Chris Charczuk, Director of Data Science at Exclusive Concepts
"The value of technologies like Wonderment is two-fold:
1. They help fuel better eCommerce adoption because they remove barriers to completing online purchases by making eCommerce feel easier and less confusing.
2. They help brands deliver a seamless customer experience that fosters repeat purchasing thus impacting revenue."
Delivering a seamless post-purchase customer experience has never been easier 🎉
4. What's one bold prediction for what will change in DTC in 2023? 🤔
Adam Kitchen - CEO Magnet Monster
"Consolidation is coming to the space and has already begun, that's well documented. However, the industry is still growing, and I envision the focus on the "experiential" component of D2C as a differentiator will become critical to the brand's success.
Look for lots of creative initiatives here, as brands become mediums for content and media production to build a defensive moat around their businesses."
Ben Zettler, Founder, Ben Zettler Digital
"As we get into the new year, we may know sooner rather than later whether one of the most talked about, yet controversial social platforms (i.e. TikTok) will be in the U.S. to stay. Personally, I have no idea what will happen. But, depending on what does, that could potentially have a tremendous impact on existing platforms and brands vying for the attention span of millions of potential buyers.
Aside from that, the emphasis on owned marketing will only grow further than it has in 2022. We've enjoyed seeing brands get
smarter
about where they focus their marketing. Intro the new year, we expect to see more brands also take a strong interest in optimizing on-site experiences in ways they have not in years past, too."
Chloe Balmer - Lifecycle Marketing Manager at Kulin
"Creator-led brands will take over DTC, and brands with no visible founder will struggle to compete. This falls in line with the trend we've been seeing where UGC performance can be tuned out by consumers if it's not driven from an authentic perspective that's aligned with the brand's values.
Founders and business leaders that are committed to leading by example and are comfortable making a direct connection with their audience will win in 2023."
Jacob Sappington - Head of Email at Homestead
"This is an unfortunate bold prediction, but I think that a good number of businesses go out of business. The businesses that will last will be hyper-focused on CX and deliver a really good product.
I think DTC continues to lean more toward a "middle-class luxury" channel, and the middle class and lower classes will lean more heavily toward Amazon. Speaking of Amazon, I believe that more DTC brands will get listed there to help increase their distribution."
Chris Charczuk, Director of Data Science at Exclusive Concepts
"We'll see more reliance on platform performance data than online tracking tools. Outside of first-party tracking, the best way to get performance data for your websites will be through the platforms themselves (like Shopify).
As the CCPA has enforced this summer and everyone moves to GA4, we'll see a bigger need to understand, share, and analyze platform data. Platforms with good reporting are already better at measuring performance than analytics tools, but the upcoming changes in 2023 should speed up adoption and put emphasis on the importance of accurate reporting both for goal-setting and success measurement."
Looking to the Year Ahead 🔮
Thank you for reading our first Wonderment Agency Partner spotlight - we hope you found these expert insights valuable!
2023 is shaping up to be a pivotal year for countless DTC brands and that's why we're devoted to continuing to provide the DTC community with expert insights and learnings like the ones above.
You can expect to hear from our experts throughout 2023 on all things DTC, Shopify, and growing and scaling amazing eCommerce brands.
We wish you all the best in 2023!
Let's Crush 2023 Together! 💪 Building the Best Post Purchase Experience Starts with Wonderment
Wonderment is the easiest way to proactively set expectations on shipping timeframes, automatically update customers with delays, and measure shipping expectation vs reality across the business.
Wonderment is a retention Swiss army knife used by 1000+ leading Shopify merchants including The Ridge, Bokksu, and Jones Road Beauty.
See more about what Wonderment can do and book a demo today.