A successful customer retention strategy is built on driving significant post-purchase traffic back to your Shopify website.
Read on if you want to discover the 4 best and most cost-effective ways to do so.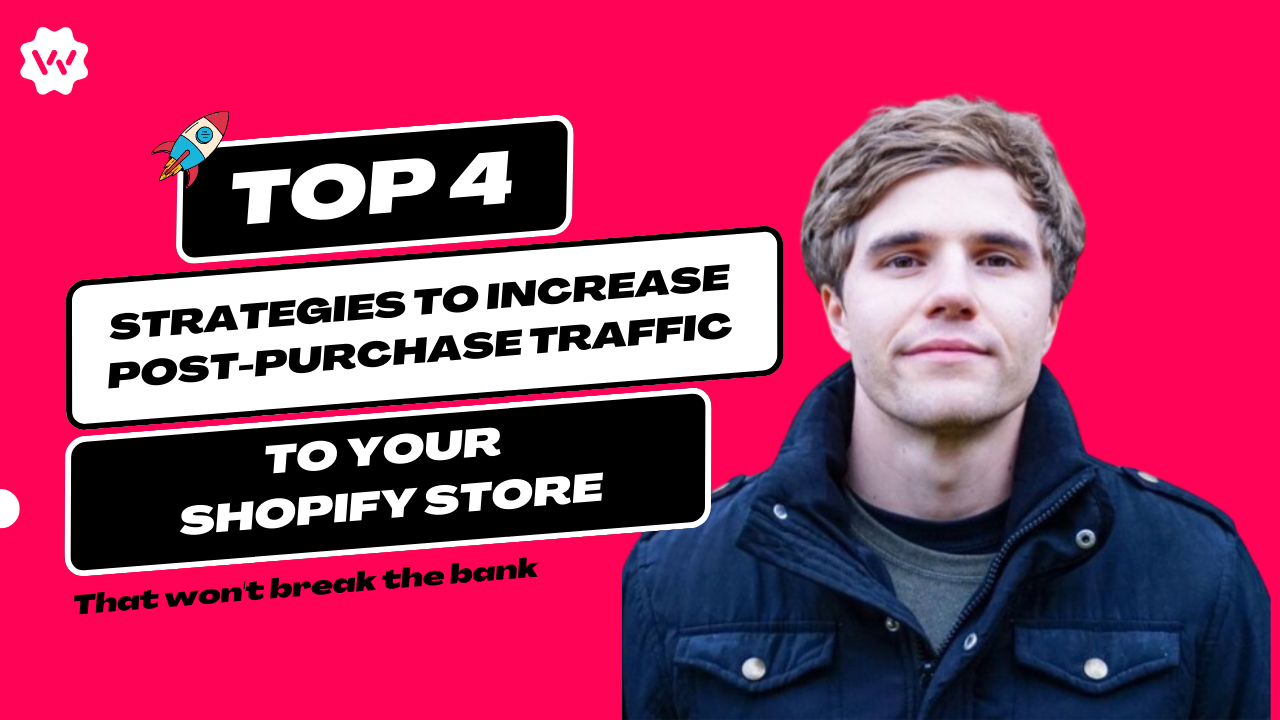 Are you struggling to drive repeat sales to your Shopify store despite having a great product?
You're not alone.
In today's crowded digital landscape, standing out and getting customers to come back can feel like an uphill battle.
In a world where customer acquisition costs are rising, paid advertising is getting more expensive, and consumers are getting harder to reach — it's increasingly important to squeeze the most value out of every customer.
But what if we told you there are 4 proven and cost-effective ways to increase post-purchase traffic to your site that you're likely not utilizing today?
Keep reading to discover these powerful strategies and start maximizing your Shopify store's potential.
What you're doing today isn't enough
After a customer makes a purchase, Shopify merchants rely heavily on owned marketing channels like email & SMS, as cost-effective ways to reach their customers and drive more site visits to increase repeat sales.
These channels are great and have truly changed the way we think about customer retention.
Here's the issue though with relying solely on email and SMS marketing messages — they fail to maximize your potential site traffic. Here are some email and SMS marketing benchmarks courtesy of our friends at Klaviyo and Attentive.
Email marketing: Open Rates: 35.59%, Click rates: 1.41%
SMS marketing: Open Rates (untrackable), Click rates: 5-10%
This means that at best we are only driving 1 in every 10 customers back to the site post-purchase from our emails and texts.
While these marketing channels have, and always will, be effective at engaging your customers — we think you can be doing more with a few minor additions.
That's why we're giving you an inside look at 4 proven strategies you need to add to your post-purchase strategy.
Let's dive into each in greater detail below.
1. Transactional Email
Once a customer places an order from your Shopify Store, they've entered the "pre-arrival" phase where they are eagerly awaiting their items. Consumers have a strong appetite during this phase for updates related to their orders — enter the transactional email.
Many merchants miss out on the opportunity to meaningfully engage here, and by doing so, lose out on 4-5 additional website visits on average.
Transactional email when done right gives you opportunities to display helpful information, product education, or even introduce complimentary products.
Forward-thinking Shopify merchants are seizing this opportunity and the data validates this too.
Transactional emails see 55-80% open rates and a shocking 10-20% click-through rate. This means that transactional emails can be up to than 10x more effective at getting your customers to click back to the site than a marketing email.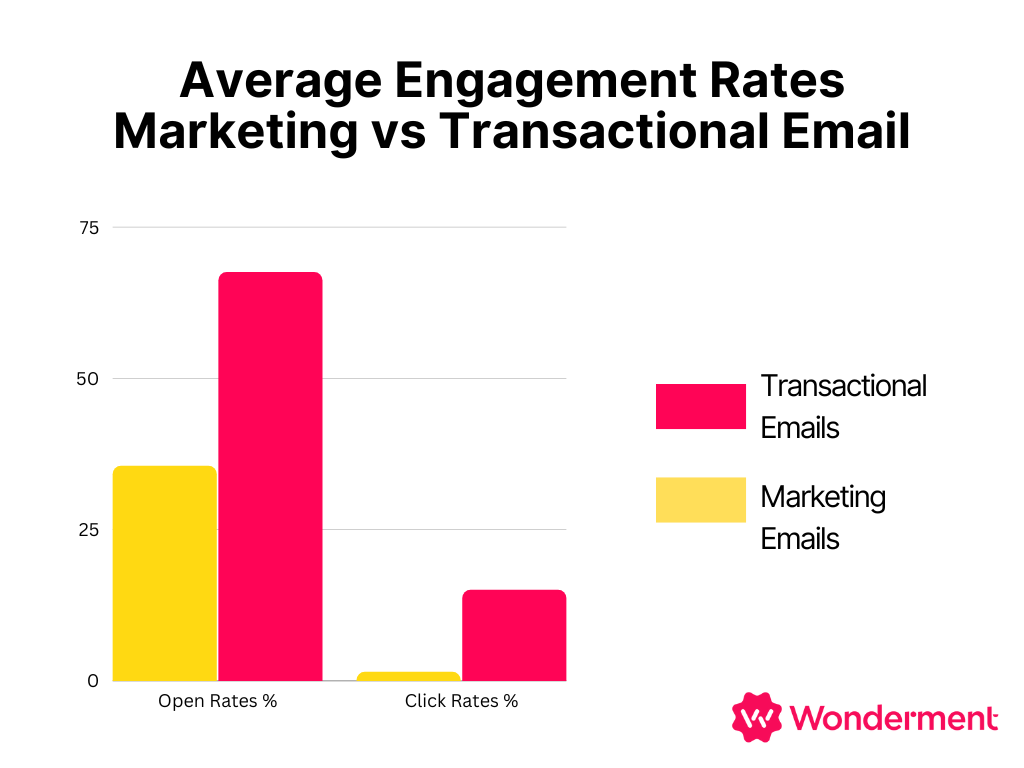 Transactional emails span the entire pre-arrival journey meaning you have several touchpoints to engage and add value to the customer journey.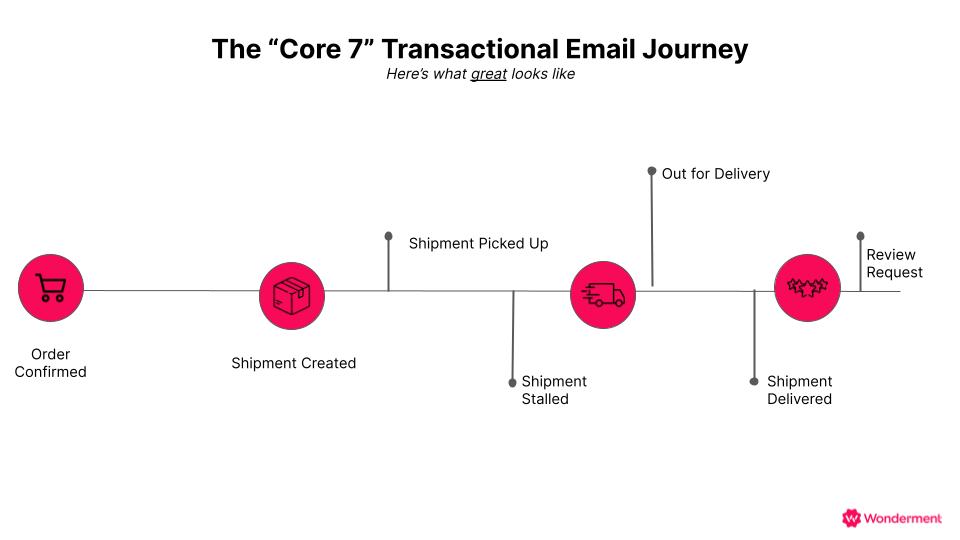 Here we see the "core 7" emails that go into the transactional messaging journey.
You likely are leveraging some form of transactional emails today inside of your Shopify store, but in order to capitalize on those high engagement rates, you need to do three simple things.
Optimizing your transactional emails is as easy as 1-2-3.
1) Move them into your native email platform: We recommend migrating your transactional emails from stock Shopify templates into your Klaviyo or Iterable platform.
This is made possible by Wonderment event data and gives you 100% control over customization, personalization, and insight into performance data.

2) Brand them: Invest in branding your transactional emails just like you would a marketing message.
Given that up to 8 out of every 10 customers will see these, going the extra mile makes a difference.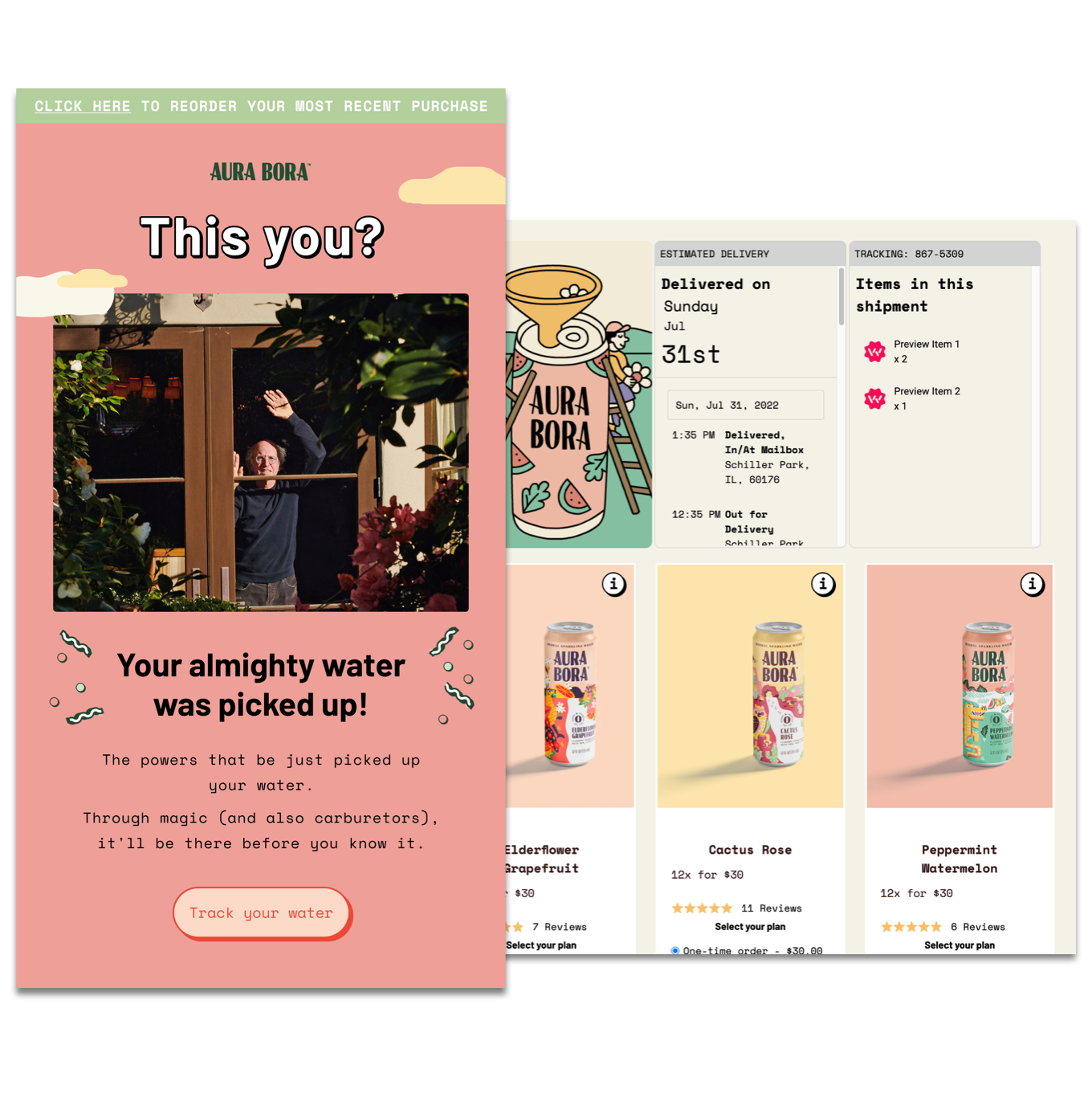 3) Own the link: Last, but most important, link every transactional email to an order tracking page that you own (like in the Aura Bora example above).
Standard shopify transactional emails will only link to a carrier's site, meaning that you're giving up 4.6 website visits per order on average to a FedEx or DHL.
A Wonderment branded tracking page gives you total control over the site experience to educate them, provide helpful information, upsell them, or invite them to browse other areas of your site.
Related: See how leading Shopify merchants are setting up their transactional emails
Transactional SMS
Transactional SMS is the biggest opportunity in DTC right now to drive the highest volume of post-purchase traffic back to your eCommerce site.
Transactional SMS sees 50-75% click-through rates meaning that up to 3 out of every 4 customers will click (and hopefully land back on your site through a branded order tracking page if you're using a tool like Wonderment 😉).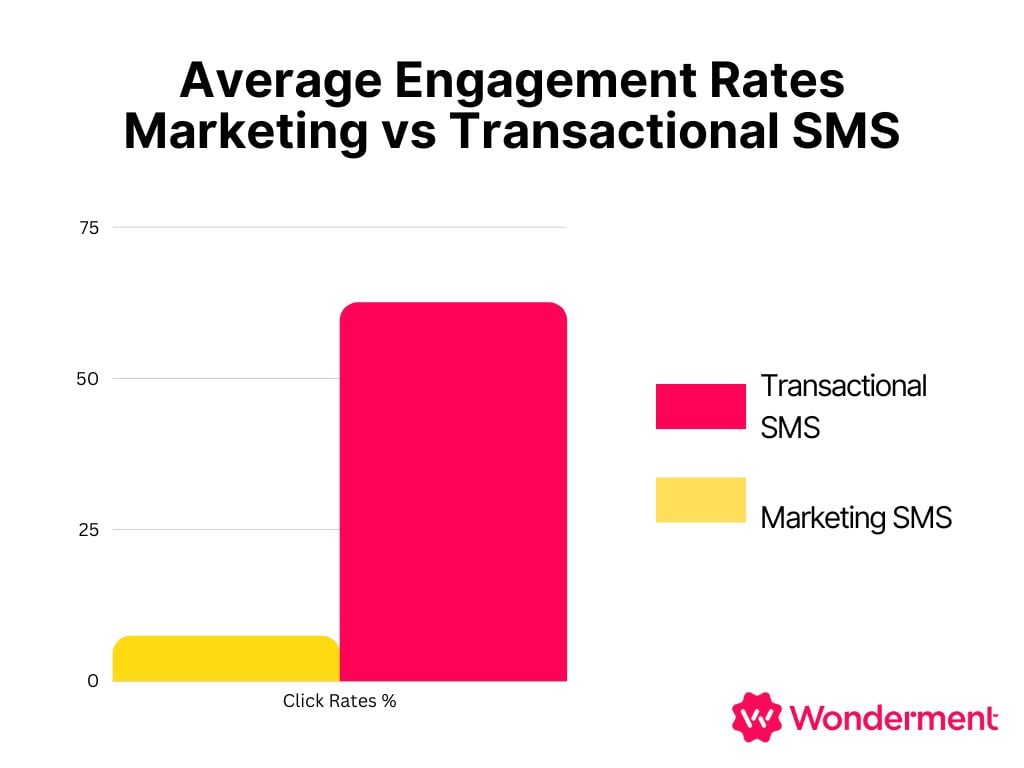 When compared side by side with marketing messages, the impact on traffic becomes even starker.
Let's say you send 10,000 messages to 10,000 customers who just ordered. Using post-purchase marketing texts, and assuming a generous 10% click-through rate, we will drive 1,000 back to the site.
Contrast that with transactional texts, and assuming a conservative 50% click-through rate, we will drive 5,000 back to the site.
| | |
| --- | --- |
| Marketing SMS 📲 | Transactional SMS 📦 |
| 10,000 texts sent at 10% CTR) | 10,000 texts sent at 50% CTR |
| 1,000 total clicks | 5,000 total clicks |
1,000 customers vs 5,000 customers on your site. Which would prefer?
+ 1 for transactional SMS 👏 🚀
Transactional SMS has events from the moment an order is shipped to the moment it hits the door. This means merchants can capitalize on every stage of the pre-arrival journey.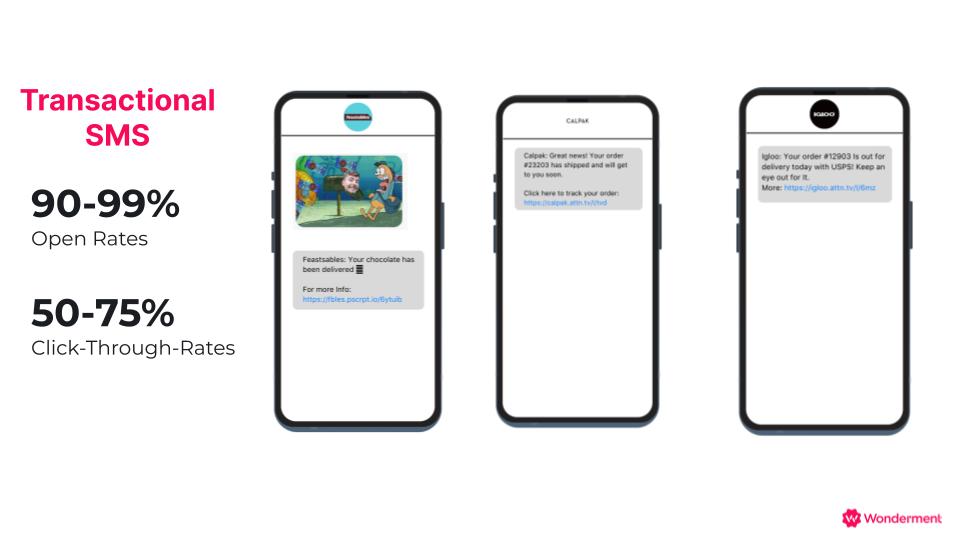 The best part about Transactional SMS is that you can set it up in less than an hour inside of your existing SMS platforms like Klaviyo, Postscript, Attentive, or Recart when paired with a solution like Wonderment.
Related: Learn more about how leading Shopify merchants are using Transactional SMS to drive higher engagement and repeat purchases
Gamification Email Flows
Now that you've given your customers an amazing shipping journey and they've already engaged with your emails and texts 4-5 times post purchase, let's get them engaging on your site, even more, to open up further conversion opportunities.
This strategy is credited to Wonderment Partner and email marketing legend, Adam Kitchen, CEO of Magnet Monster.
Adam recommends leveraging quizzes inside of your Klaviyo emails as a way to elicit two-way interaction.
Rather than simply send your customers an educational blog about your brand, why not quiz them by asking them a question inside the email and asking them to click through with their answer?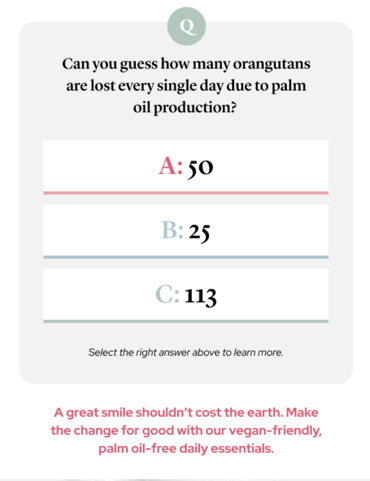 We can see an example above from Spotlight Oral Care where they are asking their email subscribers to answer their quiz by clicking on the corresponding button.
Once the subscriber clicks they are taken through to the Spotlight website with a blog post revealing the correct answer.
This simple gamification approach has yielded significantly higher click-through rates on their emails, improving onsite traffic and overall email deliverability as subscribers are now clicking on more emails.
This strategy can be leveraged in many ways to fit your brand whether it's education, polling for future product development, asking for customer feedback, or just simply getting to know your customer more.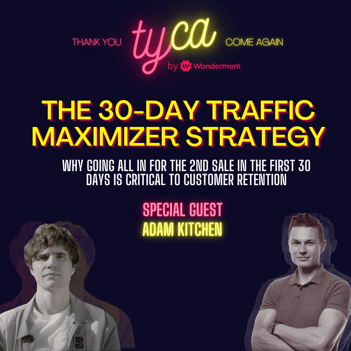 If you want to see an in-depth breakdown of this strategy and how it can change your email marketing strategy, click here to access the full training for free.
Mobile Apps
If you are looking for another highly engaging and cost-effective marketing channel, you may want to consider a mobile app. Given that 91% of all traffic comes from a mobile device, it's safe to say consumers are all-in on mobile.
Brands like Fashion Nova, Chubbies, and Princess Polly are investing in mobile apps as a way to own their commerce and audience experience in a new way. Mobile apps are also being viewed as a new "loyalty" channel where brands give their app subscribers access to early sales, exclusive drops, and in-app content.
The beauty of mobile apps is that push notifications enable you to reach your customers in real-time and drive instant traffic back to your store.
Data from our friends at Tapcart shows too that mobile apps see 2.3x higher conversion rates compared to standard mobile web browsing. This is because mobile apps offer an instant experience and benefits like one-click checkout to create a frictionless shopping experience.
A mobile app can be a great addition to a well-rounded email and SMS strategy as yet another way to drive highly qualified traffic back to your site post-purchase to take action.
Want Even More Strategy on How to Increase Post Purchase Traffic & Revenue?
👉 Check out this free video training on "The 30-Day Traffic Maximizer Strategy".
In this training, Adam Kitchen (Magnet Monster) and Blake Imperl walk through how to 10x your post-purchase traffic in the first 30 days after purchase with two simple email/SMS flows.

You'll see firsthand how Shopify merchants have utilized this approach to achieve increased repeat purchase rates and learn how it can set your eCommerce business apart from the competition.