Last week we hosted a hands-on training session dedicated to helping Wonderment customers prepare their transactional channel for Q4. In case you missed it, click here to catch the entire recording.
If you're strapped for time or want a written summary of everything we covered, we've got you covered.
In this guide, we'll be covering 4 major themes. Feel free to click on any of the below to skip ahead.
But first... how did Wonderment customers fare in Q4 2021? 🤔
Shipping & logistics are a topic of heated debate with many merchants seeing continued delays.
We ran some numbers from Wonderment customers from September 2021-January 2022 and found the following:
23.4% of shipments were flagged as stalled
On average it took stalled shipments an extra 3.24 days to arrive compared to regular shipments.
0.19% of packages were returned
0.02% of packages were marked as damaged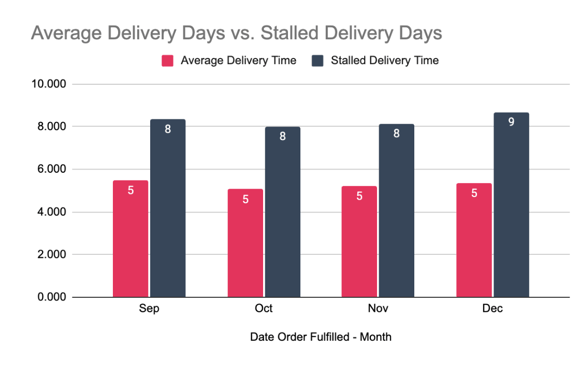 While this might not be a leading indicator of what is to come this year, it is worth taking into consideration as you consider onsite messaging, setting up your tracking page, your FAQs, etc…
On the bright side, carriers are doing a phenomenal job at making sure your packages are getting where they need to go! 👏
Auditing your Shipping Performance
Did you know that Wonderment gives you access to a wealth of shipping performance data?
Our reporting allows you to take a look at a couple of different factors that are going to be relevant as you think about setting up stalled shipment events and mitigating negative shipping experiences this holiday season.
💡 Pro tip: All of this raw data is also available in an export CSV, so if you have questions not directly answered in your reports, you can build your own analysis as well or research specific orders further.
We recommend running your shipping performance reports monthly to monitor month-over-month trends.
Delivery Reporting 🚛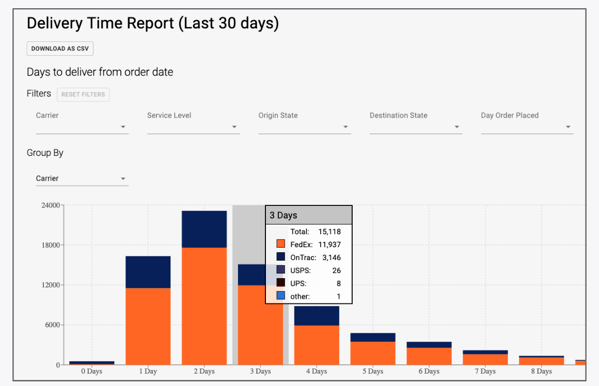 Delivery reporting helps you to understand your recent delivery performance by carrier or service level, and understand the impact of different warehouses, destinations, or when the order was placed on those results.
👉 This report tells you how long it takes from the moment someone ordered an item from you to when it was delivered.
This will give you a more well-informed sense of when you should be setting up stalled shipment events.
For example, if you notice most orders are delivered in 1-3 days, you might want to set the stalled event at the 3-day mark at the latest.
Fulfillment Cycle Reporting 📦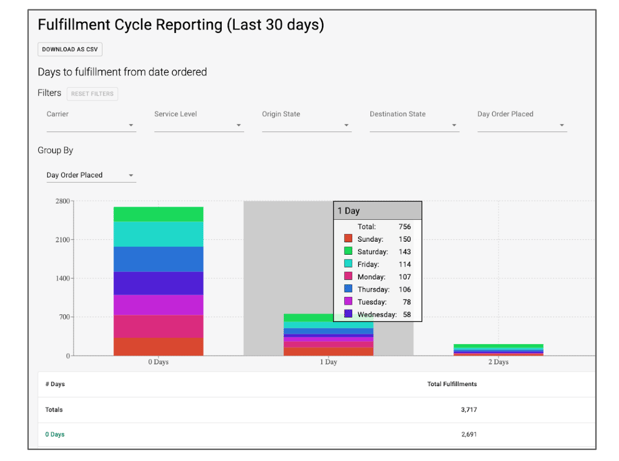 This report gives you insight into how your fulfillment centers are performing.
You can look from the day an order was placed until it was fulfilled and can group this by the carrier, service level, etc…
👉 This report is great for understanding how long it takes your fulfillment center to fulfill shipments and project how long it'll take going into the remainder of Q4.
Time in Transit Reporting ⏰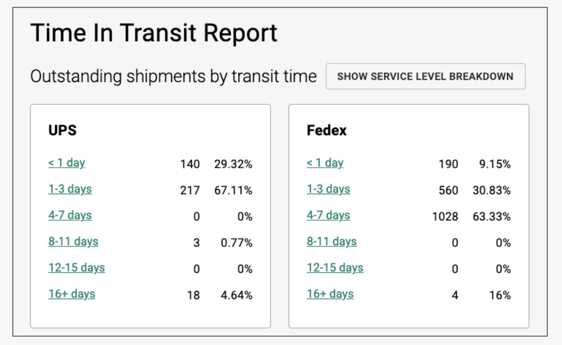 👉 Time in transit is a great report for understanding by carrier how long it takes for an order to arrive.
In this example, we can see UPS is delivering a lot more shipments on time in just 1-3 days whereas FedEx is delivering most in 4-7 days after moving to in transit.
Time in transit reporting is great to monitor and take snapshots to see how things are performing through Q4 so you can make the best decision on the carriers you use for your customers.
Auditing/optimizing your communication channels 💌📲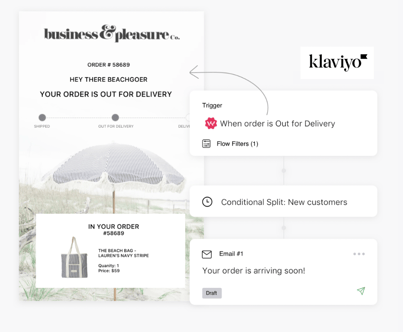 The lead-up to the holiday rush is the perfect opportunity to make sure your transactional emails are in a good place.
Given that up to 8 out of every 10 customers will see your transactional emails, this is going to be the way in which you stand out in a crowded holiday inbox.
If you want to get something in front of your customers post-purchase, it's worth considering how your transactional emails can assist.
A quick reminder on which emails you should have set up 👇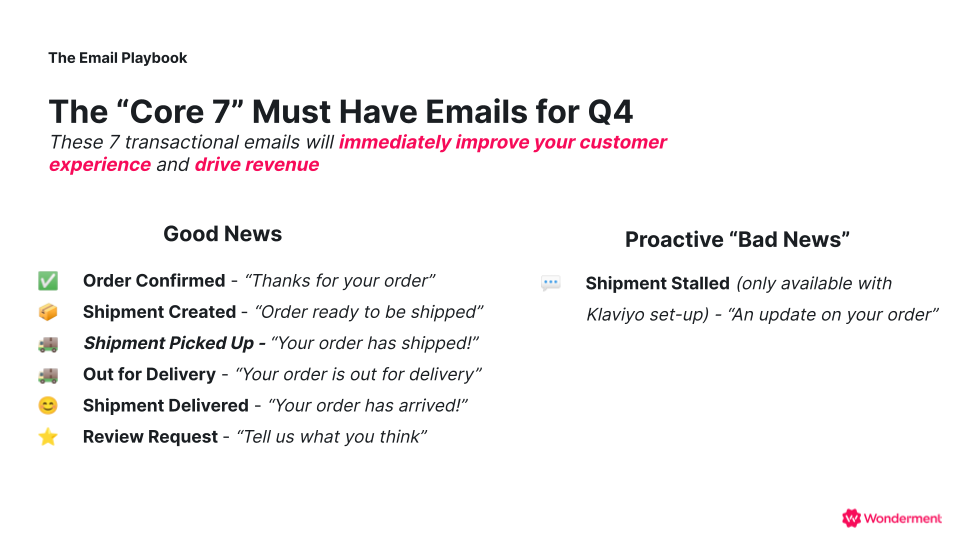 If you're up and running with Wonderment, you likely have these set up, but just in case, take note of which ones you don't have.
Regardless of whether you are sending these out of Klaviyo or Shopify here are a few quick things to audit for:
Conduct a quick QA to ensure all emails link to your order tracking page
Get all of your "core" transactional emails set up (as outlined above)
Update language on emails around potential delays as a way to get ahead and frame expectations
Consider adding in elements that reduce buyers remorse/build excitement

Include FAQs inside of the emails as you progress through shipping stages, calling out value props of your products, calling out where they can go to get in touch with you, etc…
We have even seen some customers reminding their customers about free shipping thresholds which can help increase AOV and repeat purchase rates.
If you want more inspiration, check out our email swipe file resource on our website to see what other Wonderment customers are doing.
Optimizing Review Requests ⭐️
Given that you'll likely be sending more review requests during Q4, finding the right time to ask is of the utmost importance.
💡 Pro tip: Did you know that you can time your review request in platforms like Junip, Okendo, and Stamped based on the Wonderment delivered event? This eliminates the guesswork of determining the right time to request a review.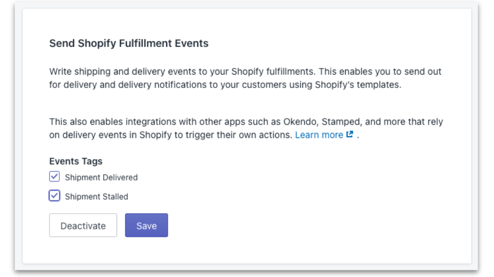 Learn more about how to set that up here.
Transactional SMS 📦📲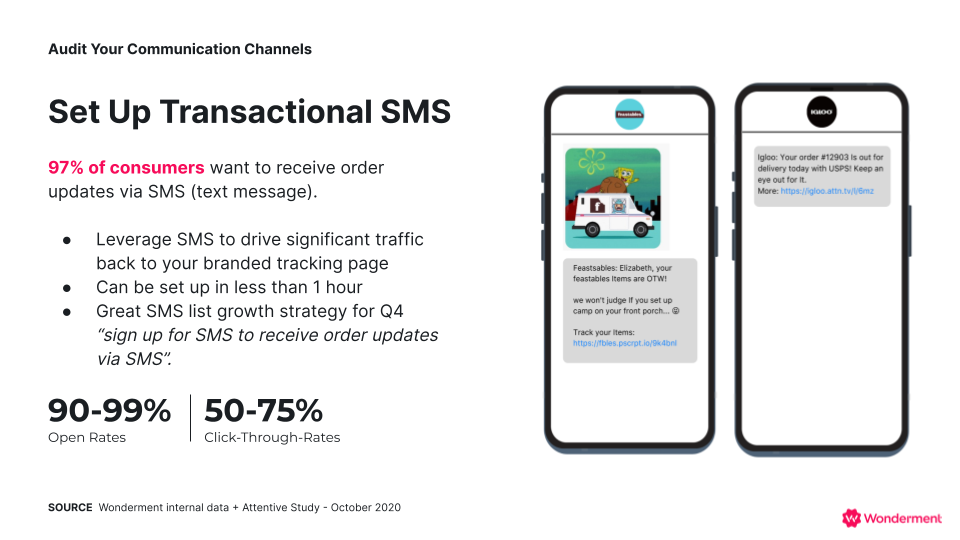 If you aren't taking advantage of transactional SMS yet, we highly recommend you consider adding this to your holiday strategy.
Regardless of whether you're using Klaviyo, Attentive, or Postscript, you can get this set up in less than an hour.
We're seeing 50-75% click-through rates here making this a golden opportunity to increase engagement to your order tracking page this holiday season.
Transactional SMS is also really great for:
List growth: Call out value props like "sign up for SMS to receive order updates via text"
Customer support: we see customers dropping lines like "reply if you have questions" inside their transactional SMS as a way to open the conversation
Retargeting customers: Not only will customers go back to your tracking page but they might also browse around your site
Lowering Opt-Out Rates: Attentive reports just 0.33% for transactional SMS compared to 1-5% for campaigns and marketing automation. These are the messages customers really WANT to be getting over SMS.


💡Bonus: Check out our top 10 use cases for transactional SMS here
What Transactional SMSes should you have set up?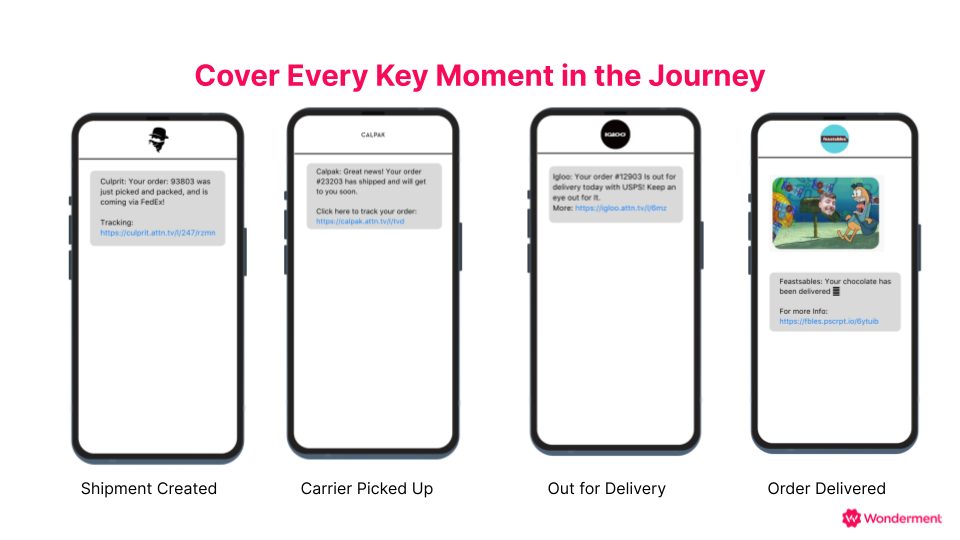 Here are the "core 4" SMS messages you should have implemented, but there are many more triggers at your disposal including ones around shipment delays.
These SMSes don't need to reinvent the wheel but can be customized to inject more brand voice and even imagery if desired.
Orchestration and not overwhelming customers are always important and if you're not ready to commit to a full transactional SMS setup, we recommend setting up the last mile notifications for delivery and order delivered.
These are two messages we see highest engagement rates and also purchase rates.
What else is transactional SMS being used for?
Communicating delivery errors: if you ship items that require a signature, transactional SMS can be great for ensuring a customer knows of an attempted delivery. This can reduce those costly return-to-sender fees
Merchants who sell perishable goods or high-value items: this is great for ensuring customers know exactly when their order has arrived, mitigating chances for spoilage or theft.
Even Further Optimization: Klaviyo Reporting 📈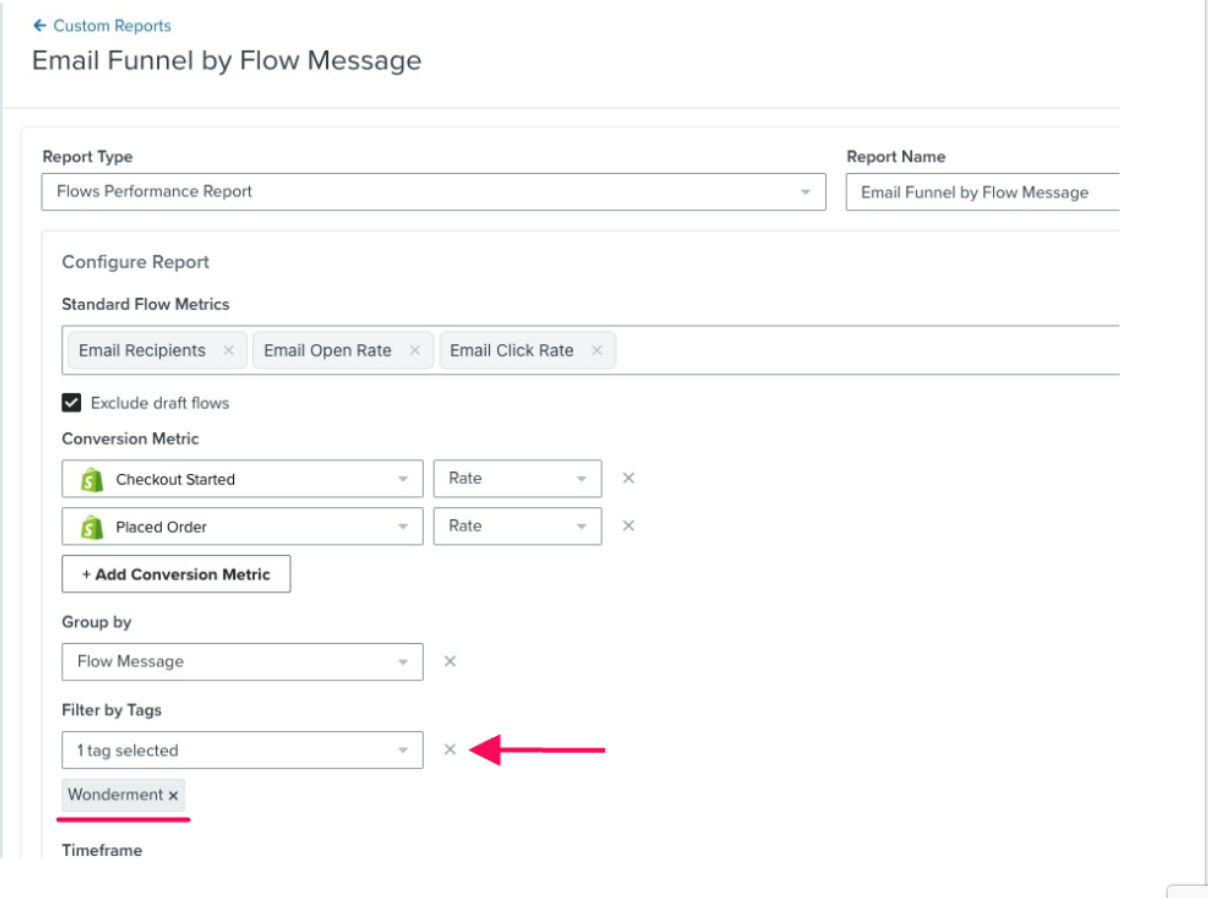 If you're using Klaviyo, did you know that you can quickly glance at your message performance across channels via their reporting tool?
This will give you a quick overview of your communication performance.
Building one of these reports is really simple and just takes a few steps:
Start by tagging all Wonderment data-driven flows
Then create a Custom Klaviyo Report (you can see in the above example we're looking at flow performance)
Select "Filter by Tag: Wonderment"
This will quickly show you how each message in your Wonderment transactional set is performing by key metrics: Open Rate, Click Rate, Revenue, etc.
💡 Recommendation: Run a report before, during, and after the holidays to measure month-over-month performance.
Optimizing Your Delivery Delays 📊
Automation is key for getting ahead of delivery delays this holiday season to make sure you mitigate negative experiences and optimize around the positive.
Leveraging Wonderment's shipment delay automation can reduce your "where is my order" tickets by as much as 40%.
How to identify a delay 🔎
The Wonderment dashboard gives you one central view for all of your shipments (no need to jump around to various carrier websites).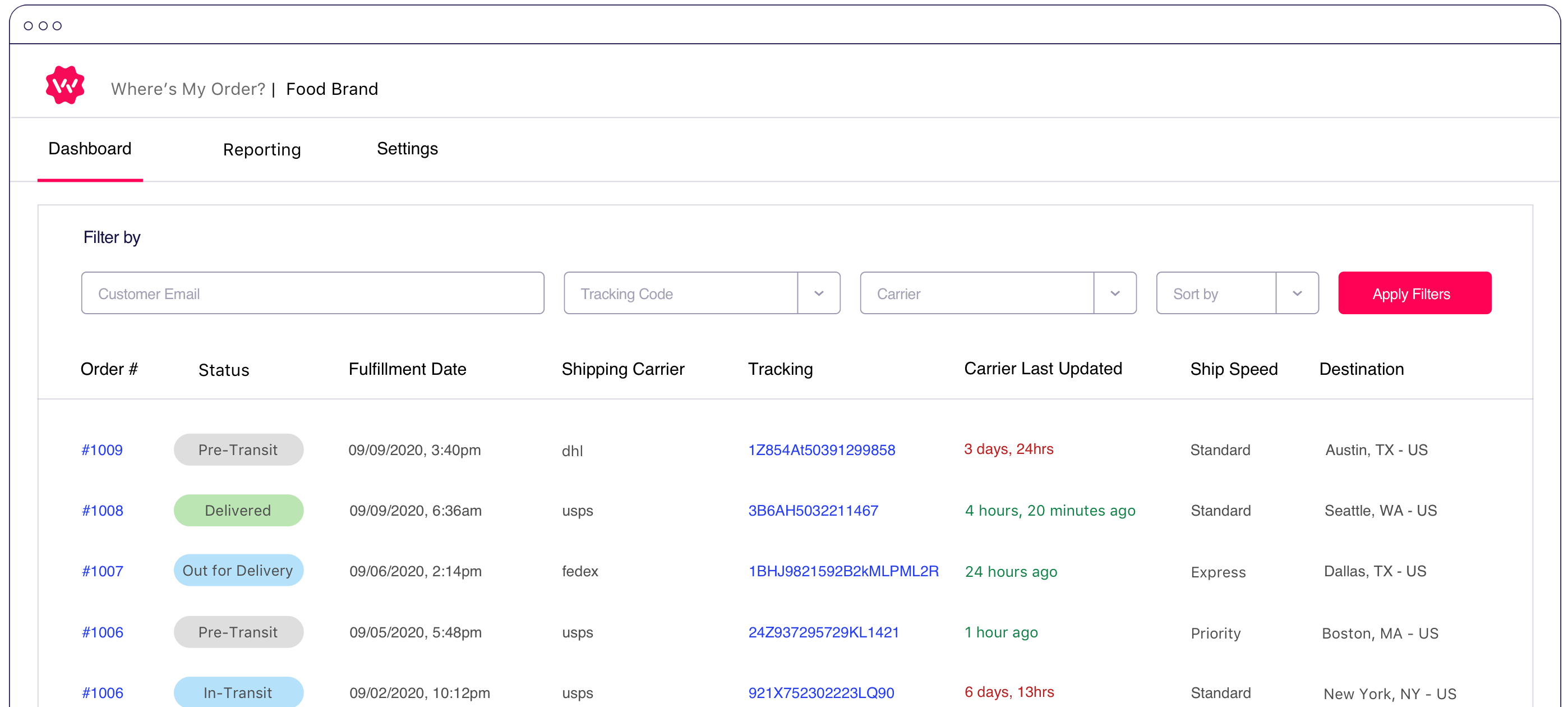 You can easily identify daily and monthly shipping trends and make informed decisions about the carriers you work with.
You can report on areas by different statuses and then report all of that data into spreadsheets.
For example, you might notice that when a specific fulfillment center uses FedEx it takes two days longer to get to the consumer.
Armed with this information, you can then you can work with the logistics carrier to mitigate the chance that it happens again with future customer.
How to Communicate a Delay ✉️
There are several ways to communicate a shipping delay with Wonderment.
Set up your external notifications: If you're using our Klaviyo or SMS integrations, you can automate external notifications to your customers around events like stalled shipments or delayed fulfillment events. This can be great at staying proactive with your customers.
Leverage Klaviyo Internal Notifications: Inside of shipping delay emails you can proactively inform your customer experience team about events like delays, damaged shipments, and returned shipments. This helps you to proactively resolve the situation before you reach out to the customer.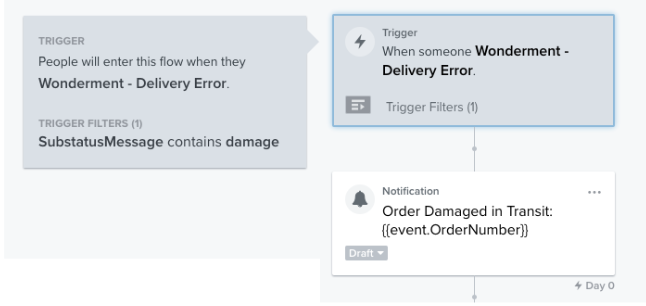 Gorgias Integration: Equip your CX team with the most up-to-date information on a customer's order as you chat with them.
Slack Integration: If you don't have this set up yet, you can leverage our Slack integration to automatically send in shipping alerts around things like stalled shipments. This will help your CX team to immediately identify tickets and proactively handle them.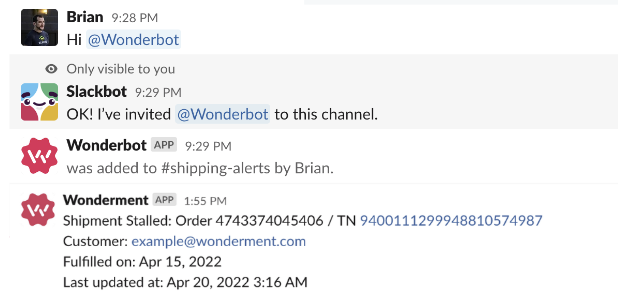 Handling International Shipment Delays 🌎
If you ship internationally, you can leverage Wonderment delivery & fulfillment reporting to identify your average transit time to your top international shipping destinations. This will help you to better inform the accurate window for a stalled shipment event.
Taking it one step further, in Klaviyo you can then add conditional branches for each of your top countries, adding additional time delays as needed for international transit (i.e, 7 days for Canada, 10 for the UK, etc…)
What To Tell Your Customers During a Delay 💬
Here is one of our favorite examples from Wonderment customer, Feastables. This message is simple yet highly effective at communicating the issue and providing a resolution.
While your message may vary depending on brand voice and style, there are a few points to make sure you consider and include:
Be 1000 steps ahead of your customer (i.e, by having this message in place)
Be honest and address the situation - let them know you're on top of it & what's next
Be proactive (i.e, provide a solution to their issue)
Link out to helpful information (i.e, your tracking page)
Give them an easy way to get in touch with you (call it out by email, SMS, or on the tracking page).
💡Pro tip: If you want more information on shipping delays, we recommend you check out our entire guide to shipping delays here.
Best practices for optimizing your order tracking page 📈
The order tracking page is the "glue" that brings together your transactional experience. Here are a few things to keep in mind.
Audit your tracking page
With our robust tracking page reporting, you can get a quick overview of:
Tracking page views
Tracking page revenue
Tracking page conversion rate
Items most frequently ordered (great for finding which products to place on your tracking page)

These quick insights will help you to access performance and optimize based on data.
3 Strategies to optimize your tracking page
As you consider your tracking page strategy this holiday season, it's important to consider what your ultimate goal is as this can inform where you should place your focus.
Introducing new products to cross-sell 💰
Great for cross-selling complimentary products or upselling onto subscriptions.
Place products that you know are most commonly purchased
Showcase subscriptions
After December 1st, add digital gifts for last-minute gifting.
Continuously monitor your page if you have products that go out of stock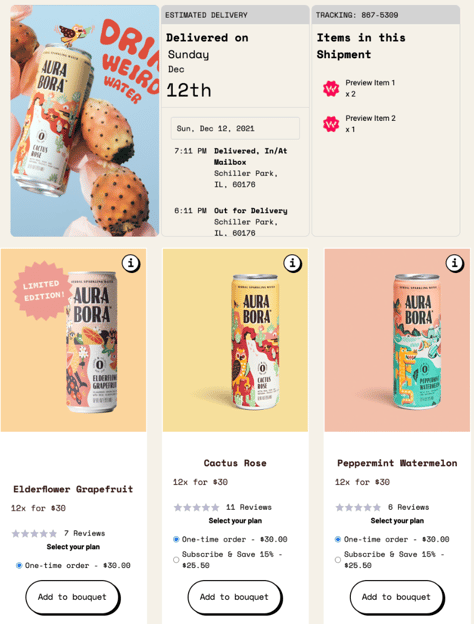 Here's a great example of cross-selling a subscription offering from Wonderment customer, Aura Bora.
Education/onboarding 🧠
If you find there are a lot of product questions or friction in adoption, spend your time here!
Add helpful content (product tips, frequency of use, reminder of benefits/value props)
Include help center links, social channels, or YouTube videos
Even leverage education as a way to cross-sell and successfully onboard customers to help turn first-time buyers into repeat shoppers.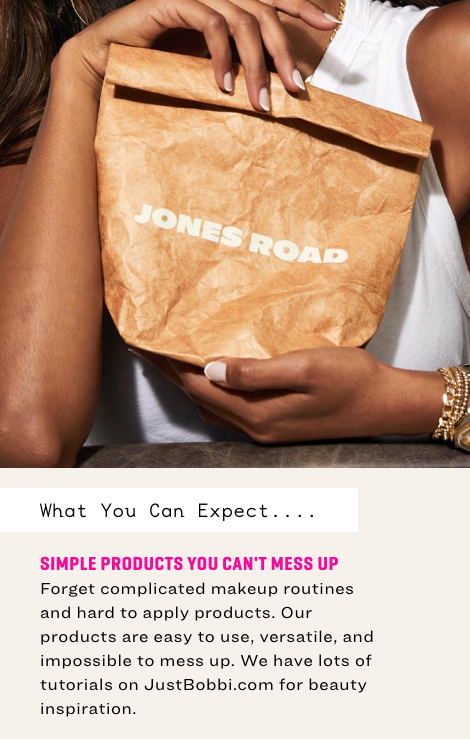 Wonderment customer, Jones Road Beauty. uses their tracking page to educate customers about their makeup tutorial videos.
Helpful info 🤝
Reducing support tickets or just providing general product information.
Review your most common support ticket questions and then create FAQs related to them (shipping info, how to store a product, etc…)
Set expectations for shipping delays and timelines
Inform customers of shipping cutoff timelines

Wonderment customer, JOI Plant Milk, uses their FAQs to answer the most commonly asked customer questions.
💡 Pro tip: Make sure your FAQs reflect your brand voice! This can be a delightful moment to get your FAQs to read while entertaining your customers!
Wrapping up
To quickly recap what we discussed today:
By focusing on these four core areas of the transactional experience you can ensure you are optimizing for the positive and minimizing the negative.
Best of luck this Q4! If you have any questions don't hesitate to reach out to us.
Not using Wonderment Yet?
If you aren't using Wonderment yet but are interested in learning how we help leading Shopify merchants create memorable transactional experiences, book some time with us here.