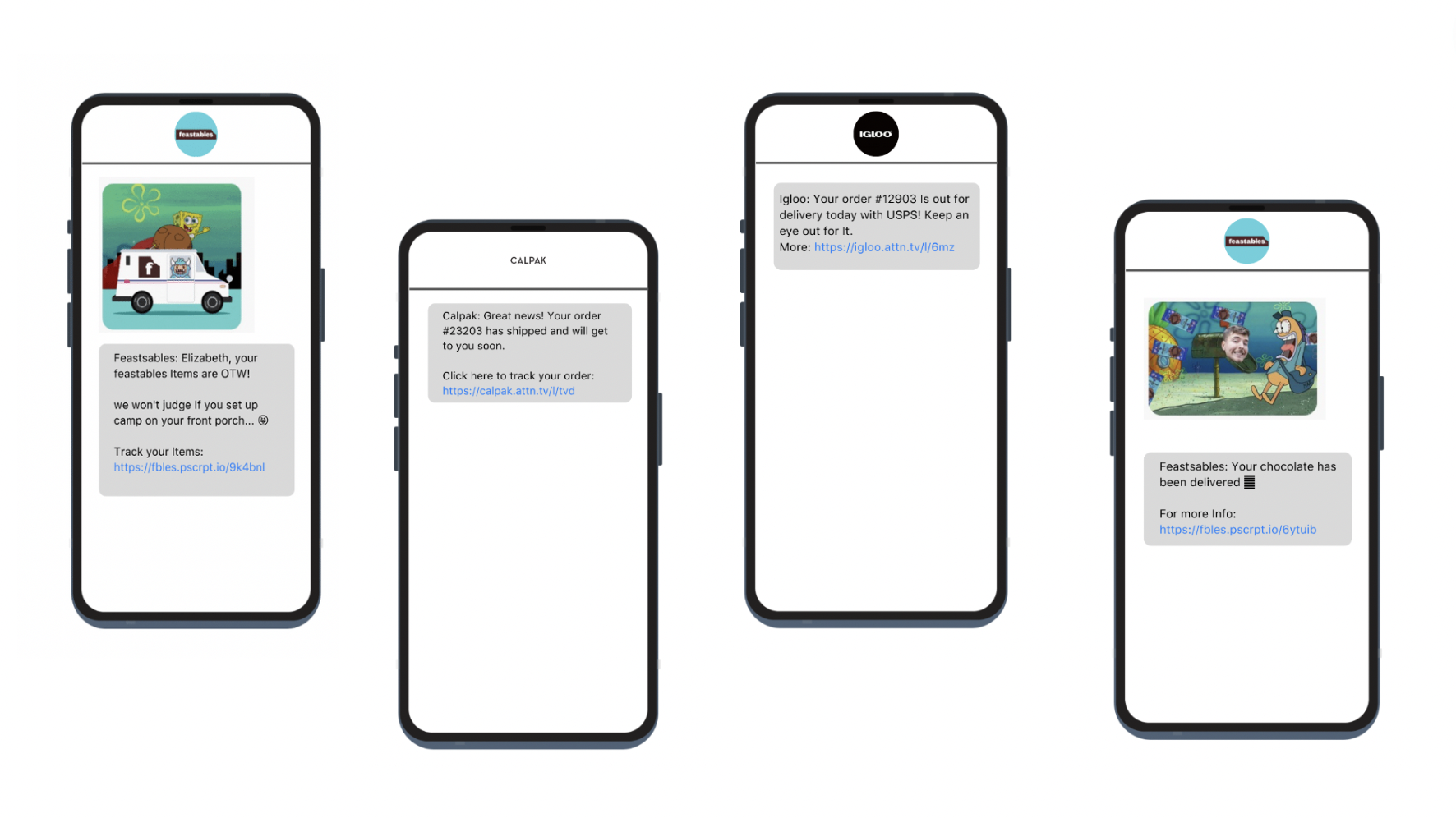 Transactional SMS is a retention marketing growth lever! 🚀
With 90-99% open rates and 50-75% click-through rates on average, transactional SMS is quickly becoming one of the biggest areas of opportunity in the post purchase journey.
According to an Attentive study, 97% of consumers want to receive order updates via SMS making it the #1 most requested message type by consumers (beating out promotions, customer service, and exclusive content).
Maximizing on this demand for transactional SMS by using automated SMS flows (which are responsible for nearly 70% of monthly SMS sales) will set you up with a powerful channel.
This post is going to walk you through 10 different use cases you can leverage with transactional SMS to turn it into one of your best post purchase growth levers.
Whether you're using our Attentive, Klaviyo SMS, Postscript, or Recart SMS integrations, you will find a lot of value in this one.
Let's dive in!
#1 Increase onsite engagement post purchase
Given that click-through rates are between 50-75% and the average opt-out rate is just 0.33%, transactional SMS is a highly effective way to drive visitors back to your site post purchase. In fact, transactional SMS outperforms transactional email as the best way to drive customers back to your site post purchase (10-20% CTRs on average).
Each transactional SMS has the ability to link back to a branded order tracking page, making this a highly effective way to get the customer back to your site.
Once on your branded tracking page, you have the full ability to provide helpful information related to their order, cross-sell additional products, educate/onboard customers, and so much more.
When you consider that up to 3 out of every 4 customers will be clicking through on your transactional SMSes, it really demonstrates how effective these messages can be at retargeting a customer post purchase.
#2 Drive revenue
Transactional SMS drives a lot of revenue! You can see below the 30-day stats from a CPG brand that drove nearly $50,000 with their Wonderment transactional SMS setup 🤯.

Combining highly engaged SMSes with a branded tracking page that introduces cross-sells or complementary products is a great way to soft sell your customers towards another purchase.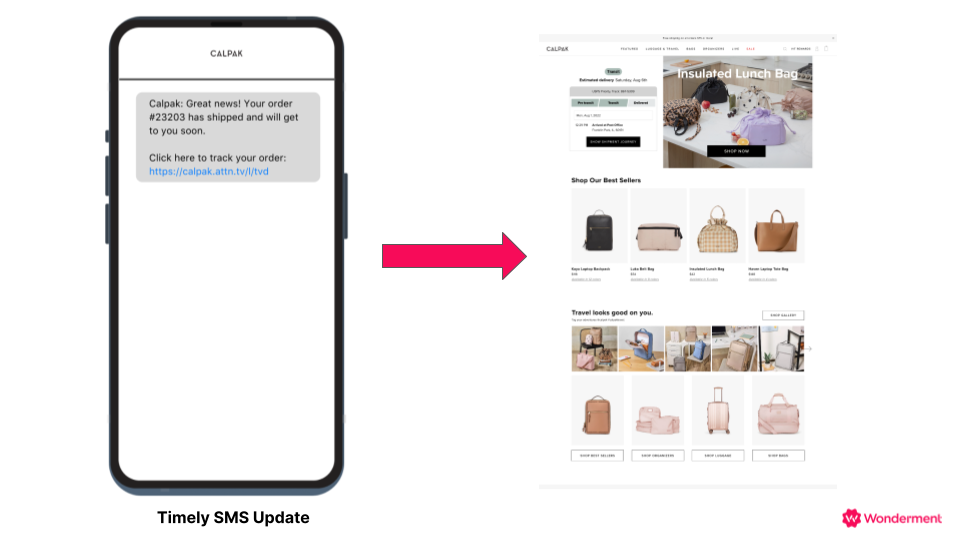 Here we can see an example of Wonderment customer, Calpak, using a timely SMS update to drive customers back to their branded order tracking page where they not only show relevant order information but also introduce other best-selling products.
Additionally, by getting customers back to your branded tracking page, they are more inclined to browse around the site increasing their potential to consider another purchase.
#3 Personalization
Transactional SMS can be highly personalized! Just like within your email platform, you can use the segmentation tool to deliver personalized messages to your customers.
Some ideas include segmenting them based on
First time vs returning customers
Purchased specific products or categories
VIP vs Non-VIP Customers
Subscription customers vs non-subscription customers
Marketing Permission vs Transactional Permission (to separate what type of content they receive).
You can then take these segments and create unique messages for each group to create more personalized experiences.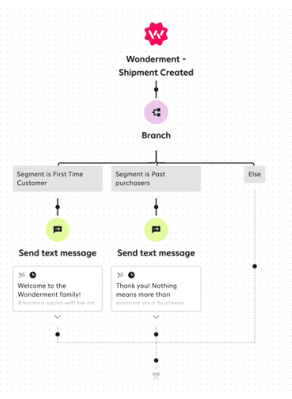 Here's a basic example showing how you can segment customers based on whether they are first-time or returning customers.
#4 Obtain zero party/preference data (using conversational SMS)

If you're using an SMS platform like Attentive or Postscript, you can turn your transactional messages into conversations and obtain zero party/preference data about them.
For example, you can turn your "order delivered" text into an onboarding experience where you not only deliver them an update on their delivery but then offer to educate them on best practices for using your product (like in the example below).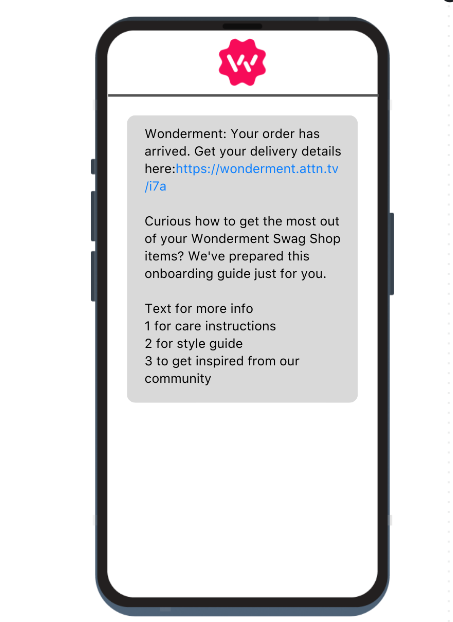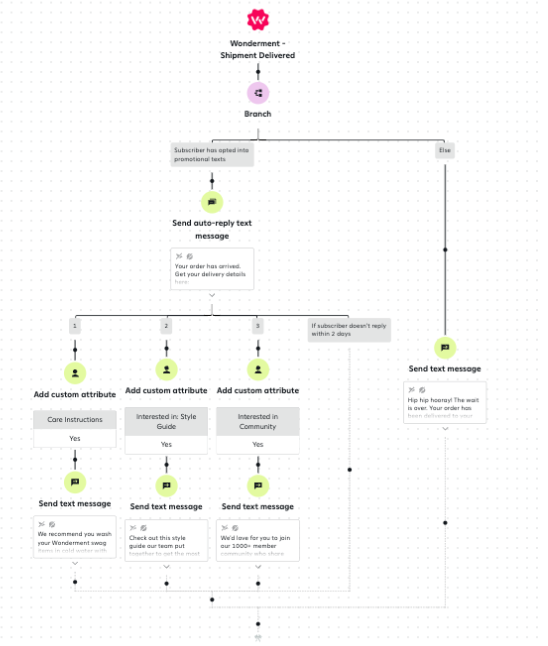 We can then take these responses and assign a "custom attribute" to them for use in future segmentation. For example, if the customer responded that they are interested in our customer community we can send them future SMS campaigns about customer community events (as seen below).

#5 Customer service
Text is naturally a two-way and conversational channel. One of the best use cases for SMS is customer service with over 70% of consumers saying they want to receive customer service over SMS.
If you offer customer service over SMS with a help desk integration like Gorgias, you can tap into that pent-up demand by planting seeds in your transactional SMS.
For example, you can add a "reply here with any questions" to your transactional SMSes to let the customer know this channel is two-way and that they can reach out there should they have any questions.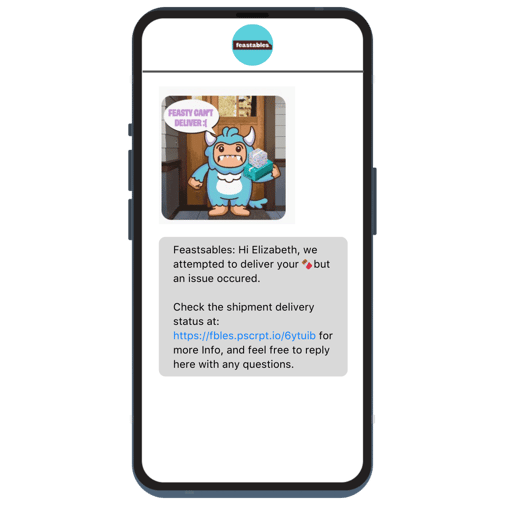 You can see above, Wonderment customer, Feastables, adds "feel free to reply here with any questions" to their delivery error SMS. This allows the customer to start the conversation immediately with Feastables over SMS - removing all barriers to getting in touch with the customer 👏👏
These little seeds can go a long way in adding additional value to your SMS channel.
#6 SMS list growth
One of the top measures of success for SMS is growing your list. An underrated value proposition that you can offer your customers for signing up is to receive order updates via SMS!
You can place language like "Sign up for SMS to receive order updates via text" on your sign-up forms, at the checkout, as a banner on your transactional emails, and even on the order tracking page!
These will all help draw attention to your SMS channel being a place customers can go get helpful order updates.
#7 Add diversified value
SMS can be a lot more than just a promotions channel! As mentioned, over 97% of consumers want to receive order updates via SMS.
By offering your customers the ability to get updates via text, it's far more likely that they'll find diversified value in the channel, making it a channel for more than just promotional offers.
This has the added benefit of helping to retain customers for longer on your SMS list.
#8 Orchestrate with email
A well-rounded transactional channel should be using email and SMS in tandem to deliver order updates.
A few strategies for doing this include:
Designate SMS as a last-mile delivery update channel - use SMS messages exclusively for out for delivery and package delivered updates.
Utilize SMS exclusively for delivery errors - because SMS is a more instantaneous channel, you can ensure customers see important messages related to their orders so they can take appropriate action
Segment flows based upon channel engagement - For example, texting customers who've never engaged on email or noted on a preference form their preferred channel of communication is SMS.
#9 Post Delivery Surveys
SMS can also be used to ensure that a customer received their order through a post-delivery survey!
You can set this up if you are using a platform like Attentive or Postscript. As seen in the screenshot below, you can use the "order delivered" event to kick off conversational automation.
This prompt asks the customer a simple question "has your order been delivered?" and then invites them to text back keywords that will route the conversation.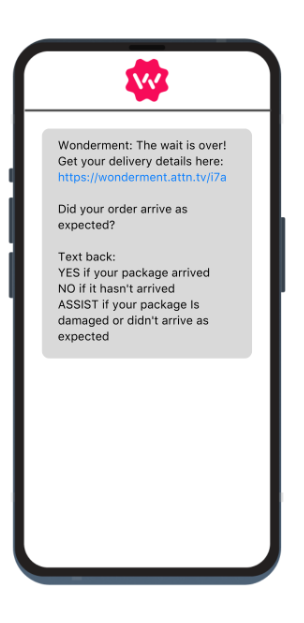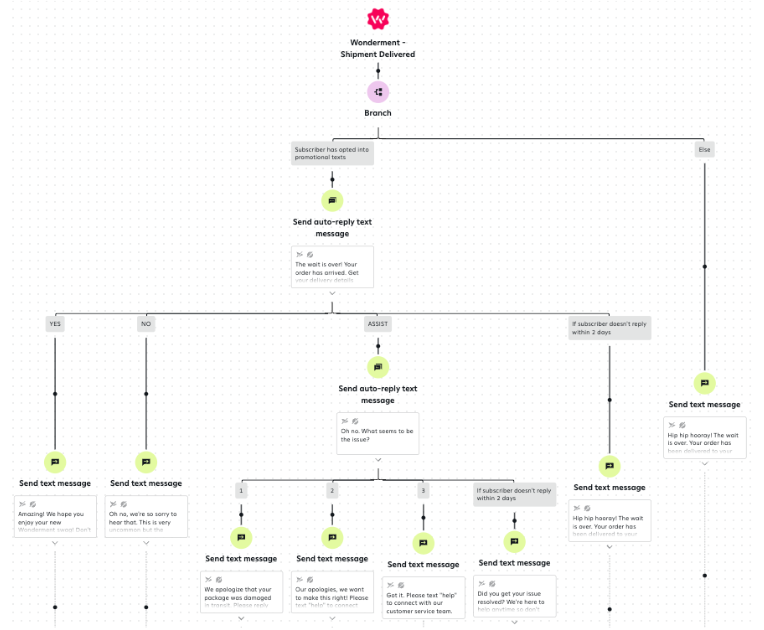 So for example, if they say "no" they can set up an additional automated message that either probes for further information or puts them in touch with customer service.
You can see below just a few examples of how a brand might set up those various replies but you can easily customize this experience to fit your brand's needs.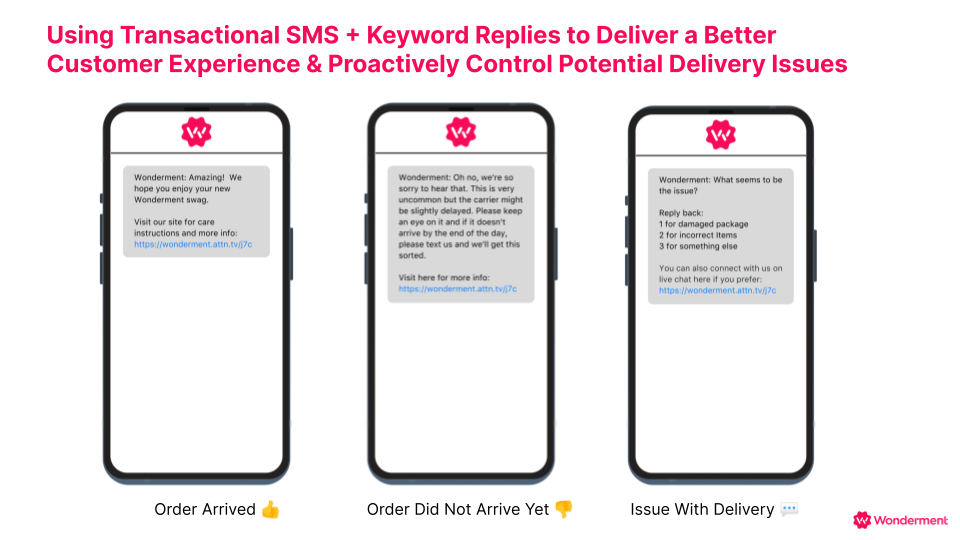 This also has the added benefit of showing your customer you want to ensure they had a smooth arrival experience and that they can get in touch with you should they have any concerns. This mitigates the steps they might have to take if something goes wrong.
Lastly, you can also take this engagement data to understand what the general sentiment is like with package deliveries and if there are any concerns that might need to be addressed in the arrival process.
#10 Communicating Urgent Updates & Delays
Given that 90% of SMSes are read within the first 30 minutes, transactional SMS can be an ideal way to communicate urgent updates or shipment delays.
If you sell perishable goods like chocolate, for example, you want to ensure customers see that their order has arrived as soon as possible to reduce the probability of melting.
In the case of order delays, if you had a package that was marked as "delivery error" you'd want to ensure that the customer is notified as quickly as possible to take necessary action and avoid the package being returned to the sender… which can prove very expensive for a business who must pay that return fee.
📦 📲 Wrapping Up
Transactional SMS can be a heck of a lot more than just short updates!
By leveraging any of these use cases you can supercharge your transactional SMS channel and turn it into an incredible resource for both you and your customers!
Looking for more transactional SMS resources?
Check out our Playbook to Driving Repeat Purchases Through Transactional SMS