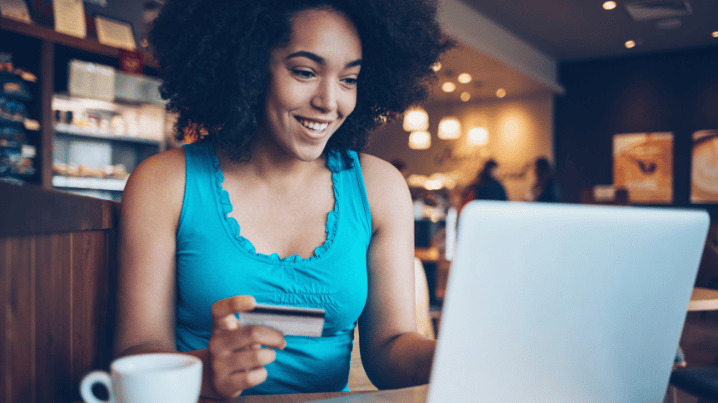 We've been noticing a sudden demand for Customer Retention Managers, a role we've seen pop up on job listings more frequently over the last few years. 2019 saw brands like Brooklinen, Peloton, Care/Of, and Prose all post jobs for Retention Manager positions. Eli Weiss, former retention manager of soda company OLIPOP and current director of customer experience and retention at Jones Road Beauty, is an example of a prominent figure in this role today.
This led us to wonder:
What's the driving force behind this newfound emphasis on customer experience?
What does it mean to enact proactive retention?
And how can ecommerce brands integrate retention strategies into their businesses if they don't have a retention manager yet?
Keep reading–we'll get into it all.
A whole new world: why it's all about customer experience
Acquisition is getting harder
If you need some cold hard facts to back up our claim that retention is where it's at for ecommerce businesses, we've got a great one for you. Smile.io tells us that while your customer base may only be made up of 8% repeat customers, those customers will be responsible for generating 41% of your revenue.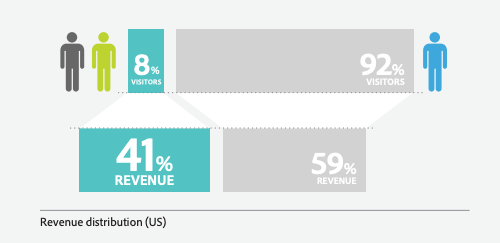 But a minority of customers driving a major chunk of revenue is not a new phenomenon. What's causing brands to double down on in-house retention experts now?
Considering the continuous rise of customer acquisition costs on social media, new competitors crowding ecommerce platforms and iOs data privacy updates leading to decreased ad targeting, it's not surprising that smaller companies have to step up their game if they want to survive.
What does this mean for ecommerce businesses?
Stuffing the funnel doesn't cut it anymore; it's all about keeping the customers you already have.
In order to do this, ecommerce businesses need to maximize what they have the most control over – the customer's overall experience.
Not only is keeping existing customers cheaper than acquiring new ones, but it also helps increase the company's value. The more repeat customers, the more predictable and stable a brand's monetary worth is, making it that much more valuable to investors.
Proactive retention: the ins and outs
Proactive retention means getting ahead of the curve. It means setting your first-time customers up for the best experience possible.
Let's dig into some real-life examples of how ecommerce brands do this.
Integrating retention-based strategies IRL
(Pssst: You can apply these strategies with or without a retention manager, you just need someone who cares deeply about the customer experience!)
Listen to the data

Chandler Dutton, Retention Manager for healthy cereal company Magic Spoon, is a huge advocate for listening to the data and polling customers when you want more information.
After surveying Magic Spoon subscribers on what additional perks they'd like to see in the subscription package, Chandler was shocked to find that many people were asking for things that were already included in their subscription, they just hadn't realized it.
Based on the data, Magic Spoon ended up simplifying their subscription offerings, taking away free shipping, and offering an additional percentage off products for subscribers.
Magic Spoon's subscriber opt-in rate doubled as a result.
Help your customers achieve something meaningful

Jill Comrie, Retention Manager for urinary health supplement company Uqora, takes a coaching approach during the onboarding process as well as post-purchase, focusing primarily on product education, expectation setting, and check-ins. For Jill, "Our #1 priority when it comes to retention is setting customers up for success."
Lillie Sun, formerly of natural skincare company Three Ships, also has a lot to say about campaigns that integrate customers further into the brand. On the podcast Put It On Repeat she talks about how Three Ships helps their customers build a skincare routine in order to achieve significant results.
By providing helpful product usage tips via SMS and encouraging customers to document their before and after transformation, Three Ships products become a natural part of a customer's lifestyle, leading to brand loyalty and repeat purchases.
It's simple when you think about it: a customer that doesn't use your product won't have a good experience, won't buy more, or tell their friends. As ecommerce consultant Christian Hoppe discovered, education is a critical step in brand retention and growth.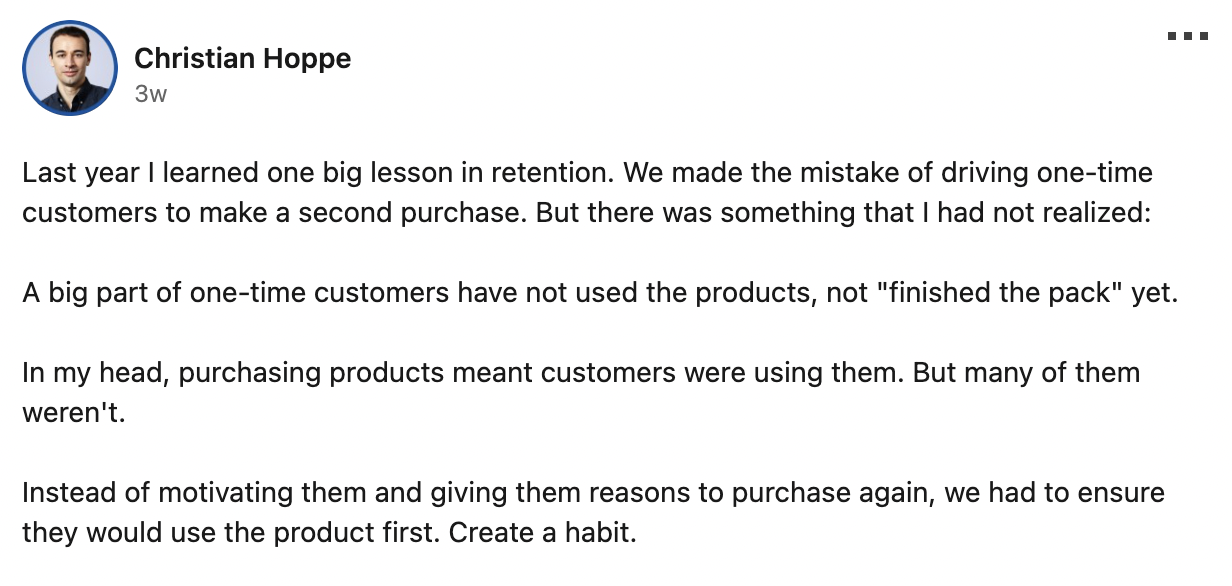 Above all, be transparent

While companies have struggled with shipping delays for decades, the pandemic has made it that much worse. In the midst of all this, how do you keep your customer's experience of your brand positive when you have no control over when they'll receive what they spent their hard-earned money on?
The answer is to be transparent. Communicate. Let them know what's going on and that you're paying attention. All they want to know is that you care and are doing what you can to get them what they bought.
If you're worried that shipping delay emails will make your customers mad, let eyewear brand LOOK OPTIC's success reassure you. As part of its (very successful) customer retention strategy, LOOK OPTIC proactively communicates with its customers about shipment delays before they even notice them, sending out automatic emails when they notice a stalled order.
Their honest approach has contributed to a 30% return customer rate and positive feedback that helps attract new customers.
"When you look in Okendo, at 'How satisfied are you with your customer service?' we own that - it's around 90 to 100%. We very rarely get shitty reviews saying, 'Hey, this thing didn't show up.' As an online company that's focused on reviews, that's really critical for us," says Andrew Leary, Founder of LOOK OPTIC.
The post-purchase experience: going above and beyond
What sets ecommerce brands apart from Amazon is that they can make the post-purchase experience special, especially for first-time customers.
So many Shopify apps are available to help create brand loyalty, whether it be:
Recommending related products at checkout,
Surfacing subscription offers when they make the most sense,
Fine-tuning and personalizing your email marketing,
Branding your packaging for a delightful unboxing experience,
Enabling quick and easy exchanges and returns,
Offering multiple support channels, and
Sending your customers texts or surveys
Final thoughts
Retention is important for ecommerce businesses, now more than ever.
Whether or not you have a retention manager in-house, it's vital to spend as much–if not more–energy on retention as acquisition to achieve sustainable growth.
According to Chandler Dutton, "It's all about how you deliver value, and connect people to the value that you're giving them."
Shipping and delivery communications are an easy place to start
Want to learn more about providing proactive order updates and branded shipment tracking with Wonderment?
Book a demo to see how it works: