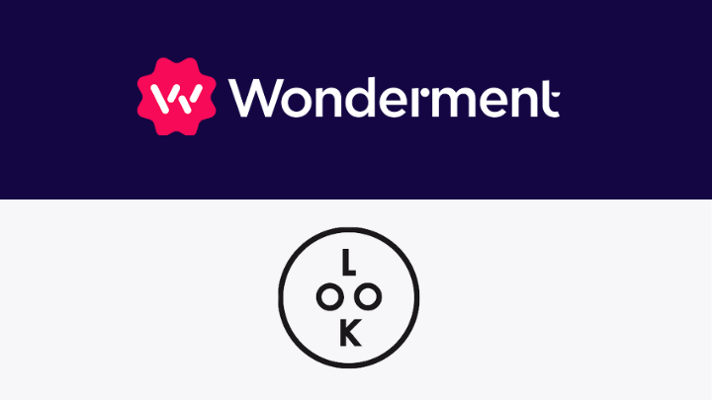 About the brand
LOOK OPTIC sells over the counter eyewear that already has the lenses and prescriptions in them, ranging from readers and blue light glasses to sunglasses and progressives.
While still an early-stage company, the Shopify store receives up to 7,000 orders a month.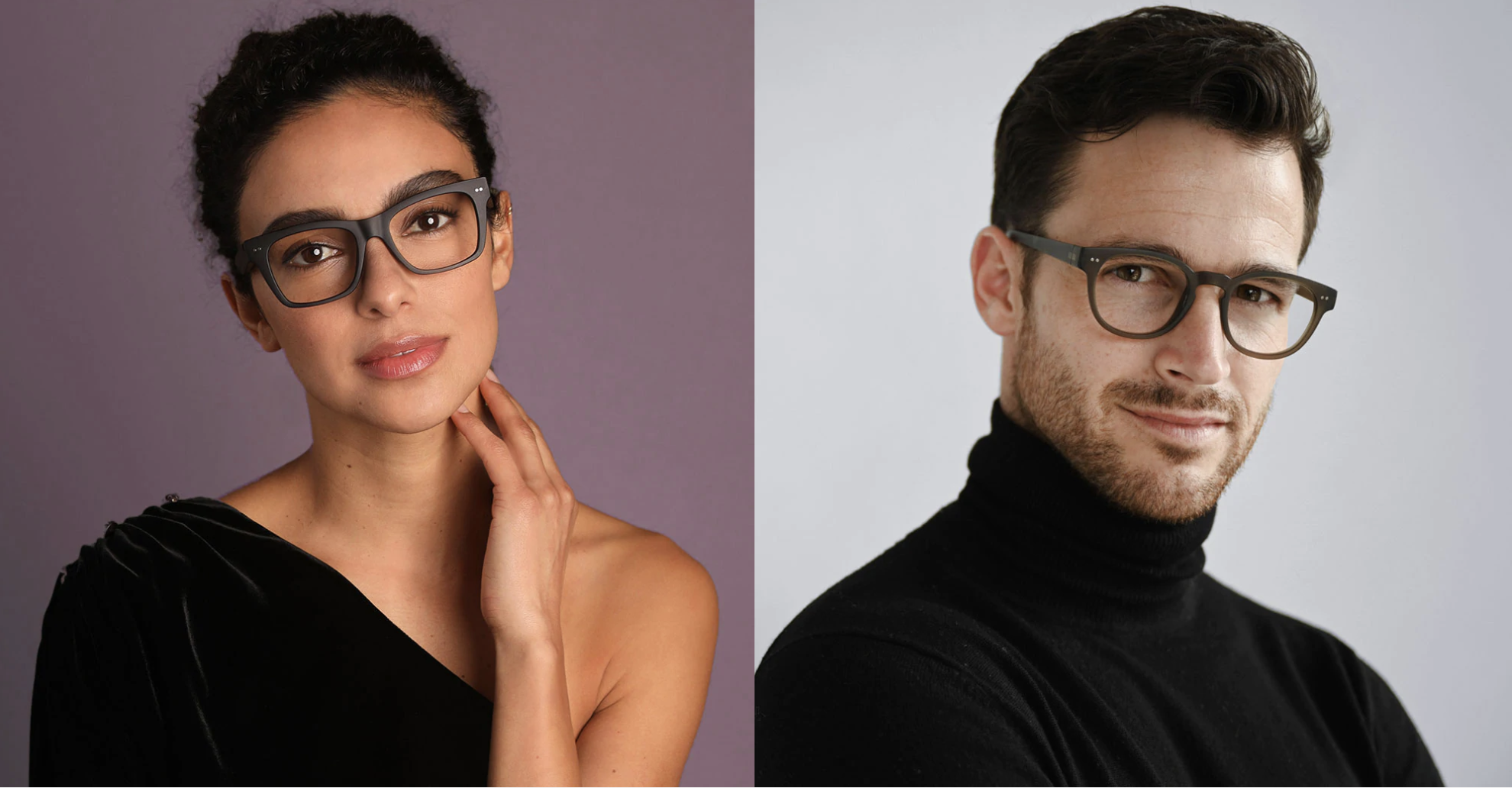 As a brand with an older target demographic and a product that's a necessity rather than a luxury, post-purchase communications are at the core of LOOK OPTIC's DNA - and a chief reason why the brand has maintained a 30% return customer rate.
"Our goal was to make sure someone did not wait two weeks for a package and then call us only to find out that it had not shipped. Unfortunately, this was happening way too often and is one of the worst customer experiences I can imagine."

- LOOK OPTIC Founder Andrew Leary
When Andrew was responsible for answering customer service tickets every day, he noticed that many customers wouldn't ask about their order status until a package had been delayed for weeks - so by the time LOOK OPTIC was able to make things right, too much time had passed since the order confirmation, and shoppers were not happy.
Andrew felt the same negative emotions when a Christmas order from bedding brand Brooklinen didn't arrive in time for the holidays. He canceled the order, and called customer service when the sheets arrived. To his surprise, the brand let him keep the sheets for free, turning an unpleasant experience into a positive one.
He wanted to offer his customers the same courtesy; if their package didn't arrive in seven days or wasn't being tracked properly, he wanted a new product to be shipped with no questions asked. But first, LOOK OPTIC needed a way to stay on top of their 3PL and know whether a package hadn't arrived on time, so they could send proactive email notifications and ship a replacement.
LOOK OPTIC's switch from Narvar to Wonderment
"I tried to work out the stuff with Narvar, but it was just super expensive. The landing page alone is $3,500 a year; tracking and SMS is additional, and that doesn't include estimated delivery."
When he began the search for a post-purchase platform, Andrew initially chose Narvar. Its enterprise-level order tracking pages and estimated delivery date feature were attractive, but he ultimately found that Narvar's a la carte pricing was prohibitive and LOOK could not leverage their full suite of functionality without their own warehouse and tracking numbers.
Wonderment was able to work with LOOK to build a customized tracking page, provide the brand with the reporting they needed to monitor their 3PL's performance, and use an integration with Klaviyo's email and SMS flows to notify customers about stalled and delayed deliveries. Wonderment's all-in-one pricing made the switch a "very easy decision."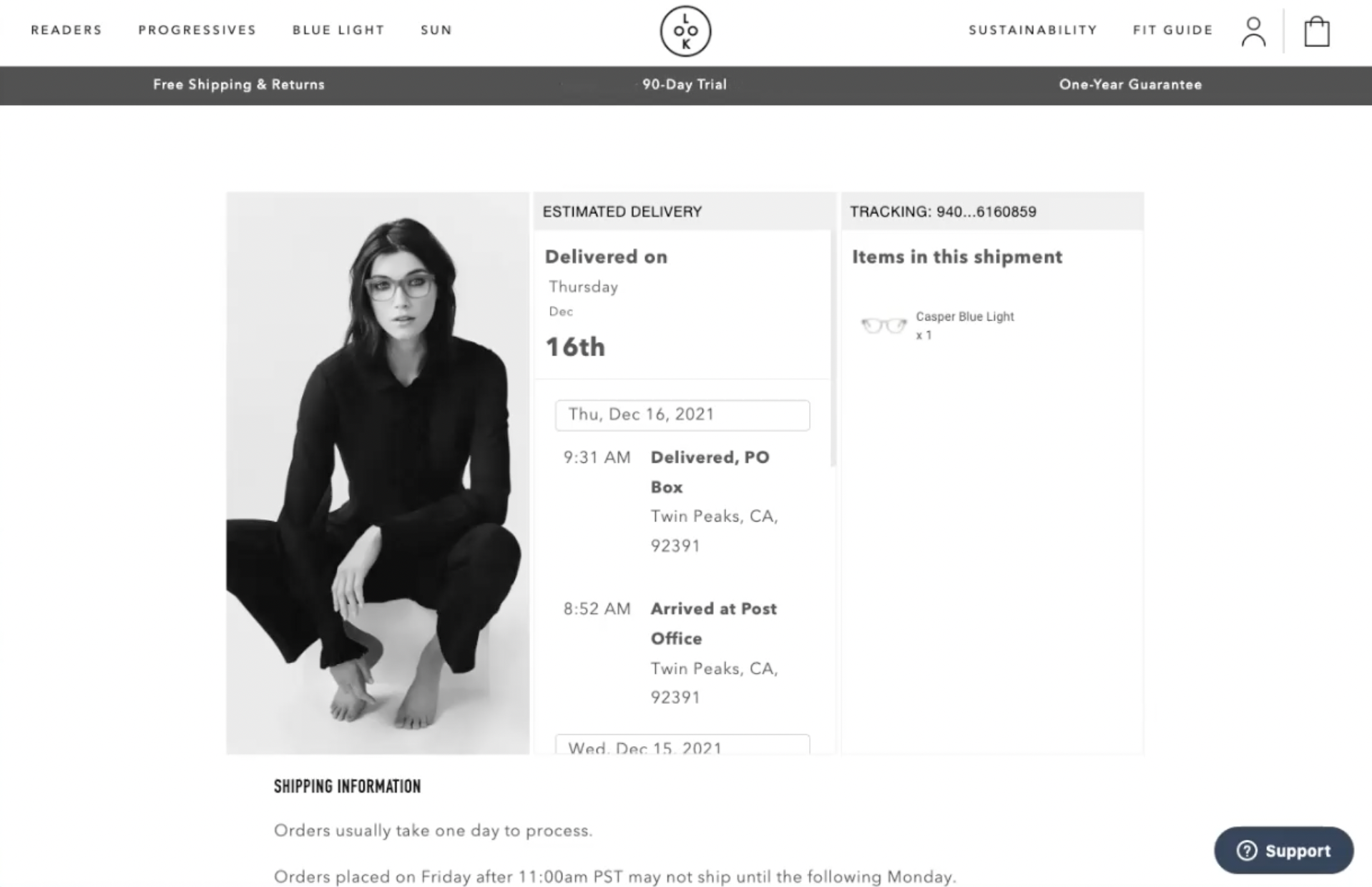 Andrew says, "For us, it was never just about cost, but convenience and the overall customer experience. And we have been really happy with the Wonderment platform and support."

Unlocking the 3PL fulfillment black box
Most 3PLs don't provide information on how many packages arrive on day 1 vs day 4, or what days carriers are working. If a brand doesn't have that window into how quickly orders are being fulfilled, it can't correct fulfillment issues or take proactive measures. Wonderment gives LOOK OPTIC
the visibility it needs
to make strategic decisions.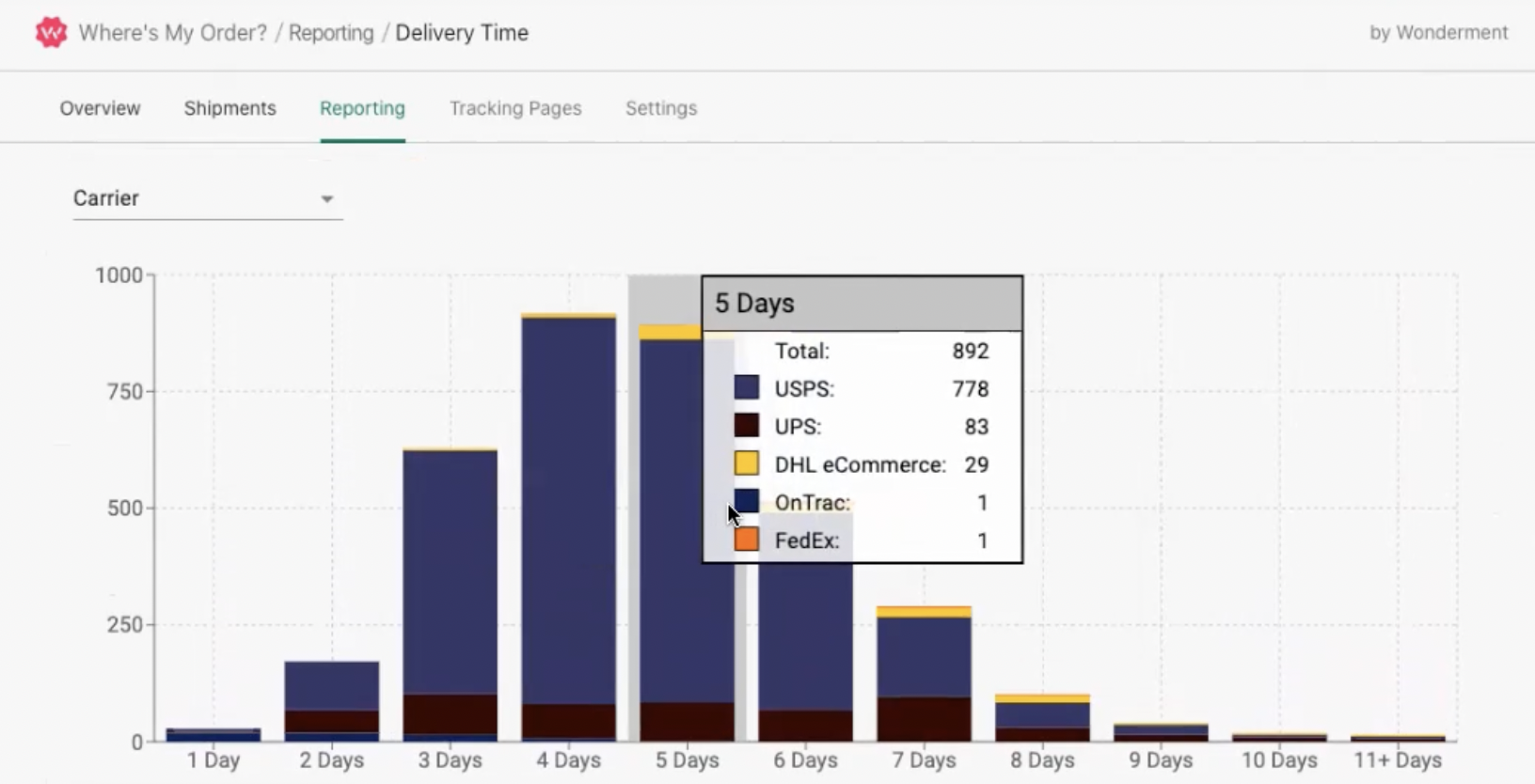 Andrew says, "I come from market research, so reporting is really important for us. Thus, to be able to look at the number of days when things are being delivered and understand how quickly they're being fulfilled is critical to our ability to manage our 3PL and to our overall success. To be honest, when we start getting to 25% in the fifth day, that makes me a little crazy. We have a deal with our 3PL where everything gets fulfilled within one business day."
Knowing that deliveries are missing the mark is the first step to being able to take a corrective action. In fact, Andrew was surprised their 3PL did not provide this as part of their service given the sophistication and commitment to technology of their partner.
LOOK OPTIC x Wonderment x Klaviyo
Aside from keeping tabs on 3PL performance, LOOK also uses Wonderment's fulfillment data to trigger a Klaviyo email if a package isn't scanned in 48 hours, and again at 96 hours.
Andrew knows firsthand that when you're ordering glasses, those first few days are critical – everybody wants to know when their package is going to arrive.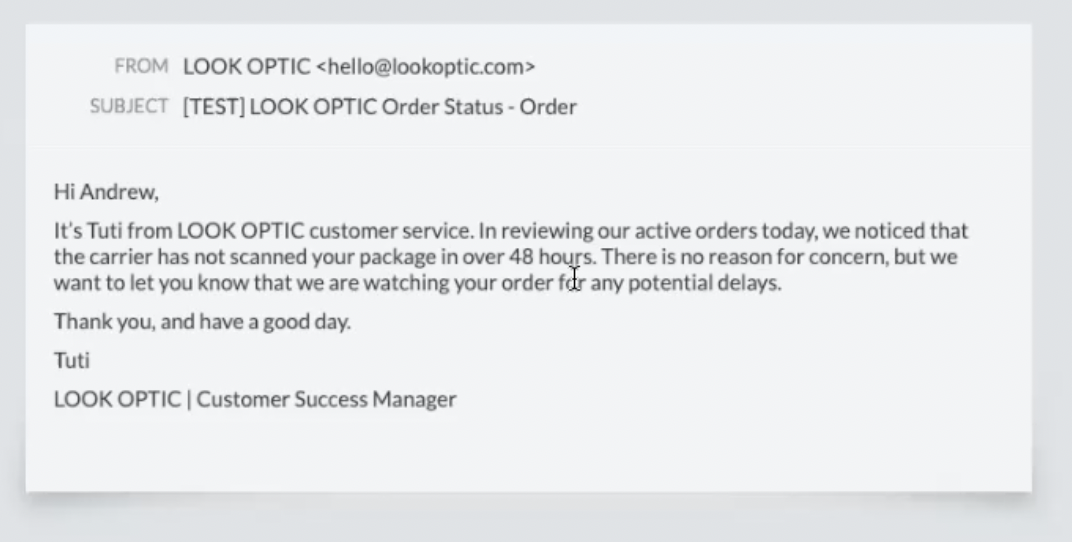 While some brands use delayed delivery notifications to reduce CX ticket volume, LOOK OPTIC uses them to build trust.
Andrew says, "We want to automate information and communications, but when there's a problem, we want to get on the phone or email customers directly and let them know we're there. That's the decision that we made from a cost perspective, because we're a product that people buy again and again. We have a very strong customer LTV. So it's important for us."
These emails let LOOK shoppers know that the brand is watching and cares about their customer experience; that the reliance isn't on them to report a problem or play detective.
The authentic gesture goes a long way towards building long-term relationships. Andrew says that a high percentage of customers actually repurchase in their first week, and that many customers have been shopping with LOOK for five or six years. It sounds like their investment in customer retention is paying off.
"When you look in Okendo, at 'How satisfied are you with your customer service?' we own that - it's like 90%, 100%. We very rarely get shitty reviews about, 'Hey, this thing didn't show up.' As an online company that's focused on reviews, that's really critical for us."
In preparing this overview we asked LOOK OPTIC to provide the top benefits Wonderment had provided over the last twelve months. The following is their response:
Emails from happy customers
Ability to manage our 3PL more effectively (worth the subscription fee alone)
Cost saving plus increased flow revenues
Ease of use and support (the reason we agreed to doing this case study)
---
About Wonderment
Wonderment is the post-purchase experience platform for Shopify stores.
Send proactive communications around shipping and delivery through our email and SMS integrations. Use our branded order tracking page to reduce support tickets and create new revenue opportunities.
Book a demo to see how it works: