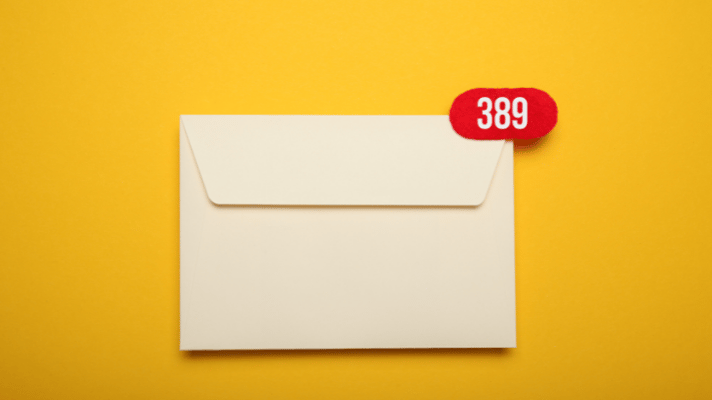 Where's your phone? Within eyesight, I bet.
Can you remember picking it up to re-check something you'd scrolled just a few minutes ago? Any new Instagram updates in the last 10 minutes? ;)
Whether that's healthy or on the verge of an addiction, it's a fact that we're glued to our phones these days.
As a business owner, if you're not thinking of sending SMS to your audience along with email, you're missing out on a chance to connect with your audience where they're hanging out... their email AND SMS inboxes.
I get it though, you don't want to spam people. Just when you got used to sending emails. Now you're told to add SMS on top?!
The key to adding non-spammy value is balancing the two channels and adapting them to your audience. That's what I'm going to help you with today.
I'm Lisa, and I'm an email and SMS marketing expert. With over 7 years of experience working with ecommerce brands, I've learned a thing or two about how to combine your email and SMS strategy together to see the best results.
Today, we're going to dive into the differences between these channels, and when you should be pushing each.
The advantages and disadvantages of email and SMS
Every channel has its pros and cons, and email and SMS are no exception. It's important for you to consider this so you can decide what is best for your customers.
Email advantages
You've probably come across this statistic before: email generates $36 for every $1 spent (a 3,600% ROI). But you don't achieve this success simply by starting to blast a list. The biggest advantage to email marketing is that there's tons of space to get creative with the types of emails you send, the timing, the segmentation, and the content.
With email, you can showcase beautiful designs that capture your customers' attention. Stunning imagery, bold fonts, and branded colors will help drive readers to take action -- even from your transactional emails!
Considering that 99% of consumers check their email every day, this channel gives you a good opportunity to connect with customers in an inexpensive way.
SMS advantages
One of the biggest advantages of SMS is that it's less saturated than email, meaning you have a better chance to grab your customer's attention and get them to click your CTA. In fact, only 39% of businesses use SMS marketing, which is a lot less than the 87% of marketers who use email marketing.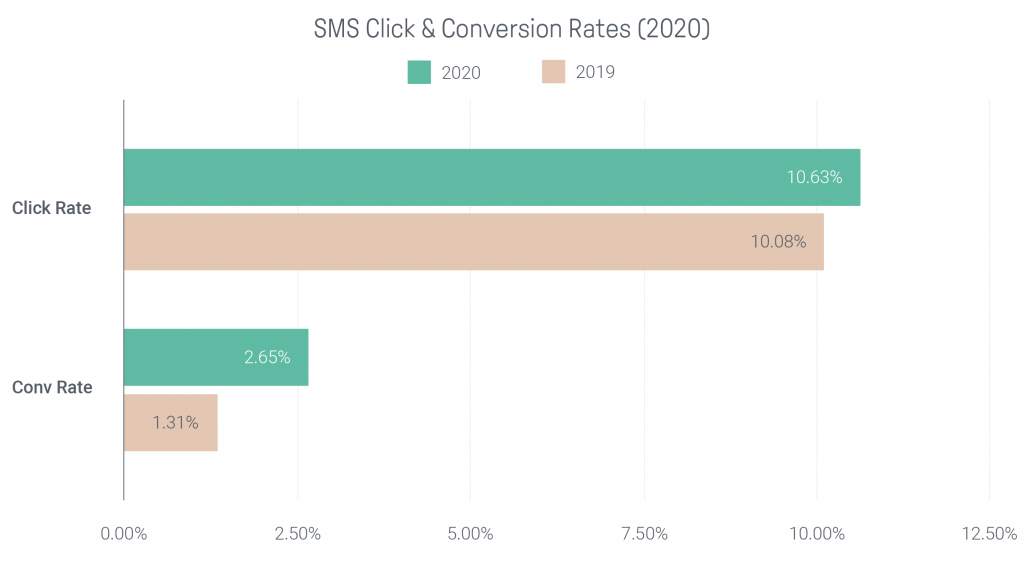 Image source: Omnisend
Also, you can get more personal with customers on SMS because the channel is more intimate and less salesy (if you approach it properly). And keep in mind that the CTR of SMS campaigns is just shy of 11%, according to a 2020 ecommerce statistics report by Omnisend, which is a lot higher than email marketing's average of 2.62% in Mailchimp's email marketing benchmarks report.
Email disadvantages
Every marketer knows just how much competition there is in shoppers' inboxes. These days, most brands are sending emails at various times throughout the week. It's hard to make yours stand out.
For the most part, email deliverability is out of your control. Even if you maintain healthy email list cleaning habits, your emails could be hitting people's spam and promotions tab, and there isn't a lot you can do about it, unfortunately.
For a while, the best way to stand out was to personalize your emails by segmenting customers. But according to Litmus, 60% of retail, ecommerce, and consumer goods and services companies are personalizing emails based on past purchases, versus 38% in 2019.
Personalization is still important, but it's not as unique as it was before. With many companies understanding its importance, you need to think more strategically about how you can personalize your emails to stand out—beyond just inserting the customer's first name.
SMS disadvantages
SMS may have higher open rates, but brands definitely can't get as creative on this channel as they can with email. The content on SMS tends to be a lot shorter—think Twitter's word count, for example. Also, the cost of sending mass SMS campaigns can add up fast, making it harder to reach a positive ROI.
If you write a text that's too long, customers tend to not want to engage with it. And, unlike email, you can't craft beautifully designed campaigns to help you stand out.
Since SMS is a more intimate channel, the wrong message at the wrong time will feel disruptive to customers. This can harm your brand ethos and lead users to unsubscribe. (However, if SMS marketing is done well, brands can benefit from a low unsubscribe rate of less than 5% on average).
Content types and when to use each channel
Now that you understand what advantages and disadvantages there are with each platform, let's see when you should be using each channel. Starting with email marketing, here's when we prioritize sending an email versus a text message.
When to use email marketing
Generally speaking, email is a great channel for lifecycle marketing. You should use emails when you need to
Nurture new email subscribers
Educate shoppers on your products or brand
Send timely campaigns (like

Black Friday emails

) and newsletters
Emails are great for including a few secondary messages to support the main call-to-action. For example, you can highlight your social channels, share reviews, remind customers about free shipping, and more.
In other words, you can build a comprehensive and convincing story in one email.
On top of that, your brand can really shine through via beautifully designed emails. You can use your emails to show off fun branding, share inspiring lifestyle content, elevate certain products and messaging, and engage customers in a more visual way than through SMS.
For example, check out this email from Green Philosophy, which uses memes and a fun, beautiful design to teach customers how to properly clean the pillows they sell. Then they drive customers to their social media by asking them to share pics of their fur babies.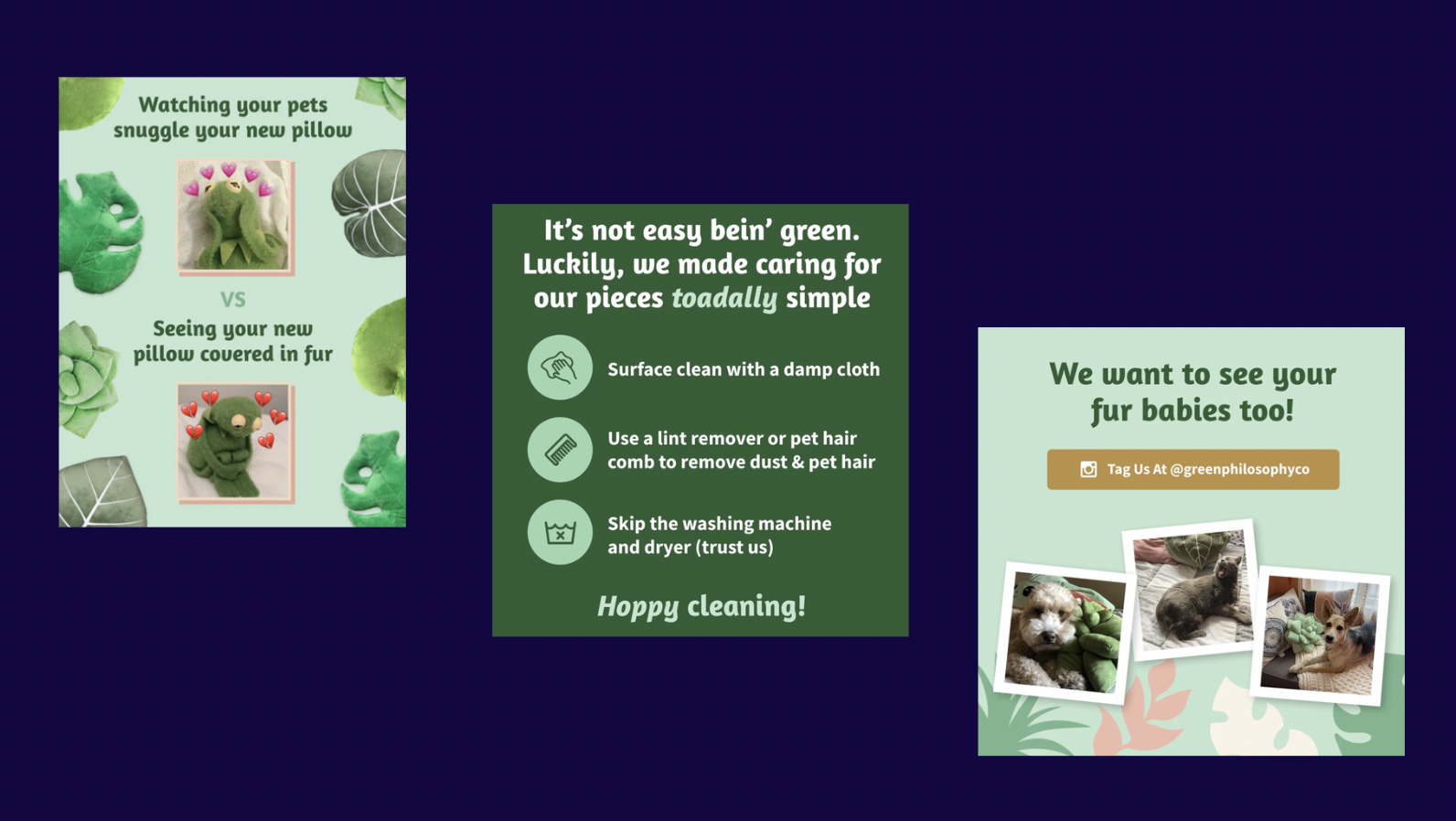 You can't create this kind of content with SMS, but there are other opportunities for this channel. Let's dive in.
When to use SMS marketing
When sending an SMS campaign, you should only share one message and CTA. Including multiple ideas would be overwhelming, wouldn't be a pleasant experience, and would cost you a fortune.
Moreover, SMS is an intimate channel. Subscribers are more likely to unsubscribe if you send too frequently and don't tailor your content well to keep it relevant. That being said, when used properly, you'll see high open rates and click-through rates—all of which lead to loyal customers who make more purchases.
Generally, SMS is a good channel for these types of messages:
Helpful updates about their order
High-value sales or events and time-sensitive announcements
Personal messages from the founder or brand
Highly entertaining quick notes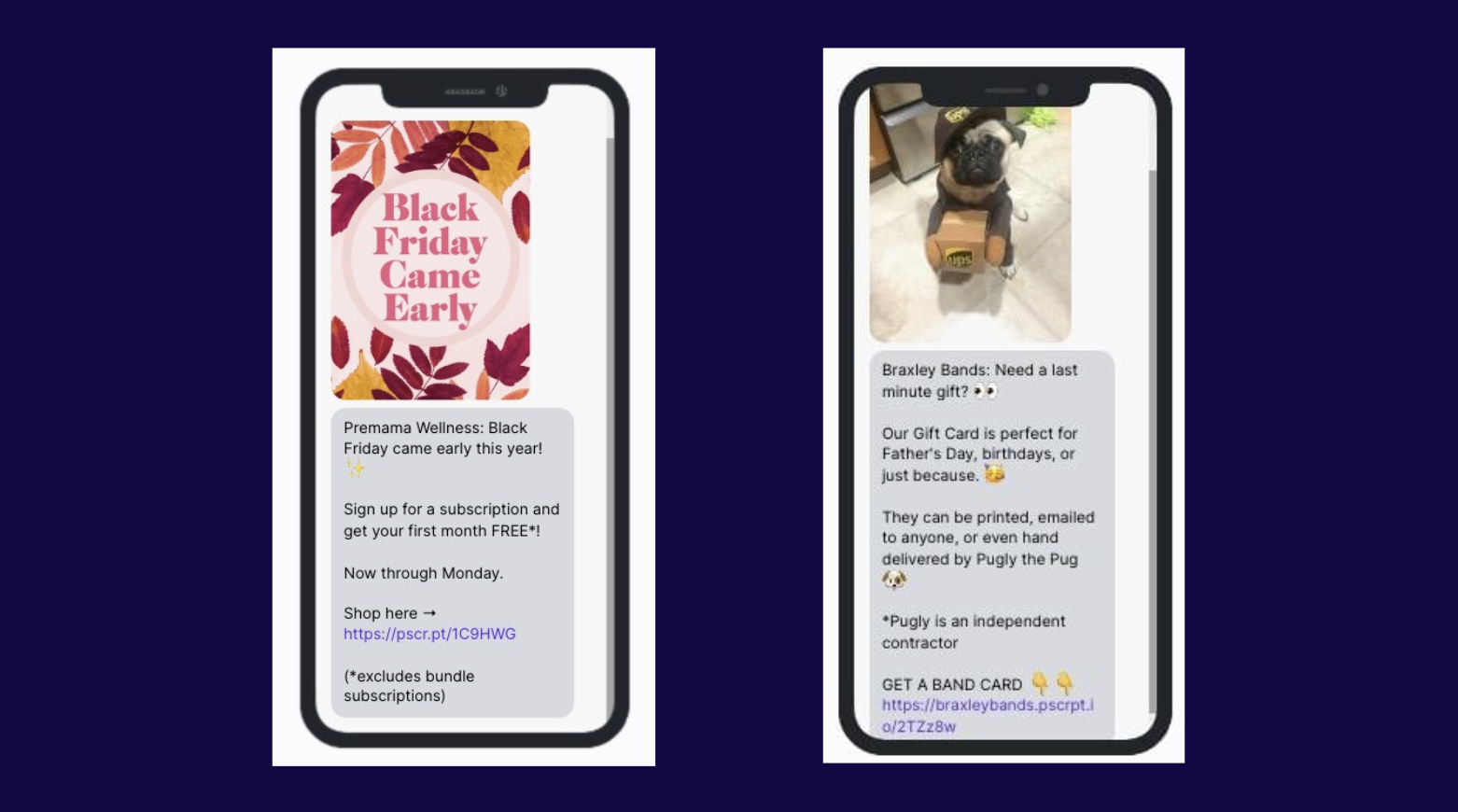 While certain messages work better on different channels, our recommendation at Fuel Made is to use a combination of both email and SMS.
The best approach: balancing email and SMS together
Each customer has different communication preferences—that's why you should give them the option for both email and SMS.
Also, when used in tandem, these channels support each other to make sure customers never miss an important message. For example, a customer may read your email but not be ready to take action. If you hit them up later with an SMS reminder, they may be ready to make their move.
In case you don't believe me, let's look at BK Beauty's successful welcome flow…
We have been working with BK beauty for a few months. Once we had their email and SMS strategy ready to go, we started by setting up lead capture systems to grow their email and SMS list. Customers who sign up for only email receive a welcome flow of six emails. Customers who sign up for email and SMS receive a welcome flow that includes six emails and three texts in total.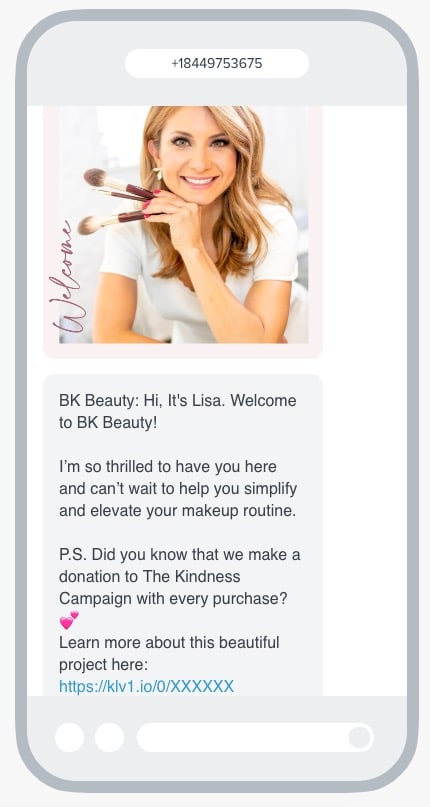 The results between the two welcome flows are fascinating. Even though there are fewer customers who sign up for both channels, those who do have a 20% conversion rate compared to the 14% conversion rate from customers who only sign up for emails.
When using both email and SMS in the same experience (ie. welcome, abandoned cart emails, etc.), you'll want to make sure they support each other logically rather than mindlessly repeating the same message at the same time.
Using Klaviyo for both email and SMS means you can use filters and branches to only send SMS if the subscriber didn't take action from the email. This will save you a lot of credits! You can also experiment with sending SMS first to see how your audience responds.
Essentially, if you have customers who have opted into both channels, you need to consider how you're going to balance your messages, which leads me to our next section.
How to balance content for both channels
New to using SMS?
If you want to test the waters, start by sending transactional messages only. These add a lot of value right away to convince your subscriber to stay. Also, it gives you a chance to see how customers respond to your SMS messages before you start sending them campaigns.
Then start introducing other types of flows, including abandoned cart messages, welcome discounts, product education…
Finally, you can start forming your campaign strategy. Do you want to send flash sales only? Or could you create a texting persona to drop more entertaining messages here and there? Should your Founder use SMS for some thought-leadership or community building?
Here's another example: In our ecommerce inspiration ebook, Klaviyo talks about Shoe Sensation's abandoned cart flow. By sending abandoned cart updates to customers on email and SMS, the brand drives 5 digits of revenue every month. Additionally, it says brands see an average 37% lift in revenue when combining SMS with their email abandoned cart flow.
Key takeaway: You shouldn't send an email and SMS message with the exact same content at the exact same time. The key is to have both strategies speak to each other. Start with an email, and then a day later you can try to reach the customer via SMS. Or vice versa. People respond to different kinds of messages, so if you give them more opportunities to access your content between platforms you'll see better results.
Who wins? It depends
Many brands see a lift in conversions when combining email with SMS, but that doesn't mean this strategy is right for you. Run some tests before you double down on SMS to see if it's even a channel your customers are interested in.
Not sure where to start? We know some cool people who can help. Wink, wink.
Fuel Made is a Shopify and Klaviyo agency, and we specialize in full-service email and SMS marketing. As a Wonderment customer, we're offering you a free income projection report. Book a consultation with one of our experts and we'll put one together to establish if email and SMS marketing is right for you at this stage of your business.
---

Guest Author: Lisa Oberst
Lisa Oberst is an email marketing expert, specializing in ecommerce and Klaviyo. She's a lover of travel and languages and currently practices acrobatic yoga and dancing in her spare time.