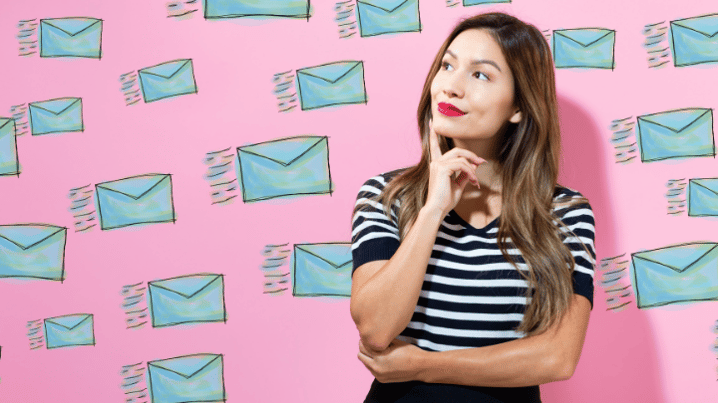 (Quick disclaimer: the majority of Shopify-based businesses use Klaviyo as their email marketing tool of choice and SMS, too. The tips in this article are written with Klaviyo in mind, but in theory are applicable across many platforms).
We just passed the one year anniversary of the implementation of iOS 14.5. For digital marketers, the impact that Apple's updates have had on advertising performance have been the hot topic of conversation over the past year.
While the recommendations for having success post-iOS 14.5 with customer acquisition via paid advertising (which is still attainable by the way) is a conversation for another day, that monumental shift in advertising performance last year and the ripple effects that have preceded it have been a clear reminder that email and SMS need to remain a core part of any marketing strategy.
Owned marketing channels to the rescue
Email and SMS are "owned marketing" channels, meaning you own the data. When you have Customer-First Data, there is no need to continue renting the attention of potential buyers in their news feeds; you can reach users directly in their email and text message inboxes. However, if you don't segment your messages, you run two risks - one more technical and one more practical.
On the technical side, campaigns and flow emails that have high open rates, click rates and response rates increase the likelihood that email service providers (e.g. Outlook, Gmail, Yahoo!, etc.) will deliver a message to a user's inbox. A lack of

email deliverability

and poor domain health could mean not being able to reach users, even those that are likely to engage with a message.


On the more practical side, segmentation is about putting content in front of users that will find what a brand is selling (whether a product for purchase or a key message) relevant. It becomes much easier for a subscriber to perform the dreaded unsubscribe if they consistently receive content they are not interested in.
Expanding on the importance of customer data
The more information you have from a customer (or potential customer), the deeper the segment that you can create and the better you can tailor content within a message to an individual user.
First-party data
There is the first-party data that is collected in Klaviyo via the Shopify integration. This would be information related to a user's transaction history (products purchased, lifetime value, etc.) or actions that users have taken (on-site activity, email opens, email/SMS clicks, etc.).
Zero-party data
Take things a step further by collecting zero-party data: information that users proactively share. A great way to do this is by implementing forms or quiz tools that prompt users to answer questions about their preferences and other contextual information that may be relevant for a particular brand or product. Tools like Octane AI for quizzes and Kno Commerce or Fairing for post-purchase integrate seamlessly with Klaviyo to bring key insights about customers directly onto user profiles for the purpose of segmentation and content personalization.
Segmentation is key to the success of any owned marketing program
A misstep that brands consistently make is sending both manual campaigns and automated flow messages with their email and SMS to groups of users that are too wide.
Never just "batch and blast" a message to an entire list of opted-in users. Instead, target users for a campaign or set conditions for certain recipients who are likely to engage with that message. Rely on Klaviyo's capabilities for segmentation by purchase history, previous engagement with email, when a user joined a list, etc.
In the example below, MoviePosters.com serves a Winback flow based on collection information from a user's previous purchase. This way they can tailor content in a message to Star Wars lovers, or someone that likes any other actor, franchise, genre or show.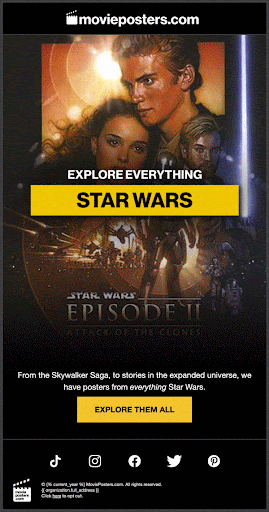 The below email campaign from Promix Nutrition highlights the return of a best-selling product along with the release of a new flavor. It was sent to an engaged group of potential buyers by specifically targeting users that had previously purchased the product, only users that have clicked on or opened an email in a recent time period, and users that had recently joined the list.
The result: One of the highest-performing campaigns in the last several months without sending it to nearly half of the opted-in list.

How to target engaged groups of users using Klaviyo segmentation
Here are a few key Klaviyo segment setups that can be used as starting points for targeting engaged groups of users:
Clicked an email at least once in the last 60 days.


Placed an order at least once in the last 90 days.

These are just a few of the literally thousands of different ways that customers and potential customers could be segmented for an email or SMS campaign.
Final tips
Exclusions can be just as impactful as inclusions…
Just as focusing on who receives a message is important, it's also important to keep in mind who should not receive a message, too. For example:
You may want to send a campaign to users that have previously purchased, but not in the last 30 days

Or, send a restock campaign to users that have previously purchased an item, but exclude those that have an active monthly subscription for it.
Maybe you have a new product launching, but you exclude users that have an unfulfilled order from receiving the announcement message.
… But, sometimes more is more
Sending transactional messaging that serves content relevant to users that have placed an order can mean less support tickets, a better user experience and upsell opportunities. Here are some great examples. Think about:
Order status notifications
Shipment delay notifications
Deliver updates, etc.
Now more than ever before, brands need to focus on developing content and a cadence for messaging for their owned marketing efforts in a way that adds value to their customer base because it can have a direct, massive impact on growing a significant revenue channel.
---

Guest Author: Ben Zettler
Ben Zettler is a digital marketing and ecommerce expert who leads a team of specialists focused on accelerating the growth of online sales for ecommerce brands. As a top-rated Shopify Plus Consulting Partner, Klaviyo Elite Partner and Facebook Business Preferred Partner, Ben Zettler Digital's core services cover website optimization, email/SMS marketing, paid advertising management and organic social, supporting hundreds of online businesses, including Netflix, Unilever, Marchesa, Bleacher Report, Mariano Rivera and Promix Nutrition.