You know how they say to meet people where they are? Like how Facebook and Instagram ads are so popular because people already spend two and a half hours on social media every day?
Those two and a half hours are part of the greater 5+ hours that the average person spends on their phone daily, making the phone an opportune spot to connect with retail customers.
Recently, I had a futuristic shopping experience at Reformation's brick and mortar store in Boston. I love their brand and have been wanting to pull the trigger on a dress, but kept hesitating.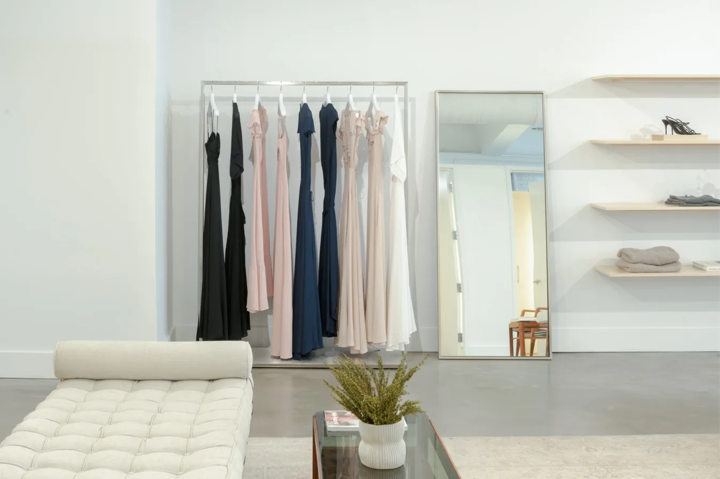 Source: Reformation
The new storefront has samples of each item on the rack, and has large, touch screen monitors on the walls. Once you've decided you're ready to try on, you choose the items from the digital catalog and fill your cart in whatever size(s) you'd like, then "check out" prompting an associate to fill a changing room for you. Then, while in the room, there's a smaller touch screen monitor where you can add additional items to try on.
When I went back on the website after still not quite deciding on my purchase, I was browsing, and saw the option to SMS their team with any questions.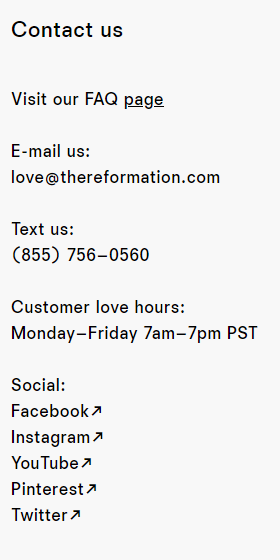 Source: Reformation
The whole experience felt very attuned to a modern shopper (like me!) And I ended up ordering online later that day, feeling confident in my size and knowing I could communicate with their team via text.
Retailers have learned that using SMS as a marketing and customer communication tool leads to higher engagement with a mobile-obsessed consumer base.
Why are retailers using SMS in marketing?
SMS is a way to communicate with customers in a more approachable, convenient way that they want.
With platforms like Postscript enabling retailers to send bulk texts to consumers as well as individualized messages, retailers are seeing incredible results and developing relationships with customers.
Texts can serve as reminders for busy shoppers, particularly for subscription brands, as an opportunity to upsell or cross-sell, and as a way to attract customers to the online shop or mobile app with new item notifications.
Why Using SMS for Retail Marketing Works
54% of shoppers want companies to send them text messages. So, companies are responding by using SMS retail marketing as a newer strategy that can serve alongside email marketing or as an alternative for audiences who prefer mobile messaging or SMS shopping to email or browser-based shopping.
Mobile retail ecommerce grew from being a $156B industry in 2017 to more than doubling in 2020, surpassing $330B. Projections predict mobile ecommerce or m-commerce will make up almost half of the ecommerce market by 2024 and hit $488B by then.
Since people are shopping on their phones, it makes sense to shift retail marketing to mobile as well. After all, you wouldn't call someone to tell them about a sale anymore, would you? As consumer behavior and expectations change, so too do marketing strategies. We've got to roll with the trends and meet customers where they are or they'll be on to the next, trendier brand.
Now that you're sold on why SMS for retail stores is a smart marketing strategy, let's review a few of the ways that you can use text messaging to connect with your customers and get those great products out there!
9 Ways to use SMS in Retail Marketing
SMS messages can be used to connect with customers at lots of different stages in their retail customer journey, whether you're using Shopify or another platform for your order processing.
When crafting SMS messages for retail customers, use these great SMS marketing examples as inspiration.
Let's take a look at some ways to use SMS for retail marketing.
1. Sales/promotions
Offer a text message signup as an incentive for sales or promotions. Best practice is to include a clear opt-out and use SMS messaging in a targeted way, not overloading your audience.
Here, Aerie offers web browsers the option to sign up for texts, then has customized copy for their Aerie versus the American Eagle brand. As a tip, use friendly, conversational language in SMS marketing. Texts are an inherently casual medium and can reflect your brand personality as creatively as your team can write.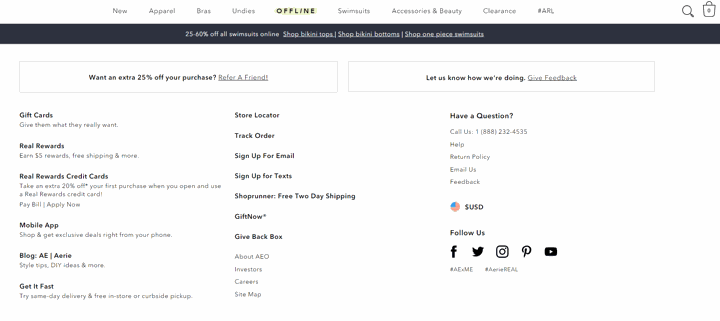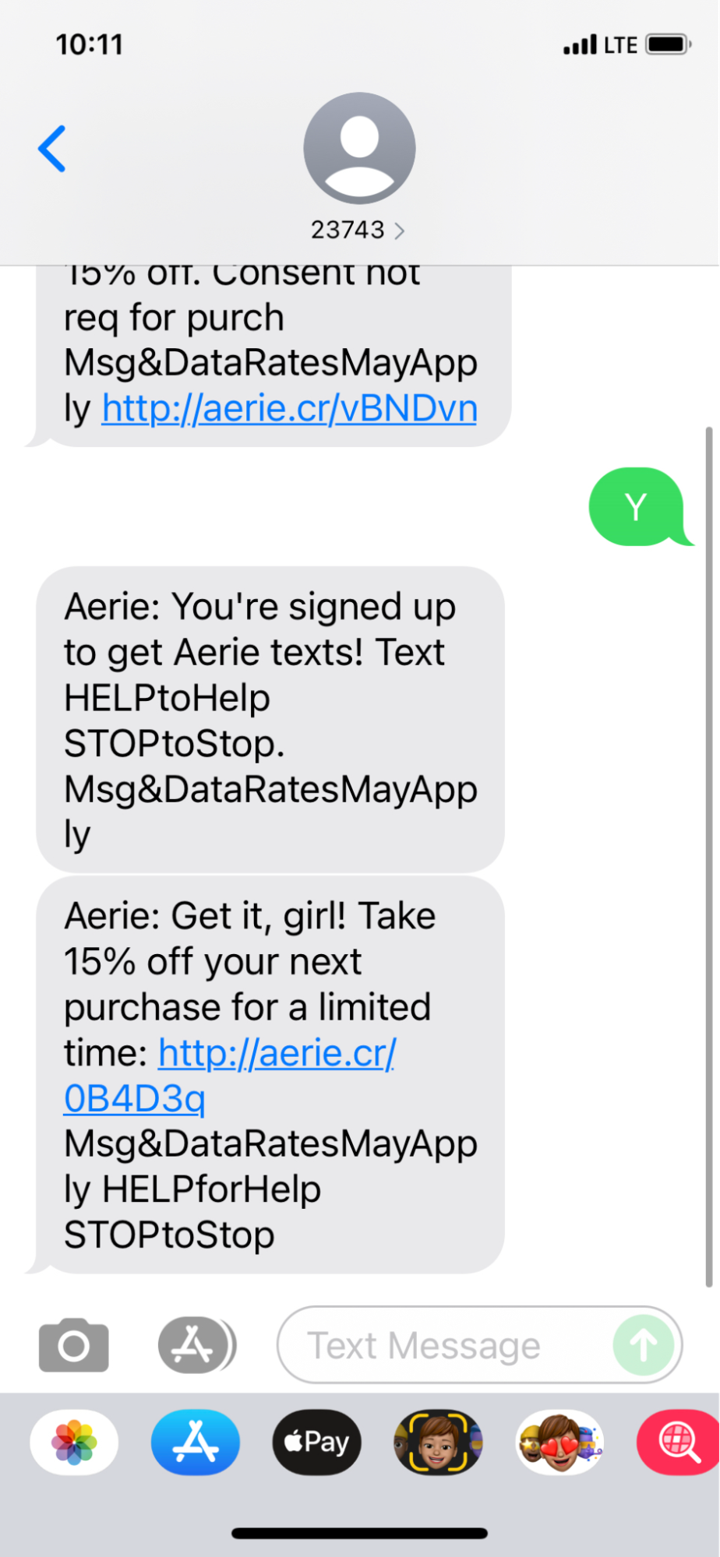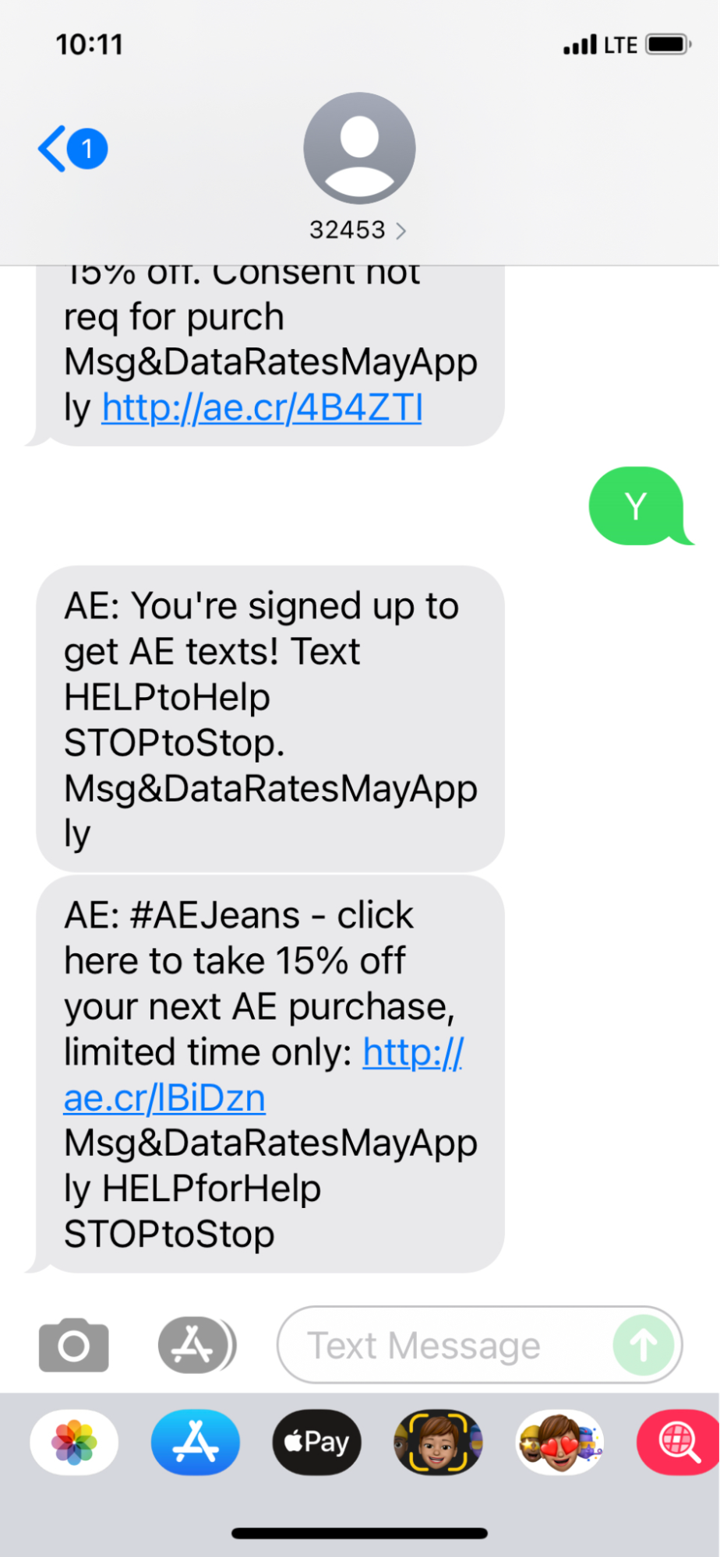 Source. Aerie
2. New items/shipments
SMS messages are received on the go, so they are a great way to alert your customers of timely updates. For stores like Gymboree, when a new shipment arrives, it may not last long, so customers can join a text list to be updated of new collections or products. For busy parents, this is an easy way to be reminded to order right when it drops so they don't face the dreaded "out of stock" or "on backorder" notification on their kid's favorite clothes.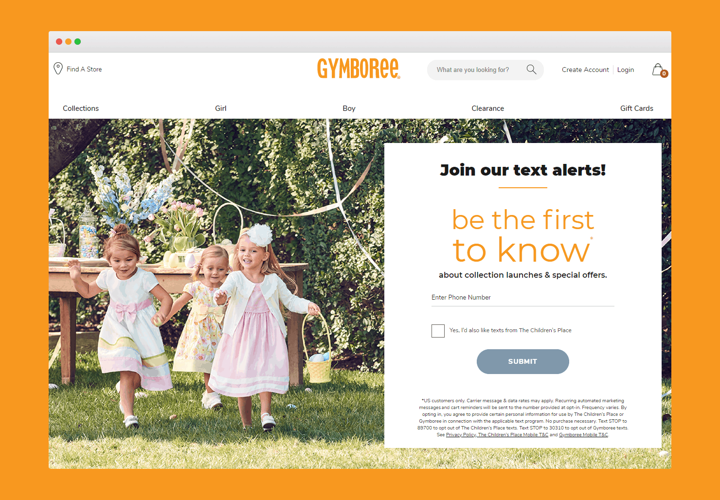 Source: Tatango
3. Abandoned cart recovery
When you collect your customer's phone number, it gives you another opportunity to remind them of the product they left behind and gives you a chance to provide a discount or incentive to complete their purchase.
4. Loyalty program
Invite customers to join an SMS-based loyalty program, like the one from Farm Rio here. Farm Rio uses colorful imagery, exclusivity by calling it a VIP program, and a welcome promotion with a shopping link right in the text.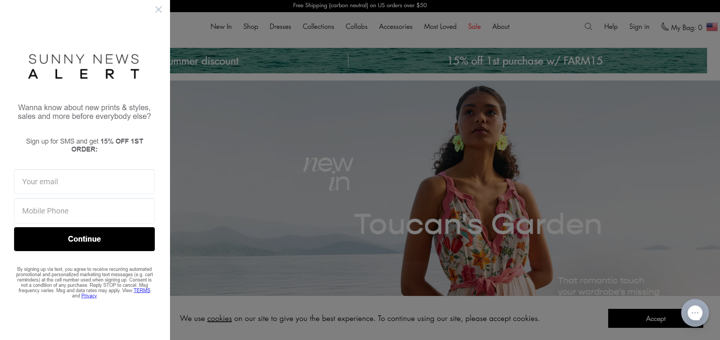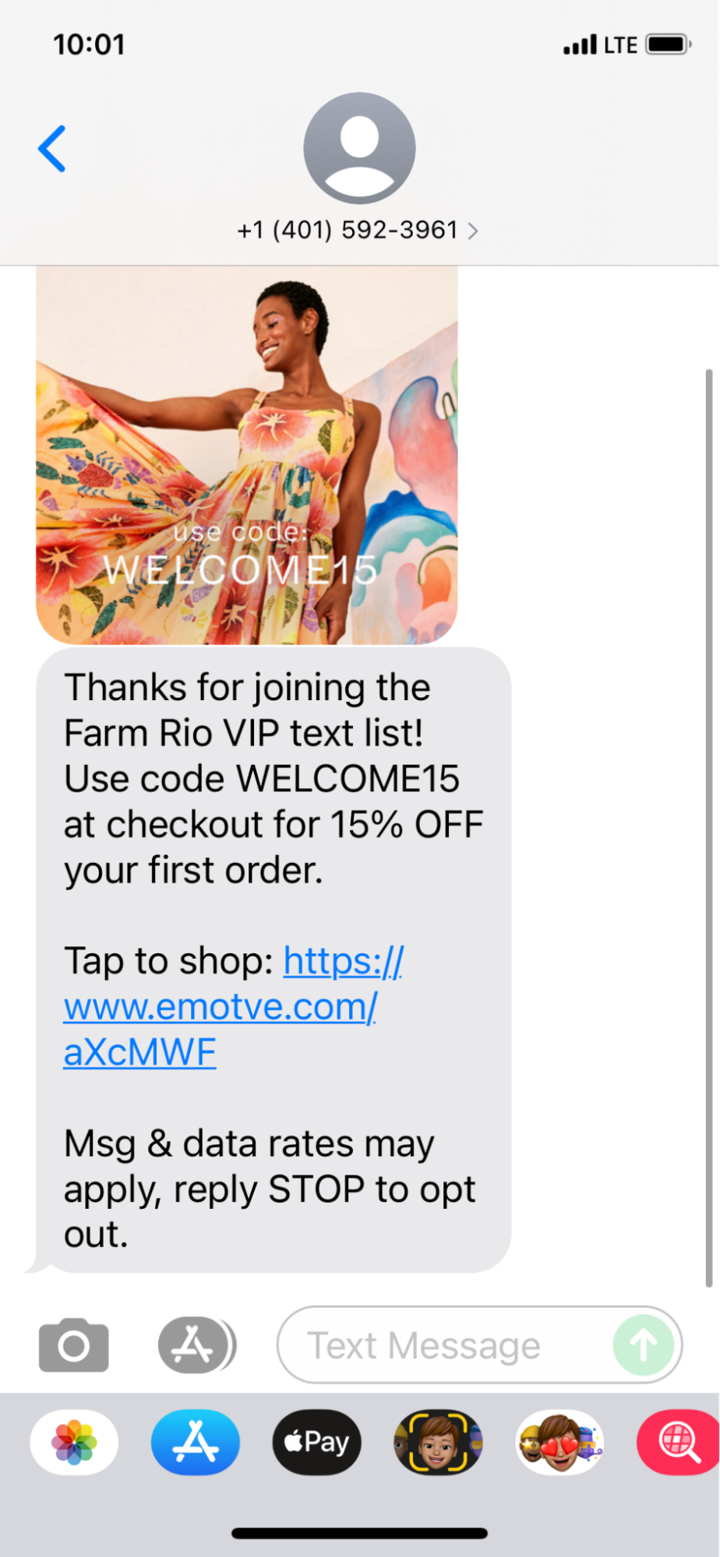 Source: farmrio.com
5. Referral program
Retailers can build out a referral program using SMS messages. Supply your customers with tracked SMS messages to send to friends and family that benefits both recipients, like this example from GoPuff.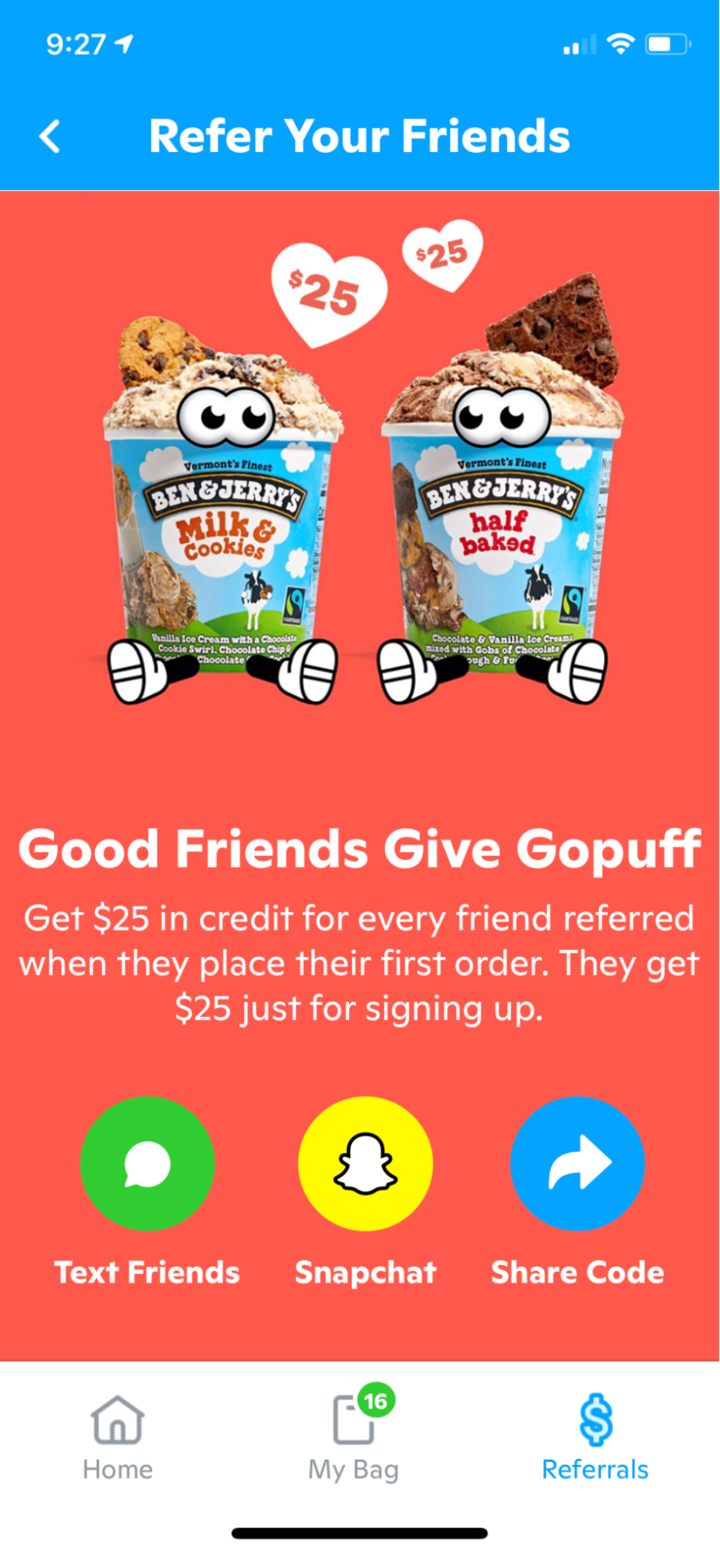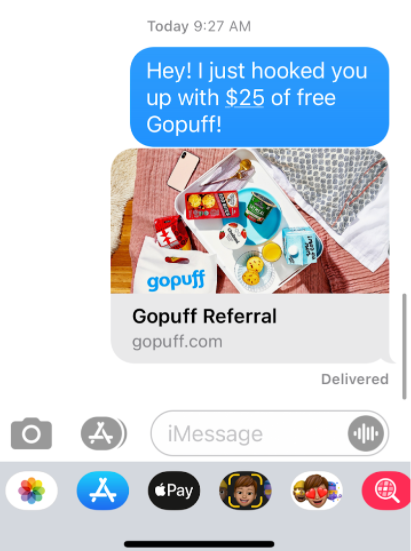 6. Subscription reminders
Research shows that customers become steadfast brand loyalists when companies take the steps necessary to reduce effort on the customer side. For subscription brands, this is key. When your customers forget that they have a box coming then receive it full of items they don't want, they're likely to cancel. But when you send helpful reminders and make skipping easy, you'll reduce subscription churn and keep customers for longer.
Here, Grove allows customers to opt-in to the SMS subscription reminders, then provides a helpful link for customers to make updates to the cart on the go. This month, I realized I was going to be away so I skipped this box and rescheduled for the week I return from vacation. The next box will be a welcome arrival when I come home to a house with no cleaning products! (But I would have been peeved if I got a big box this week as I am packing and prepping to leave.)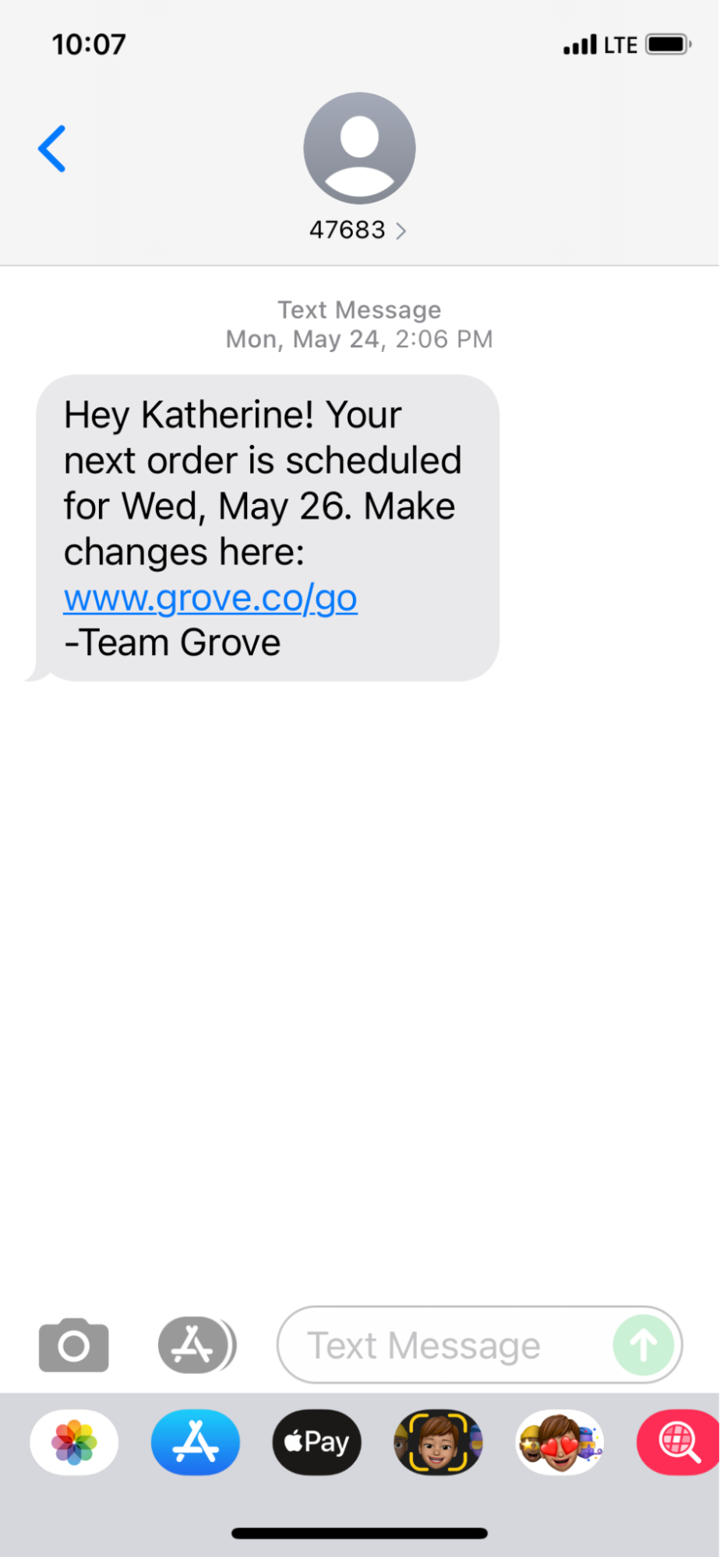 Source: Grove
7. Receipts
Mobile receipts are helpful for your customers in a few ways.
Mobile receipts help customers during the return process to easily locate and access their past receipts.

Mobile receipts help customers find receipts for expense reports related to purchases made for business reasons.

Customers can use mobile receipts to quickly find past items and sizes when shopping with your brand again.
In addition to these reasons, mobile receipts provide a space for brands to offer additional discounts, start a conversation with customers, and request feedback.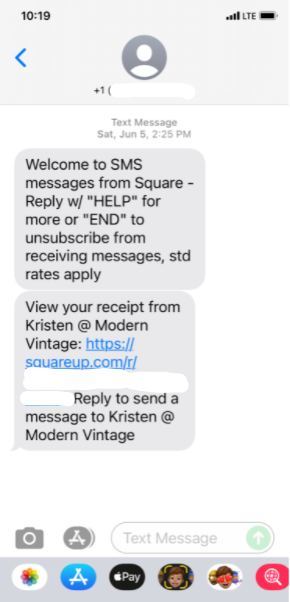 Source: Modern Vintage
8. Order tracking + updates
Although order tracking and shipping updates are fairly transactional messages, using SMS for order updates is both helpful to your customer and an opportunity to include some marketing, get feedback, and communicate with your shopper.
In this example, Drizly, who partnered with BevMo, uses SMS messages to update the recipient along the way with delivery tracking. For delivery services, this is extra important since customers often need to be home to receive deliveries, whether they are perishable, require an ID, or are valuable. Some customers may want the ability to track packages because they live in an area where packages get swiped if left for a long time, or because they are eagerly awaiting medication, clothing for an event, materials for their business, or other urgent items.
After an order has been delivered, this is a good time to ask for a product or service review, when it's fresh in your customer's mind.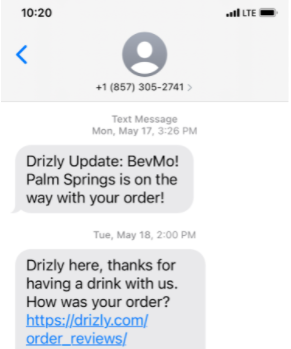 Try using the Wonderment app with Postscript to automate order tracking notifications using SMS messages to improve customer engagement.
9. Customer support
Offering customer support via text can be really helpful for customers. If you are working in a job where you can't spend hours on the phone waiting for support, having texting as an option can make a brand your favorite instantly. As someone who works part time in a hospital where I don't have time to contact support, a texting conversation with a support representative is the perfect way to get more information without interrupting my work day.
Using these strategies and creative brand examples of using SMS for retail marketing, you can begin connecting with your customers in a more meaningful way (with major business benefits.) Mobile marketing is the future for today's consumers, and people are only becoming more reliant on their phones (are computers going to be no more in the next few decades??)
Ready to get started? See how Wonderment + Postscript can power your retail SMS strategy.