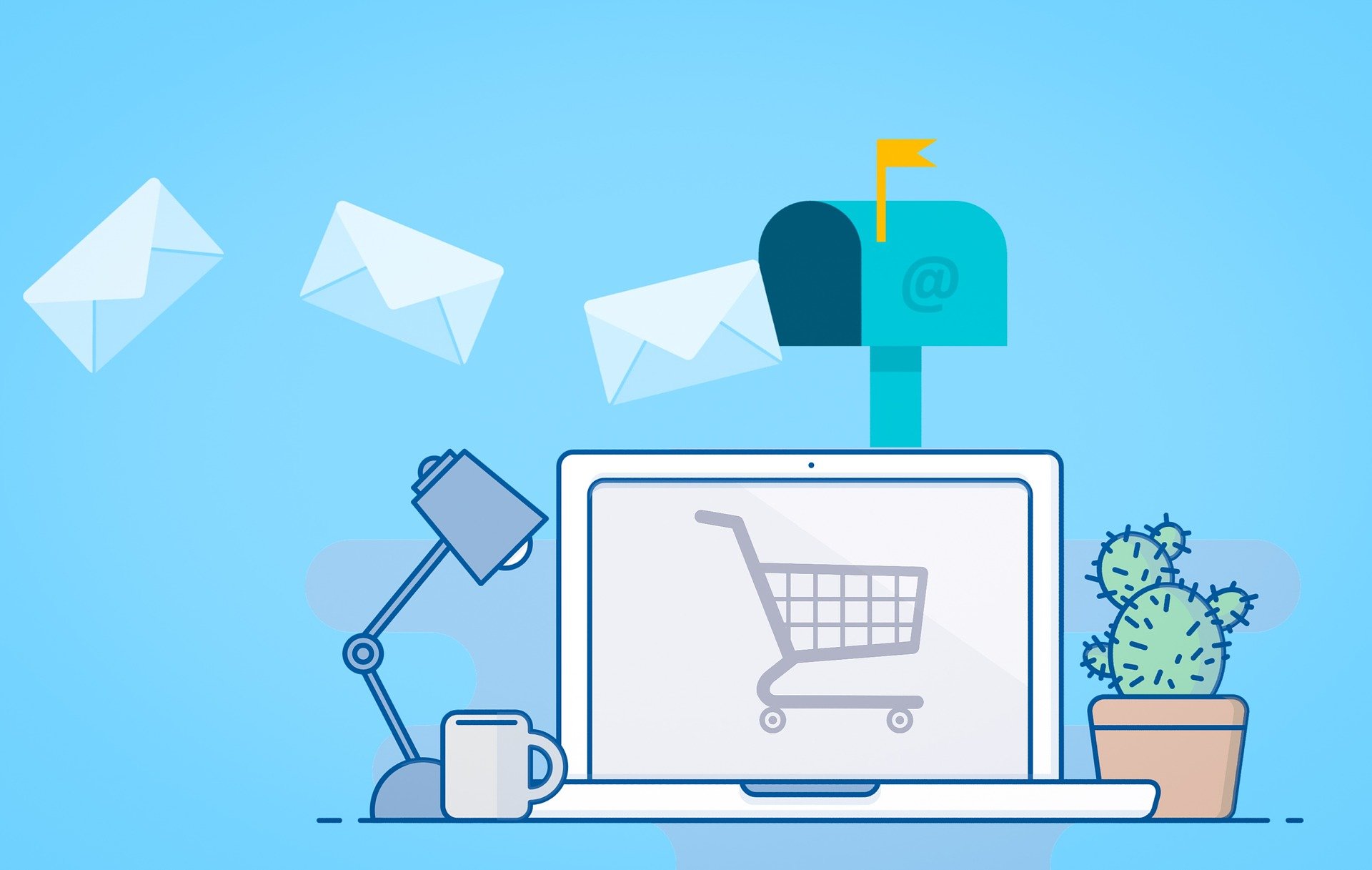 Remember the last time you saw a beautifully branded order confirmation email? I don't know about you but I haven't in a very long time.
But here's the catch: Most transactional emails (such as the Order and Shipping Confirmation emails) can have open rates upwards of 80%. Moreover, 64% of the customers find order confirmation emails as the most valuable.
So, if I was trying to improve my store's customer experience, I'd certainly try to capitalize on transactional emails as much as I can.
The story doesn't end there. In fact, you can delight your customers on multiple occasions. The "out of delivery" and "delivered" emails can also be considered opportunities for upselling and to provide a better experience in general.
However, the standard emails that Shopify sends out look like they were made in the '90s (a glorious decade nonetheless).
So, why compromise when there's a way to disable those standard emails and send better, on-brand emails with the help of Klaviyo & Wonderment?
For example, your "Order is on the way" email could look like the ones sent out by Schoolyard Snacks. Take a look:

Steps to Replace Shopify's Transactional Emails with Klaviyo
Before I dive into this, I want to add a disclaimer: there's nothing wrong with Shopify's standard shipping notification emails in a technical manner.
However, to get the most out of these highly engaging emails, consider upgrading to a better experience – both for yourself and your customers, by moving these emails over to Klaviyo.
3 Reasons to Use Klaviyo for Your Store's Transactional Email instead of Shopify:
One central view of all your customer communication.

When customer emails are sent from multiple systems that don't talk to each other, you have an incomplete picture of what the customer is receiving and when.

Better data and analytics on transactional email performance

, from click rates all the way to revenue generated from those emails and flows. Without good data, optimizing these emails would be challenging.

Fully branded and customizable

. Shopify's email templates are rather limited. With Klaviyo, you can create fully-branded email templates that don't look so transactional and instead, match your branding.
Part 1: How to move Shopify's Order Confirmation or Shipment Confirmation Emails into Klaviyo
A couple of FYIs & how to disable the order confirmation email (the email that's sent as soon as an order is placed), as well as the shipment confirmation (which automatically notifies your customers when a tracking number is assigned to the fulfillment record).
First of all, if you're

not

a Shopify Plus merchant, you, unfortunately, can't disable Order Confirmation or Shipment Confirmation emails from Shopify. This is a feature they reserve only for Plus merchants.

If you're on Shopify Plus, you

need

to contact Shopify support (or your dedicated account manager) and ask them to disable these emails for your store. Because of how critical this email is in nature, it's no surprise Shopify doesn't enable an on/off switch for this at the "Settings" level. Accidently turning this off without a proper replacement can be disastrous. Make sure you have your replacement ready to go in Klaviyo before you reach out to Shopify.
Part 2: How to Disable Shopify's Out for Delivery and Delivered Emails
Here's how you can do it:
In Shopify, go to Settings > Notifications

Scroll down until you see the

Shipping

section and uncheck the bottom two checkboxes for Out for Delivery and Delivered.

Uncheck the checkboxes next to the emails you'd like to turn off.
P.S.: Only uncheck these boxes if you plan to send Out for Delivery and Delivered emails via Klaviyo instead of Shopify.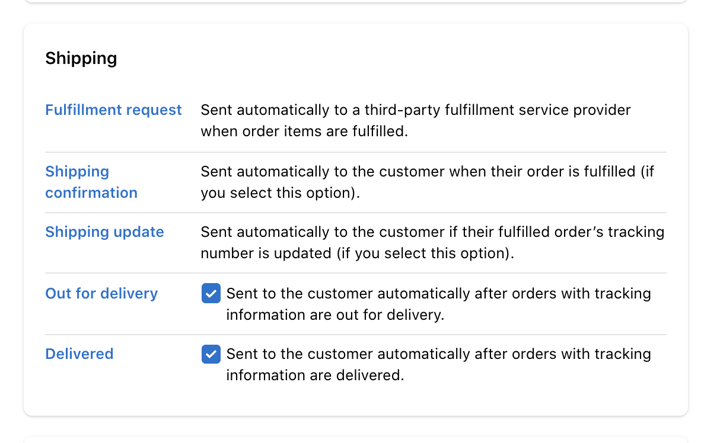 Part 3: Turn off the "Track with Shop" Button on the Order Confirmation
FYI: The Shop App by Shopify is a great benefit for customers who wish to track all their orders in one mobile app.
However, if you intend to send shipping notifications via your own email or SMS, you may want to disable the Shop feature (note: if a customer already has the Shop app installed, they may still receive push notifications on their order).
Shopify leaves this set to ON as a default setting.
To disable it, here's what you need to do:
Go to Settings > Checkout

Under Customer Contact, uncheck the box next to "Customers can download the Shop App from their order status page"

And you're set. Now, the other part.
How to Send Transactional Shipping Emails with Klaviyo & Wonderment
Reiterating my previous point, if you can deliver a stellar experience through your transactional emails, I can almost guarantee that your customer satisfaction score will go up.
Before you do this, you need to install Wonderment in your store. Since we deeply integrate Klaviyo, you should be able to create these transactional emails right off the bat. Our platform will be sending shipping data to Klaviyo which will trigger the order confirmation email flow.
Part 1: Sending "Shipment Confirmation" Emails via Klaviyo
Alright, here's the flow:
Create a new flow & set the trigger "Wonderment - Shipment Confirmed"

Add an email action and customize the email as you want.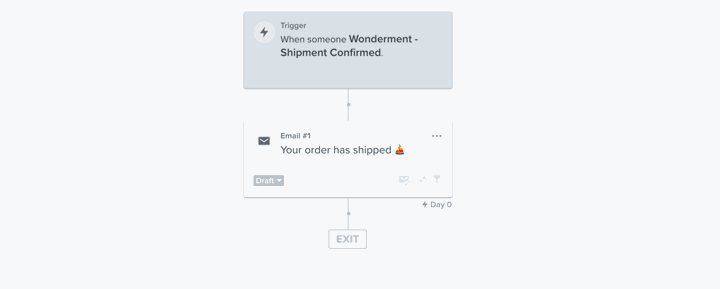 Note: Don't make the email overly promotional. Otherwise, Klaviyo might block it from sending it or it might land in spam.
Part 2: Sending "Out for Delivery" Emails via Klaviyo
Here's how you do it:
Create a new flow & set the trigger "Wonderment - Out for Delivery"

Add an email action and customize the email as you want

Part 3: Sending "Delivered" Emails via Klaviyo
The steps to do this are:
Create a new flow & set the trigger "Wonderment - Shipment Delivered"

Add an email action and customize the email as you want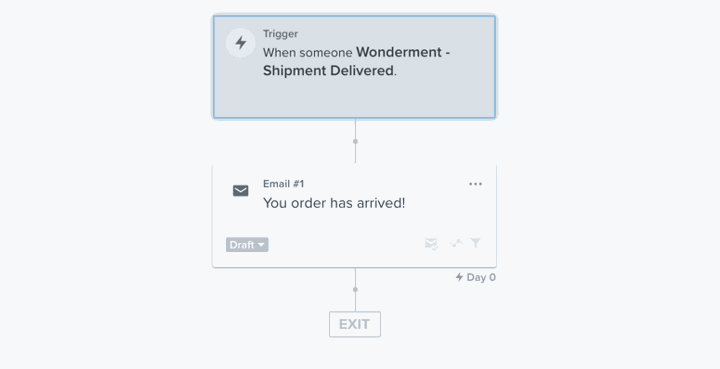 But the show goes on. With the Klaviyo + Wonderment integration, you can set up other important flows that Shopify doesn't give you the ability to send today, like:
Shipment Picked Up (aka the first time the carrier scans the package)

In-transit

Stalled Shipment

(when shipments are stuck in transit)

Pre-transit Stalled Shipment (when orders haven't left the warehouse yet)
So, don't be shy to ask us how.
Transactional Emails FTW!
You read that right – transactional emails can help you deliver an amazing customer experience and even boost your sales (through upsells).
With Klaviyo's exceptional flows combined with Wonderment's triggers (that are directly powered by shipping carriers), you will be in good hands.
Want to send the best transactional emails to your customers and retain them longer? Schedule a demo and let us show you how in 20 minutes.