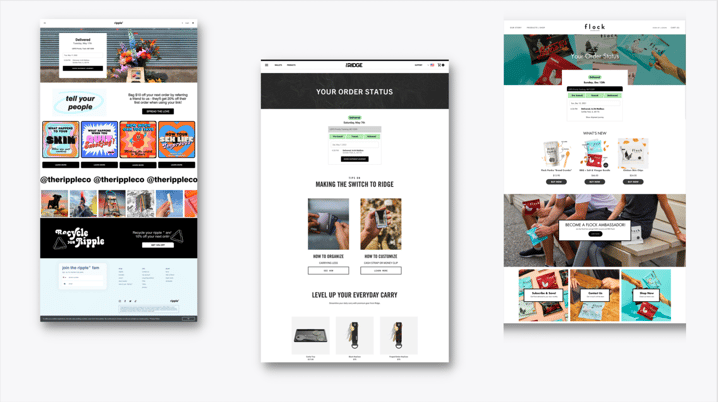 Since we started Wonderment in 2020, we've been focused on helping merchants better manage and communicate what's happening with their shipping. With today's launch of our tracking pages, we're giving you a new level of control and visibility over your customers' post purchase experiences.
This is a new opportunity to unlock retention marketing at a key moment in ecommerce's history. Successful retention marketing has never been more pivotal than right now, after a historic online shopping surge threatens to turn into a sudden and potentially deep recession.
These new tracking pages are not like the order status pages you're used to. When we saw the status quo, we were pretty disappointed. The majority of order tracking pages were limited in customization, didn't feel like they truly matched a brand's identity, or were very expensive. With our launch, we are redefining what order tracking pages mean from the merchant and customer perspective.
Just want to learn about the feature? Go here. Otherwise, we're going to take a deeper dive into what makes our tracking pages so different than what exists today.
Building & improving your store's real estate
When you run an ecommerce store, one of your most important resources is the amount of real estate that you have on your website - and your ability to get people to interact with that real estate. The typical ecommerce website has a few types of pages that are valuable because of high engagement and their proximity to ordering something. Here are just a few examples:
Your homepage
The PDP for your hero product
Your cart page
Your checkout page
Any time you have somebody on one of those pages, you know something good is going to happen because those pages are optimized for getting people to the next step. If someone views that PDP, you know they've stopped and seen something that catches their interest and makes them want to learn more. They have the chance to interact and buy.
The Old Way: Carrier-Based Tracking Pages
Ecommerce sites have worked to increase their valuable real estate by creating engaging content. Writing blog posts is one example, where editorial content is designed to attract people to their website, educate them, get them to buy and have a trusted relationship with your brand. Now, consider the old way that most ecommerce sites – especially small to medium sized shops on Shopify – handle their shipping experiences.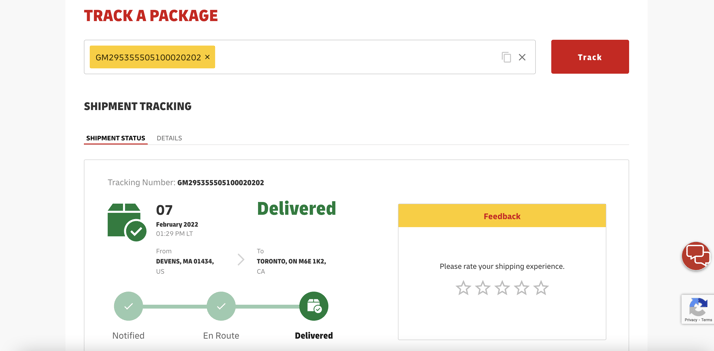 Somebody buys something. The brand ships it, and sends a transactional email that directs the customer out to the carrier's website to get updates on the order status, (like to usps.com). USPS shows them a bunch of offers for PO boxes, stamps, and so on. Those offers are not related to your brand, and are not helping you grow. But our argument is that they absolutely could.
The New Way: Host Your Own Tracking
With our new Shopify-native, branded tracking pages, we are creating a new class of real estate that had previously been overlooked or unavailable to most ecommerce websites. That's the promise of our order tracking experience.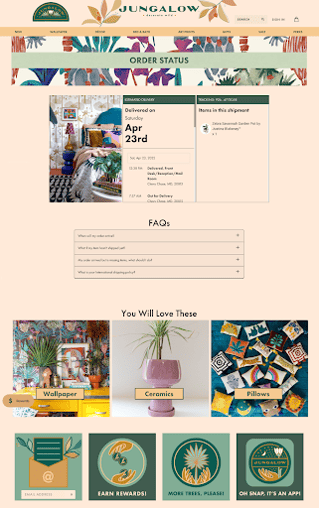 Owning the post-purchase customer experience
In the early days of Facebook, one of their greatest growth moments was from a simple, automated "You've been tagged in a photo" email. The engagement rate on that email was insane; everyone looked. Why?
1. It was highly relevant to them.
2. They wanted to know what the photo looked like.
Similarly, if you look at the transactional messages that you're sending customers around the order tracking experience, like a "your order is on its way" email - that email has an almost 100% open rate. And it's opened for the same reasons as the Facebook emails; relevancy and the need to know what's going on.
Here's an example from a fast-growing Wonderment customer, powering their key transactional experiences with our data and our Klaviyo integration.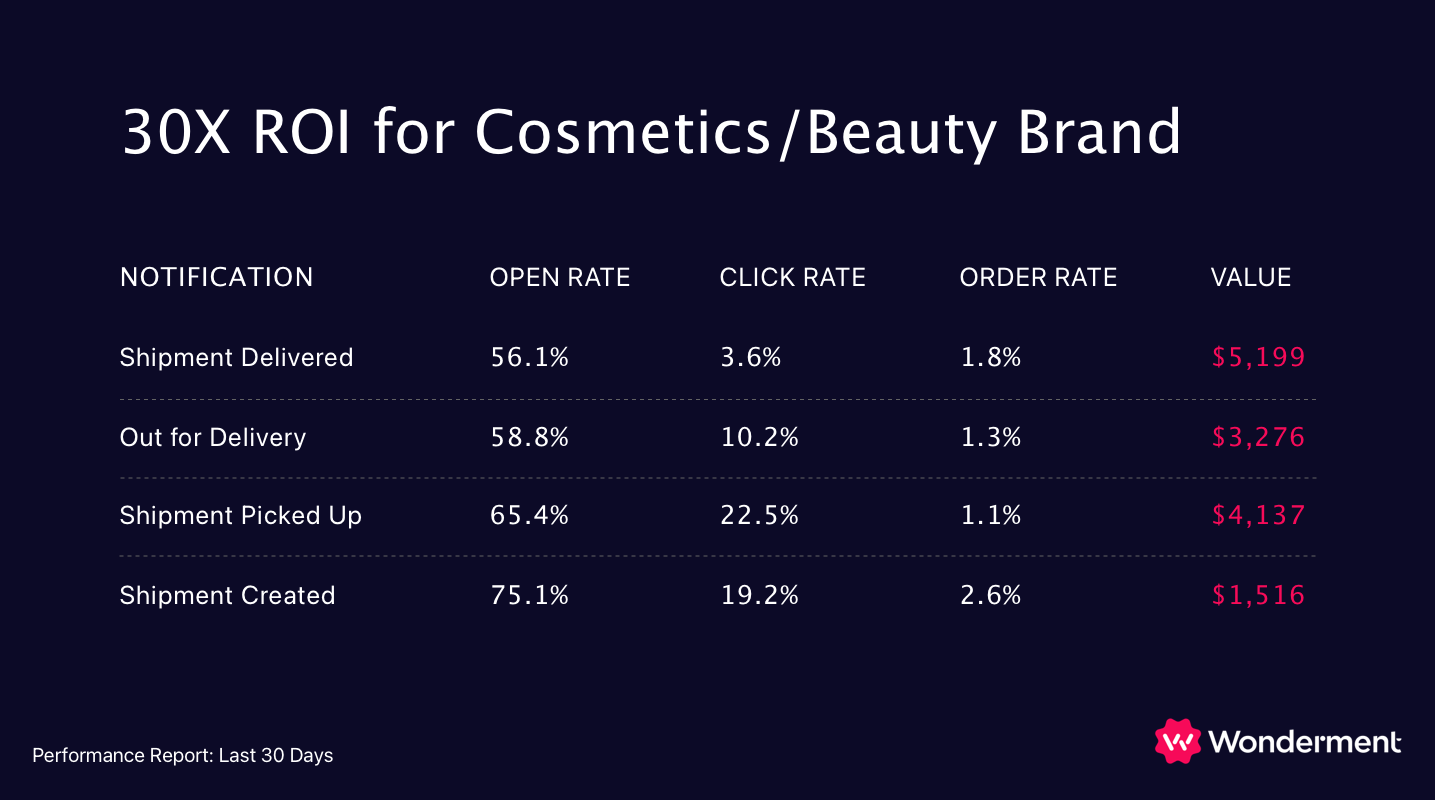 Virtually everybody opens a shipping confirmation email. Then they look at the tracking number. And then a huge proportion of those people, relative to your typical marketing email, will click on the links in that email and check the package status. And then check it again. Check out this screenshot from Eli Weiss's CX & Retention newsletter. Jones Road customers get really excited about their makeup orders: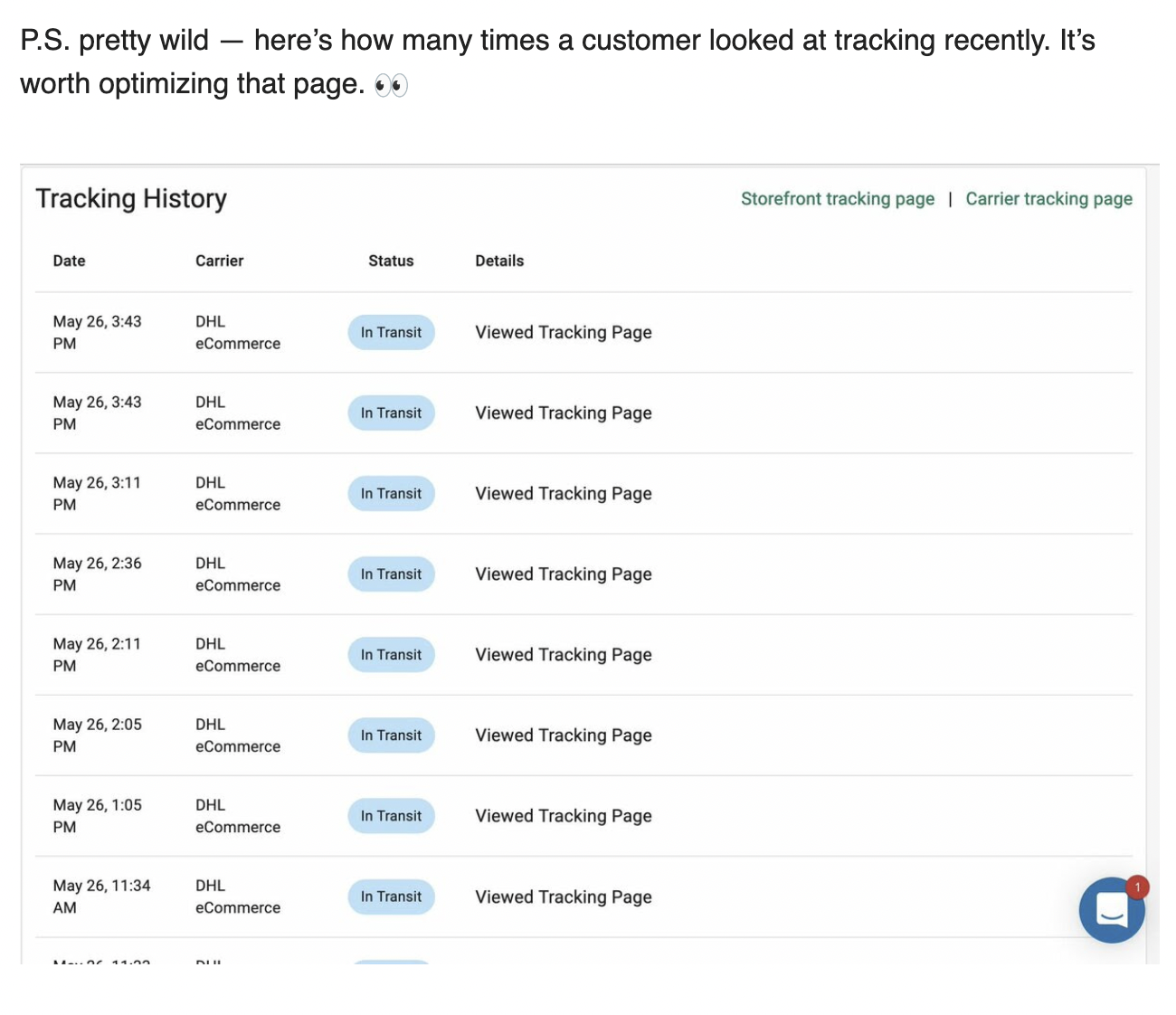 Marketing in a transactional email and an order tracking page is incredibly effective because of those sky-high engagement rates. While your marketing email campaigns might show a 20 or 30% open rate with a single-digit click rate, double digit click rates (even over 20%) are common with a transactional email approach. When was the last time you sent a marketing email with a 25% click rate?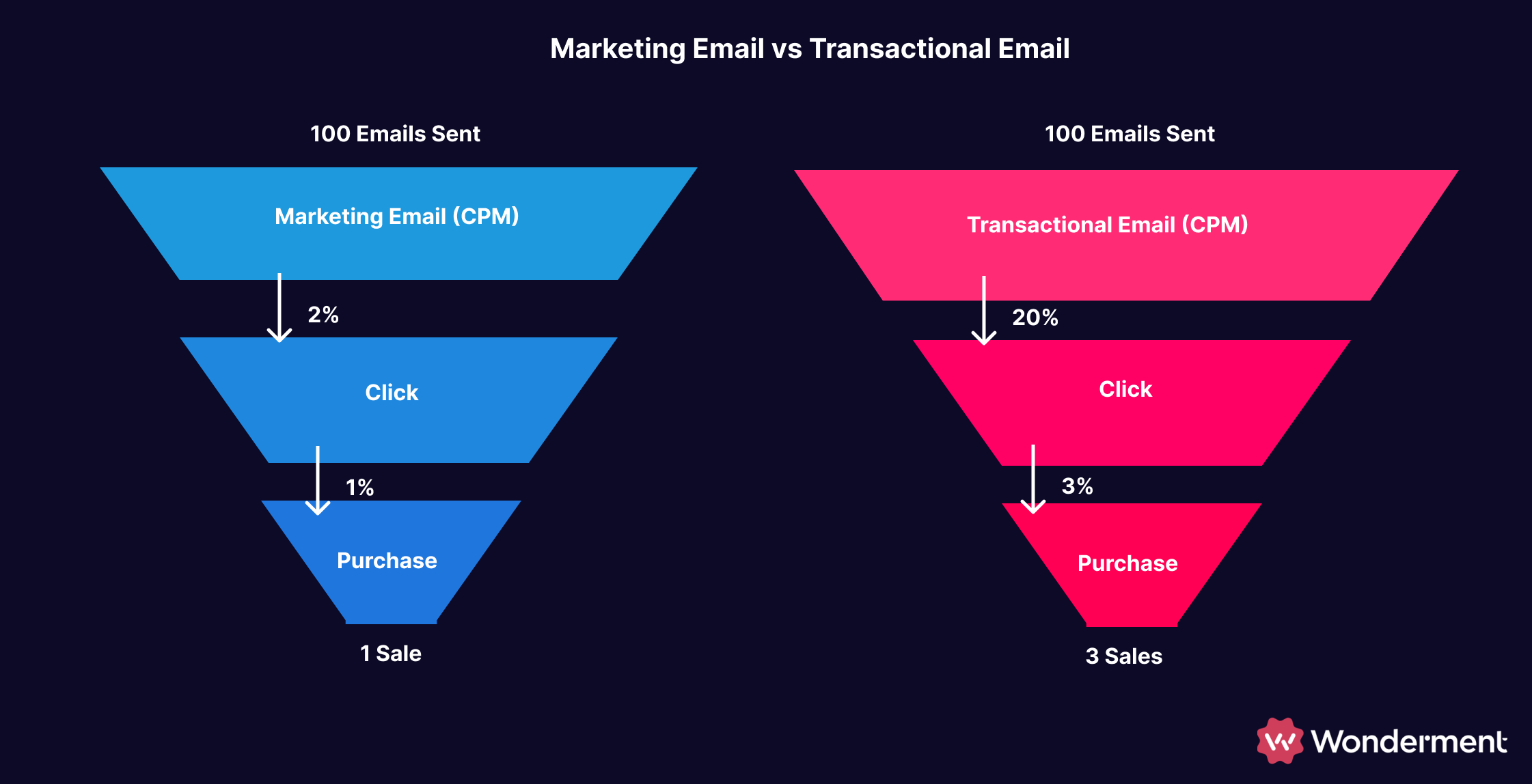 As proven by the Domino's pizza tracker, people have a hunger (pun intended) to know where their order's at and how close they are to enjoying it. We've found that on average, shoppers will visit an order tracking page 3-4 times, but we've seen that number go as high as 7-9 times for more urgent purchases like reading glasses - or nicotine gum.
The ecommerce platforms have hidden this valuable data from brands, so even though you may already send these emails to customers, you don't know how they're performing and you can't make improvements. Enterprise brands do have visibility into the data, and have all committed resources to build these experiences. You'll see it from Apple, Amazon, Walmart and Etsy. Those are high quality customer experiences, but they haven't been available to growing merchants on other platforms. Up until now it hasn't been practical to build it on your own Shopify store. Now we're making it easy and accessible for practically any brand to own the transactional experience.
As a result, you're getting to interact with these people again, whether that's to educate them on how to use their new product or sell them other products that might pair well with it. As an example: if you're a leather goods store advertising on Instagram you'll bring someone in, they buy a wallet or a belt, and then they leave again. But the delivery tracking email bringing them back to your tracking page is an opportunity to say, "Here are the product care resources that you need. Here's the oil that you're going to use to rub on it once a month to keep that leather looking great."
By the way, we do have a customer that sells leather goods - and they are seeing a 62X return on investment from using our order tracking page to showcase their best-sellers.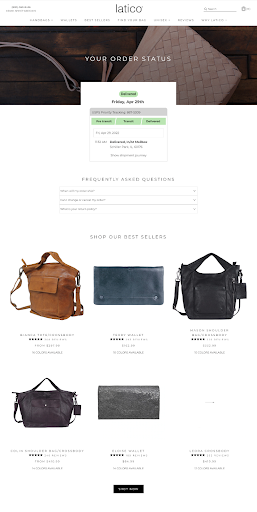 Attention is a gift - use it wisely
This attention is a super valuable opportunity to connect with customers. Now we're using those moments of deep excitement – it's on its way to you, it's out for delivery, it's delivered – to get in front of those customers at that exact right moment when they're most engaged with your brand. They're feeling anticipation, and they're ready.
This is a big opportunity, and most stores are doing nothing with it; they just send their customers out to a default order confirmation page, or worst of all a carrier page.
Branded tracking pages are creating a new class of real estate on your website, where you can interact with your best-fit, most engaged customers. We've seen the signals from incredibly high engagement rates on transactional emails, and now we're seeing the proof in high purchase and reorder rates off of our customers' branded tracking pages.
---
Drive repeat customers
Try Wonderment, the post-purchase experience platform for Shopify stores.
Proactively notify your customers about shipping delays, prevent stalled orders, and create a beautiful, on-brand order tracking page.
Book a demo to see how it works: