About the brand
Born of co-founder Jenna Ryan's personal experience, Uqora offers a full range of UTI relief products and proactive urinary tract health supplements.
Since 2017, Uqora has enabled over 200,000 customers to find pain relief and take control of their wellbeing. The San Diego-based brand has over 15,000 5-star reviews, full of heartfelt messages like, "I no longer feel alone in this UTI battle" and "I am finally feeling like my old self."
How does Uqora foster such a strong fan base? We interviewed Customer Success Team Manager, Zoe Rotberg, and Brand Marketing Manager, Kate Labat Jacobs, to learn how the company applies a retention mindset to every customer interaction.

CX + marketing: Setting the foundation for happy customers
"From the moment that people start at Uqora, whether they be on the CX team or on the operations team, we're making sure that the customer is getting the best use out of the products, as well as having every single point of contact with us be a really positive experience." - Zoe
Zoe leads Uqora's nine-person customer success team - the biggest team in the company, with the big task of managing Uqora's entire subscriber list and prospects.
Step one of providing a positive customer experience is arming each team member with the ability to make a customer's day, whether that's:
sending flowers or a DoorDash gift card
offering a discount if someone can't afford treatment
reshipping the product
issuing a refund with no questions asked.
While the company does keep an eye on retention numbers, doing what's right for the customer is the number one goal.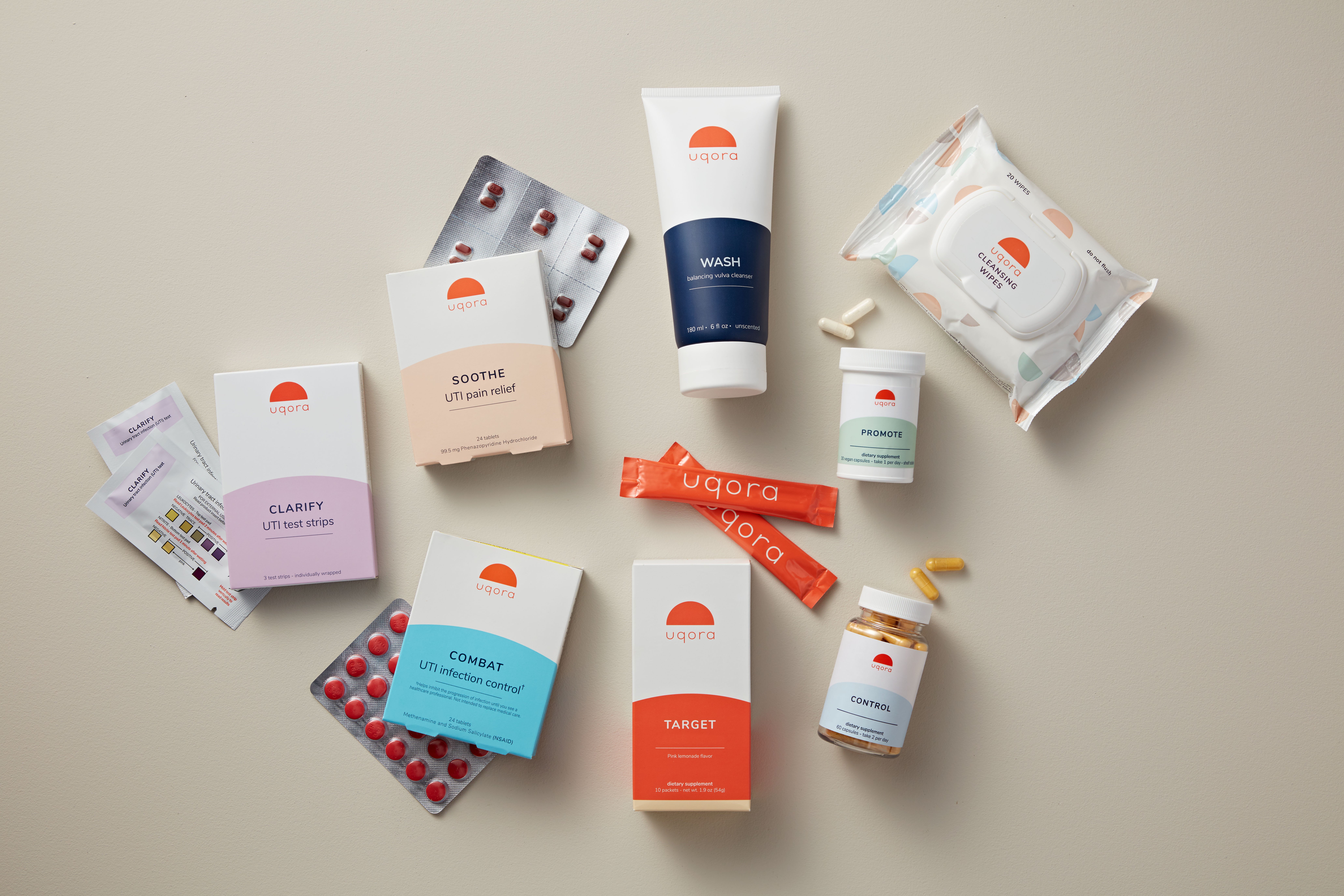 "Something that is really amazing about Uqora and the leadership that we have here is we're always told, just do the right thing. These are real people in vulnerable situations. They're sharing really personal stories with us. We're a very humanized brand because of that. When we try to think about quantifying or putting metrics on whether something is working or not, all this incremental work of just doing the right thing by people adds up to the bigger whole." - Kate
Kate oversees all customer communications at Uqora, from onboarding to retention campaigns. Her mission is the same as Zoe's: to make sure customers have a great experience with the brand. Supplements need to be taken consistently, so a lot of Kate's work is around UTI education, how to use the product, and setting expectations on how long it takes to see results.
Because each team has key touch points with customers, the feedback loop between CX and marketing has been critical for learning from customer responses and making adjustments to improve the company's messaging.
A masterclass in creating customer trust
Nearly half of the communications the CX team has with customers are via text. While many ecommerce brands use SMS as a sales channel, Uqora views the platform as an extension of the support team. If a customer needs to update their address, change their product bundling or manage their subscription, they can send a text and the CX team will take care of it.
The brand also views SMS as an opportunity to build strong 1:1 relationships, sending regular "checking in to see how you're doing" texts with long codes and emojis to encourage replies. If someone responds back with "it's not going so well" or "it's not going as expected," then CX is able to step in and help. As a result, support team members regularly get shoutouts in customer reviews.
"It is a human on the other end of the line. We make that very, very clear. Having those conversations and having it be easy for our customers to have those conversations is what's really important to us." - Zoe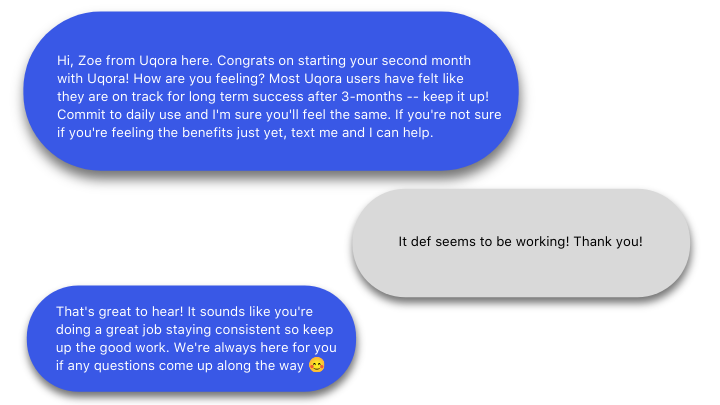 Uqora also builds trust by making subscription management easy. The brand fires an automated email three days before every renewal to make sure customers need more supply before they are charged for the month. They've also made it simple to adjust orders and cancel subscriptions, based on the philosophy that giving people full control is a better experience for everyone.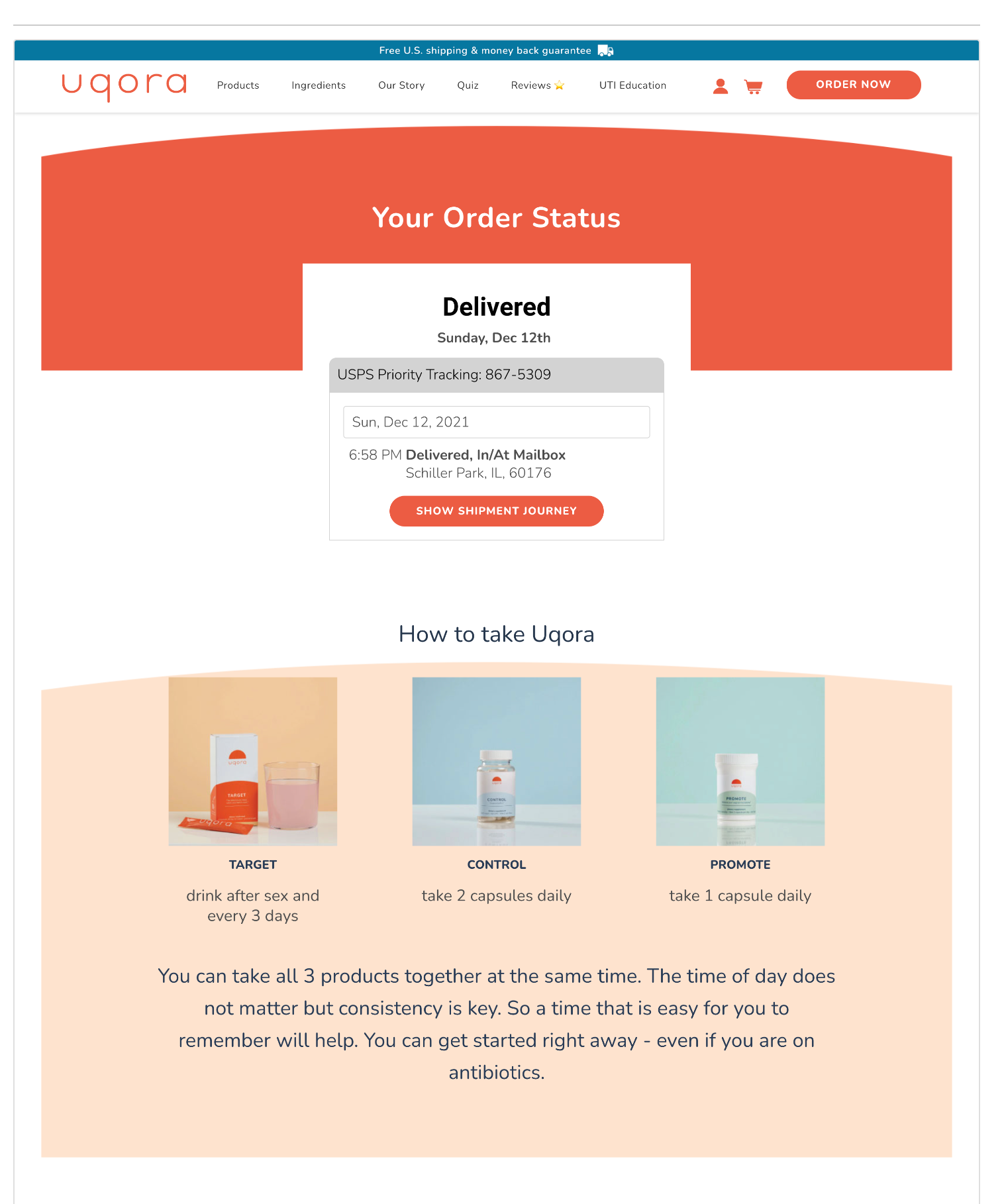 Click to see the full landing page
To keep customers assured that the product is on its way, Uqora uses Wonderment's post-purchase platform in three ways:
Triggering Klaviyo email notifications that keep customers updated on shipping events and when they can expect to see the package in their mailbox


Flagging stalled or delayed deliveries in Wonderment's shipping reports and sending a proactive apology note to customers with a discount


Providing customers with an on-brand order tracking page that they can check 24/7. As an extra special touch, Uqora has two versions of their tracking page - one for first-time customers, and another for repeat customers.
"So many people want that tracking information. Why not make it another branded touch point where we could make more product information or more of our resources available to people?"

- Kate

The power of genuine connections
Uqora's focus on the customer goes beyond 1:1 text messages, subscription management, proactive shipping notifications and even "sorry you had a rough day" flowers. It extends all the way to friendship.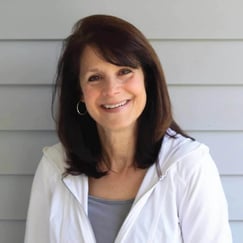 One of Uqora's biggest fans, Elisa, is a customer who's been with the company since the beginning. She had such a life-changing experience with the product that she's been an evangelist ever since, often sending her own check in emails to see how the Uqora team is doing.
When Kate's mom was going through "the change" and had health questions Kate couldn't answer, she connected the two women. Instantly, they hit it off, talking on the phone once a week and texting often. When Uqora hosted a bunch of San Diego-based customers at their headquarters for a local meet and greet, they flew out Elisa. And Kate's mom joined too, to meet her BFF.
"Both of them have separately told me thank you for introducing this person into my life. It's become this total love story out of the Uqora world. I think it is just because we create this environment where people are so willing to share and have all gone through some sort of shared experience, that you can't help but feel connected to someone else who's going through the same thing." - Kate
A lot of brands say they focus on customer retention, but when's the last time a brand gave you a free trip to California - and a new best friend? We'll wait.
---
Drive repeat customers
Try Wonderment, the post-purchase experience platform for Shopify stores.
Proactively notify your customers about shipping delays, prevent stalled orders, and create a beautiful, on-brand order tracking page.
Book a demo to see how it works: