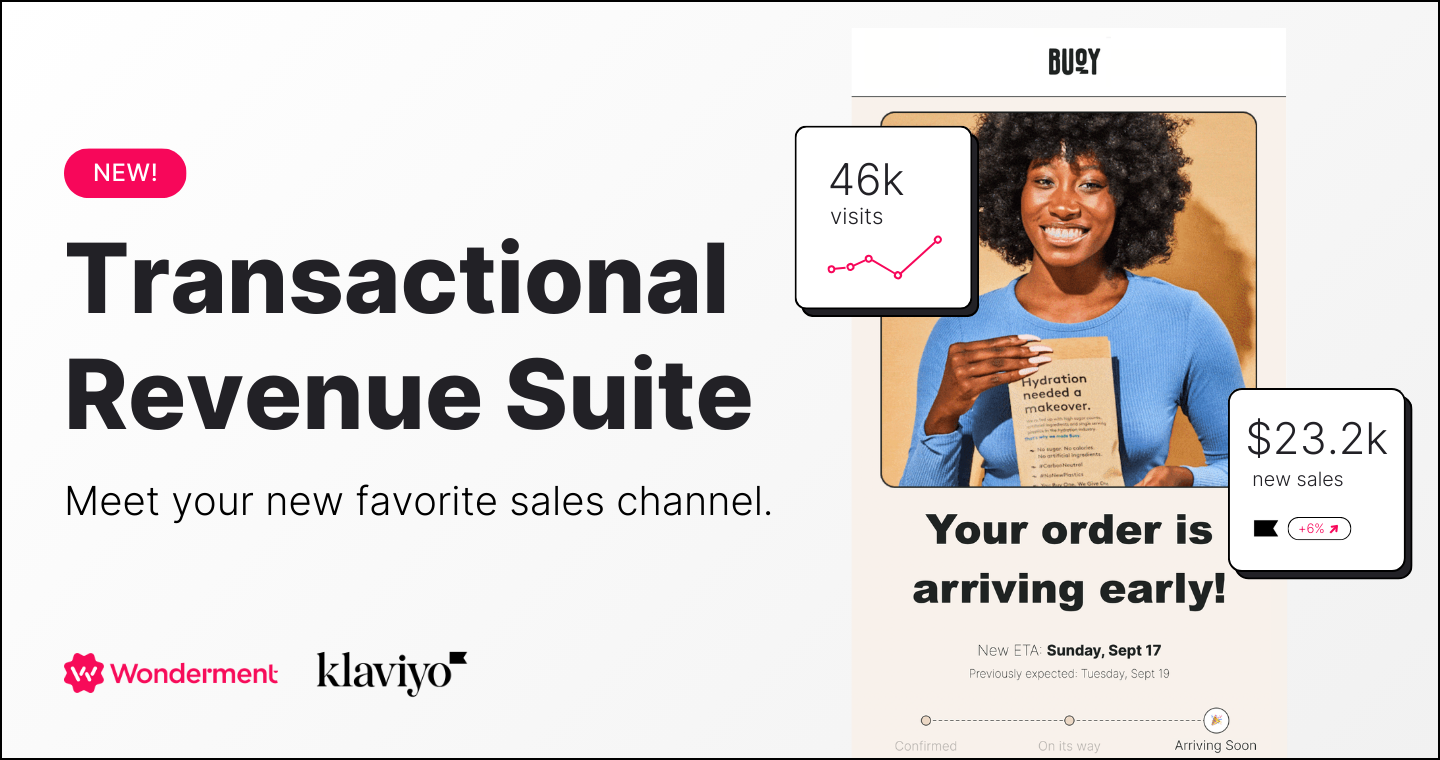 With Wonderment's new Klaviyo integration and revenue reporting tools, Shopify merchants now have an easy way to own and monetize their most critical post-purchase channel: transactional messaging.
Since our founding, we have always believed the shopping experience was highly fragmented.
Why, for example, do some customer-facing messages come out of Shopify, some out of the ESP, or some from the loyalty apps, or subscriptions apps, and some out of other legacy apps?
This fragmentation means retention marketers and agencies lack insight into how these messages perform, nor are they a branded experience from end-to-end. Crazy!
We knew the future involved a deeply integrated and connected ecosystem, enabling merchants to use a few best-of-breed tools and centralize their customer communications for one unified experience. We believe merchants should own their transactional email and SMS messages from end-to-end and thus launched the most data-rich Klaviyo integration available alongside our order tracking platform in the early days at Wonderment.
Shopify merchants such as Vital Proteins, Ridge Wallet, and Chomps began moving their shipment-related notifications from Shopify (or other 3rd-party systems) and into Klaviyo by leveraging Wonderment's rich shipment events and flows—seeing an average of 20-40% CTR and thousands of dollars in upsell revenue from these messages alone (not to mention a reduction in support tickets!).
Now, more than 1,100 merchants power their post-purchase messaging with Wonderment. But we're not done yet.
Today, we're excited to announce a brand new Klaviyo integration. One that unlocks new revenue opportunities and greater transparency into your post-purchase messages.
A first-of-its-kind integration
We are thrilled to announce that Wonderment has been selected as only one of two technology partners to leverage Klaviyo's new API integration and OAuth connection, enabling two-way data communication between our apps for the first time. This kind of mutual talk wasn't practical before, and is now enabled with a single click.

All of this unlocks powerful new capabilities for merchants. We are excited to share them with you. Let's dive in.
Powerful transactional messaging in minutes
With Wonderment, you can get set up the same day. We know you already have enough work on your plate, and we want to help you start making money, faster!
With our new Klaviyo OAuth integration, we now enable a one-click setup between Wonderment and Klaviyo. This means you'll not only have our library of over 15 fulfillment and shipping-related events available in Klaviyo in seconds, but very soon, we'll instantly auto-create your flows and email templates for you. Need extra customization? Our network of the top Klaviyo agency partners are available to support you.
Whether you use Shopify or another order tracking tool, you can switch to Wonderment in minutes, not days or weeks.
"Working with the Wonderment team as they built their new OAuth integration has been a great experience. We are delighted that Wonderment is one of our first tech partners to complete this integration and be listed on the Integrations Directory. Their vision, dedication to excellence and close collaboration with Klaviyo made this all possible."

- Jenna Donahue, Lead Product Manager at Klaviyo
To get started, head over to the Klaviyo Integrations Directory in your Klaviyo account to connect Wonderment in a snap.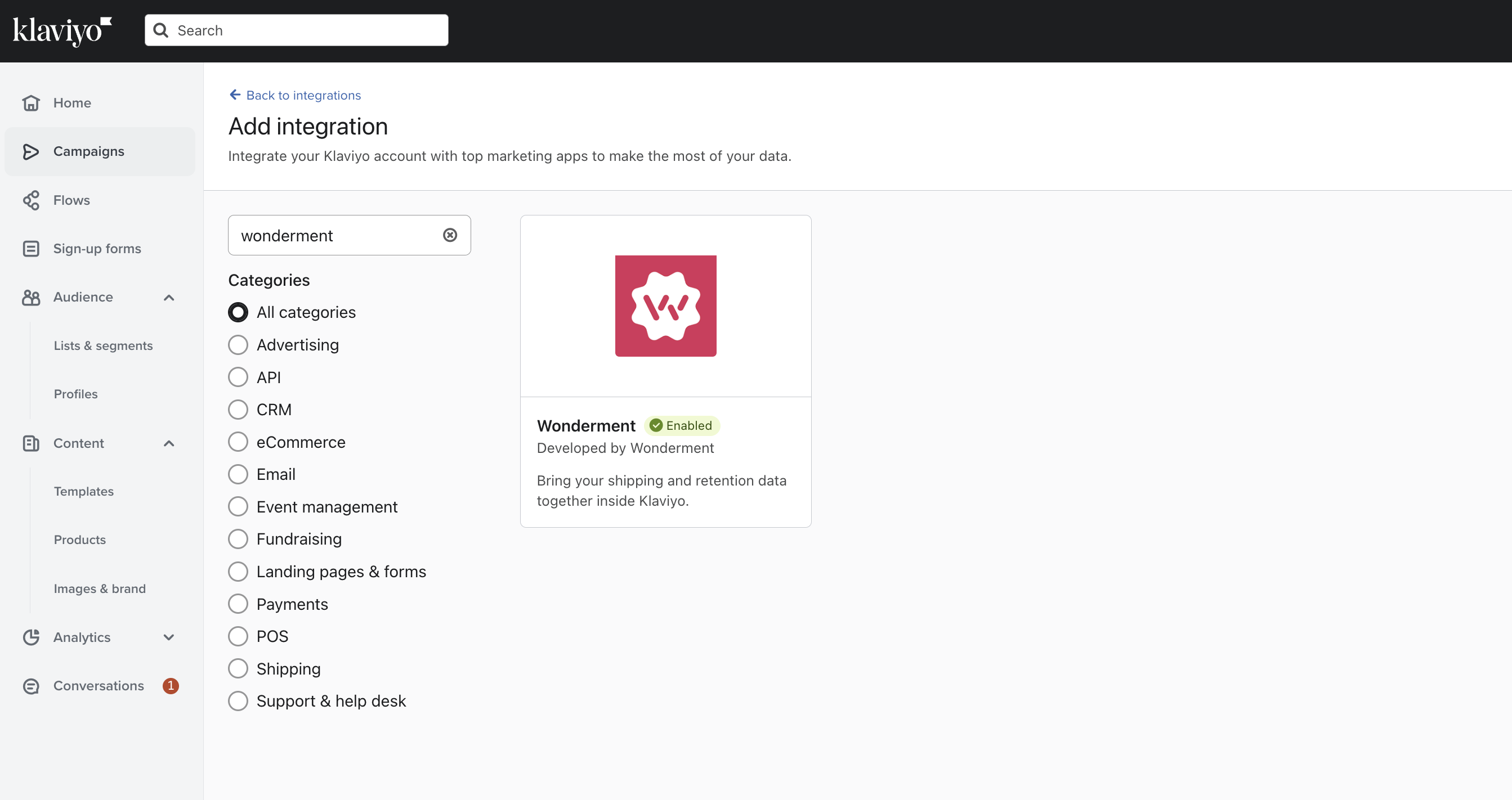 New Klaviyo Event: Tracking Page Views
In addition to our one-click setup, users who enable the new OAuth Integration get access to a new Wonderment-only event: our Tracking Page View event.
Studies show customers track their order 3-4X on average. Order lookups can be one of the most viewed pages on your storefront. Yet merchants don't have a way to track or optimize this experience. No bueno.
With Wonderment, merchants already had visibility as to when their customers landed on the tracking page within the Wonderment customer profile, but now, we make this data actionable by adding this activity to Klaviyo's customer timeline, too.
Because the order tracking page view lives as a unique event within Klaviyo, you can create Segments or Flows off this event for real-time personalization.
For example, with this data you can:
Identify on-site customers for real-time messaging or retargeting.
Pinpoint customers who might be most excited or anxious over an upcoming delivery. Use it as a way to collect feedback or 1st party data.
Pull a segment of customers with recent tracking page activity compared to the order's Estimated Delivery Date to proactively check on their order and prevent "where is my order?" support tickets.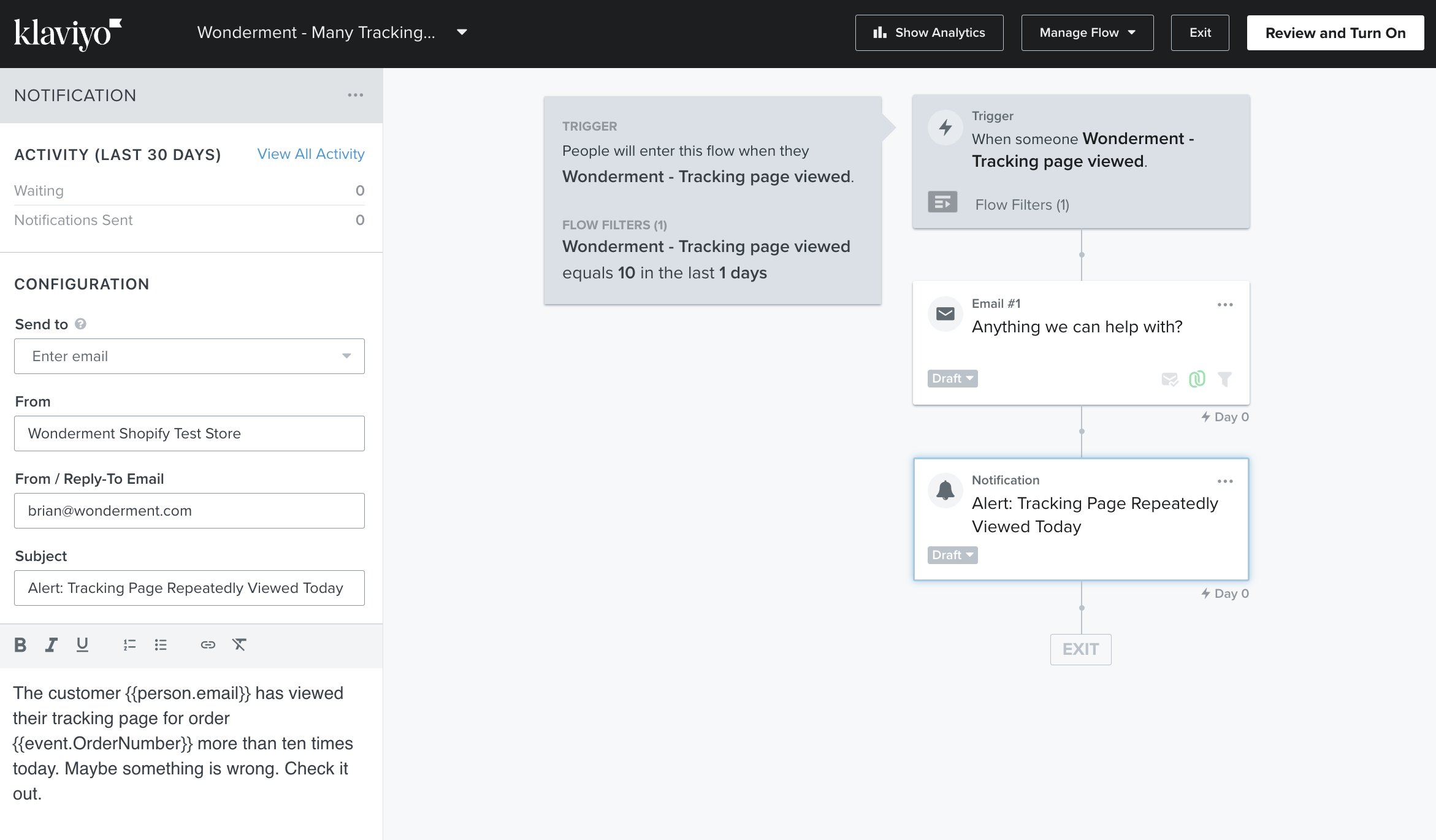 New: Transactional Revenue Suite
Controlling your post-purchase communications means having an easy way to measure them.
When customers receive critical comms, such as when an order is shipped, gets delayed, or delivered, you must have an easy way to report on their open and click-through performance, but more importantly, how much sales volume these drive or what impact these events make to your customer service teams.
Today, we now have Klaviyo Flow Performance directly within Wonderment.
With that, we now combine our on-site tracking page revenue reporting with the performance of your off-site transactional messaging, all within Wonderment, within one unified view.
Finally, you have a complete picture of the revenue impact of post-purchase tracking.
This saves merchants time in generating reports out of multiple systems and gives you all the data you need on your transactional flows within Wonderment. It also helps our agency partners provide recommendations on how to best optimize your transactional messages even further.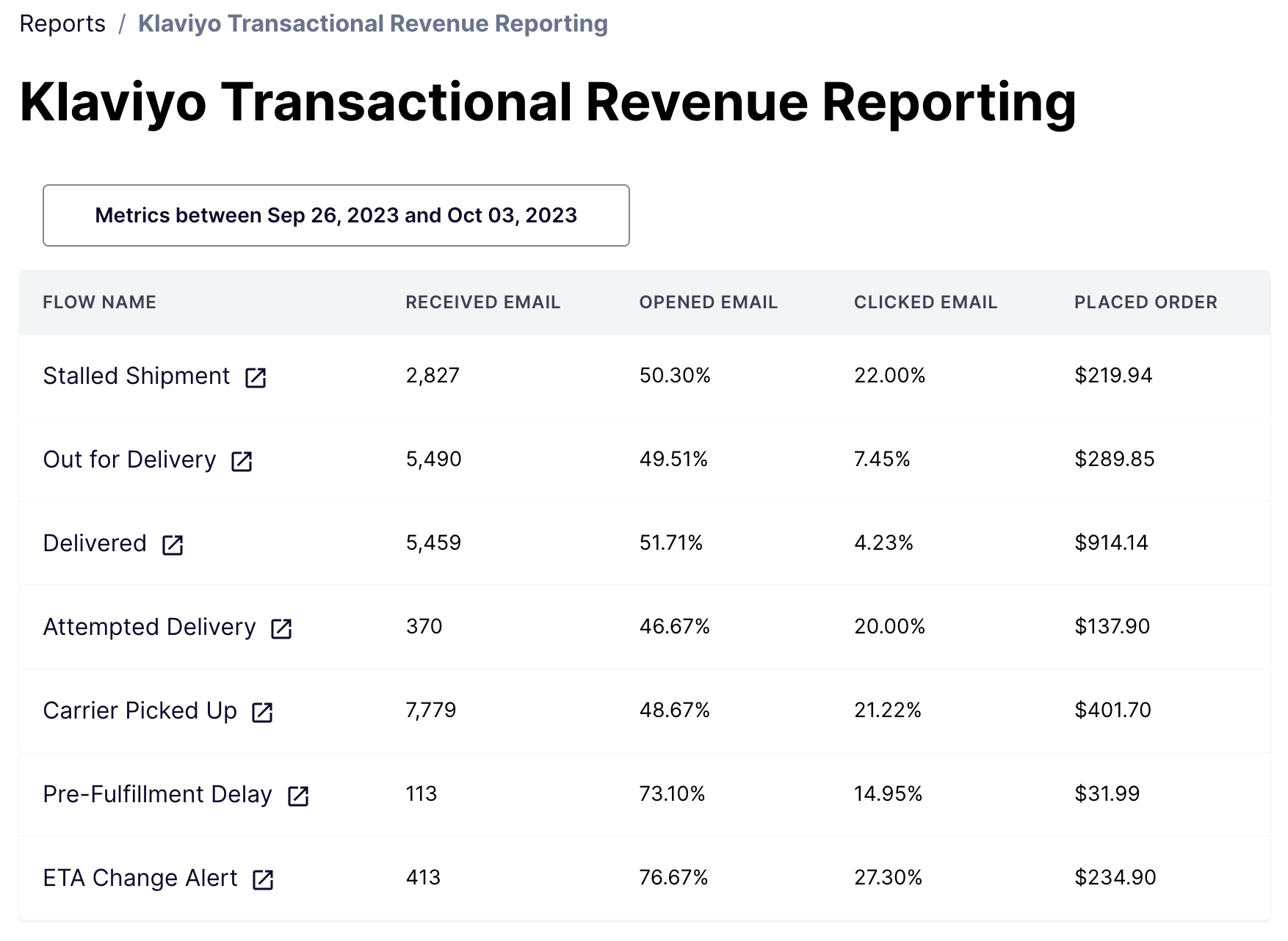 Why Wonderment's New Revenue Tools & Klaviyo Integration are Game-Changers for Shopify Merchants
In an e-commerce landscape that is often fragmented and lacks a seamless customer experience, Wonderment has taken a significant leap forward with our newly announced Klaviyo integration and revenue reporting tools.
Here's why Shopify merchants should power their transactional messaging with Wonderment + Klaviyo
Unified messaging: Our Klaviyo integration eliminates the pain points of disjointed transactional messaging such as lack of control or insight. With a one-click setup, you can centralize your post-purchase notifications, giving you unparalleled control and measurability.


Turn transactional messages into revenue: Shopify merchants like Kettle & Fire, Girlfriend Collective, and Jones Road have already replaced their vanilla Shopify notifications with messages they control, experiencing significant upsell revenue, all while reducing support tickets.


Two-way data communication: With our new Transactional Revenue suite and Tracking Page visit data, you can now measure the impact of your flows within Wonderment for easier reporting and power automation based on customer activity.
"These new features are a game-changer for helping us get our clients onboarded and extracting maximum value from transactional marketing within days, not weeks! We love what the team continues to ship- all relevant tools that are changing the game in how we help our clients with the post-purchase experience."

Adam Kitchen, Founder, MagnetMonster

We've always believed in creating a unified customer experience for Shopify merchants. To do that, we realized we needed to give merchants the tools to make that possible.
No more juggling between multiple platforms. No more ambiguity about the effectiveness of your transactional messages. What you get is actionable insights, simplified reporting, and a faster route to revenue. The future of e-commerce is integrated, and with Wonderment, that future is now.
Ready to take your post-purchase customer experience to the next level? Head over to Klaviyo Integrations Directory to connect Wonderment in a snap, and start reaping the benefits today!
Not yet using Wonderment? Schedule a demo or reach out to our team.