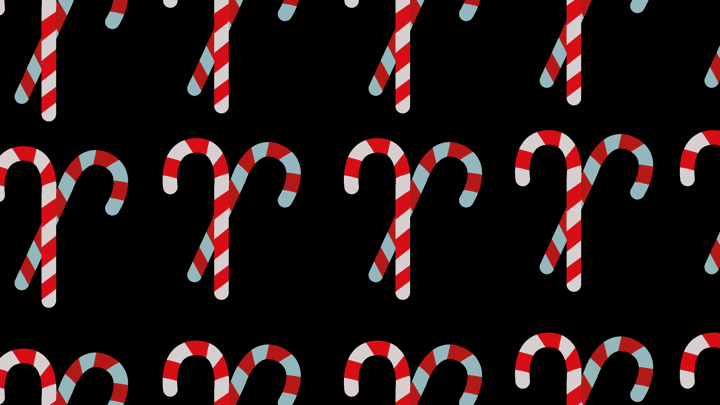 The holidays are in full swing in DTC land, and if your email inbox hasn't filled up with Black Friday/Cyber Monday sales and deals, you'd better check your spam folder.

In a normal year, offering discounts, limited-time offers, BOGO, free shipping, or extra loyalty points would be enough to get customers clicking that buy button.
But it's 2020, and the competition between online retailers for holiday shopper dollars has gotten even fiercer now that brick and mortar retailers have been forced to join the fray.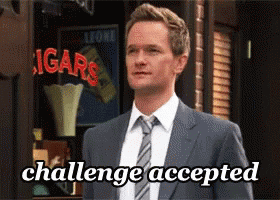 In response, several brands have stepped up their marketing game by creating memorable holiday campaigns that set them apart from the pack.
If you're looking for some seasonal inspiration for your DTC brand - or a swipe folder for next year - these examples will help you get into the spirit.
10 Fun, Creative, and Thoughtful Holiday Campaigns For DTC Brands
1. Hendrick's spoof on Peloton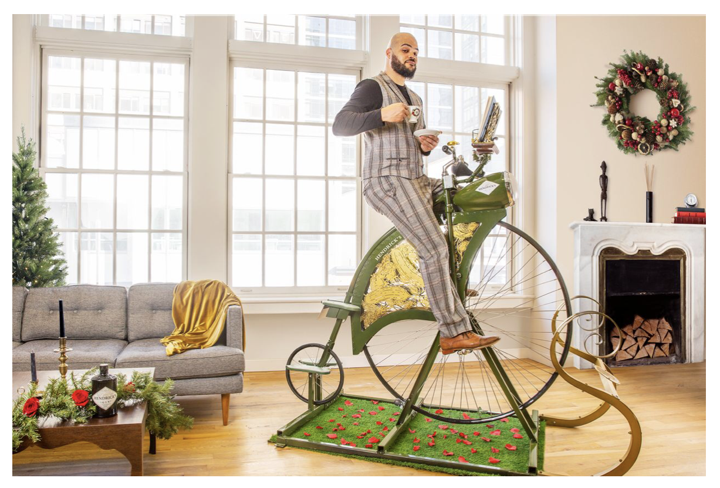 Peloton exercise bikes have been flying off the virtual shelves since the pandemic hit. Featuring a sleek, compact design and interactive video via the Peloton app, these bikes have been snapped up by former gym-goers who crave the group class experience.
In response, Hendrick's Gin has released its own "High Wheel" exercise bike - a fanciful Victorian era fitness device meant for leisurely pedaling.
With a $2,493.11 price tag (discounted $111 for Cyber Monday) and lack of availability until February ("High Wheel purchasers will be immediately sent a lovely complementary pocket watch to count the seconds until their High Wheel arrives"), this impractical product may be a joke - but it's certainly a fun way to earn brand attention during the holidays.
2. JOANN Fabrics: Holiday craft projects with Phyllis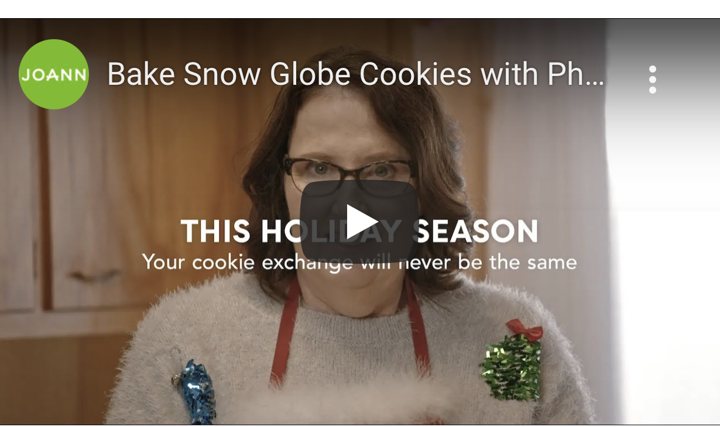 When it comes to brand content, there's usually an awkward, obvious line between entertainment and advertisement - but JOANN Fabric manages to blend the two seamlessly with an amusing holiday video series featuring actress Phyllis Smith (who played Phyllis Vance in The Office).
In each video, Phyllis humorously tackles a craft or baking project and inspires viewers to start their own at home by ordering supplies from JOANN's online store. At 50K views and 200K views after just a few weeks, these videos have proven to be very popular in generating brand engagement.
In 2015, clothing brand Kate Spade partnered up with actress Anna Kendrick for a similarly entertaining video series that also served as a platform for the retailer's latest fashion lines and accessories.
3. Lunya's "good in bed" socks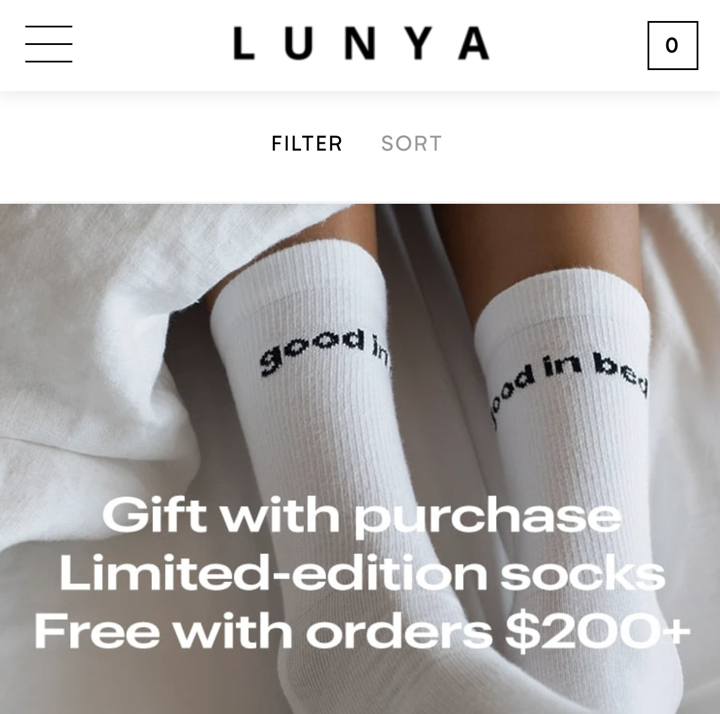 Lots of DTC brands offer free shipping when your purchase hits a certain threshold. Women's sleepwear brand Lunya takes things one step further by offering holiday shoppers a playful pair of limited-edition socks, free with a $200 purchase.
Who doesn't want to advertise that they're "good in bed"?
The offer ended on Cyber Monday, lending a sense of urgency to any casual browsing that shoppers may have been doing over the holiday weekend.
4. Ugly seltzer's mystery deal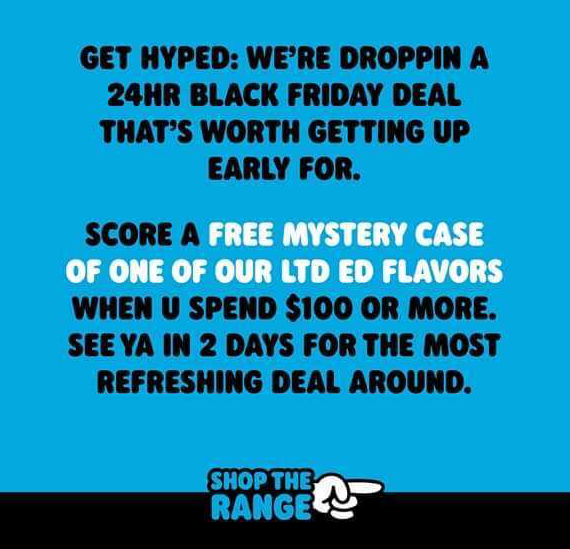 Limited-edition socks with clever copy are a pretty cool freebie. But Ugly seltzer stepped up the incentive to spend over Black Friday by offering a bit of intrigue with every $100 purchase: The chance to receive a mystery case of a limited edition flavor.
For those who aren't familiar, Ugly's limited-edition flavors (like fruit punch, marshmallow, pumpkin spice and sour apple) tend to sell out within days. For any Ugly fans with remorse over a sold-out run, this was a dream come true.
5. Bite's new seasonal flavor: Champagne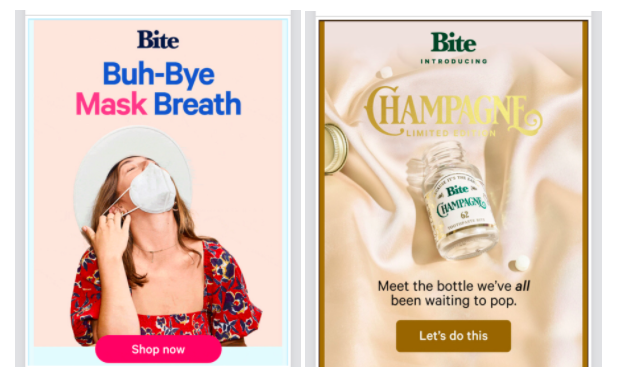 Bite's on a serious mission to reduce the amount of toothpaste tubes ending up in landfills - but their marketing is anything but boring.
In honor of the holidays, the DTC brand has released a new, limited-edition spin on their toothpaste-replacement product: "With hints of bright citrus and white peach, our Champagne-flavored bits will help brush away plaque, bad breath, and 2020."
A bottle you can feel good about buying, paired with a flavor that turns mask breath into a new year's eve party?
Yes please.
6. Tracksmith's 5K Turkey Trot line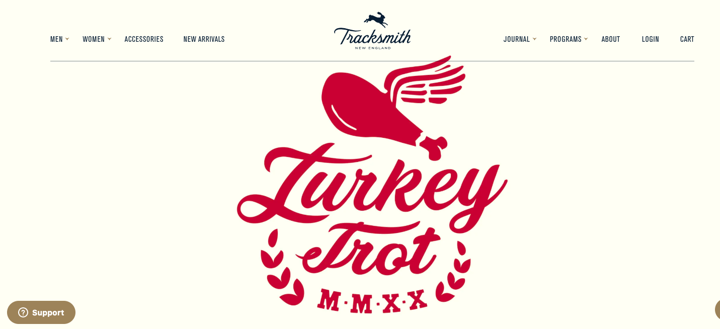 Thanksgiving is usually the biggest day of the year to run a 5K, but COVID restrictions put a damper on races this year.
The team at Tracksmith wanted to do something to keep the Turkey Trot spirit alive.
They created an exclusive line of related running apparel and included bibs and prize ribbons with each online purchase, so that families and small groups of friends could still challenge each other to get outside and get active before the big feast.
Bonus: Tracksmith also released a beautiful short-form video called "Running is a Gift," with voiceover from Malcom Gladwell.
7. Who Gives a Crap's creative seasonal offering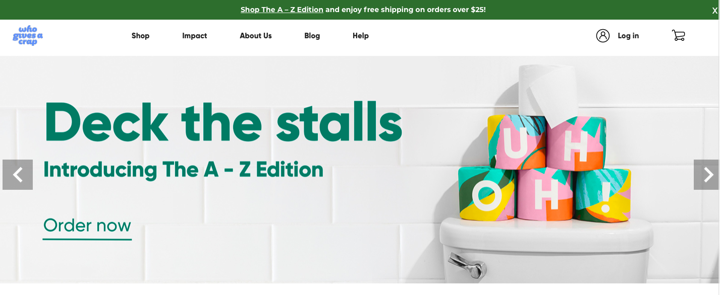 There's nothing quite as utilitarian as toilet paper - but popular DTC brand Who Gives a Crap has made amazing strides in turning a routine purchase into a fun and rewarding online shopping experience.
Generally, people tend to stash their toilet paper under the bathroom sink or in a cabinet, but the brand's new holiday line allows customers to proudly display their rolls in creative configurations.
8. Bearaby's Black Friday blanket (not for sale on Black Friday)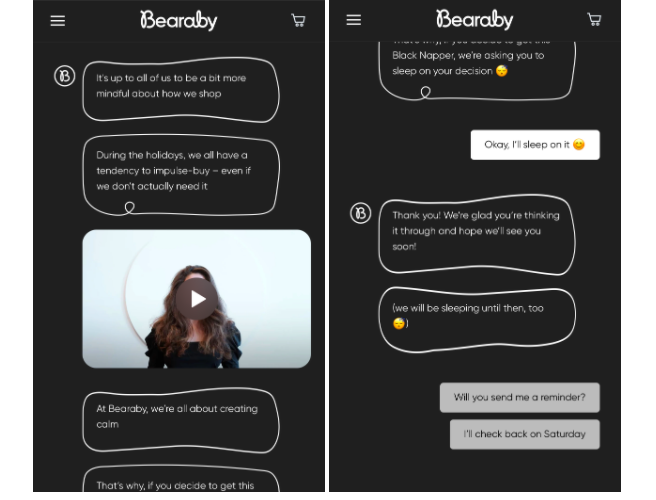 Remember that scary screenshot of my inbox that I shared earlier?
Clearly, a lot of DTC businesses are trying to get holiday shoppers to buy, buy, buy without taking a minute to pause and think about the purchase.
Weighted blanket brand Bearaby took a completely different approach. Not only did they encourage shoppers to consider whether they needed to buy a Black Friday blanket; they actively discouraged purchase of the blanket by delaying the checkout process on Black Friday.
Putting customer happiness above profits is some next-level thoughtfulness.
9. Supergoop! donates holiday proceeds to MRA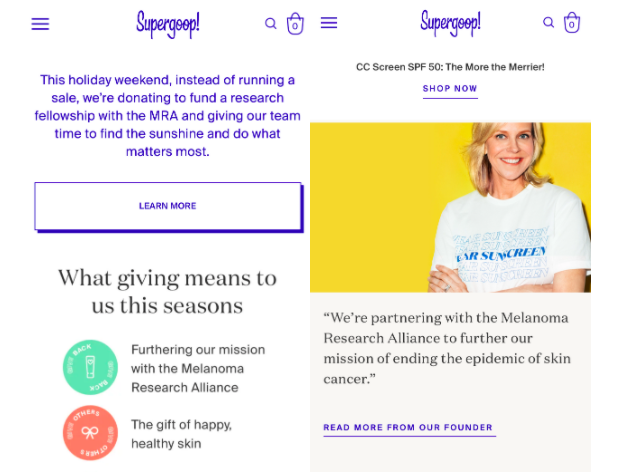 Rather than offer the typical Black Friday/Cyber Monday discounts, DTC skincare brand Superergoop! chose to donate part of each regularly priced purchase to a research fellowship with the MRA (Melanoma Research Alliance).
This kind of holiday campaign offers several benefits to the brand - it builds goodwill with customers and aligns with the core mission of the product, without devaluing the worth of the products being sold.
10. Dedicated's "Plant Friday"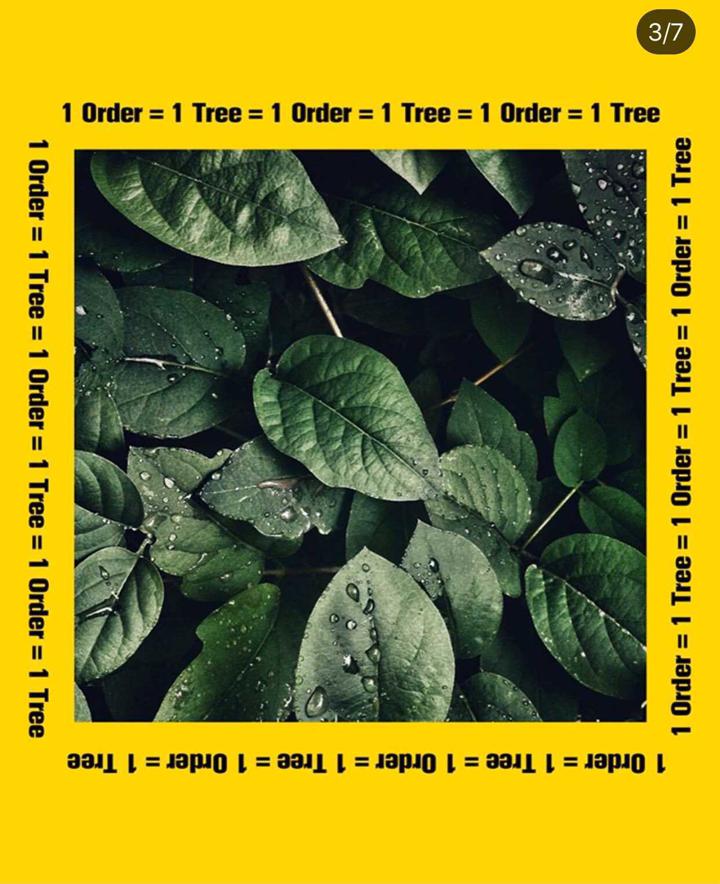 To round out this list of fun, creative, and thoughtful holiday marketing campaigns, we're shouting out Dedicated Brand for its "one order = one tree" initiative.
Over the holiday weekend, Dedicated took part of the proceeds from each sale and gave the money to a non-profit organization that plants trees in India.
The sustainable street fashion brand says it has donated 17,756 fruit trees to local farmers over the past few years, via its holiday sales. That's an outcome we can all feel good about.
Conclusion
The holiday shopping season has come earlier each year, with the battle for customers becoming more intense as new ecommerce stores launch each day.
The pandemic has added brick and mortar retailers to the mix, which makes capturing customer attention in Q4 even more of a challenge than usual.
But this is also a call to action for DTC brand marketers.
As Phoebe Bain from Marketing Brew puts it:
"Doing something unexpected for a major 'holiday' like Black Friday is a great opportunity to assert brand values. Saying something different and unique to your brand will likely make more of an impact than shouting 'sale!' AWOLNATION-style into your audience's ears just like every other brand."
As we head into 2021, consider ditching the marketing playbook and trying something new.
Creativity can extend from your online store's imagery and copy, all the way to the unboxing experience.
Stephan Ango, co-founder of ecommerce packaging supplier Lumi, explains:
"This year, a lot of brands are being very conservative about their packaging decisions because there's a lot of uncertainty about what their holiday sales will look like.
[But] I would say it's an underestimated opportunity. Emotionally, it's really powerful if you have this thought out experience that has something interesting for the consumer to unwrap."
If you can find a way to make your DTC brand stand out from the crowd, you will reap the rewards year-round.
Looking for more ways to create a positive first impression? Consider building proactive communications into your shipping and delivery process. Your new customers will thank you.