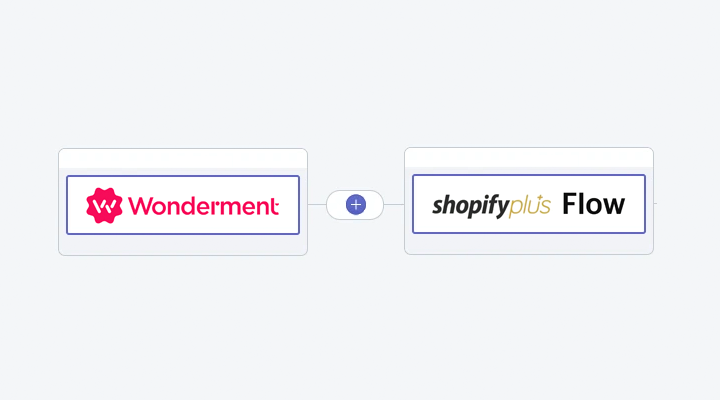 We're excited to announce that as of today, Shopify Plus merchants have a whole new way to automate their shipping notifications as Wonderment Where's My Order now supports Shopify Flow.
With our Shopify Flow integration, Shopify Plus brands can now connect Wonderment's complete shipping data with the other apps you depend on. This opens up a world of integration potential, ultimately creating faster workflows for your team while driving a better experience for your customers.
Getting started with Wonderment + Shopify Flow is easy. Just open Shopify Flow, and Wonderment will be available as a new trigger for your store.
(Looking for a better order tracking app? Install Wonderment here)

While we built this integration, we heard about all kinds of interesting ways that our customers wanted to link their shipping data with the rest of their workflow.
Here are just a few examples of what's now possible:
Send Transactional Shipping Updates via SMS
You can now use Wonderment data to trigger text messages whenever their is a shipment update, even if you don't use our native Postscript or Klaviyo integrations.
In this example, someone using SMSBump can trigger transactional SMS messages to trigger a Delivered status to customers and tag the order with a custom "Delivered" Shopify tag at the same time.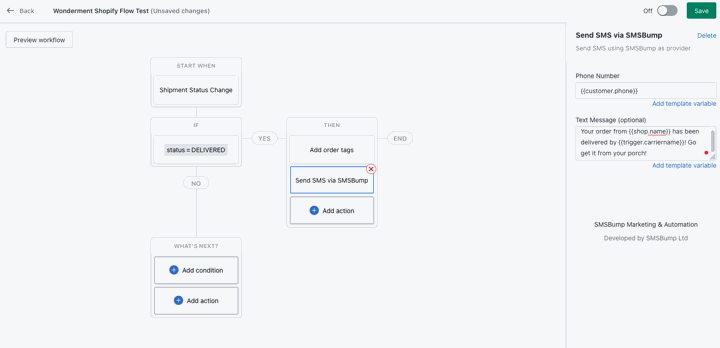 Automatically Send Gift Cards to Customers Who Experienced Shipping Delays
To retain your VIP or subscription customers, you can use Flow to detect if an order has been delayed for more than X number of days, and send them an apology email and gift card for their next order.
Rise.ai automatically creates a gift card for the customer and sends it to them with an apology.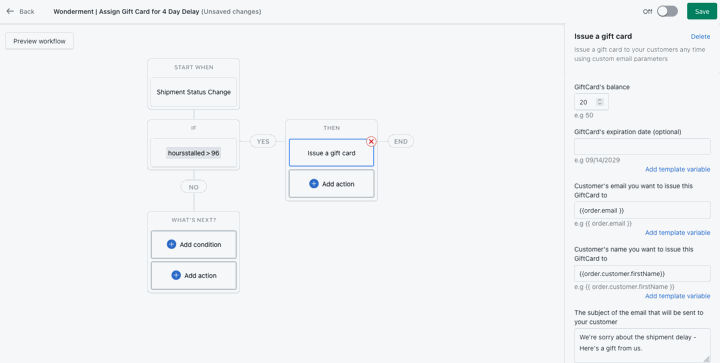 Send Alerts to Slack for Delivery Errors
You can use the Flow integration with Slack to create notification rules with complex business logic, such as routing messages to different channels based on the destination of a package.
In this example, a store can notify one of two different Slack channels based on whether the package's destination is in the US or not, so that it's elevated to the right support agent.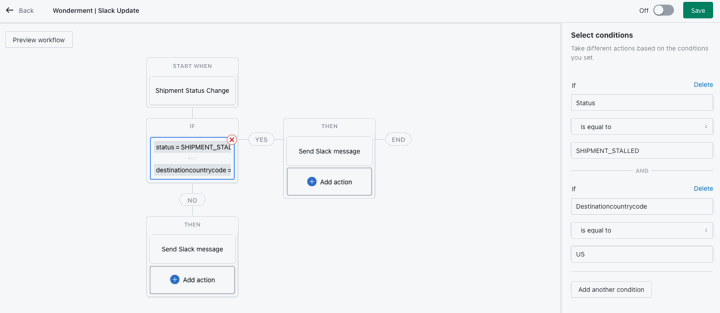 With the breadth of Flow integrations available, Plus stores can harness their shipping data into automation with the rest of their business and create remarkable customer experiences than ever before. Interested in trying it out?
Getting "where is my order" support tickets?
Get a demo of Wonderment - the #1 order tracking app for Shopify brands. Spot shipping issues automatically and proactively communicate with customers about their order status.
See it in action 👇