We're happy to announce that the Wonderment app now offers two-factor authentication (2FA). We recognize that control over data access is critical to the security and privacy of our customers, and providing two-factor authentication support is one of the critical steps we're taking in light of this.
You can activate Two-Factor Authentication in Settings, or learn more about our support in the Wonderment Help Center. 2FA support is available on all Wonderment plans.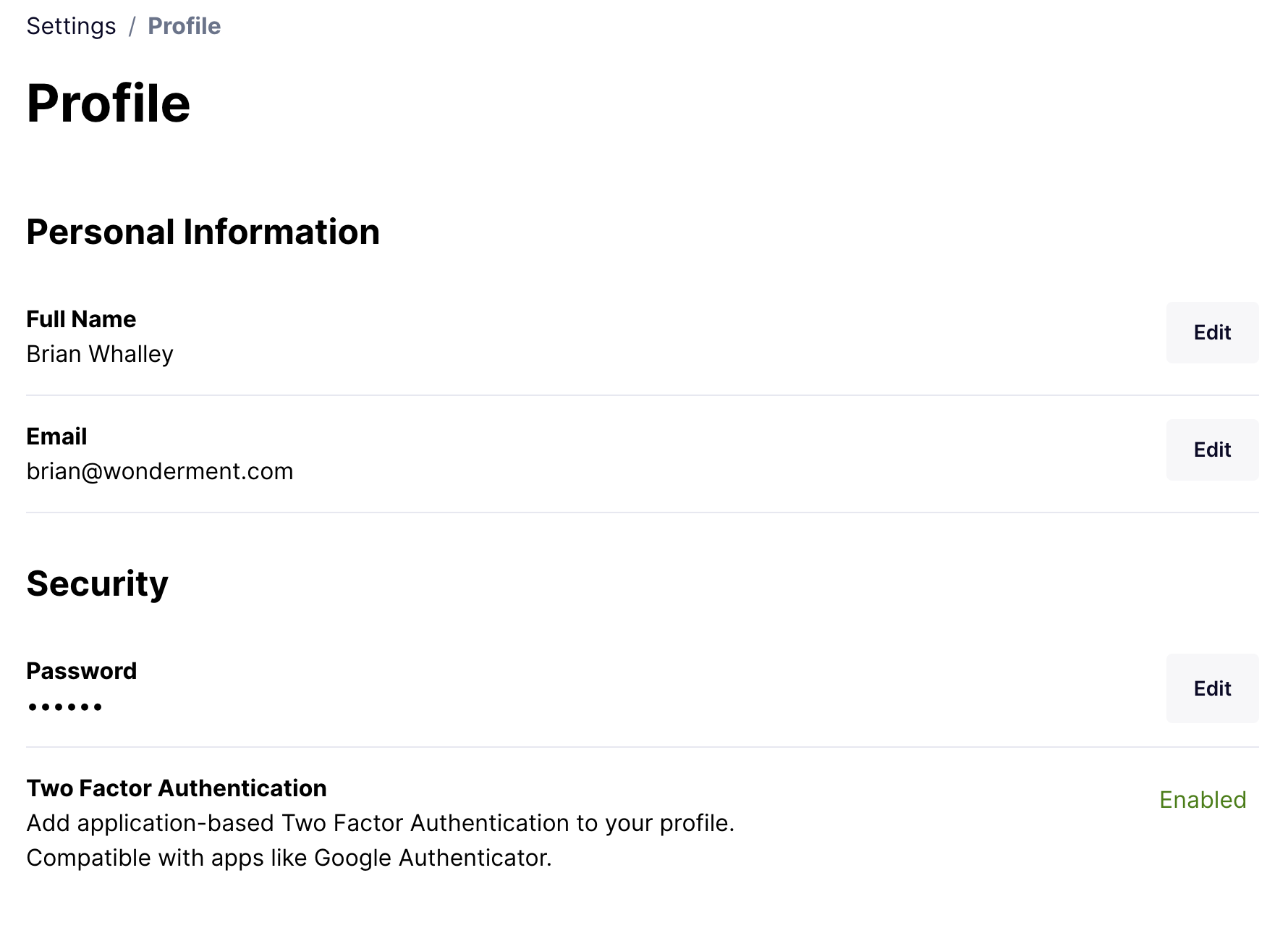 🔒Why Two-Factor Authentication?
For those who may not be familiar, two-factor authentication adds an extra layer of security to your account by requiring a code from an app (like Google Authenticator or Authy) in addition to your password when you log in. This helps protect your data from unauthorized access and ensures that only you have access to your account.
We understand that security is of utmost importance to our users, especially those who manage ecommerce stores and handle sensitive customer data. That's why we're so excited to bring this feature to Wonderment, and the best part is that it's free for all plans.
Our team has been hard at work improving and expanding our app to meet the growing needs of our users. We're always looking for ways to enhance our platform and make it more secure, so keep an eye out for more updates in the future.
🚀Getting Started with 2FA
We've made enabling 2FA as simple as possible, because we know you're all about that #EfficiencyLife. Just follow these quick and easy steps:
Log in to your Wonderment account.
Head over to "Settings" and then "Profile"
Click on "Enable Two-Factor Authentication."
Follow the on-screen instructions to set up your preferred authenticator app.



And that's it! Once you've enabled 2FA, you'll be prompted to enter a verification code from your authenticator app each time you log in. Your Wonderment account is now safer than ever before!



💸 2FA: Security Never Felt So Good (and Affordable!)
We believe that security should never be a luxury, which is why we're offering 2FA for FREE on all paid Wonderment plans. That's right! If you're already on a paid plan, you can start enjoying this added security measure at no additional cost. Just another way we're putting the needs of our Wonderment family first. ❤️
🌟Your Feedback Matters
Your opinions mean the world to us, and we want to make sure we're always delivering features that make your Wonderment experience even better. Have thoughts on our new 2FA feature or ideas for future improvements? Don't hesitate to reach out to us! We're always listening and eager to improve.
Together, let's continue to make Wonderment the most secure and efficient platform for ecommerce businesses to thrive. Here's to a safer and more wonderful future for all of us!