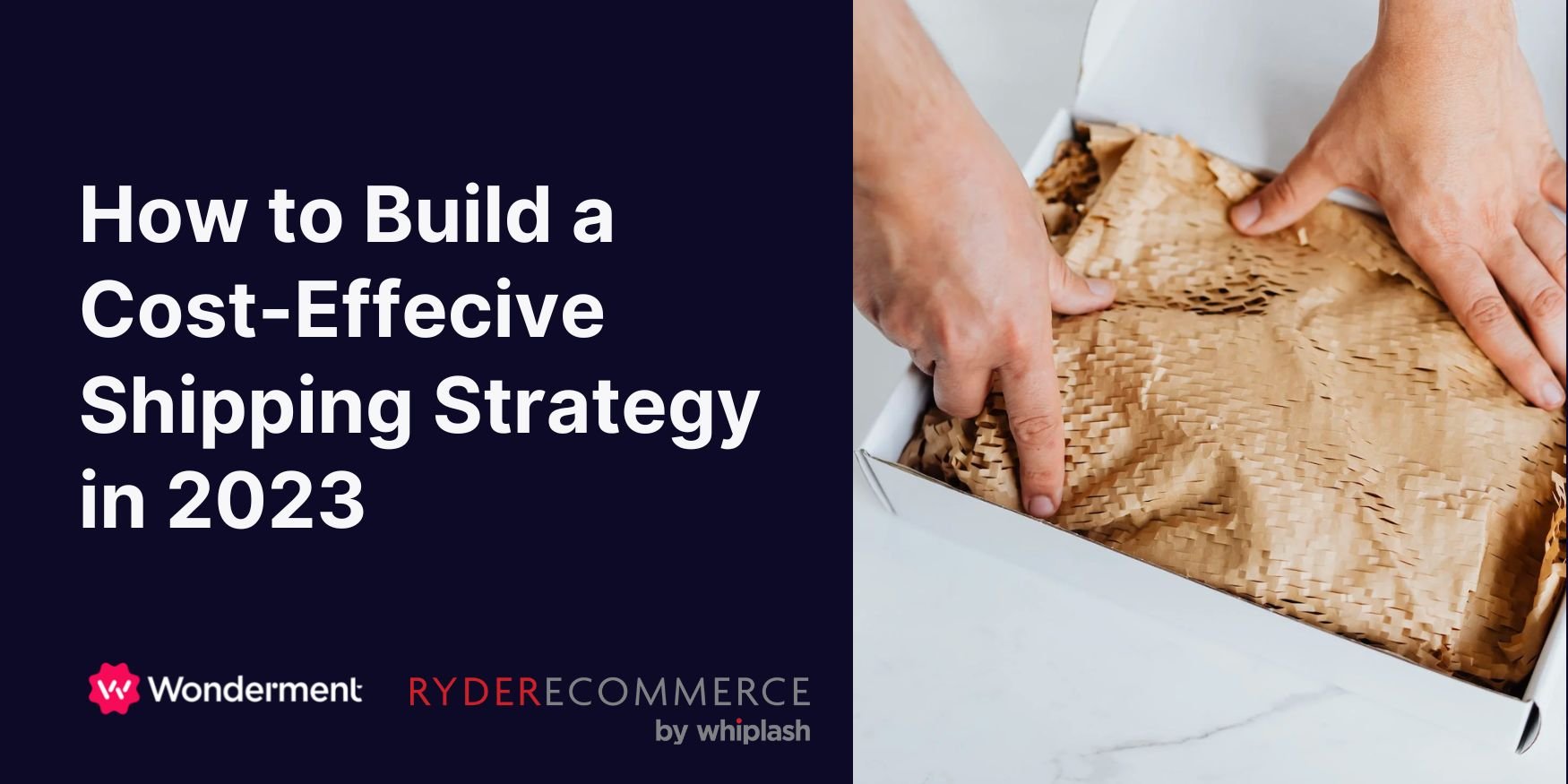 If you're an e-commerce brand, that means one thing - shipping orders are part of your daily routine. But the stakes are increasingly high. If you can't get orders to customers quickly or cost-effectively, you're looking not only at lower rates of customer satisfaction, but spiraling operational costs.
In a saturated marketplace where pricing is increasingly competitive, e-commerce can feel like a race to the bottom. But with a well-tailored e-commerce shipping strategy at your disposal, you can ensure that your profit margins (and customer retention rate) stay healthy.
What is an e-commerce shipping strategy?
An e-commerce shipping strategy is an actionable plan for how direct-to-consumer brands handle the delivery of online orders to customers. A shipping plan involves decision-making about service levels, which carriers to use, shipping rates, delivery time frames, and the handling of returns and refunds. The purpose of an e-commerce shipping strategy is to coordinate a positive customer experience, while also minimizing shipping and delivery costs.
Why does your e-commerce shipping strategy matter?
A well-crafted e-commerce shipping strategy is essential to meet customer expectations for speedy and reliable home delivery. Late or damaged deliveries - or orders that don't arrive at all - have a significant impact on customer satisfaction and loyalty.
Planning out how your brand is going to ship orders helps to set the right tone and build customer trust from the ground up. Other reasons to create an e-commerce shipping strategy include:
Staying competitive. Rapid delivery is a critical differentiator for e-commerce businesses, especially if their products can be bought from multiple vendors. Being able to ship orders faster than your nearest competitor is essential to stand out from the crowd and convert first-time customers.
Managing rising shipping costs. Shipping costs are easily one of the biggest outgoings for e-commerce brands. On top of general rate increases, peak season surcharges and additional fees for oversized packages or residential delivery quickly add up. To maintain profitability, it's necessary to keep a tight rein on shipping fees to ensure that you aren't making a loss on orders.
Giving shoppers flexibility and choice. A one-size-fits-all approach to shipping is unlikely to satisfy all of your customers. Some shoppers will opt for paid expedited shipping on urgent purchases, while others will be happy to wait several days so long as the delivery is free. Curating a selection of shipping options empowers your customers to choose what works for them, which increases customer satisfaction.
How to build an e-commerce shipping strategy from scratch
1. Understand your shipping data
Before you can make any changes to your shipping strategy, you need to understand what's currently happening at your business and where your costs are coming from. Your shipping data can give you important insights such as:
Average shipping cost per order

Average package dimensions

Average delivery timeframe

Average number of shipping zones

Where orders are being shipped to

Which shipping methods are most popular/least popular
By analyzing this data, certain weaknesses are naturally going to emerge; maybe your orders are crossing multiple shipping zones unnecessarily, or perhaps DIM weight is pushing up the cost of shipping certain products. This will help you to zero in on where your current shipping approach needs optimizing.
2. Decide what your goals are
Shipping is all about getting orders to the end customer. But as we just talked about, there are a lot more considerations at play than just moving goods from A to B.
When crafting your shipping strategy, you need to think about your core objectives. Is your goal to speed up delivery timeframes, access better shipping rates, or offer free shipping? Or is it all of the above?
Setting objectives will help you to understand what your business needs to implement to achieve them. For example, if one of your goals is to shorten delivery timeframes, you may need to consider moving and expanding to a new fulfillment center to shorten that final mile of delivery.
3. Decide whether or not to offer free shipping
This is the classic conundrum for e-commerce merchants. Free shipping places a massive burden on your profit margins and can limit shipping options. But it also gives brands a major competitive advantage. Most importantly, free shipping is an expectation held by the majority of consumers. In fact, 62% of shoppers expect their free shipping orders to arrive in just 3 business days.
In sum, deciding whether to offer free shipping is a vital part of your e-commerce shipping strategy.
However, free shipping in e-commerce doesn't have to be all or nothing. For smaller merchants, trying to replicate Amazon's shipping policy is not sustainable financially. Instead of using a blanket policy, consider offering free shipping selectively to influence customer behavior:
Implement a free shipping threshold. Setting an order minimum to qualify for free shipping ensures that your business doesn't make a loss on orders with a lower value. It also acts as a valuable incentive for customers to buy additional items to get themselves over the line.
Make free shipping a VIP perk. Another approach is to make free shipping available only to customers with the highest levels of lifetime value. This ensures that customer retention stays high and gives shoppers an incentive to make repeat purchases to qualify for the best perks.
Use conditional free shipping offers. Short-term free shipping promotions, such as flash sales or free shipping on certain items, is a fantastic way to speed up slow-moving inventory and create some urgency for shoppers to lock in a sale.
4. Look for ways to reduce shipping costs
No matter whether your brand is mostly doing local deliveries or cross-country shipping, you should always be looking for ways to optimize your shipping costs. Thanks to the likes of fuel surcharges, demand-based surcharges, and finicky package requirements, it's all too easy for e-commerce businesses to end up spending more than they need to get a parcel to the customer's doorstep.
However, these dollars and cents can very quickly add up, leaving less revenue for you to reinvest in growing your business.
Here are a few tips to assist you with keeping your shipping costs:
Reduce split shipments. Split shipments are when a single order is split into multiple packages to be shipped. This often happens when a fulfillment center doesn't have all the items needed for an order, or if another warehouse can fulfill some of an order slightly faster. However, can result in shipping costs doubling or even tripling for a single order. Give customers a choice over whether they want to receive some items sooner.
Keep an eye on DIM weight. DIM weight is a pricing tool that takes into account the overall size of a package in addition to its weight. This means that a lightweight, oversized package can be very expensive to ship, as it takes up more space inside a delivery truck or aircraft. Make sure you streamline packaging to minimize bulk and keep carrier costs as low as possible.
Consider flat-rate shipping options. The big advantage of flat-rate shipping is that it standardizes shipping costs for your orders, no matter how many zones a package is crossing. Flat-rate shipping is also normally exempt from peak season surcharges. However, you need to check that the dimensions of carrier-supplied packaging will work for your products.
Seek out discounted shipping rates. Small e-commerce businesses often struggle to qualify for wholesale shipping rates because their order volumes are too small. By partnering with a 3PL, brands can leverage their provider's larger shipping volume to access discounts with major and regional carriers.
Streamline the shipping and delivery experience with Wonderment and Ryder E-commerce by Whiplash
The shipping process begins as soon as the parcel leaves your warehouse, but there's far more to a positive e-commerce delivery experience than the order arriving on time at the right address. If customers receive radio silence after their purchase, this has a huge impact on customer satisfaction. Delivery anxiety may even drive customers to cancel their orders or leave negative reviews, which can damage your brand's reputation.
In sum, a positive experience between the touchpoints of 'order confirmation' and 'package delivered' has a significant impact on customer retention. This is why in addition to a reliable shipping and e-commerce fulfillment partner like Ryder E-commerce by Whiplash, you also need a post-purchase messaging expert like Wonderment to maximize engagement with your customers.
Ryder E-commerce by Whiplash positions brands for success from the moment an order is placed, working with brands to create the perfect shipping strategy that optimizes both speed and cost. Then Wonderment steps in, helping to delight customers and deliver more revenue through tailored transactional messaging.
Together, Wonderment + Ryder E-commerce by Whiplash creates a powerful customer delight machine. Find out more about the partnership here.