In today's digital landscape, successful online businesses have realized that merely facilitating transactions is no longer sufficient. They have transformed into essential entities by delivering comprehensive experiences that cater to diverse customer expectations, effectively meeting the ever-increasing demands of their clientele – even after the purchase is made.
In this blog, we will primarily focus on transactional communication, a touchpoint that tends to be overlooked by many e-commerce merchants but holds immense potential to enhance customer loyalty and elevate the overall customer experience.
What does transactional communication entail, and what are the best practices that merchants should implement on transactional channels to foster hard-earned customer loyalty? Read on to find out.
What is Transactional Communication?
On the surface, transactional communication refers to trigger-based, automated messages and brand-customer interactions that occur during and after a transaction, such as order confirmations, shipping notifications, account activations, and delivery updates. These seemingly routine interactions offer valuable opportunities to engage with customers, reinforce brand identity, and cultivate loyalty.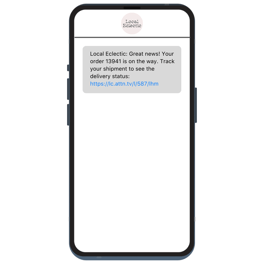 However, transactional communication can be much more than that. A comprehensive strategy can uncover opportunities to cross-sell and upsell relevant products, provide exclusive offers, solicit customer feedback, and even offer instructional content.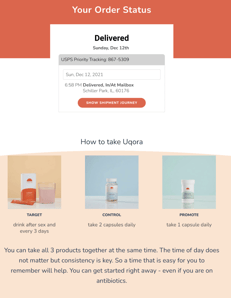 When executed effectively, transactional communication transcends the functional aspects of conveying essential information. It becomes an extension of the brand experience, reflecting the values, tone, and personality of the business. By infusing these messages with creativity, personalization, and attention to detail, e-commerce businesses can create memorable moments that leave a lasting impression on customers.

10 Best Practices to Foster Loyalty Through Transactional Channel
Whether email, SMS, or push notification, the goal is to make the customer's post-purchase experience as personal and as informative as possible. This could be done by taking a holistic approach that involves continuous data monitoring and optimization.
Personalize the Customer Experience:
One of the key ways to build brand loyalty through transactional channels is by personalizing the customer experience. Tailor your communications to each customer by using their name, referencing their recent purchase, and including personalized product recommendations or exclusive offers. By making customers feel seen and valued, you create a positive impression and strengthen their connection with your brand. Tushy includes a "More for you" section personalized to the customer.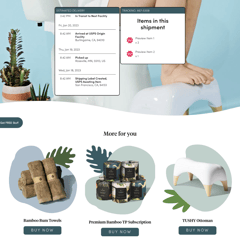 2. Maintain Consistent Branding:
Consistency in branding is essential across all touch points, including transactional communications. To help reinforce your brand recognition and create a cohesive experience, ensure that your transactional emails, order confirmations, order tracking page, and other related messages reflect your brand's visual identity, tone of voice, and messaging. Aura Bora has branded touch points across the entire transactional journey.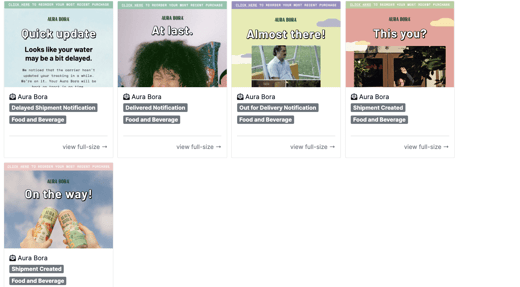 3. Provide Relevant and Timely Information:
Transactional channels offer an opportunity to provide relevant and timely information to your customers. Be clear and concise in your communications, ensuring that customers receive all the necessary details about their order, shipping updates, and any other relevant information - even those less favorable such as shipping delays.
You would also want to keep the line of communication open with your customer, promptly address any questions or concerns and demonstrate your commitment to their customer satisfaction.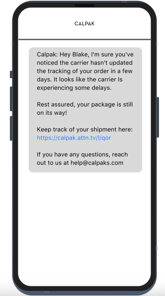 4. Surprise and Delight:
Don't underestimate the power of surprise and delight in transactional channels. Consider adding unexpected touches to your communications, such as a personalized thank-you note, a discount code for their next purchase, or a complementary item. These unexpected gestures create memorable moments and leave a positive impression, fostering a sense of loyalty and appreciation. Hexclad offers their customers 5% off their next order with a coupon on their tracking page.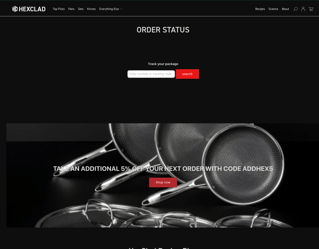 5. Encourage Feedback and Reviews:
Transactional channels can also be used as an opportunity to gather feedback and encourage customers to leave reviews. Include a brief survey or a call-to-action to leave a review in your post-purchase follow-up emails. Customer feedback is invaluable for improving your products and services, and positive reviews act as social proof, building trust and credibility among potential customers. You can also collect data from customers to further influence where you make marketing investments.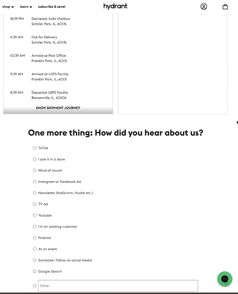 6. Strategize Timing:
Timing plays a critical role in the effectiveness of transactional emails or messages. It can significantly impact a customer's willingness to engage and communicate with your brand. For example, time-sensitive messages such as order confirmations and status updates should be sent promptly to provide reassurance. On the other hand, for cross-selling, user reviews, and exclusive offers, it's best to introduce a time buffer to allow customers some time to digest their initial purchase and avoid overwhelming them. Customers like Feastables send delivery notifications so customers can get their package as soon as it's been delivered. (No one wants chocolate to be sitting outside in summer time!)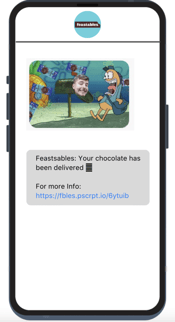 7. Add Value:
Go beyond the basic transactional information and provide additional value to customers that portray your commitment to getting them the most value out of their purchase. Include relevant product recommendations, useful tips, instructional guides and videos that are related to their purchase, or exclusive offers that can enhance their experience and drive additional sales.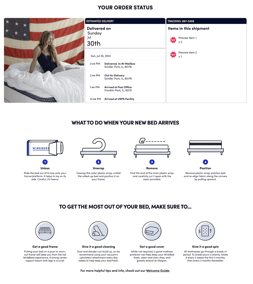 8. Listen to Your Customers:
In today's customer-centric landscape, it is crucial to offer an array of communication options that cater to individual preferences. By providing customers with the freedom to select their preferred transactional channels, businesses demonstrate a commitment to personalized experiences. Whether it's email, SMS, app notifications, or push notifications, customers can choose the channel that best suits their needs and aligns with their communication preferences.
Furthermore, respecting customers' boundaries extends to promotional messages. It is essential to provide granular control over promotional opt-ins, allowing customers to select specific categories or types of promotions they wish to receive. This level of customization ensures that promotional messages are relevant, targeted, and aligned with customers' interests. By implementing clear and concise opt-in processes, businesses foster a sense of trust and prevent any potential perception of intrusive or unwanted marketing. As shown below, Vital Protein collects SMS consent right on the tracking page.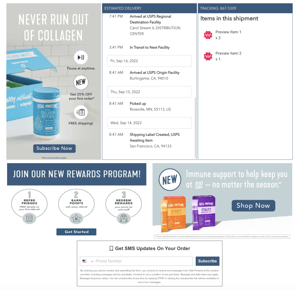 9. Optimize for Mobile:
Optimize transactional communications for mobile devices since many customers access their emails or notifications on smartphones or tablets. Ensure that the content is mobile-friendly, easy to read, and the call-to-action buttons are easily clickable on smaller screens.
10. Continuously Optimize and Test:
To ensure the effectiveness of your transactional channels in building brand loyalty, it's essential to continuously optimize and test your communications. Monitor key metrics such as open rates, click-through rates, and customer engagement to identify areas for improvement. Conduct A/B tests to experiment with different approaches and messaging to determine what resonates best with your audience.
---
As customer experience (CX) takes center stage in the future of direct-to-consumer (DTC) businesses, the post-purchase category is set to undergo a significant transformation. Retention managers are actively exploring innovative approaches to foster trust and establish stronger relationships with their customers. This shift reflects a strategic focus on enhancing the overall customer journey and ensuring long-term brand loyalty.
Avex is a full-service e-commerce agency based in New York City that solves complex technical and creative problems for mid-market and enterprise brands on Shopify Plus. Their approach involves a total rethink of customers' experience to encompass broader needs, interests, considerations and behaviors related to the brand's core product.
This understanding, along with years of experience in scaling culture-forward brands on Shopify Plus, allows Avex to deploy high-growth solutions where all eCommerce functions orchestrate seamlessly to deliver on the unparalleled customer experience promise - smooth and performant digital presence, tailored and personalized offerings, consistent marketing, and a trend-informed growth strategy.