Shopify Fulfillment Events Support
Wonderment can update each fulfillment in Shopify to mark it out for delivery or delivered.
This enables the use of the built-in notification system in Shopify for these events, even if your carrier is not normally supported by Shopify. This also makes your delivery data available for use in other apps that key off of that data, including Okendo, Stamped, and others.
You can enable these events in Shopify by activating this button in Wonderment Settings. We strongly recommend turning this on, unless you have specific fulfillment workflows or data where you don't want this data inserted.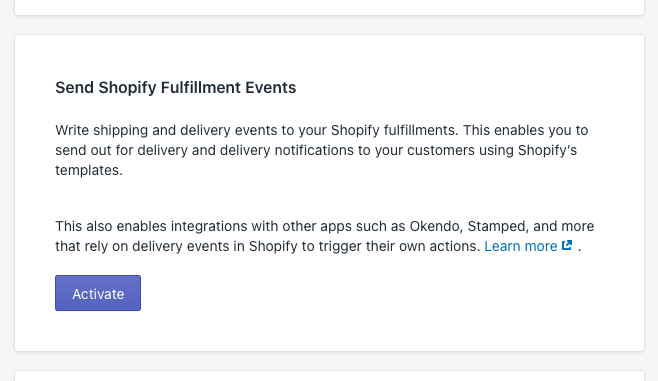 If you're using a carrier not normally supported by Shopify, this will also enable the use of Shopify's Out for Delivery and Delivered notifications. You might want to configure these notifications in Shopify from the default as a result. To configure them, go to Shopify Settings -> Notifications. The emails can be disabled, enabled, or edited from this screen as below.

Have questions or need help? Reach us at help@wonderment.cc for assistance.