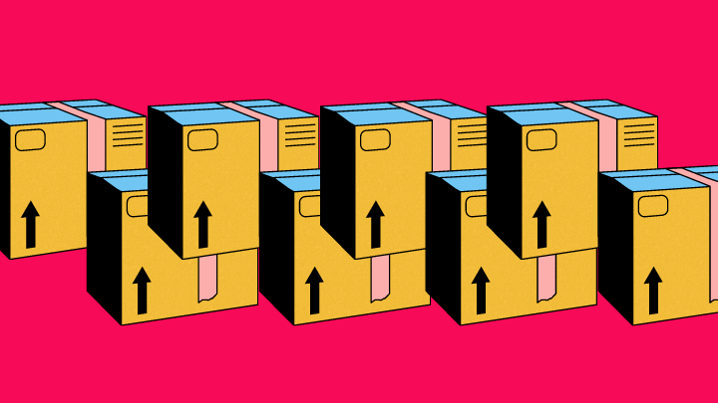 DTC marketers spend a large chunk of their time creating promotional emails that talk about a new product, a co-branded launch, an upcoming sale, or an event. These emails are often beautifully designed, with an intriguing subject line, engaging body copy and compelling CTAs.
Far less attention is traditionally paid to transactional emails (you know, the ones you get from brands that look like an aferthought, with catchy names such as "Your Sephora order has been shipped" or "A shipment from order OR 1093 has been delivered").
While marketing emails get all the love, you may be surprised to learn that your customers engage much more with your boring, automated messages than your highly polished promotional ones. Research shows that transactional emails have a higher open and click-through rate. True story!

It's those order confirmation, shipping and delivery emails that excite online shoppers the most. Wonder why? Customers are all ears when it comes to their orders, and any information about them is highly cherished.
With a little bit of creativity and effort, transactional emails pose a great opportunity to build customer loyalty, enhance the post-purchase experience and create a distinct voice for your brand, from day one. And because these emails are often overlooked, you can get a leg up on the competition with minimal effort if you decide to give them some love as you're building out your email flows and campaigns.
In this post, we are going to delve into:
What transactional emails are
Why transactional emails matter
Types of transactional emails with examples
And a whole lot more!
Now, let's take it from the top.
What is a transactional email?
A transactional email is sent to a customer soon after they have purchased at your store. It usually contains details of the order placed, the expected date of delivery, and other important information related to the order.
These emails are personalized to the recipient and sent 1:1, unlike marketing emails that are sent out in bulk to a group of customers. Key features of a transactional email are:
It contains a clear message about the order covering details such as the name of the customer, contact details, the shipping address, the expected date of delivery, and the order tracking link.
It includes a clear CTA offering readers a chance to pursue the transaction further.
It is kept short and simple, with just a few words to convey the message.
Why do transactional emails matter?
The number one reason why transactional emails have such high open and click through rates is that they are highly relevant to the customer. They are triggered off an action (ordering your product), they contain valuable information, and they reduce negative emotions (anxiety about whether the order went through or when they can expect to receive it).
As you can see, order confirmation, shipping and delivery emails are the perfect vehicle for keeping your new brand top of mind and forging a strong relationship with your customers the moment they place their first purchase.
Let's go over the benefits in a little more detail:
Offer quality assurance
When customers are certain that your business and its products are genuine, there are higher chances of them buying from you again. A lot of brands use order confirmation emails to offer customer service assistance, or delivery confirmation emails to talk about their return and exchange policies, further building trust and customer LTV.
Create anticipation
Yes, that's right. These emails create excitement and the chance for customers to follow the path of their order from a warehouse to their doorstep. Shoppers who are eagerly waiting their order can check its status from their smartphones or laptops whenever they wish to.
Strengthen customer relationships
When you're launching a brand, every touchpoint counts. People are rolling the dice on buying your product, so it's on you to make them feel like they made the right choice. A well-designed email shipping template or delivery confirmation notification will take you one step closer to building a stronger bond with your new customers.
5 types of shipping emails
Customer activity triggers transactional emails, letting shoppers know what they can expect as a next step. You're taking the interaction forward, which is a big responsibility!
Here are the different types of email shipping message templates that you can use to keep your customers informed at every stage of their buying journey (and sneak in a few marketing tactics along the way).
1. Order confirmation emails
These emails are sent out to acknowledge orders placed by your customers. Online shoppers expect to receive these emails, so it's an excellent way to follow up with them. Generally, an order confirmation email will contain basic information such as the name of the person who made the purchase, the name of the product, how much it cost, and a tracking link if one has been created.
Order confirmation emails suggest that a particular transaction was successful.
Apart from that, they also meet an important psychological need. When a customer places an order, you know for sure that you will deliver on it, but an order confirmation email reassures them you're mobilizing to get them what they ordered.
Here is an example of what an order confirmation email looks like. We love how online retailer Zalando keeps it simple with this order confirmation notification, but also includes a thoughtful note to make their transactional message feel a little more friendly.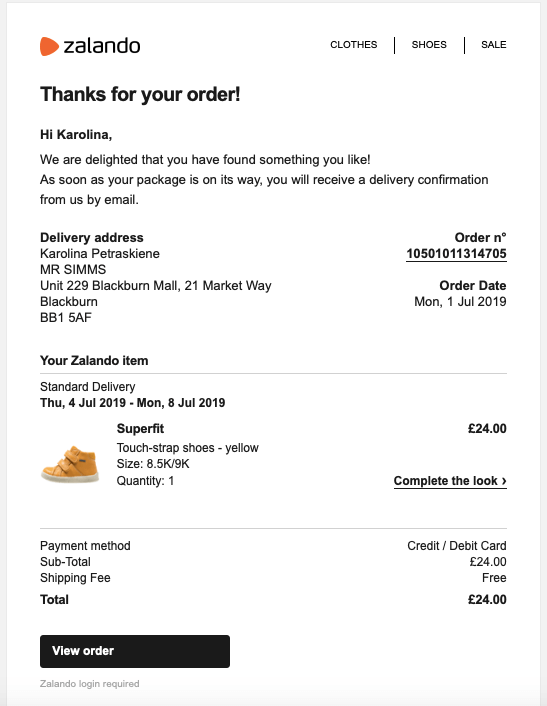 2. Shipping confirmation emails
Making a sale is half the battle (and as a new brand, it's often the toughest part, so congrats!). Now, you just need to nail the delivery experience and make sure that everything happens as planned. A shipping notification email should be sent to a customer as soon as the order is shipped.
Here are 3 things to include in this email:
Convey that the product is on its way
Provide details of the order
Add tracking information (even if it was already included in the order confirmation email - you can't assume every customer reads every single email that you send, or has the time/patience to go back and find it in their inbox)
Here is a shipping notification email template that you can use to keep your customers informed on the go:
Your order is on its way!
Hello [first name],
We are happy to let you know that [order number] has shipped!
[Name of shipping company] is handling your order with care, and you can locate your package anytime using [tracking number]. We will send you another email as soon as your order is out for delivery.
Thank you for shopping with us. If there is anything you need, we are here to help. Feel free to reply to this email or [click here] to get in touch with us.
Cheers,
[Your company name]
Once you've given a customer their shipping information, you can always get creative and try to drive additional sales by including offers or discounts in your email. Take a look at this example where Ruggable encourages its customers to refer a friend and get a discount on their next order.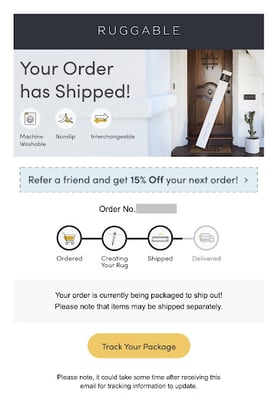 3. Delayed shipment notification emails
A stalled shipment is one where the package has not moved for a considerably long time from either the warehouse or the shipping carrier's facility - meaning, your package is stuck somewhere. Delays in delivery can happen due to unforeseen reasons such as bad weather, traffic congestion, a boat getting stuck in the Suez Canal, slow documentation work, etc.
You may be tempted not to say anything and hope your customers don't notice, but that's a recipe for customer support issues and broken trust. It's always best to inform your customers in such situations and keep them posted with regular updates on their shipment. This way you're doing the right thing, and your customer experience doesn't take a hit (which is super important when you're launching a brand - you don't want people saying negative things when word of mouth is so critical!). Here is how Partners Coffee gets it right by keeping things honest and positive: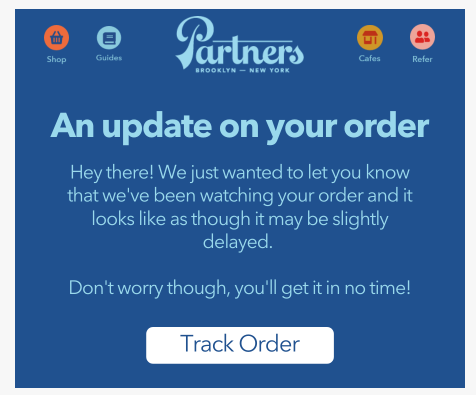 4. Out for delivery emails
Out-for-delivery emails serve several important purposes: preparing your customers to receive their package (or arranging for someone else to scoop them up if they are away from home), getting them excited for the unboxing experience, and showing them you were true to your word when you sent that first order confirmation message.
Here is a beautiful example of an out-for-delivery email from Olipop.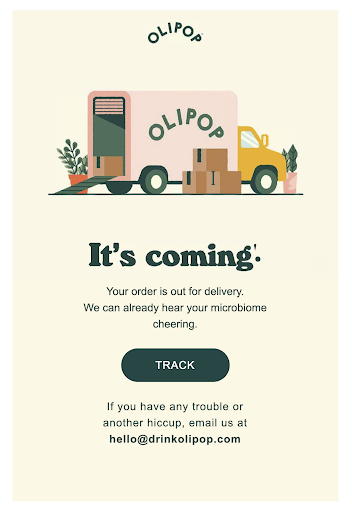 5. Order delivered emails
Lurk on any neighborhood forums or apps, and you're bound to see complaints about porch pirates. A rise in package theft means your customers are likely feeling nervous that they'll get their package once it reaches their doorstep, making order delivered emails especially important. Stolen boxes are a major headache for customers and brands alike, so time is of the essence. You don't want someone's order hanging around outside when it could be safely tucked behind a locked door!
Another reason order delivered emails are important? They are extremely versatile, giving you an opportunity to educate customers on product usage, showcase or ask for UGC, surface any loyalty or referral programs you offer, share your returns or exchange policy, or offer a heartfelt thank you for their purchase and continued support of your brand.
Here's a great order delivered email example from Hydrant:

Tips to write great shipping emails
Here are some guidelines for making sure your transactional emails meet customer expectations and set the right tone.
Share tracking information first, upsell later
The whole purpose of sending a shipping email is to let a customer know the status of their order—where it is currently and when they can expect their delivery. Keep your emails simple, making it easy for customers to track their packages.
Before you set out to promote any of your products, make sure that you share all the relevant information about the order in question.
Include the order tracking link in your email
You will be surprised to know that nearly 8% of stores do not send order tracking links to their customers. That's a huge shortfall as far as we are concerned.
It's quite common for customers to feel anxious or impatient with online transactions, particularly if your estimated delivery date has come and gone. The question, where is my order?—is always running through their minds. Sharing the order tracking link in your emails is the easiest way to put them at ease and show them their package is on its way, even if it hasn't reached them yet.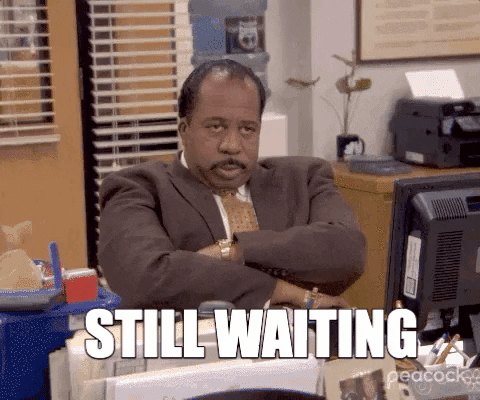 Share timely updates
Shipping emails must not be taken lightly. They should reach customers on time and contain accurate information.
This is where an order tracking app like Wonderment comes into the picture. Wonderment helps thousands of shipping companies all over the world to share accurate and real-time information. If you have a Klayivo account, all you need to do is link it to Wonderment and you can easily send shipping-related notifications to keep your customers informed - and more importantly, psyched to try your brand out for the first time.
Add useful visuals
You may wonder if graphic design has anything to do with shipping emails, which are usually plain and simple. But that need not be the case, as illustrated (pun intended) by the examples we've shared today.
When you take the time to design your transactional emails, you're giving your customers more than they expected, which is an excellent way to make a lasting impression.
Retain your customers with effective shipping emails
If there's one thing you take away from this article, it should be this: don't sleep on transactional emails. They're an integral part of the customer experience, and they've been overlooked for far too long. New brands that put time and thought into order confirmation, shipping and delivery emails will have an unfair advantage as they scale, so if you're looking for an easy win, this is it!
Use the tips and examples we have laid out here to create impressive and effective shipping emails that not only delight your customers but keep them coming back to your store for more.